Where are they now?
This section is devoted to people who once lived in our district but have now moved away, this could apply to anyone who once lived in our district. It will be interesting to see where people are these days and what course their lives took after leaving the district. Hopefully it will also be of great interest to others who may come across a person they once knew.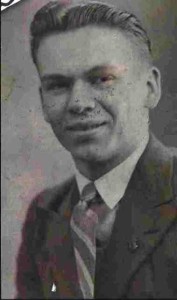 Dai Davies 1946 aged 20
David Davies (Dai) Webster Street
David has now reached the grand age of 84 and now lives in Pontypool but he has fond memories of his early years in Treharris…the following is a little insight into his life.
David was born on the 16th of March 1926 in number 7 Webster Street, Treharris, he attended the nearby Webster street Primary school, which was built on the mountain above the lower Webster Street houses( it is now the site of a new housing estate called Brotalwg) before moving on to Treharris Boys School on Perrott Street.
In 1936 at the age of 10 years old Dai worked as a paper boy for Hilbourne's the newsagent in Fox Street, there was another room there at that building that was used as a Barber shop where every lunchtime Dai used to earn another penny or two as a "lather boy". He used to deliver 365 papers each morning to Cardiff Road, The Huts, Railway Terrace, Bargoed Terrace and finally onto Edwardsville; He would have to run to get to school in time for the 9 o'clock start most days…his reward was 1/6 d a week about 8p in new money.
Dai left School in 1939 and the second World war was starting, a very traumatic time and miners were desperately needed to help with the war effort as well as to keep up the domestic fuel supplies, he was 14 years of age and he applied for a job at the local Deep Navigation Colliery, behind the big wall at the bottom of his street…he got the job and was on a weekly wage of 12 shillings and sixpence for working 6 days( approximately 65p in new money)..Sundays were a day off.
He did not like working at the pit and more so when in 1942 he witnessed a fatal accident that killed his "butty"; His name was Garfield and also lived in Webster Street at number 14,
And he left a wife called Gwynyra Harbour, it was a very sad time for everyone in the street.
Dai eventually got out of the pit in 1943 when he joined the Great Western Railway who sent him to Bristol as a footplate fireman. When he was 18, in 1944 he was transferred to Pontypool where he eventually lived most of his life with his childhood sweetheart Pearl Hancock. Pearl had lived in Gresham Place but after her mother had died from a tragic accident, she moved to 75 Webster Street with her father. Dai and Pearl were married in 1945 and this year celebrate their 65th anniversary.(2010)
David had three occupations during his working life and finally retired in 1982 whilst living in Bridgend where his family had lived since 1972.
Above we see an image of Dai at Porthcawl in 1987 playing the Euphonium 
Dai's life away from work had always revolved around music, singing and brass bands, no surprise for a lad from Treharris, especially a Webster Street boy. Dai was brought up in the Salvation Army along with his brothers and sisters, they all attended the now demolished Salvation Army hall at the top of Webster Street. He was taught to play a brass instrument at the hall and by the time he was 14 he was considered a competent player, he even played a solo in Treharris Hall in a concert to raise money for the lads serving in the forces; David remembers a well known soprano Gwen Catley also appeared in the concert and a tenor called Trevor Jones or Lloyd…Dai earned 2/6d for his solo, a small fortune to him in those days.
Dai stayed in the Salvation Army for over 40 years, playing, praying , and singing , much could be said about those days all wonderful memories. In 2007 David was made a life member of the south East Wales brass band association in recognition of over 70 years service to the Brass band fraternity, Late summer 2010 Dai finally had to stop playing due to ill health, unfortunately he had a heart attack and now gets treated for heart failure.
Alongside his banding Dai was involved with mixed and male voice choirs for over 45 years and his claim to fame must be the being made musical director of the south Wales Burma star choir, he was with them for nearly 10 years. Every 2 years the choir attended the Burma star Association reunion at the Royal Albert Hall in London, Dai was privileged to conduct them on three separate occasions. At these events he had the honour to be presented to Her Majesty the Queen, Prince Charles and the Duke of Edinburgh.
The choir toured Canada on two occasions as well as Holland, Brittany twice and Germany. Dai is proud to point out that all of these achievements were due to his upbringing and life in Treharris, particularly the time spent at the Salvation Army in Webster Street, a street where his younger sister still lives in the old hose they were born in…over 80 years, that's quite a record.
Dai's elder sister Margaret died some years ago also his younger brother Vernon. He has an older brother called Will, he is 87 years old and lives in Ebbw Vale near his daughter. He and his wife Marjorie served as Salvation Army officers for many years in Malaya, Northern Ireland, England and Wales before retiring some 22 years ago.
From Time to time Dai writes poetry and one of his books is called "Grass never grows on busy streets" below we have included a poem Dai wrote about his childhood called "My first working day" it really depicts the way things were in 1936 Treharris
Dai has lived an eventful and musical life blessed with a 65 year marriage, it is a pleasure to include him in this section of the website…he is a Treharris lad who made something out of his life.
My first working day by David J Davies
I started work in the mine when quite a young lad
Following my brother, my father and my late grand dad.
There was no other work in the area around
So most lads like me started work underground.
I had done well at school academic wise and sport
But for further education money was short.
I had just reached the age of fourteen years old
A well built young lad or so I was told.
At Easter I left school no more exams did I it
And on my way home I called in at the "pit"
I saw Mr Hurlow in his office quite large
He was the manager and solely in charge.
There was a job in the fitting shop so I'd been told
And apprenticeships then were like looking for gold.
I stood in his office with my school cap in hand
He said "Sit down my boy, don't you play in the band"
By the way he spoke I began to tell
That he knew my father and brother quite well
He had seen us on Sundays with the SA band.
And at other times too when in the bandstand.
For that was our life to play and to pray
So others might follow in God's Christian way
(but he should have known me from before
For the last few years I'd put "papers" through his door)
He told me my brother worked in "Face side"
I knew what was coming and wished I could hide.
He didn't want me to have a job on pit top
For to get an apprentice it was a really "closed shop"
"You could work with your brother, would you like that"
For a moment I said nothing I felt really flat.
"Face side "was the name given to my brother's work place
In the deep bowels of the earth and at the dusty coalface.
Your pay would be twelve shillings and six pence a week
That seemed like a fortune I could hardly speak
In to-days currency that would be sixty pence
 And Mr Hurlow would have been told where to put it, no offence.
It was signed sealed and settled that the very next day
I would start in the pit on that great weekly pay.
On the way home I called at the store
Where our mum bought our food and many things more
I purchased a "jack" What's that you may think
'Twas a 2-pint tin container to carry my drink
Because deep underground there was no luxuries
There was no running water there was no lavatories.
A "Tommy Box" too that was made of tin
This was to carry your cheese sandwiches in.
Then a pair of stout boots with metal toe caps and heel
The sole filled with nails they too made of steel
These goods by the way was put on the "bill"
And when I got home my mother felt ill
But Dad's pay-day was Friday and do you know what's more,
He called in and paid for those goods in the store.
The following morning I was up with the lark
The room lit by Gas light outside it was dark
There was a knock on front door, some lads just walked in,
They had called to help me my first day to begin
This  was the custom in those far off days,
It gave you some confidence and your spirits raised.
Off we went we numbered about four
By the time we reached the pit we were joined by some more.
Just follow me round one of them said
I began to wish I were home back in bed.
To the Pit-head baths where men rushed around
Getting ready to start their shift underground.
We too got changed made our way to the doors
But before we left we greased our work shoes.
Our "Jacks" filled with water to last through the day
Then collect our lamps that would light up our way
We hurried along to the great winding wheel
That would carry us down pit in a cage made of steel
We were then herder in about twenty in all
"Hold tight" someone said, "we don't want you to fall"
The gate slammed shut with a rattle and bang
I was so scared to death but some men just sang
As we dropped through space to that world underground
My stomach turned over my heart jumped around
We reached pit bottom with a bump and a shake
Then we hustled out, now very much awake.
My "minders" were still with me and with a nice steady pace
Set off on the long walk to the dusty coalface.
The further we travelled the road got quite rough
"Mind that stone, watch your step, duck your head" it felt really tough.
It was much quieter now as we trundled along
Some of the men I remember just broke into song.
We sat down to rest when we had walked so far in
So much had happened  I scarce take it in.
But the lamps that we carried they lit up the way 
In that dusty coal mine on my first working day.
This poem by David Davies is from a book of poems by the same author ""Grass never grows on busy streets"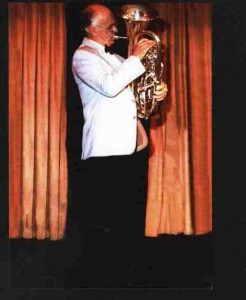 David Davies 1987
Patricia Humphries (nee North)  born mid 1930's 
Patricia Humphries (nee North) was born in 32 Gresham Place, Treharris. Her mother was Mary North (formerly Andrews of Webster Street).  Her Father was Mathew North; she had two sisters Kathleen and Doreen 8 and 12 years older than herself.  They lived next door to Mr and Mrs Perrin who had a little boy called Leslie. He was about the same age as Patricia and she used to play with his "Kiddi Car," in fact she remembers sitting in it more than he did!.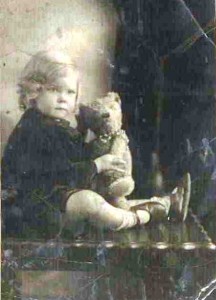 Patricia North aged 3
Her grandmother was Mrs Johanna Andrews of 19 Webster Street. Her other Grandma was Mrs Eva North, 2 Caiach Terrace, Trelewis.
Patricia left Wales when she was just 3 years old to live in London.  When the war broke out she was evacuated back to Wales; initially to Cilhaul. The kind people who took me into their home were Mr and Mrs Evans who had two sons Denzel and Jimmy.  Later when Mr and Mrs Evans took in two more little boys a very nice young couple with one daughter called Joyce offered to take me into their home.  They were Mr and Mrs Harris of Railway Terrace, Treharris.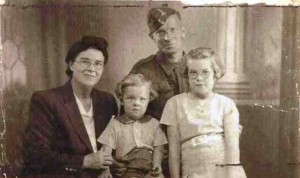 Patricia with her brother and parents(approx1939) 
All of those kind people would surely have passed on by now but perhaps the children would still remember Patricia and she would be delighted to be contacted by them or anyone else who remembers her from that time..
Her last home whilst an evacuee in Wales was with her darling Aunt May and Uncle Barry and Joan her beautiful Cousin who have all sadly gone now.  They lived in 'The Huts' and she stayed with them until she returned to London in 1943.  Patricia would love to hear from anyone about Treharris Central School.  The teachers were 1940 Miss Evans, 1943 Miss Williams, also news about Webster Street School which is now demolished.
My friend Bill Morris who kindly helped us get Patricia's story adds the following…
I met Patricia when she was about 8 years of age.  Her mother was previously Mary Andrews and she lived with her family at number 19 Webster Street, (next door to us).  Patricia was waiting for accommodation at Cilhaul but it would not be available for two weeks so my sister Olwen told Mary she could stay with her children in our front rooms until Cilhaul was able to take them.
Treharris Exiles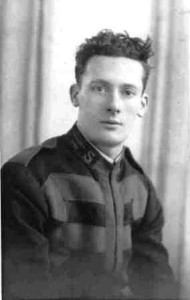 Bill when he was 17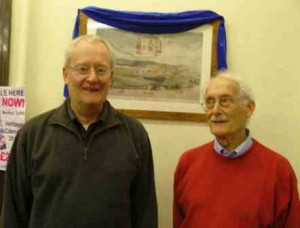 Bill(right) in 2009 aged 85 with his nephew David

William Morris was born in 1924 and lived with his family at 18 Webster Street, Treharris until the end of the second world war in 1945. He was a member of the Treharris salvation army band
(see picture when he was 17 years old)
Bill now enjoys his retirement in Mayfield, East Sussex but never forgets the happy times he spent living in our district.

(

If you wish to read more of Bill's story you will find it on the top menu of the site)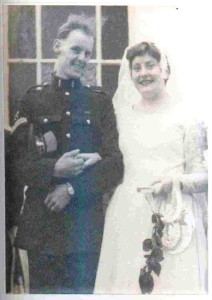 Happy on their wedding day 1958
Roy and Evelyn Atherton  were married on 26 July 1958 they lived in Webster Street, Treharris. They later had a daughter called Hayley and all three of them moved to Port Elizabeth, South Africa some years later where Roy worked for the South African Breweries until his retirement. He now works part time for Avis driving tourists to the Shamwari Game Reserve.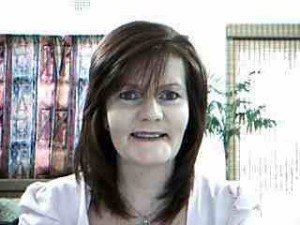 Hayley
Their daughter Hayley was born in Abercynon and she now owns her own embroidery business in South Africa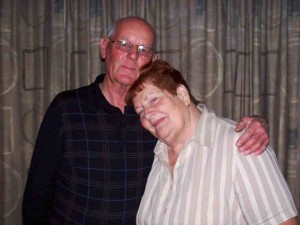 Roy and Evelyn still happy 2010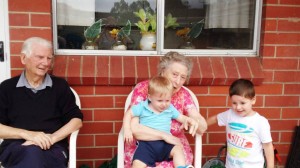 Billy Corkrey and his wife Mair, Treharris who emigrated to Australia over 40 years ago. In the photograph are they great grand children in 2014. They all live in Adelaide