Bedlinog Rugby Football Club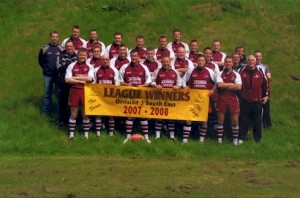 The club was formed in its present state in 1971 by a local youth club, which was at the time organised by Welsh international Steve Fenwick. Currently the club consists of three teams;
They also have a junior youth team.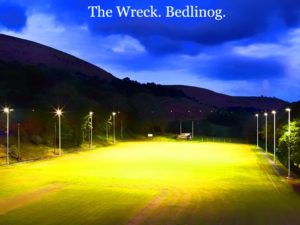 Photo by Hank the banksman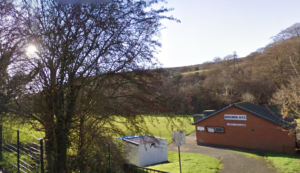 The club play in the Welsh Rugby Union Division one South East and is a feeder club for the Cardiff Blues.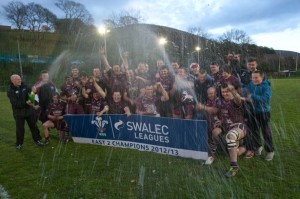 The club are nicknamed the "Foxes" and they play at the "Rec" at the bottom of the village. They have a good and loyal following and a warm welcome awaits visitors at the excellent clubhouse up on the Square. The clubhouse is packed full of the history of the Rugby club and although the Foxes are a relatively new club there is no denying that they already have a proud history.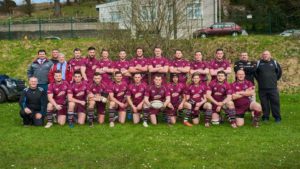 Bedlinog RFC Honours
1999/00 WRU Division Six East – Champions
2006/07 WRU Division Four South East – Champions
2007/08 WRU Division Three South East – Champions
2008/09 WRU Division Two South East – Runners up
2012/13 WRU Division 2 East – Champions
2012/13 – Worthington Silver Ball Winners
2015/16 SSE Swalec Plate Champions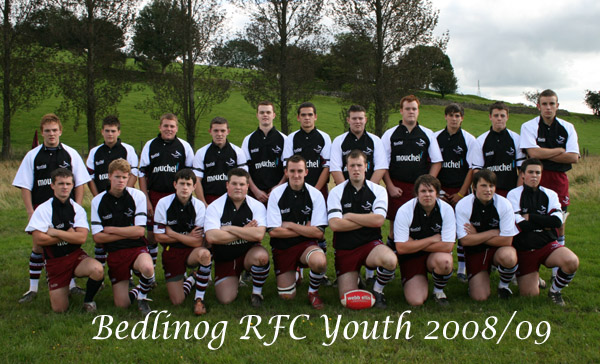 The Corona virus curtailed the 2019 season and Bedlinog played their last match on the 7th of March, 2020, a narrow 16-18 home defeat to Brynmawr.
The final table read as follows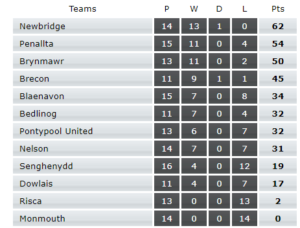 Bedlinog RFC Texas tour 2010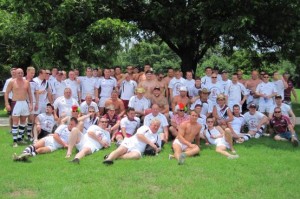 Bedlinog RFC ladies team 2013 "the Vixens"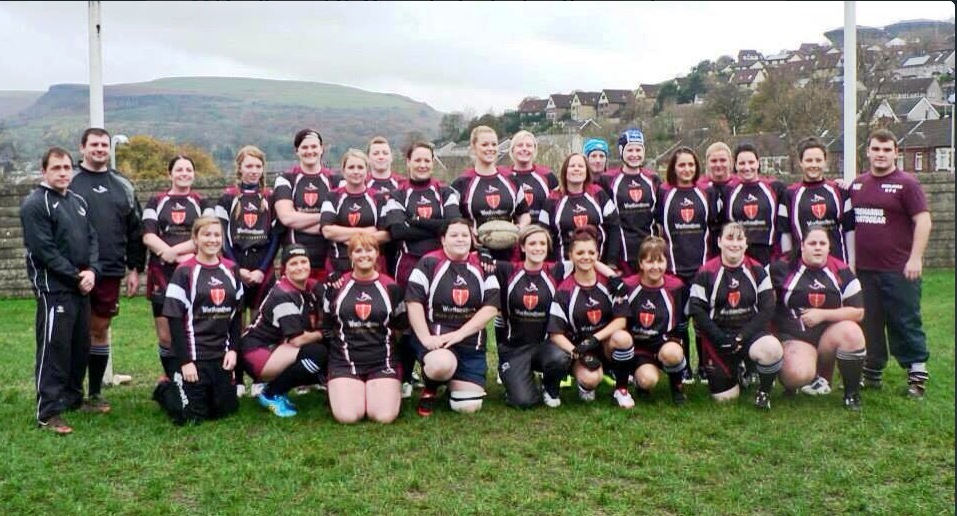 This is an old photgraph of a Bedlinog Rugby team ( thanks to Ivor Jones)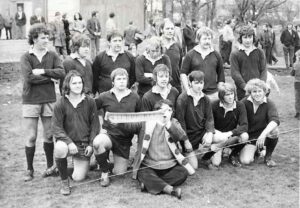 Bedlinog Football club
Firstly a team from 1935 who won the Rhymney valley cup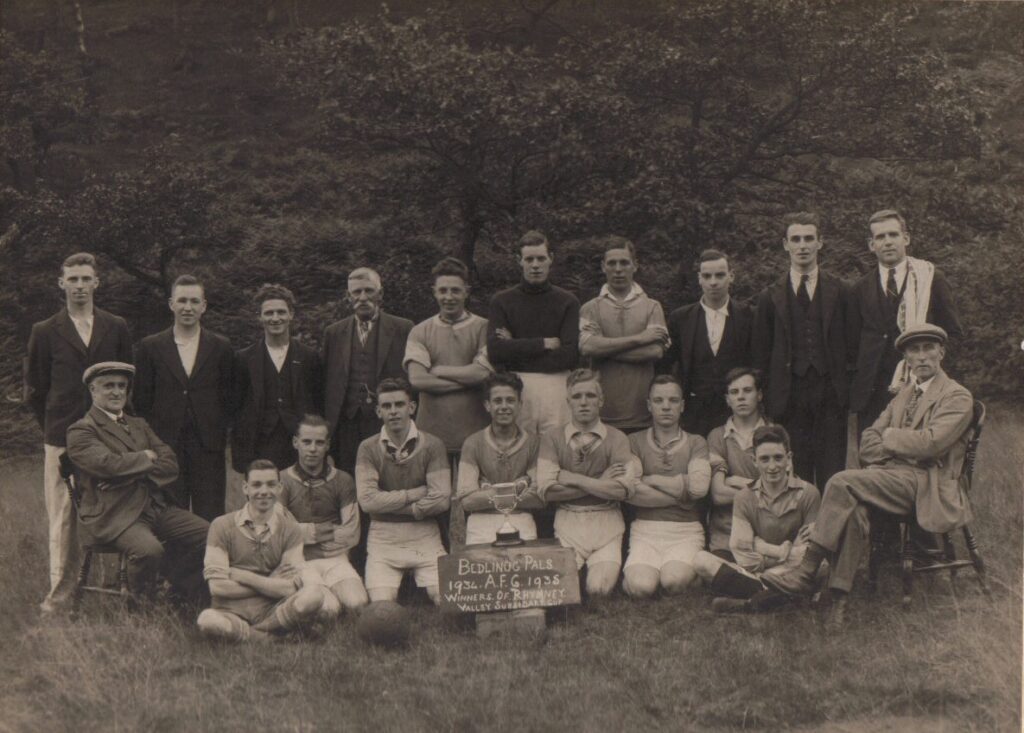 Bedlinog Pals football team taken in 1935.
We can identify a number of the men in the photograph:
Starting from back row left: 2nd person in Ivor Jones. 3rd Jimmy James, 4th William Roberts , 7th Roger Jones, 9th Jim Farr
Bottom row from the left: 1st John Richards (called John the club as he was steward of the 'top club' in Bedlinog, 2nd John Davies, 4th Lemmy Price, 6th Charlie Lewis, 10th Lewis Edwards who was the squire of Bedlinog at the time.
Photo courtesy of Paul Roberts, who's great grandfather William is pictured above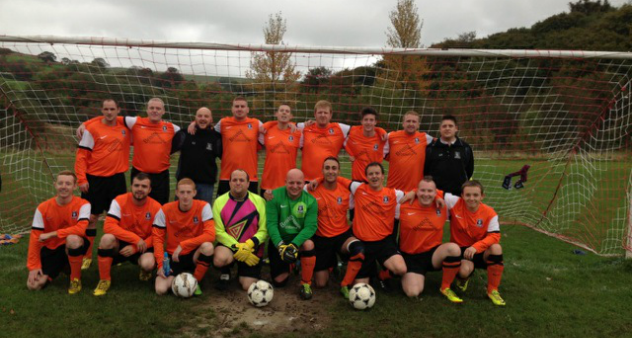 The current club were formed in 1979, and now play in the Merthyr League Division one.They play home games at the top of the village on the Coed-y-hendre ground. They use the Top club (Con club) as their club house. The clubs home kit is Blue and Yellow and they are nick named "The Rocks"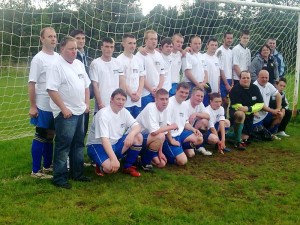 Above Bedlinog FC 2009-2010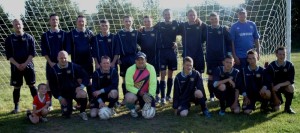 "The Rocks"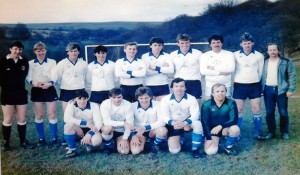 Above we see a photograph from possibly 1987 of Bedlinog Football club when they played in the Rhymney valley league
Not sure of the ref's name! 
Players are Top row left to right – Nicky Price, Gareth Jones, Barrie Bates, Howard Jackson, Glenn Richards, Andrew Evans, Derek Bennett, Peter Spadtz, Dai Madden (Manager)
Front Row left to right – Robert Watkins, Nigel Williams, Roy Phillips, Alan England, Mike Madden.
The following photographs were donated to the site for viewing courtesy of Michael Madden.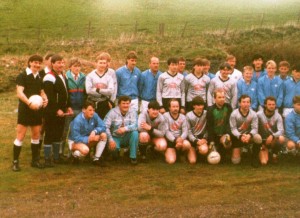 A game in the 1980's Bedlinog AFC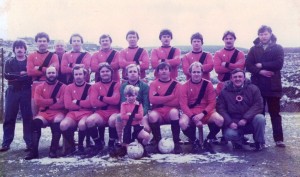 Above we see the Bedlinog FC (Railway) football club at the final of the Rhymney valley senior cup final Easter 1982 at Brithdir which they were unlucky to lose 3-2…goals from W rees and a Lyn Cussack penalty.
Back row (l to r)
Carl Dicks, Arfon Grindal,R Maddon, ? Thomas, B Yozall, C Miller, M Price, J Fussell, Lyn Cussack, J Smart.
Front row (l to r)
V Rees, D Madden, W Rees, M Madden,Vince Price, D Price,T Murphy
Mascot was S Madden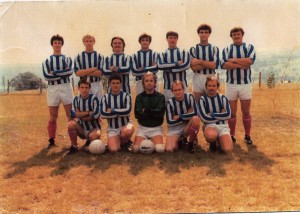 Above we see the Bedlinog team that played a representative Cardiff City team lead by Frank Burrows in 1987.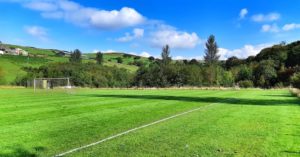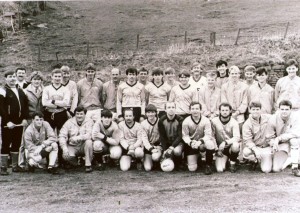 Another era at Bedlinog FC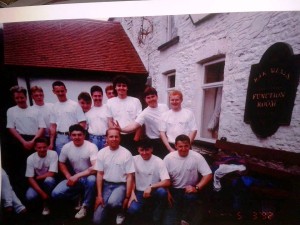 A victorious cup winning Bedlinog team
Bedlinog womens Football team early 1950's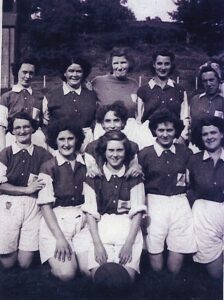 back row Joyce Owens, Ruthie Thomas, Eileen yeoman, Maggie Gibbs, Mrs Gowan
bottom Olwen Cowles, Sylwen Davies, Nancy Lloyd in the middle Joan Davies, Enid Davies, Glenys Barry
(picture Paul Roberts)
Another ladies team below which includes Mrs Farr, Mrs Reynolds Mary and Danny Jenkins and Megan Jones (Photo Gill Evans)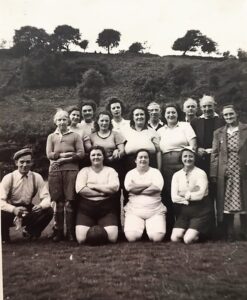 Bedlinog Tug of War Team Champions at the "Rec" 1930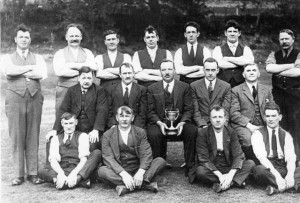 Back Row
Paddy(Banksman) G Canter, I Jones, B Garbett, D Williams, Jack Wells, W. Rees
Middle
Doctor Jenkins, Tinkham, D, Hughes (manager) Davies(Taylor)
Front row
Jack Price, Jim Brown, W.Jones (Navin) Bryn Jones
The names above may not all be in the correct order but they are names of some of the men in the picture.
Bedlinog Cricket
The village has had a cricket team for many years and we need to research this and put the information below. Meanwhile here is a picture of the village team 1950's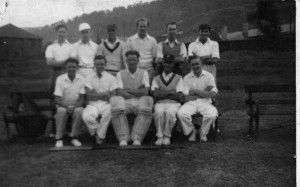 Below is a clearer picture from the 1956 (thanks to Gordon and Vince Farr for this photograph)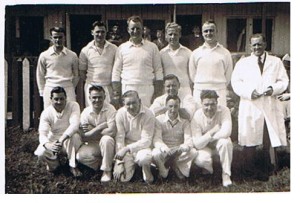 At Llanharren in 1956 
– Back Row -D C Watkins, Viv Jones, Trevor Light, Jim Jones(Bear) Gordon Farr, M L Jones – Umpire,
Kneeling – Doug Jones, Vince Farr, Ossie George, Jack Rees, Alan Etheridge and H. Griffiths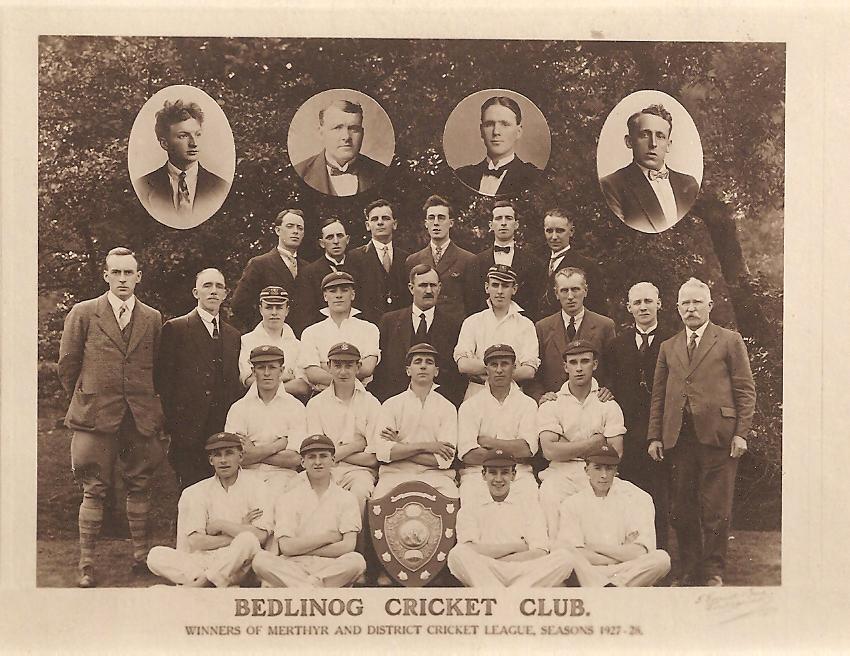 How about this gem of a photograph courtesy of Mr Carwyn Hughes. Bedlinog Cricket champions (anyone have any ideas of the names of these players?)
We now have an excellent collection thanks to Gill Smith who kindly allowed me to share them on the website
Start with George Gould and Philip Yeoman (photo Gill Evans)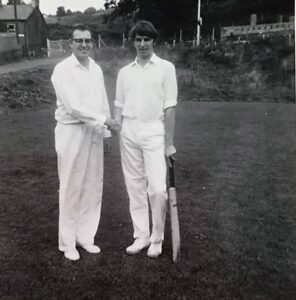 Next we see my old training officer at Taff Merthyr Gorden Farr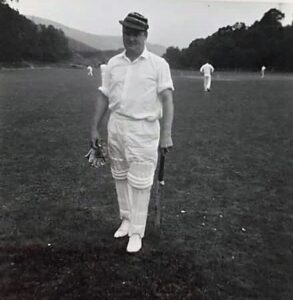 Below are Back Row – MLJones, Howard Price,? George Gould,Dai Bevan, Gwynfor Roberts, Gordon Farr, Viv Jones, Ossie George, Roy Farr, Graham Price, Will Lloyd.
Front Row-L-R
Len Thomas, Dennis Rees, Vince Farr, Doug Jones, Jacky Rees, Alan Etheridge.
(photo Gill Evans)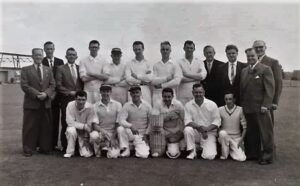 Below we see Graham Price, Gordon Farr, George Gould, Elton Curtis, Roy Farr.
Front row:-
Graham Harris, Howard Morgan, Lyn Jones
In a six a side tournament somewhere
(photo Gill Evans)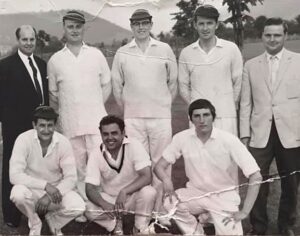 Below are -Roy Farr, Graham Carlick. Lyn Jones, Rob Jones, Phillip Yeoman, Gerald Hedges, John Harley, Roy Jewell, Graham Price.
Bottom row:-
L-R Howard Morgan, George Gould, Gordon Farr, David Davies, Glyn Williams.
(photo Gill Evans)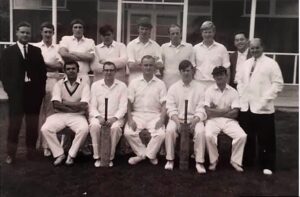 Below at Pontyclun (Thanks Arthur Farr) (photo Gill Evans)
D C Watkins, Viv Jones, Trevor Light, Jim Jones, Gordon Farr, M L Jones, Front Row : Doug Jones, Vince Farr, Ossie George, Alan Etheridge, Jackie Rees behind Alan then H. Griffiths