The Famous Lilywhites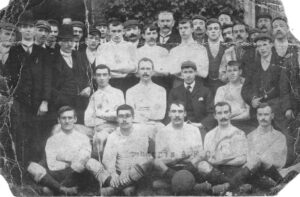 The football club that was formed at the same time as the Village which was born as a result of the sinking of a coal mine in 1873, known as the "Harris Navigation Colliery". The Township which grew around the mine was named after the owner Frederick Harris. Its often called the pioneer of football in the area and regarded as the oldest club in south Wales.
Football was brought to the area by the men who arrived to work in the mine. Until this time soccer was a game played in the North and over the border in England. Treharris Football Club was formed in 1889, some four years prior to the Treharris Workman's Hall opening (later to be the Palace Cinema and seven years before St. Matthias Church.During the late 19th and early 20th centuries, Treharris became the centre of the surrounding Villages, which today constitutes an area of over 15,000 people.
1891-02
The season saw Trelewis and Pontypridd join the league, but title stayed in Treharris. At this time Treharris played at their Graig Berthlwyd home.
The Merthyr Express reported on the 5th of April, 1890. Treharris beat Mardy, 4 goals to 1, in a charity football match, played at Treharris, in front of a crowd of 1,000 spectators. The Football Club is the oldest in South Wales and in 1902-1903 were the founder members of The Welsh Football League.Prior to the Welsh League being formed Treharris were founder members of the South Wales League. Treharris going down in history as the league first champions.In the first season, Treharris were joined in Division One by Aberaman, Aberdare, Barry, Caerphilly
Gradually Treharris began to dominate the South Wales league, being champions on three occasions between 1904 and 1908 and finishing runners-up in 1906-07. In these early years, there was no automatic promotion and relegation. Indeed some clubs were elected straight into Division One. After three successful seasons in Division Two, Ton Pentre was promoted in 1907.
David Walter Davies (born 1 October 1888, date of death unknown) was a Welsh footballer who played for Oldham Athletic and Sheffield United in the Football League First Division. He also made two appearances for Wales, one as a Treharris player and once whilst at Oldham. He was born in Treharris, Wales. He played for Treharris during the 1910-12 season…he won a FA Cup winners medal whilst at Sheffield United in 1915 but did not play in the final itself.
Treharris Athletic, the First team to win the coveted Simons cup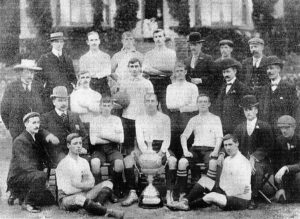 1905-06
Another league was formed, the Rhymney Valley League, some clubs, including Aberdare, Llanbradach, Rogerstone and Treharris competed in both leagues, and so far as we can trace, entered their first team in both competitions.
The Crack Treharris team from 1905 ( courtesy of Karen Francis)
1906-07
Joined Western League Division Two 1909-10 Western League Champions
SEASON LEAGUE P W D L F A P POS
1906-07 WEST-2 18 12 0 6 62 24 24 4/10
1907-08 WEST-2 16 11 1 4 53 19 23 3/9
1908-09 WEST-2 22 12 2 8 57 45 26 4/12
1909-10 WEST 24 20 2 2 84 21 42 1/13
1910-11 SOUTH-2 22 10 3 9 38 31 23 6/12
1911-12 SOUTH-2 26 11 5 10 44 47 27 8/14
1912-13 SOUTH-2 24 5 2 17 18 60 12 12/13
1913-14 SOUTH-2 30 2 4 24 19 106 8 16/16
1907-08
Riverside was elected directly into Division One. This club changed its name to Cardiff City in 1910.Prior to the setting up the Welsh League, Treharris were one of the first clubs to play over the border in England, when in 1906 they played in the Western League. In 1910 along with Cardiff City, Treharris entered the Southern League. The club is proud of its continued membership of The Welsh Football League and the part its members have played in making it the finest League in the Principality. During its "heyday" the club attracted players from all over Wales and hosted many Amateur Internationals in its teams.
1910-11
Joined Southern League Division Two,Treharris AFC was a top side and famous throughout Wales at this time. One of their star players was a chap called William Benjamin Francis of Webster street…William even had trials at Aston Villa and he was an important part of an excellent team.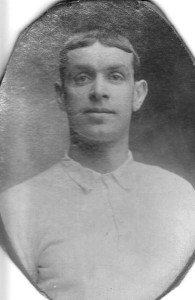 William B. Francis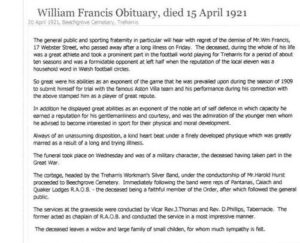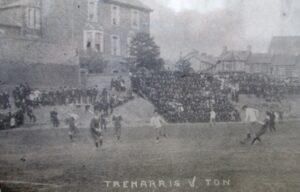 1924-25
Welsh League Division 2A Champions

1948-50 seasons
Joan Wilson scrapbook 1948-50
We are very fortunate now to be in the possession of a scrapbook kept by Joan M Wilson of the period between 1948 and 1950 including some prized matchday programmes, she must have been an ardent supporter, we think this maybe just one of a selection of scrapbiooks she kept but its the only one we have and it ends mid way through thec season but gives a great insight of the football club at the time, Big thanks to Carl Frowen who kindly donated it so that we can reproduce it here. His great Uncle once played for Trelewis, Treharris and Cardiff City. The scrapbook and old programmes will be gifted to the current Treharris and Western football club committee.
Here are the extracts that cover Treharris Athletic during that time. Please click photo clippings to enlarge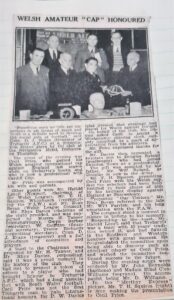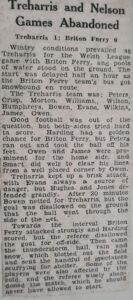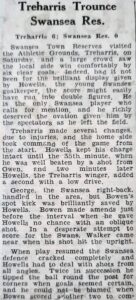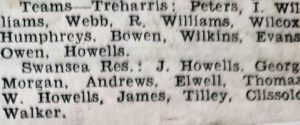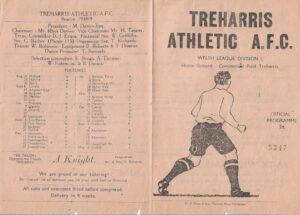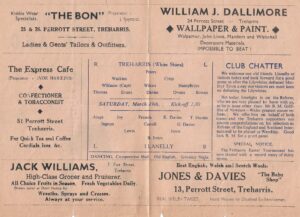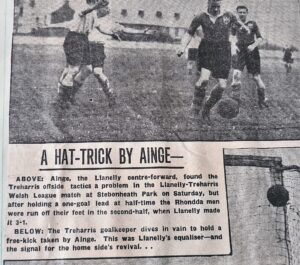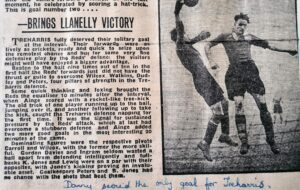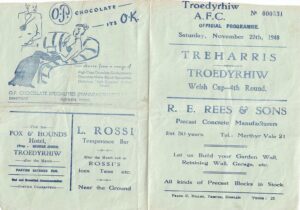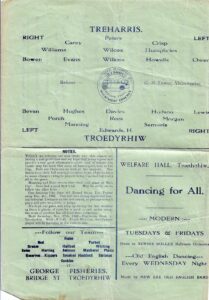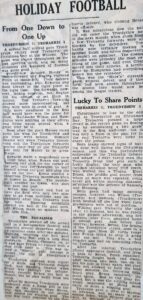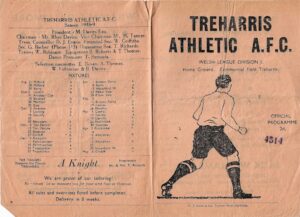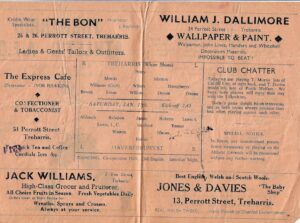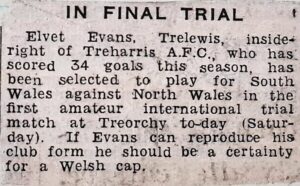 Elved Evans, an inside-forward, joined Cardiff City in May 1949 from Treharris, having previously played for Trelewis and Glamorgan side Nelson. He made his league debut the following season in a 1–1 draw with Sheffield Wednesday and, even though he played in less than half of the club's matches that season, he finished as the team's top scorer. He joined Torquay United on loan in March 1951, scoring 6 goals in 12 league games. He returned to Cardiff, playing one more season to finish his Ninian Park career with 18 goals in 46 games.
In June 1952 he moved to West Bromwich Albion for a fee of £5,000 and played 17 times the following season. However, he didn't appear in Albion's league side for the next two seasons and in June 1955 joined Wrexham for £1,250. In December 1956 he moved on again, after scoring 16 times in 34 league games for the Robins, joining Southport for £600. He played 13 games for Southport without scoring to finish his league career. He subsequently played for non-league sides Caernarfon Town and Burton Albion.
Elfed Evans died in May 1988 aged 61.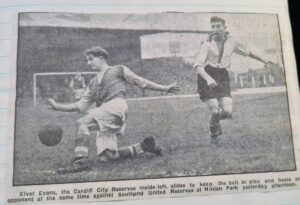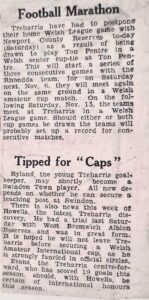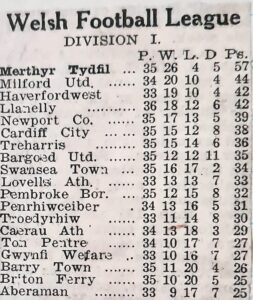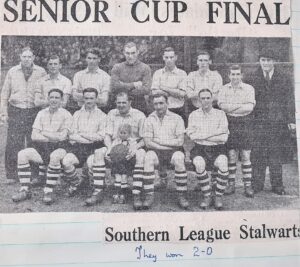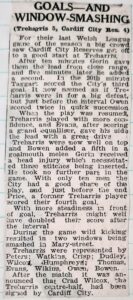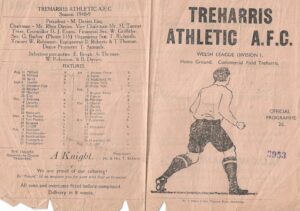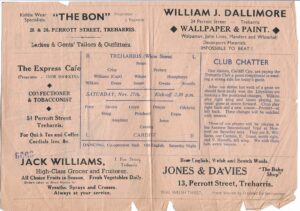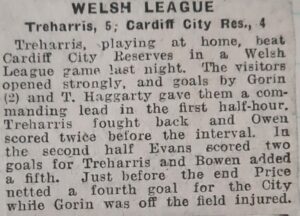 1949-1950 season
Treharris Athletic 1949 (courtesy of Graham Dale) who is in the photograph.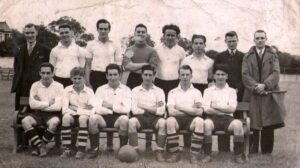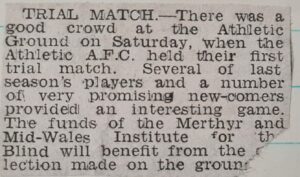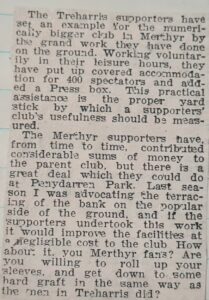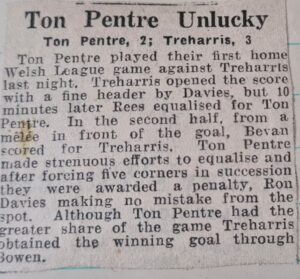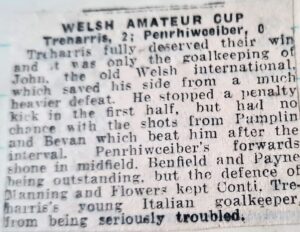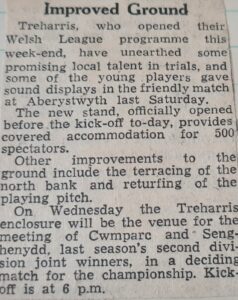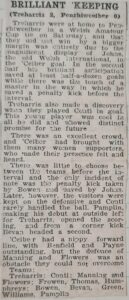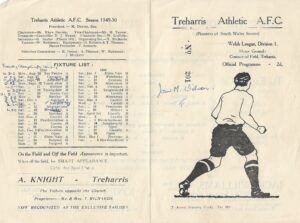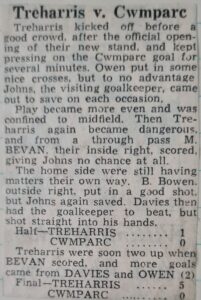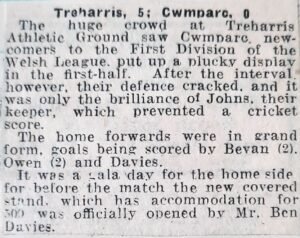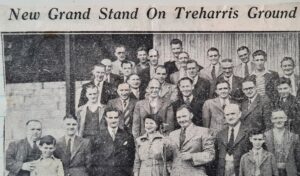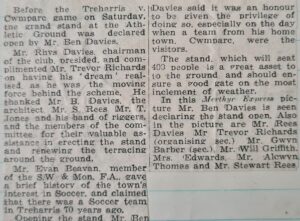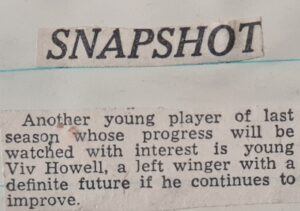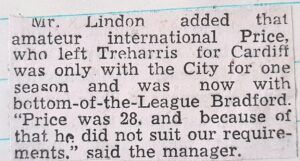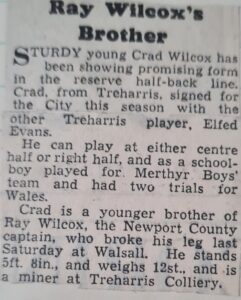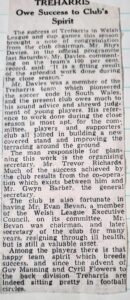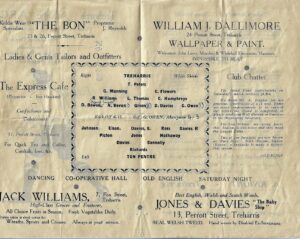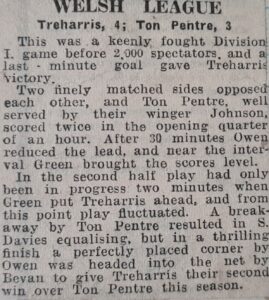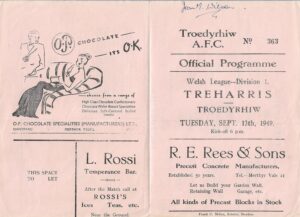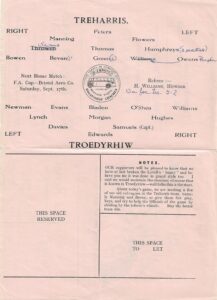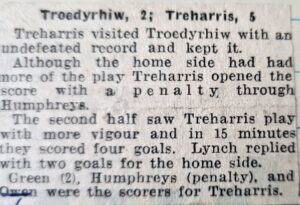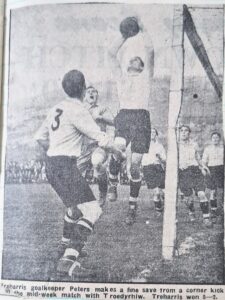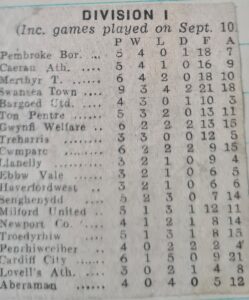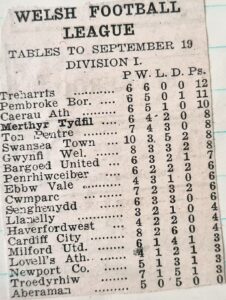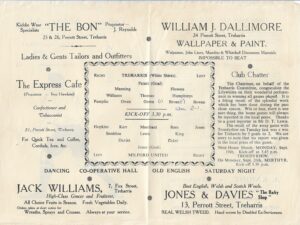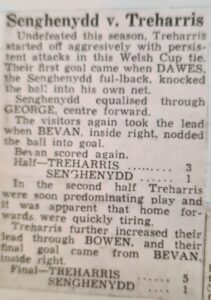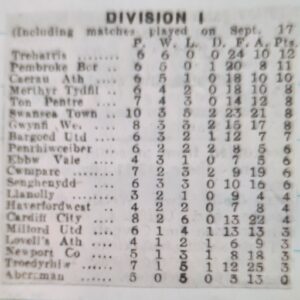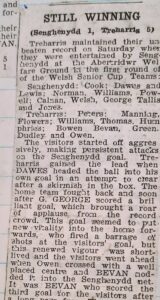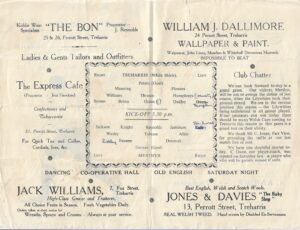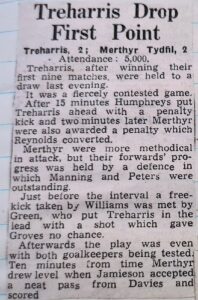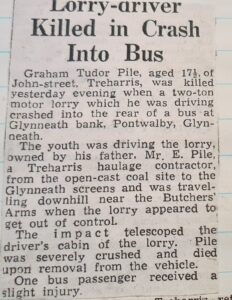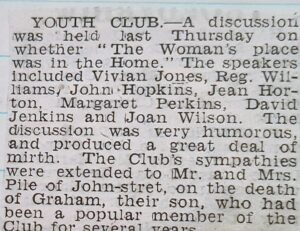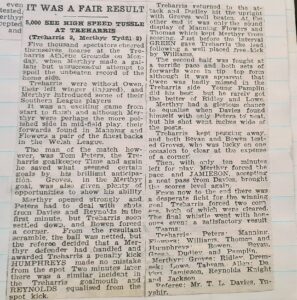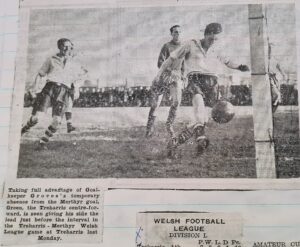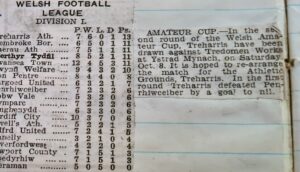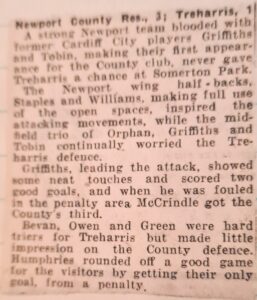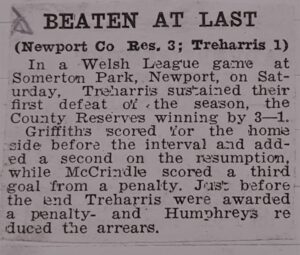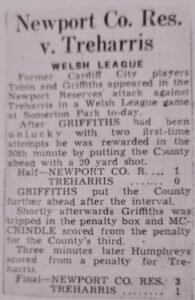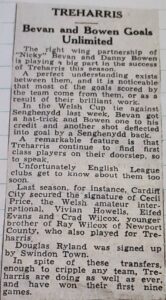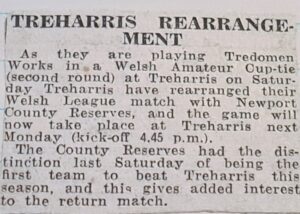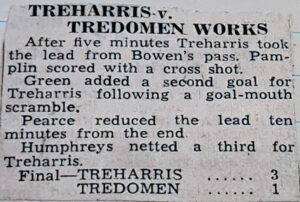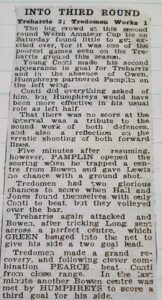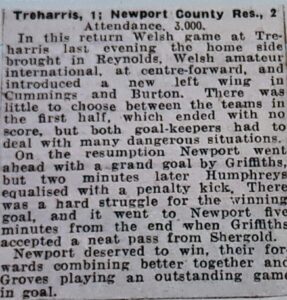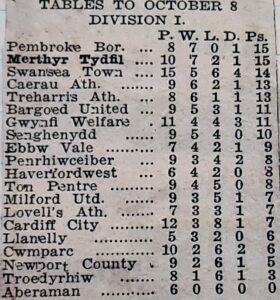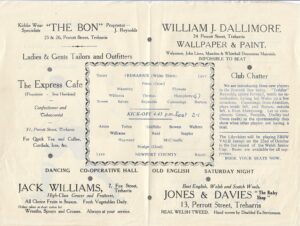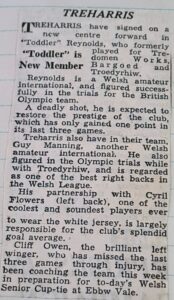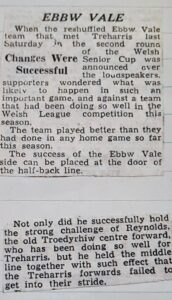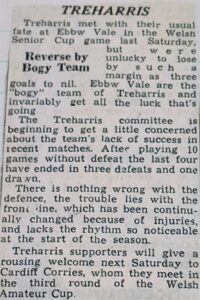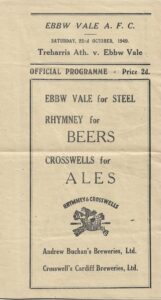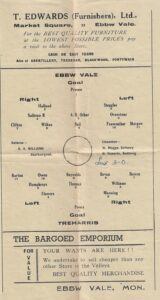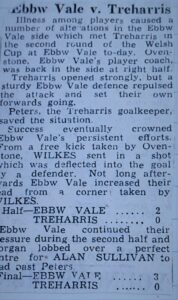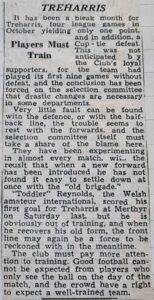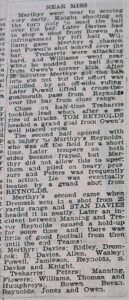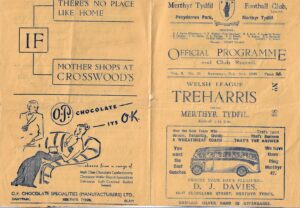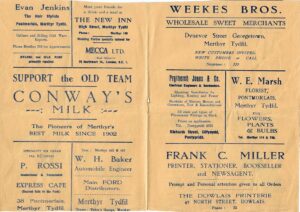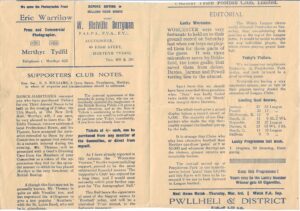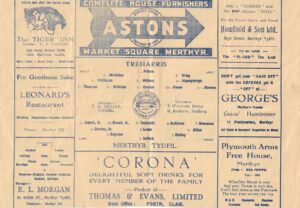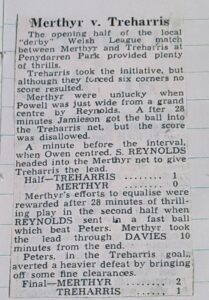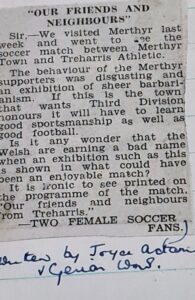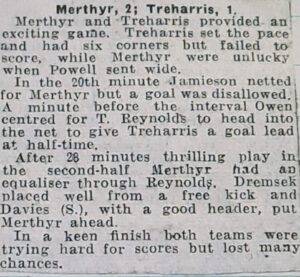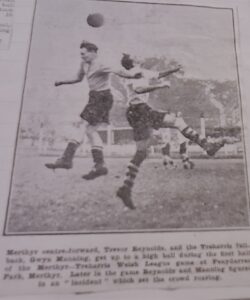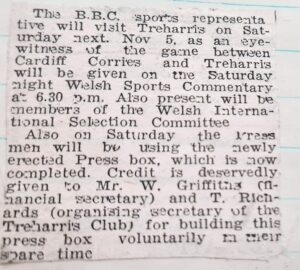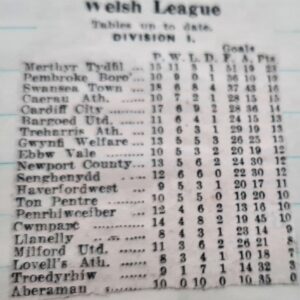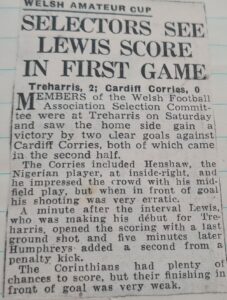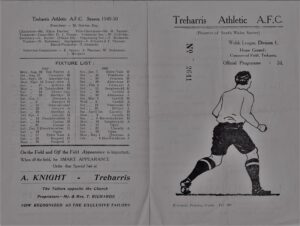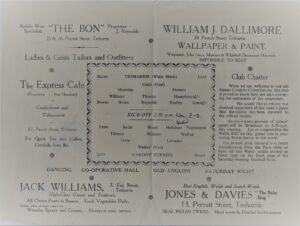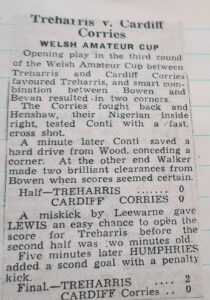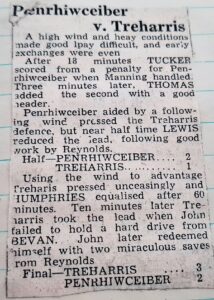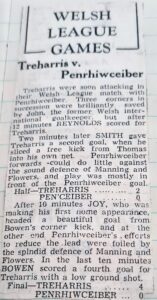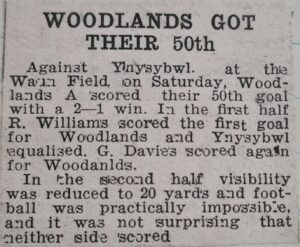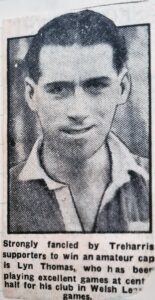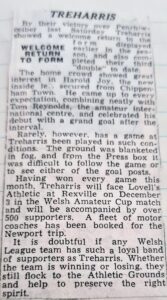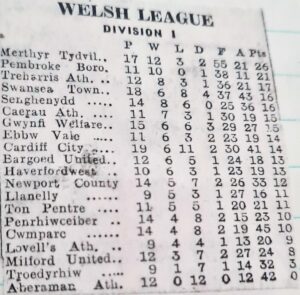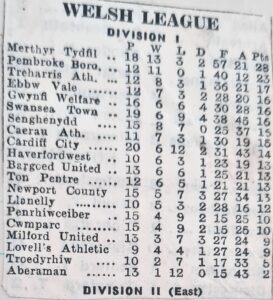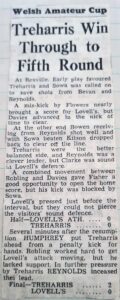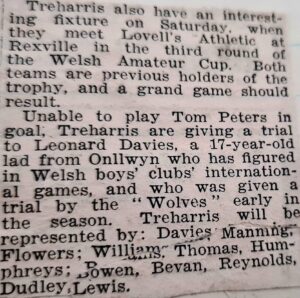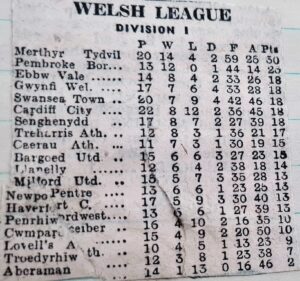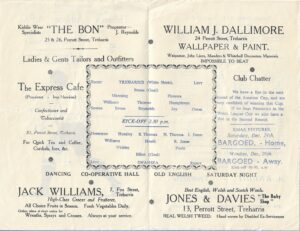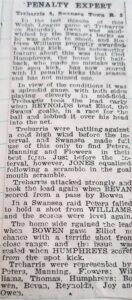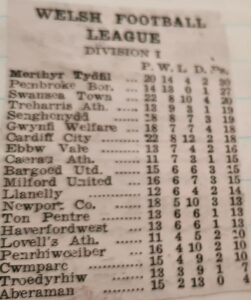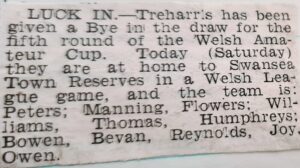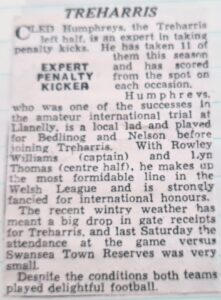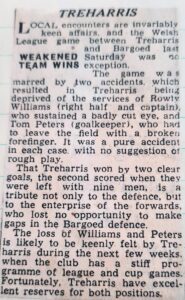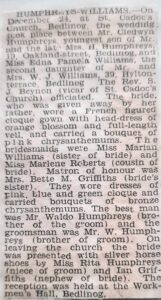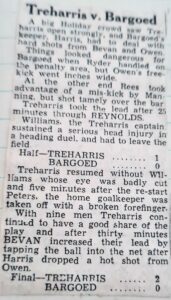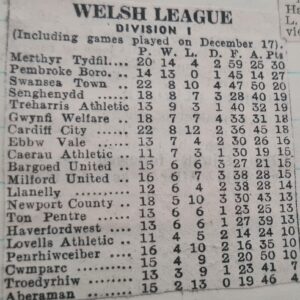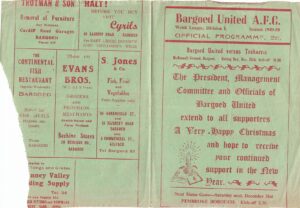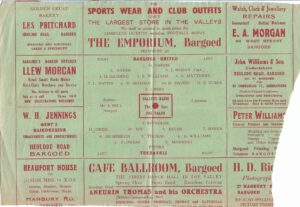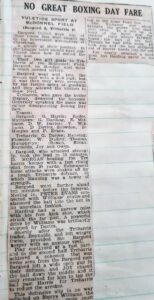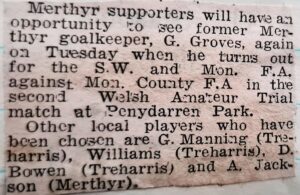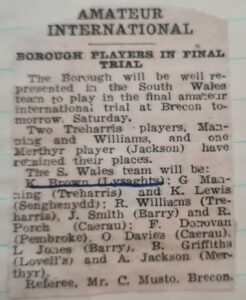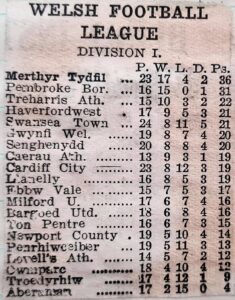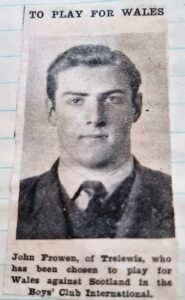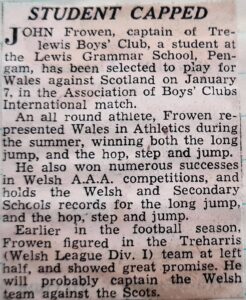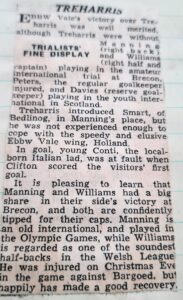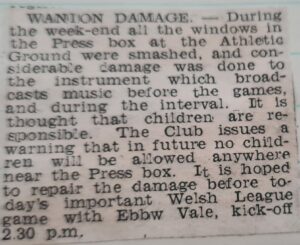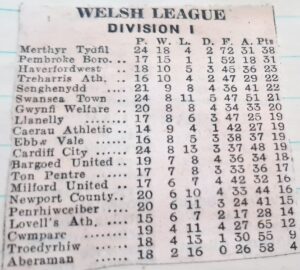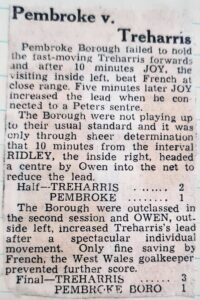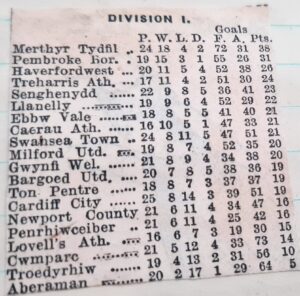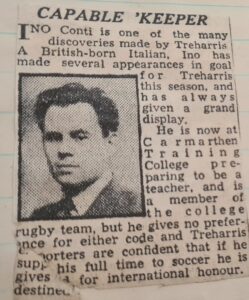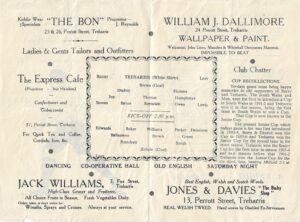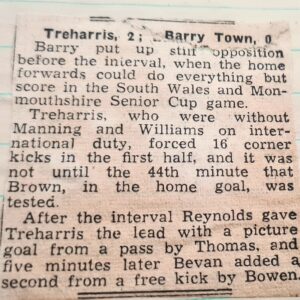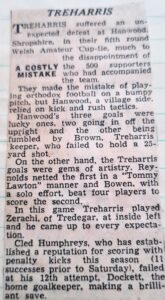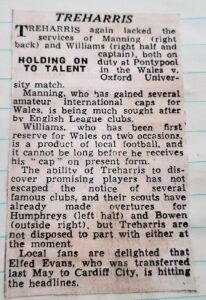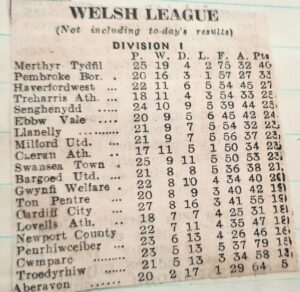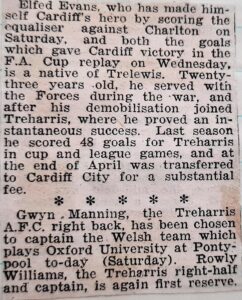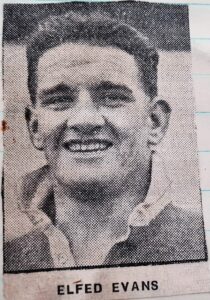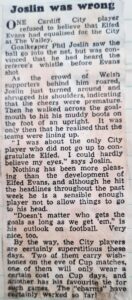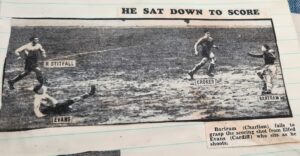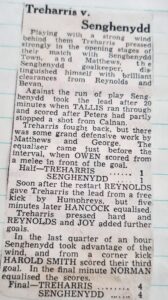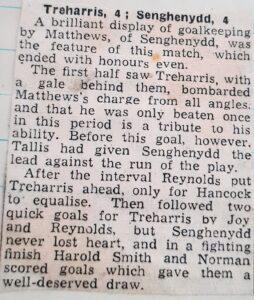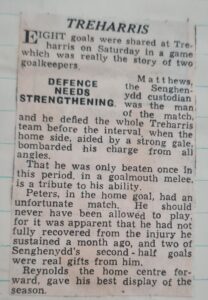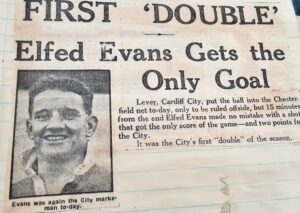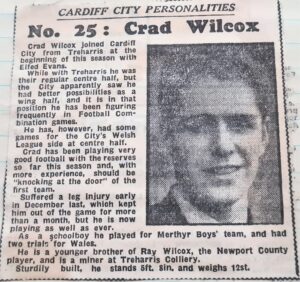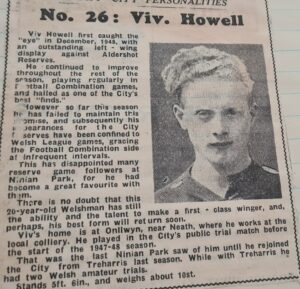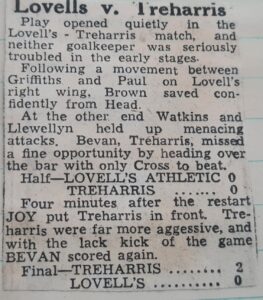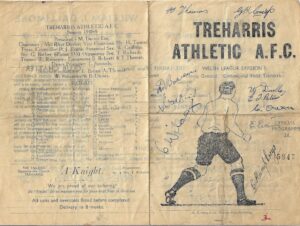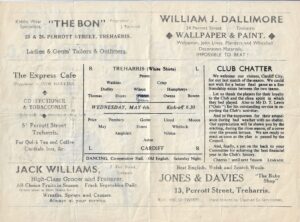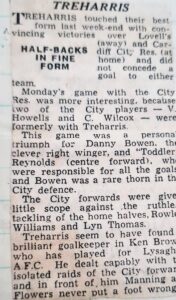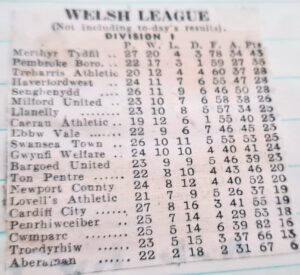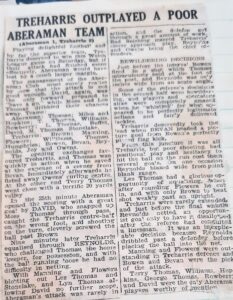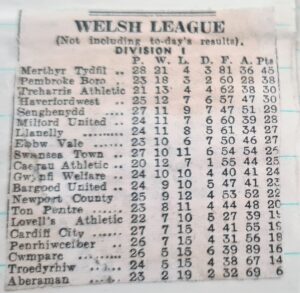 Unfortunately that is where her scrapbook ended but the final league table is below, a creditable runner up to Merthyr Tydfil,
WELSH LEAGUE SOUTH WALES FINAL TABLE 1949-50
 
 
 
 
 
 
 
 
 
 
 
 
 
 
 
 
Division 1
P
W
D
L
F
A
Pts
 
Merthyr Tydvil AFC
38
28
5
5
113
49
61
 
Treharris Athletic
38
23
8
7
108
66
53
 
Pembroke Borough
38
23
9
6
87
64
52
 
Caerau Athletic
38
24
12
2
118
75
50
 
Llanelly AFC
38
22
11
5
114
45
49
 
Ebbw Vale AFC
38
17
10
11
89
73
45
 
Haverfordwest AFC
38
16
12
10
82
70
42
 
Milford United
38
16
14
8
85
65
40
 
Swansea Town Res.
38
17
15
6
77
71
40
 
Newport County Res.
38
15
15
8
77
67
38
 
Lovells Athletic
38
16
16
6
73
69
38
 
Senghenydd Town
38
14
15
9
60
73
37
 
Ton Pentre AFC
38
14
17
7
77
80
35
 
Bargoed United
38
13
16
9
74
87
35
 
Gwynfi Welfare
38
13
18
7
55
78
33
 
Troedyrhiw
38
11
19
8
64
95
30
 
Cardiff City Res.
38
12
22
4
63
74
28
 
Penrhiwceiber
38
8
25
5
42
84
21
 
Cwmparc
38
7
24
7
55
136
21
 
Aberaman Athletic
38
4
30
4
46
134
12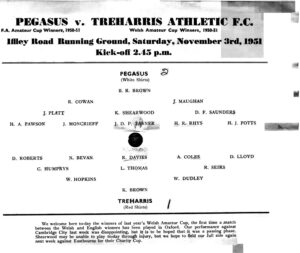 A copy of the programme of a match played in Nov 1951 between Treharris and Pegasus (winners of Welsh and English Amateur Cups. The added interest here is that the highly successful Penn St Indian band also made the journey and performed their marching routine at half time. We left Treharris at 5am (no Severn Bridge in those days) returning about 4am next day. There was quite a good crowd there and I seem to recall there was a collection made from the spectators for a very recent "disaster" like incident whilst we were performing on the field but cannot bring the cause to mind. Perhaps someone reading this will also have memories of the trip and solve the problem.
Below we see some newspaper reports from the 1950's

FA of Wales amateur cup 1950-51 winners
One of the trophy cups presented to the Treharris players for winning the FA of Wales amateur cup 1950-51. This actual cup was presented to former player David Roberts.The cup is kept in the committee room.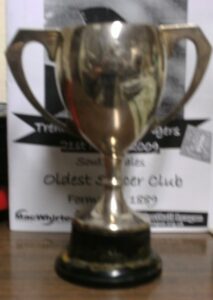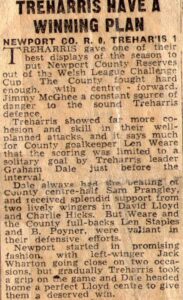 Treharris v Newtown in the 1950's…The Commercial hotel Towers over the packed Athletic ground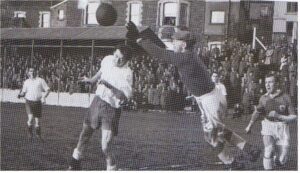 Peter Rees sent me these two excellent articles from the 1950's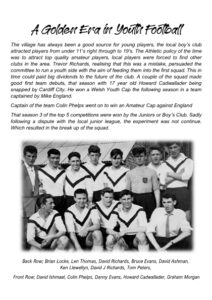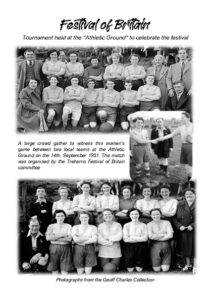 SEASON LEAGUE P W D L F A P POS
1965-66 WELSH-2 30 21 6 3 99 42 48 2/16 PROMOTED
1966-67 WELSH-1 30 14 5 11 78 61 33 6/16
1967-68 WELSH-1 32 16 10 6 73 57 42 3/17
1968-69 WELSH-1 34 22 4 8 106 55 48 3/18
1969-70 WELSH-1 32 19 6 7 108 41 44 3/17
Peter Rees kindly donated tese two articles from the 1950's
I thinks its a friendly or charity match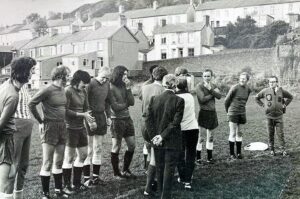 1970-71 WELSH-1 34 14 6 14 88 73 34 9/18
1971-72 WELSH-1 34 15 5 14 76 61 35 8/18
1972-73 WELSH-1 34 19 6 9 53 40 44 5/18
1973-74 WELSH-1 34 9 9 16 46 76 27 13/18
1974-75 WELSH-1 34 10 8 16 51 64 28 13/18
1975-76 WELSH-1 34 14 1 19 68 90 29 13/18
1976-77 WELSH-1 34 13 11 10 56 55 37 7/18
1965-66
Welsh League Division Two runner-up Promoted to Division One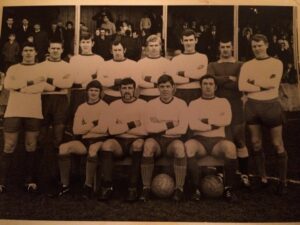 1977-78
Promoted to Premier Division
1977-78 WELSH-1 34 19 11 4 73 45 49 3/18 PROMOTED
1978-79 WELSH-P 34 9 8 17 43 65 26 16/18 Rel
1979-80 WELSH-1 34 10 11 13 51 69 31 11/18
1980-81 WELSH-1 34 7 12 15 36 63 26 16/18
1981-82 WELSH-1 34 21 9 4 87 39 72 4/18
1982-83 WELSH-1 32 15 8 9 62 45 53 6/17 PROMOTED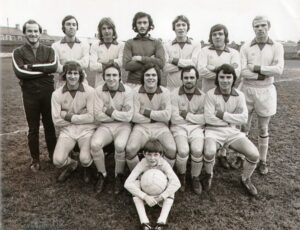 photo thanks to David Harris (third left back row) picture taken about 1980, Manager Malcolm Brown and Trainer George Gardener.
RE STRUCTURE OF LEAGUES
1983-84 WELSH-P 36 10 7 19 45 72 37 17/19 RELEGATED
1984-85 WELSH-1 32 12 4 16 48 61 40 11/17
1985-86 WELSH-1 30 13 8 9 55 47 47 6/16
1986-87 WELSH-1 34 10 8 16 53 64 38 13/18
1987-88 WELSH-1 34 8 9 17 45 62 33 15/18
1988-89 WELSH-1 34 18 4 12 65 50 58 6/18
1989-90 WELSH-1 32 15 4 13 65 51 49 8/17
1990-91 WELSH-2 32 6 3 13 65 68 51 6/17
1991-92 WELSH-2 32 12 7 13 51 54 43 8/17
1992-93 WELSH-3 26 6 5 15 40 51 23 12/14
1993-94 WELSH-3 26 11 3 12 60 62 36 8/14
1994-95 WELSH-3 30 7 8 15 56 72 29 13/16
1995-96 WELSH-3 28 23 3 2 118 30 72 2/15 PROMOTED
1996-97 WELSH-2 30 17 4 9 65 48 55 6/16
1997-98 WELSH-2 30 13 9 8 67 45 48 7/16
1998-99 WELSH-2 30 5 3 22 44 113 18 15/16 RELEGATED
1999-00 WELSH-3 28 14 3 11 70 54 45 5/15
2000-01 WELSH-3 30 17 5 8 77 50 56 3/16 PROMOTED
2001-02 WELSH-2 30 7 5 18 49 72 26 14/16
2002-03 WELSH-2 34 10 10 14 55 55 40 12/18
2003-04 WELSH-2 32 5 7 20 41 92 22 17/17 RELEGATED
2004-05 WELSH-3 34 19 7 8 85 49 64 4/18
1979
Relegated to Division One
1983-84Placed in Premier Division on league re-organisation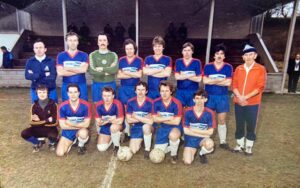 Peter Wiltshire-Dennis Block-Neil Sellick-Wando Saunders Dai Harries-Paul Jenkins-Alan Price-Patsy. front row- Tiger-Malcolm Evans- Scooter-? Phil Williams
1985
Relegated to Division One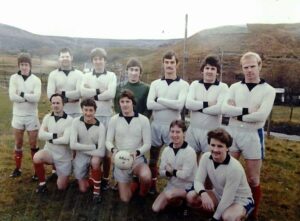 Reserve team at Dowlais 1985
Derek Davis, Clive bishop, Charlie Wilsh , Randall , fishy , Dai Harris, Byron Farr, ray, Carl clinging, Kerry Dillon ,Dai Bishop, John Andrews
1989 Centenery year
Centenary plaque awarded to Treharris Athletic by  the F.A.W. 1989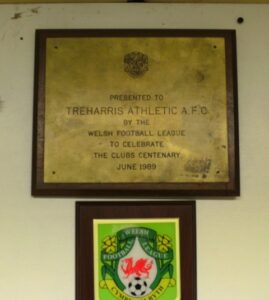 1990-91
Division One renamed Division Two
1992-93
Division Two renamed Division Three
1995 team with Charlie Wiltshire. Randall Day, John Lambert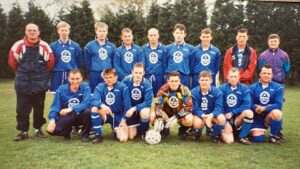 1995-96
Welsh League Division Three runner-up Promoted to Division Two
1999
Relegated to Division Three
2000
Mike Casey elected to the FAW board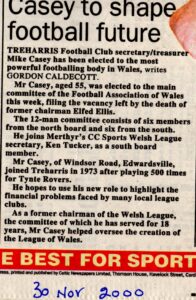 2000-01
Promoted to Division Two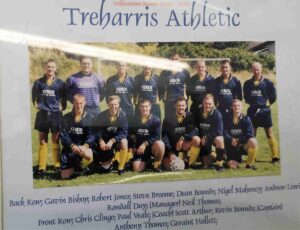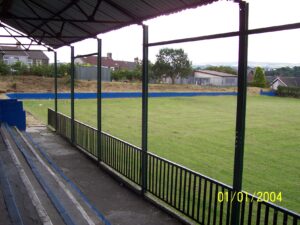 2004
Relegated to Division Three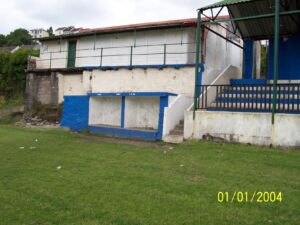 2005-06 WELSH-3 34 22 5 7 87 47 71 3/18 PROMOTED
2006-07 WELSH-2 34 9 8 17 46 52 35 14/18
2007-08 WELSH-2 34 10 7 17 61 94 36 * 14/18 point deduct
2008-09 WELSH-2 34 11 3 20 60 95 36 12/18
The club then merged with the great Western in Edwardsville for more information about Treharris Athletic Western from 2009 onwards please follow the link
https://www.treharrisdistrict.co.uk/treharris-areas/treharris/sports/