Trelewis School History is very interesting and luckily Susan Rosser did a project for her examinations at Ystrad Mynach college and choose to chronicle the school from 1878-1978, she has kindly let me re prodece it for this website, I hope you all agree its an excellent piece of work and a valuable resource for our heritage
Trelewis school 1878-1978
Centenary year by Susan Rosser
The following historical work was created by Susan Rosser, formerly of Bontnewydd Terrace and Gelligaer Road, it was done 40 years ago, as part of her college course and is now a valuable addition to this web site and I would like to thank her for producing this and allowing to be viewed here.
Contents
Before 1878
History of the school 1878 onwards
Punishment books
Centenary celebrations
Chapter one Before 1878
Wales has always been in advance of most countries as far as schools are concerned. Before the 1870 Education act our people were setting up small schools.
The Rev. Gruffydd Jones became Rector of Llanddowror, Dyfed. He wrote to the SPCK (Society for promoting Christian Knowledge) on September 22nd, 1731. As a result, he procured a supply of Welsh bibles and taught his own parishioners to read. He cultivated a scheme of travelling teachers so that people throughout Wales could be taught to read the bible. This is where Trelewis came to share in one of the most interesting and significant experiments in the history of education in Wales, namely the Welsh circulating charity schools.
In 1758-59 a circulating school was held in Pen-y-Bontnewydd farm, Trelewis, the school remained in the area for 3 months usually in the winter-time. The purpose of the school was to teach people to read and not to make gentlemen but Christians.
Trelewis during the early 19th Century was a rural village, Mr TW Lewis describes it as purely agricultural. In 1872 the tide of industrial development reached the area when FW Morris, a London shipowner commenced to sink the pits then named Deep Navigation colliery.
Middle 19th Century children were not compelled to attend school. In 1870 the Elementary Education Act was passed. This made education compulsory, but parents paid a fee of two pennies a week (2d) the fee was abolished in 1891.
The History of the School 1878 onwards
On Tuesday afternoon, January 1st, 1878, the Bontneydd board school was opened in temporary premises at the Ebenezer school room Trelewis.  Fifty children were present along with Mr Davies from Merthyr Tydfil who was there for the opening.
In February 1881, there is a reference to the school being moved to new premises, Mr Thomas, the headmaster, had complained during the year that he was unable to do justice to Geography and Grammar lessons. Mr Thomas' first entry in his log book week ending May 27th, the school by this time was very overcrowded
"the attendance officer called on Monday, but I did not give him the names of "irregular" children as the school is already overcrowded."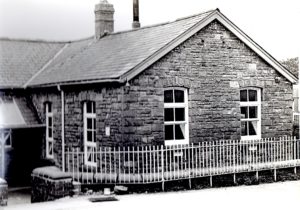 This part of the junior School was the first building erected and was still in use right up to the school closure in 1984
W/E November 4th
The new school was opened on Tuesday afternoon, the first convenient premises, there were no markings of registers.
Records of Attendances/work in the early days of the School
January 5th, 1884
Fitters have been placing gas pipes at the School this week
April 22nd, 1885
Workmen are engaged these days at the separate access to the Infants school
March 23rd ,1888
A stove was fitted in the school today by a mason under the superintendence of Mr W Davies, Pontlottyn
August 10th ,1888
In the recess, painters have refurbished the premises
May 7th, 1889
There is a movement on foot to secure water to the premises beside that supplied from the water tanks on the roof, which must be unhealthy to drink, and children will persist in drinking it whilst it's the only supply available on the school premises.
On April 11th, 1893. The infant school was made a separate department from the mixed school.
In the annual report for 1899 it is hoped that the school board would carry out proposals to build a new infant school. The contractor started on the new buildings on November 16th, 1900.
The new infant school was opened on Monday August 26th ,1901. The rooms formally occupied by the infants in the mixed school were added to the accommodation of that department.
In the first two months as head teacher Mr John Bedford Thomas, in June 1913, wrote in his log book-
"The water has ceased altogether now. Mr C Marshall of the water company has visited the premises and his opinion is that the old three eights iron pipes will have to be replaced by three quarter lead pipes.
The old iron pipes have become eroded and so the water can not pass through, the new water pipes were laid down September 12th, 1913."
After nearly 3 and a half years of negotiations regarding premises for school meals, work on the erection started the last week of February 1946 in the playground of the infants' department. The canteen was opened on March 18th, 1947, a day in the history of schools. Approximately 50 % of the children were catered for. The first day was excellent both to the regards of quality and quantity. I would like to record my appreciation of the whole-hearted cooperation of the staff, said W Adam Jones. The first record of providing a mid-day meal was made on week ending May 27th, 1898. An effort is made to supply a mid-day meal to the neediest from a fund collected locally for the purpose.
The Average number of children who took their meals to school was-
Winter Months Mixed School Boys 6 Girls 6
Summer months Mixed School Boys none girls none
Winter months Infants School Boys 9 girls 15
Summer months infants School boys 2 girls 7
A new chapter opened in the history of Trelewis School on the 8th of January 1951, the school reassembled on a reorganised basis, as from that date 124 children proceeded to Bedlinog secondary modern school, forty-one children were transferred fourteen boys and twenty-seven girls.
On September 26th, 1963 a new temporary classroom was erected in the infants' playground. During the months November and December 1963 work started on the installation of central heating, the heating was switched on in January 28th.
During the winter of 1977-78 work started on providing the school with new indoor toilets for the children. During its last few years as a school, being a pre-war building, it was in the top category for replacement and a new school was opened A new school opened in Trelewis in September 1984. It replaced the old buildings of the separate junior school and infant department. The new primary school is positioned in idyllic surroundings providing safe access well away from the main road. The School is built in the semi- open plan system.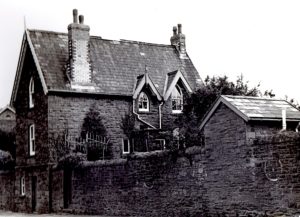 This is the School house where all the head teachers lived throughout the years and Brian Jones the school caretaker occupied during his time there. It still survives today.
Extracts from Trelewis School log books 1878- 1973
1878- 1914 log book
W/E February 1st, 1878
The homework received special attention throughout the week, the lessons given were well learned
W/E March 8th, 1878
I endeavoured to teach these songs (Mill Wheel) and (see the sun is peeping) by notes by means of the modular of the tonic -Solfa motation This was the first attempt
W/E March 15th, 1878
There was special attention made to order and discipline this week. In the lower classes the children were well drilled in their multiplication tables
W/E. April 12th ,1878
On Thursday evening one of the scholars, John Walter Davies, died very suddenly…special attention was made to cleanliness and in the attire and habits of children during the week.
W/E August 2nd, 1878
I had some problem with getting the children into discipline this week Special attention was given to marching singing and exercising during changing of lessons
W/E August 23rd, 1878
Five pupils were expelled this week in consequences of their unruly conduct in school
W/E November 22nd, 1878
There was no opening of the school on Thursday and Friday in the consequence of the examination. The school children's' treat took place on the Thursday after the examination
W/E March 7th, 1879
Cautioned the school children on being unruly on the highway.
W/E March 14th, 1879
Cautioned the children respectfully on the importance of punctuality and regular attendance.
W/E April 18th, 1879
The tone of the school is improving, although some of the eldest boys are still very unruly.
W/E May 23rd, 1879
Took the second and third standards in Geography and I found the want of a classroom in giving these lessons
W/E August 8th, 1879
Holiday on the Monday owing to the soldiers that were camping in the neighbourhood holding their grand review.
W/E September 19th, 1879
Punished several boys for stealing corn from the Harvest field.
W/E April 23rd, 1880
The first, second and third standards have made great improvements during the week in the three Elementary subjects
W/E June 25th, 1880
We had no school on Monday due to there being a meeting in the school room
W/E September 16th, 1881
Owing to the Scarlet fever and ringworm, average attendance has been considerably lower this week
W/E October 14th, 1881
As the majority of children speak Welsh at home and in the streets, it is a very difficult matter to secure sound intelligent reading. I have advised them to speak English in their play and on their way to school.
W/E December 16th, 1881
Owing to the absence of gas lamps, I was unable to proceed according to the time table
W/E March 10th, 1882
Owing to the very contagious disease affecting the eyes, several of the children have been kept at home
W/E March 16th, 1883
Several children whose parents have secured employment elsewhere, have moved from the district recently, part of this neighbourhood lately is inhabited by a somewhat Nomadic tribe
W/E February 15th, 1884
The number of children is increasing as the population of this place becomes more settled
W/E October 23rd h, 1885
The school is closed for 3 weeks owing to the epidemic
W/E July 6th, 1886
Weather very dry and sultry, – scarcity of water in the village ahs meant some children being kept home to carry it.
W/E March 25th, 1887
The books and apparatus are now in stock except ruled blackboard and slates for infants.
W/E June 24th, 1887
The weather is very dry, there is a scarcity of water in the village again this year, it is hoped that an ample supply will soon be forthcoming through pipes recently laid.
W/E September 14th, 1887
Dr. Dyke, the sanitary inspector or rather medical officer of health, called here today. Advised precautions for the spread of small pox, a case of which as occurred in Treharris.
W/E October 6th ,1890
Mrs Davies, School house, died of Typhoid fever, the school closed for a fortnight by order of the board.
W/E August 14th, 1895
Nearly all the people of the village, men, women and children have gone to see the 41st regiment at Treharris this morning, it seems useless to open the school.
W/E May 21st, 1897
In view of the approaching Diamond Jubilee celebrations, some patriotic songs have been practised
W/E May 25th, 1900
A holiday was given yesterday in honour of the Queens birthday
W/E February 7th, 1902
The School has now been furnished with new locker desks
W/E July 4th, 1902
Notwithstanding the postponement of the coronation due to the illness of the King , the children were regaled with tea on the appointed day.
A photograph courtesy of Edward Tate of some the Trelewis infants in 1904
W/E June 16th, 1911
School breaks up again for the Coronation
W/E November 11th, 1911
"This was once a very Welsh district but with the influx of newcomers has of late become much more Englishised", a remark made by a visitor to the school
W/E July 31st, 1913
Sixty cases of Measles, whooping cough and Scarlet fever reported.
W/E November 13th -17th 1918
Holiday to celebrate the declaration of Armistice with Germany
W/E April 25th, 1921
The provision of meals act put into force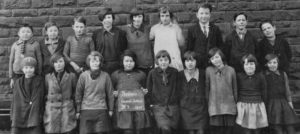 W/E November 29th, 1934
Holiday wedding H.R.H Prince George to Princess Marina
W/E November 17th, 1936
Holiday- his majesty King Edward V111 passes through Trelewis
W/E July 31st, 1939
The school did not open until September 11th on account of the declaration of war against Germany
W/E May 11th-May 19th ,1940
School reopened on May 14th by order of the government-due to the German invasion of the home counties
W/E July 13th ,1940
First air raid warnings at 10-15, all clear at 10.52 am
W/E September 2nd ,1940
Air raid warning at 9.54 am, all clear at 10.45
W/E November 11th, 1940
Air raid warning 3.20 pm All clear at 3.40pm
W/E May 8th to 9th ,1945
Holiday- Victory in Europe
W/E June 6th ,1946
As part of the victory celebrations, tea was provided for the children…Each child was given a shilling and a personal message from H.M. King George V1
W/E September 16th, 1947
Telephone installed
W/E November 20th, 1947
School closed on the occasion of the Royal wedding HRH Queen Elizabeth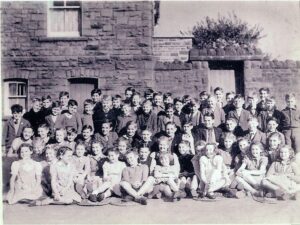 W/E April 14th ,1948
School dinner prices reduced from 5d to 4d for the Summer term
W/E November 26th, 1948
School closed -Birth of royal Prince Charles
W/E January 10th, 1950
Power points being installed in School
W/E December 20th, 1950
During the evening, the whole village assembled at the Christmas tree to welcome Father Christmas who arrived in a giant cracker and distributed gifts to every child in the village
W/E December 19th, 1956
Poultry was supplied for the Schools Christmas dinner for the first time
W/E March 7th, 1957
Workmen commence the installation of Electric lights at the infants Dept.
W/E November 30th, 1959
First payment of teachers' salaries by individual cheques
W/E July 27th ,1960
Mr W Adam Jones (Head master)  retired Today from the service of the Authority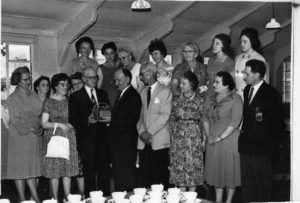 W/E March 2nd ,1962
Many children visited the Doctors Today to be vaccinated, in view of the outbreak of Small Pox in the Rhondda Valley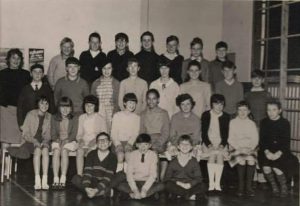 W/E March 10th ,1964
A number of families from Fife have arrived at the Shingrig estate, the first of the children arrived at the school today.
1966
Terrible disaster up the valley just 4 miles away from Trelewis, some children below of the same age at their desks in the Trelewis school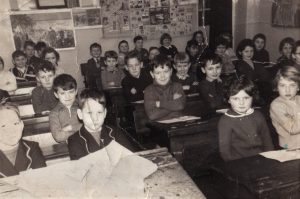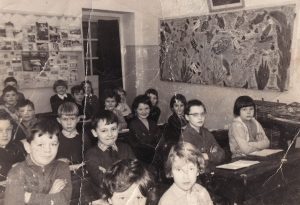 W/E March 5th, 1968
Twenty-four children took their County entrance examination Today ( The last of the old 11+)
W/E November 25th, 1969
Mr John Vodden (BBC producer) called to meet standard 4 children, the voices of several children were recorded
W/E December 4th ,1969
Standard 4 children were heard in the BBC broadcast "Exploring Wales"
W/E December 8th ,1971
Mr W Smith visited the school (Bontnewydd terrace) At ninety-one years of age he has vivid memories of early days at the school
W/E January 10th ,1972
National coal strike has commenced
W/E June 27th ,1972
The final selection list of Grammar school places to hand. In future the children from Trelewis will proceed to Afon Taff Comprehensive as a result of boundary changes.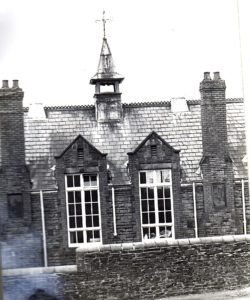 The infant School was a major addition to the original school and was built in 1901
Punishment Book 1922- 1958
Nature of Offence                                 Punishment
Talking and Inattention – One cut with cane on Hand
Insubordination – One cut with cane, although one child received a few cuts across the back
4 lads stealing apples from the school Garden- each received 4 cuts on the hands
One boy acting fool in front of class – 4 cuts on hands
Boy swinging on trough- 2 cuts
Untidy work- one cut
6 boys late arrival- one cut each
1 boy filthy behaviour -4 strokes
2 boys misbehaving in lines- 2 strokes
1 boy thieving offences- 2 strokes each time and one on seat
One boy lying- 3 strokes on seat
Centenary Celebrations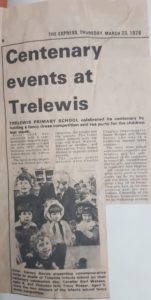 March 10th, 1978
Centenary dance at the Ex-Serviceman's club
March 13th, 1978
Centenary service at the school for children only (in the afternoon)
Evening- Old tyme concert for all the senior citizens
March 14th, 1978
A Children's party, two prizes (a boy and a girl) to be given to the most original old tyme costume.
March 16th ,1978
Cheese and wine Party in the school hall for parents, old pupils and friends
In 1978 Susan concluded that the present School staff consisted of- a Head teacher, and eleven infant and junior staff.
The School house is situated inside the school grounds, where all the head teachers of the school had lived.
The oldest living pupil is Mary Jane Gaines, now living in London, she was born on October 31st, 1886 at 1 High Street, Trelewis…the children of the junior school did a house to house survey of the residents of Trelewis to find the eldest living pupil
Susan Rosser 1978
A new school opened in Trelewis in September 1984. It replaced the old buildings of a separate junior school and infant department. The new primary school is positioned in idyllic surroundings providing safe access well away from the main road. The school is built in the semi- open plan system .Its position is adjacent to Tir-Bach farm and close to the village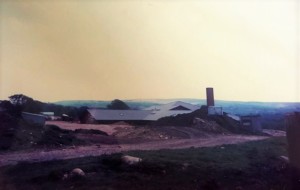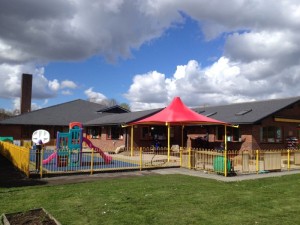 new school more generations being educated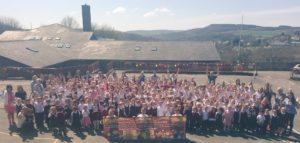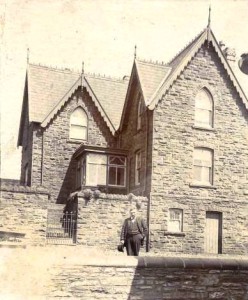 Caretakers house at the original school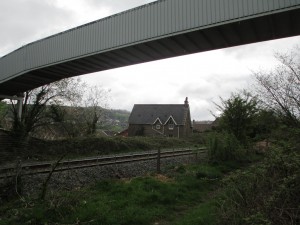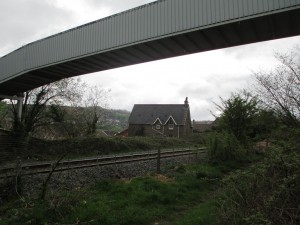 Rear of Caretakers house 2014 with footbridge to new school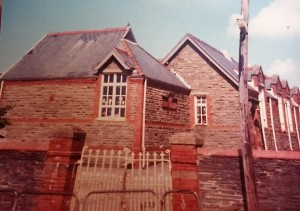 Trelewis infants school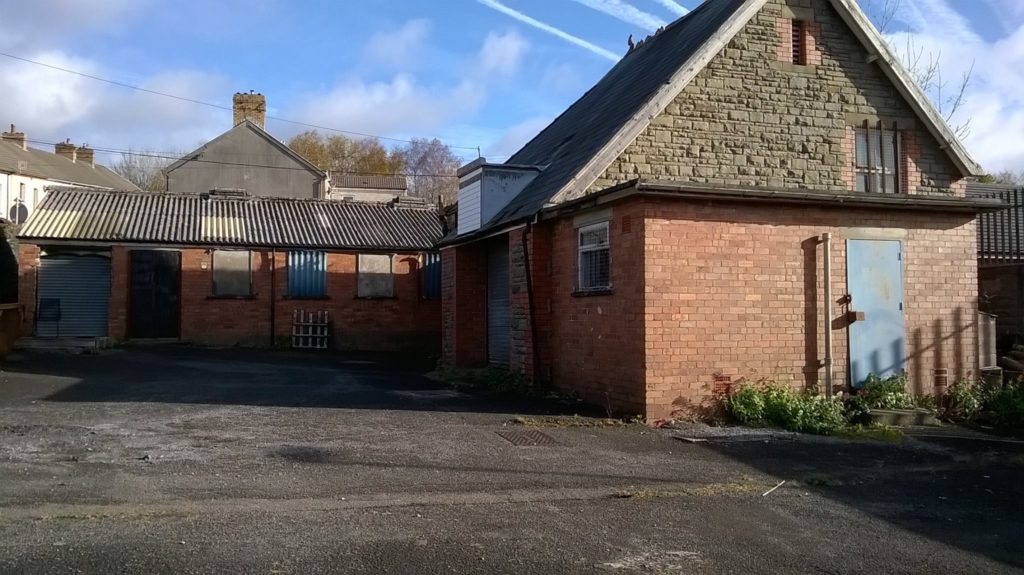 The old school Canteen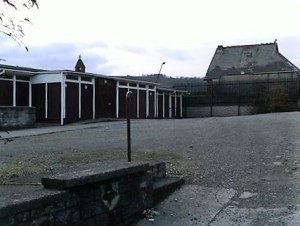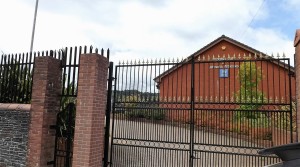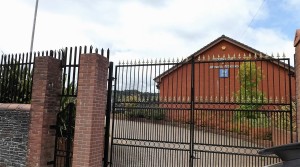 2016 and the school is long gone and now its the home of the Jehovas Witness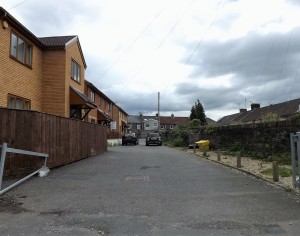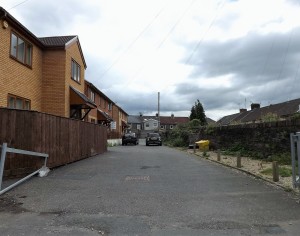 2016 Above we see what used to be the Junior school yard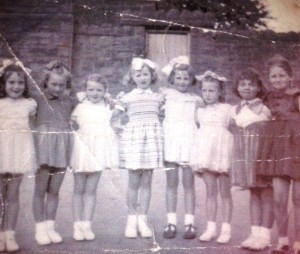 Wendy Lloyd (rainbow dress) Rita Jones and friends 1946c
The next photograph we have is from around 1960 and the retirement of Mr Tom Jones…he is being presented with what looks like a Transistor radio by Mr Iorwerth Thomas (head teacher) in the canteen of the School..Miss Hopkin, Mrs Owen and Annie Williams are all present.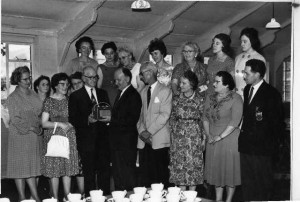 Below is a Drawing of the school by K Bounds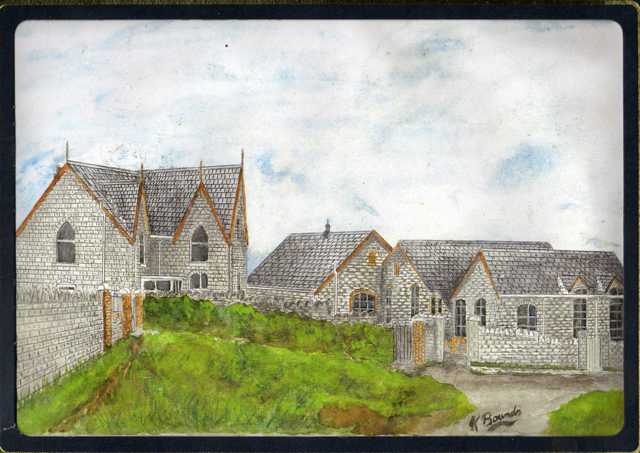 Trelewis School July 1955
The following photograph was donated to the website Michael Williams of Williams Dairy produce, it shows the children that passed the 11 plus examination in 1955. Sadly some of the people are now longer with us.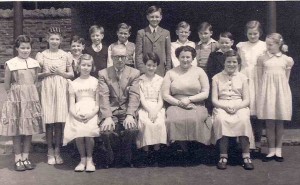 Back row left to right
Anne Morris, Carol Harris, Ken Humphries, Norman Williams, Malcolm Bell, Martyn Reynolds, Mike Williams,David Walters, Dennis O'Brien, Linda Jenkins,Carol Williams
Front row left to right
Jayne Griffiths , Adams Jones (head) Jean Bromley, Mrs Owen and Lilian Miles
Trelewis School 1961 
The picture below was taken to celebrate the passing of the 11 plus examinations in 1961.
I attended the same school between 1963-70 and the head teacher was the same Mr Thomas, I also remember Mrs Owen, Miss Hopkin, Mr Mitchell and Mr Huws.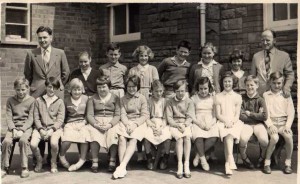 Back Row
Mr Griffiths,Jennifer Jones, Graham Stephens, Barbara Joseph, Gerald Osboune, Barbara Miles,Jeanie Roberts, Mr Thomas (Head)
Front Row
Derek Jenkins, Gordon Powell, Christine Land, Betty Parker, Margaret Davies, ? Mclean, Gaynor Davies, Christine Bishop, Linda Jarrod, Alun Williams (Percy) David Owen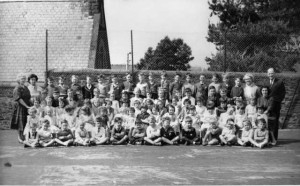 Above we have another 1961 shot of the  Junior School (Photograph courtesy of Pam Hockin…some of the children featured include ;
Graham Harris(Sam), Kevin Williams, Keith Scanlon ,Alan Candy, Elton Powell, Martin Carlick, Jack Pugh,Paul Powell, John and Jimmy Morgan, Susan Bridges , Alison White, Elizabeth Hooker, Wynford and Lyn Jones,John Duggan, Peter Jones,Judith Coles,Eleanor Belton, Sharon James, Kerry Pickett and Paul Smith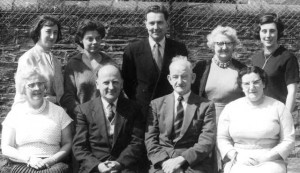 Some of the Teachers from 1961
Back row
Nita Pini, Eleanor Pennetti, Haulwyn Griffiths, Ann Williams, Pam Hockin
Front row
P Evans, Mt I Thomas, Tom Jones Mrs Enid Owen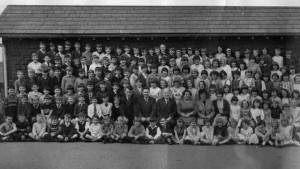 Trelewis Junior School 1965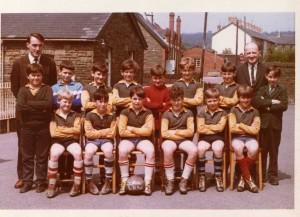 Trelewis School Team 1965
Mr Huws, and Mr Thomas teachers
Back row
Colin Rogers,Francis Philipson,  Lyn Jones,Lee McKenzie, Dai Clarke, Steven Davies, Stephen Johns, Dai Smith
Front row
Kerry Pickett,Harry Mclean, Teifion Evans, Mark Watts, Wayne Humphries,Derek Davies
Girls yard mid 1960's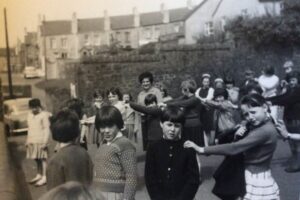 Above we have a staff photograph of Trelewis teachers approx 1967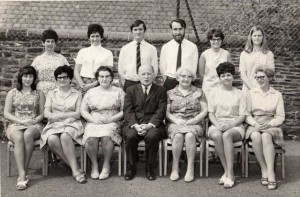 Below we once again see a Staff Photograph from the 1960's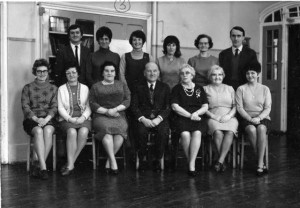 Another from the 1960's Possibly 1962 all passed to go to Grammar School
Back row from the left are
Lynn Moss, Phillip Evans, Ann James, Annette Joseph, Margaret Rowe(Hawke), Mark Roberts, Neil Powell
Middle Row
Jenkins Miles, Stephen Pickett, Brian Kerslake, Haydn Hughes, Marjory Owen.
Front row
Gaynor Vale, Christine Summers, Edward Hooker, Elaine Davies, Charlene Wyn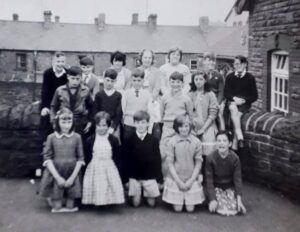 Canteen staff including Daphne Gunning and GinaOwen with Brian Jones the school caretaker approx. 1980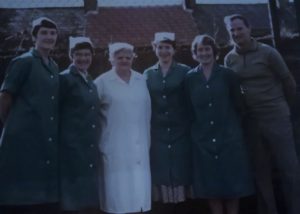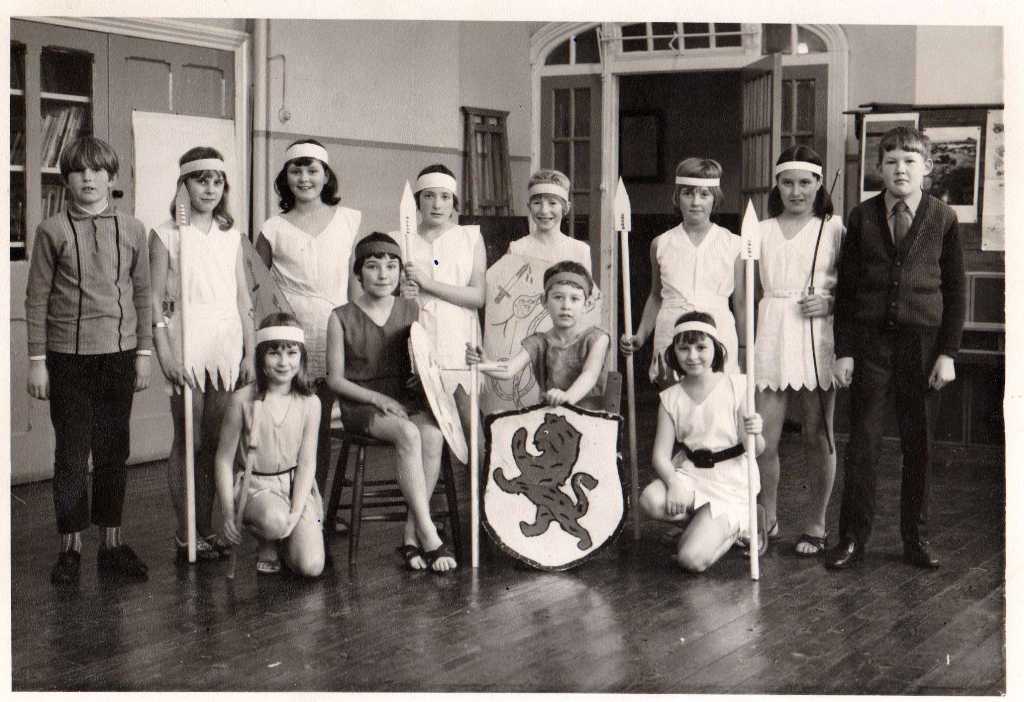 Above we see a School photograph of a play by the Trelewis pupils probably during 1968( courtesy of Kerry Wilde) The Play was called "A Stranger in no man's land
Back row
Martin Jones(Fred) Marilyn James,Elizabeth Jones (now Underwood),Jackie Jones,Cathy Clarke,Gaynor Davies, Anita Williams,Graham Rees
Front row
Dawn Collins, Katherine Jones, (now Hammond), Kerry Wilde, Gillian White
Above we see a classic School picture of Trelewis children 1968. I can see myself, Neil Giles, Ian Plant (Fando) Paul Lintern, Pwd, and many faces I used to attend school with.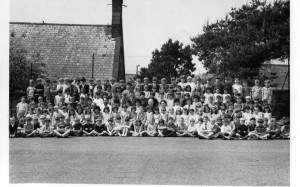 Above we see another picture of my school mates this time from 1969
Trelewis boys age 11, Football team 1970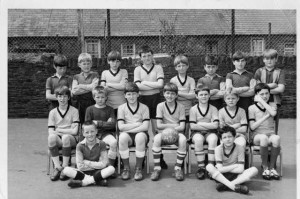 Back Row
Robert Bates,Paul Corkrey(me) Neil Giles, Paul Davies,Stephen Cowles,Elfed Robins, Paul W Davies, Philip Lewis.
Front Row
Kevin Stankiewicz,Barrie Lewis, Derek Bates,David Lewis, Anthony Gunning, Philip Anthony, Paul Lintern
Seated at front
Alan McLean  and Haydn Williams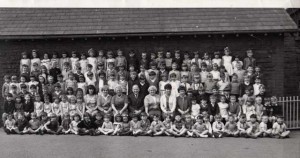 Too many to list in the long school Photograph, Myself and my sister are both in there and many of my friends. Everyone will know someone in the photograph which was taken in 1969.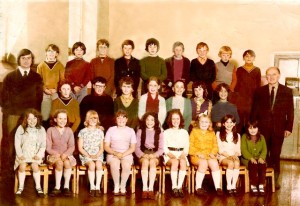 Trelewis School 1971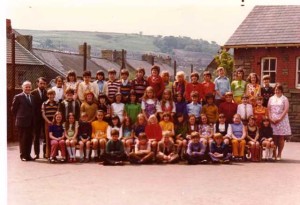 Trelewis School 1972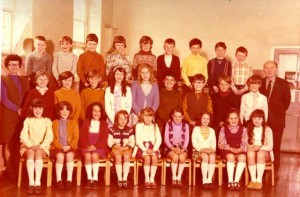 Trelewis School 1973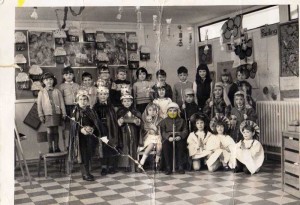 Can someone identify this picture? It is from the early 1970's at Trelewis school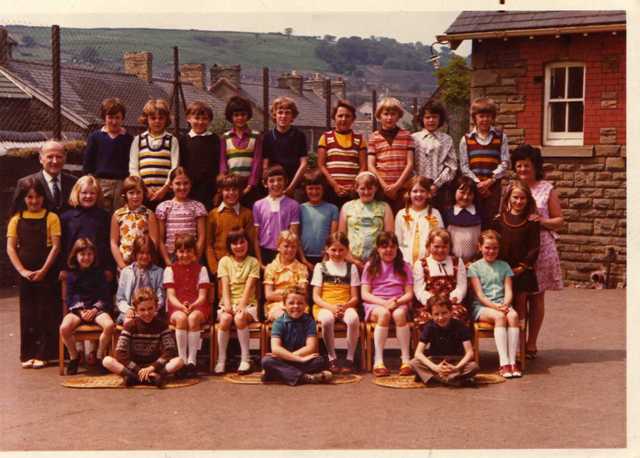 Trelewis School 1974
I cannot identify them all yet but will put some in
Back Row
Paul Wooley
Middle row
Nigel Carter, Fay Giles
Front row
Dawn Cowles,

Some of the people to look out for in the Black and white photograph above.
Back row
Martin Jones, David Jones, Ian Jerimiah (Yoko) Rob Williams(sensen)
Row 4
Dawn Thomas, Dean Parslow
Row 3
David Hughes, Gary Jones (popeye)
Row 2
Hayley Jenkins, Fay Giles
Front row
Lynda Richards, Kev Thomas, Andrew Price, Kevin Jones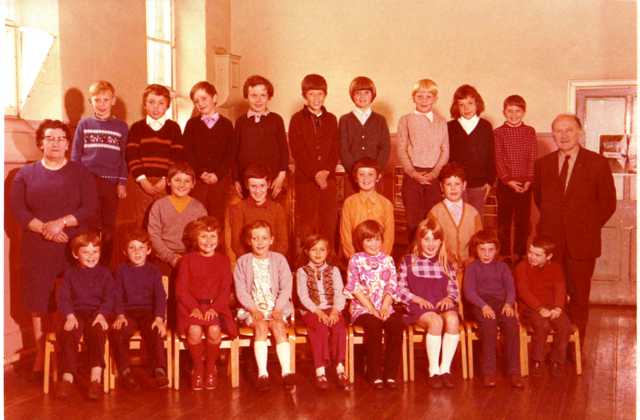 Mrs Owen's class back in 1973,(above) Denise Pope is 3rd from right first row, Nigel Cater is in the middle row and Dean Parslow back row 6th from the left.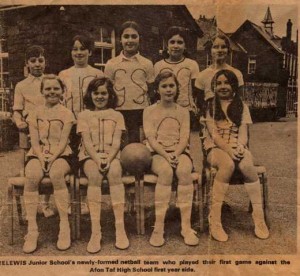 Newly formed netball team
Mr Thomas was a very well respected head teacher and when he retired in the mid seventies , the mayor of Merthyr paid a visit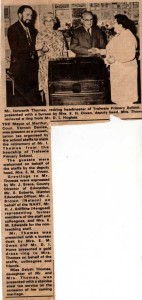 below a photo from 1973/74
Rosalind McLean. Yvonne fry. Robert Bell. Denise haines. Carl Williams. Dean Jones. Leigh beynon. Andrew Evans (cottage) nick name. David Lewis. Mandy price. Sonia Herbert. Wyn Davies. Andrea I think her last name was Roberts. Christine and Carolyn davies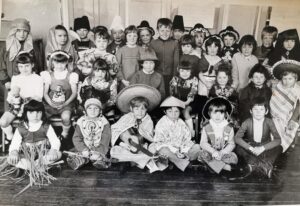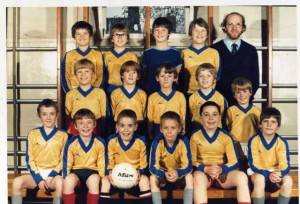 Back Row
C Watson, Dean Summers,, Kerry, Matthew ,Mr Coles 
Middle Row
?, ? Gwillym, Simon Davies,?,?
Front Row
Ian Williams (Beano),Darren Roberts Kerry Hughes, Shaun Emmanuelle, Darren Prosser, Alan Evans
The Two photographs below were both taken in the mid 1970's not sure of exact years (pictures courtesy of Iris Coxe)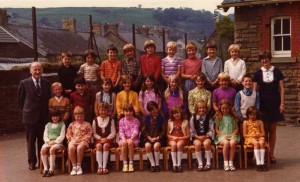 Back row
David Sparling, Kevin Coxe, Colin Price, Mark Morris, Dean Parslow, Ronald Evans, Mark Howard, Dean Fry, Steven Samuel
Middle row David Porter, Keith Davies, Nicola Pemberton, Annette Jones, Janet Morris, Denise Pope, Cheryl Johnson, Peter Bowen, Paul Walters
Front row Eleen Stokes, Leanne Barry, Sian Ford, Claire Rowlands, Rosalind John, Glenda Jones, Paula Giles, Fiona Clarke, Jennifer Hares Photograph taken 1973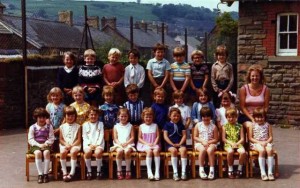 Neil Coxe,?? Shane Morgan, Wayne Bridges, Dean Garbett, Wyndom Stokes, Anthony Gwillym
Middle
Debbie Rees, ?,Sharon Collins, Carl Ainsbury, Barry Stankowitz, Amanda Gunning, Jean Thomas,Stephanie?
Front
?? Sian Williams, Lynette Wiltshire, Liza Jennings, Andrea Collins, Julie McLean, Karen Davies, Paula Jones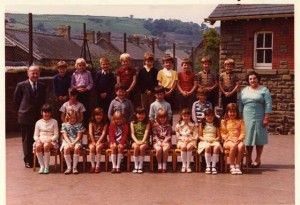 Back Row
Mr Thomas (Head) , Brian Summers, Alan Reid, Shaun Hislop,  David Thomas, Martyn Eynon, Kevin Thomas, Ken Thomas, John Thomas
Middle row
David Hughes R.I.P..Steven Auger, Andrew Giles, Gary Jones
Front row
J Colhoun, C Morgan, ?? Karen Davies, Michelle THomas, Andrea Watkins, Judith Thomas, Lyn Waddingham
Trelewis Teachers 1979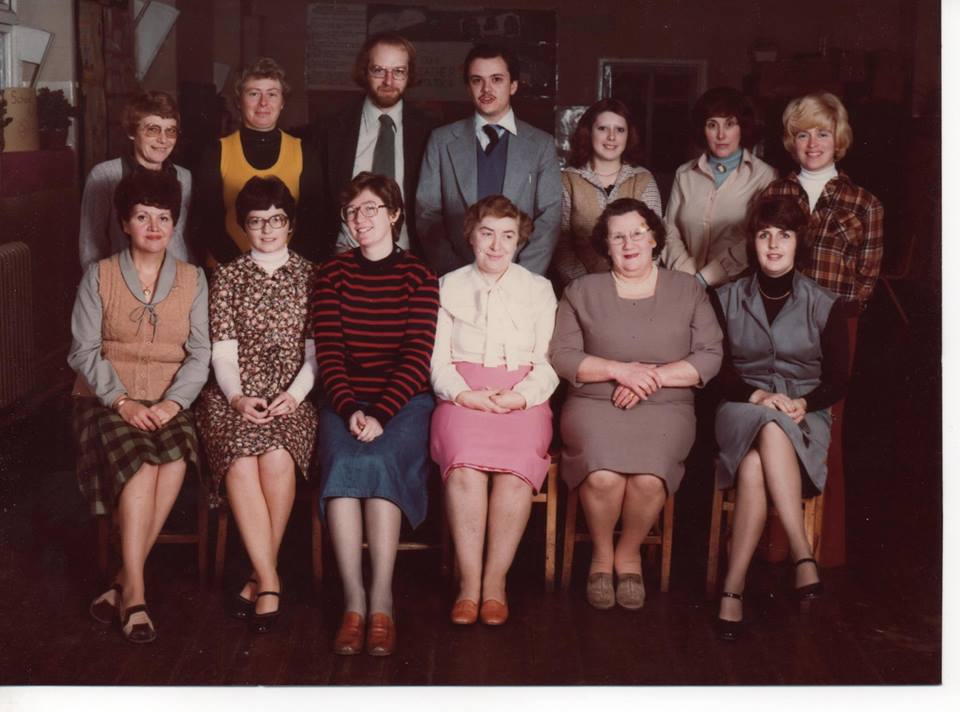 Below possibly 1975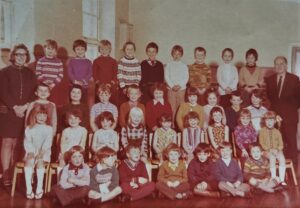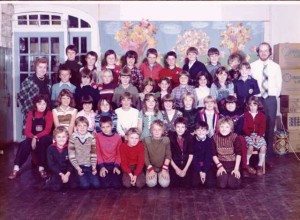 Some of the children above are Jason Gunning, Martin Longford,Karen Davies, Jason Dower, and Malcolm Price 1980's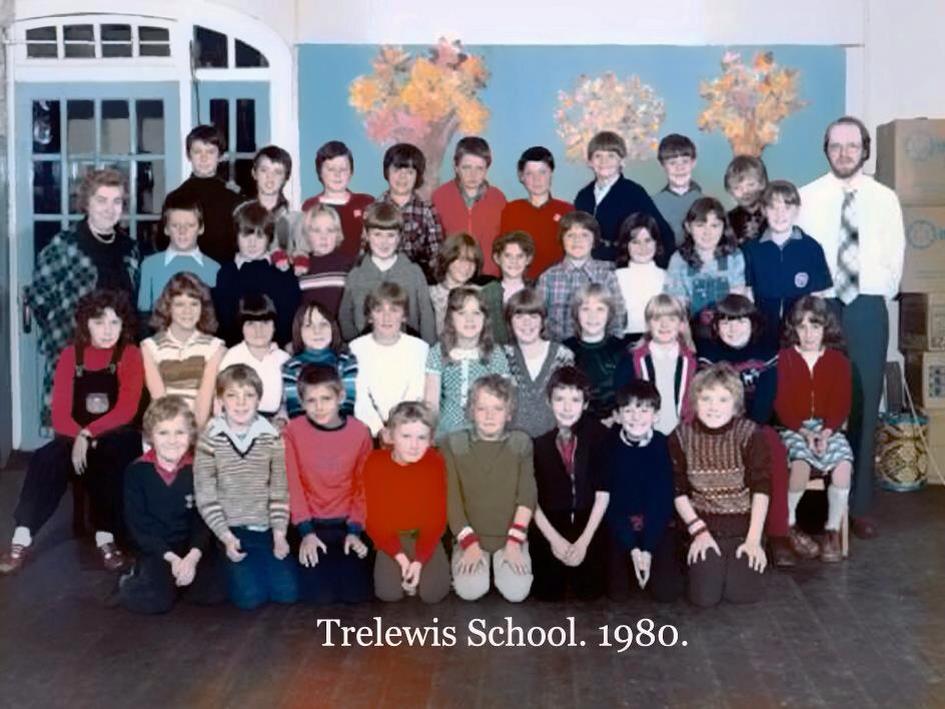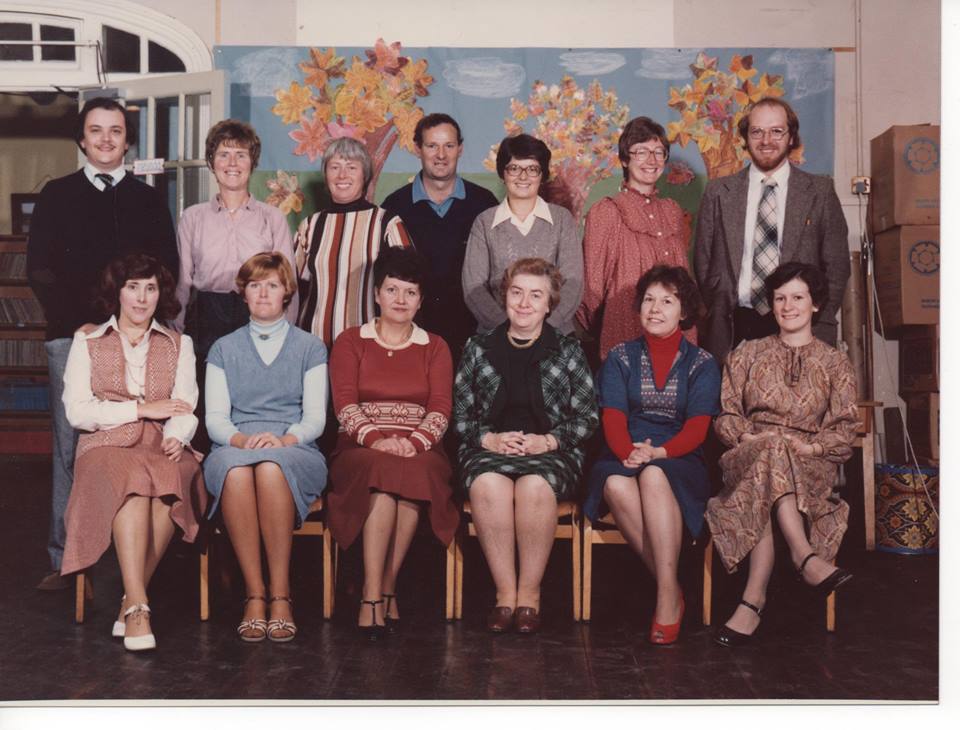 Trelewis Teachers 1983 thanks to former teacher at the school Derek Williams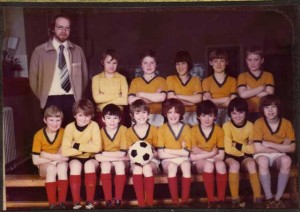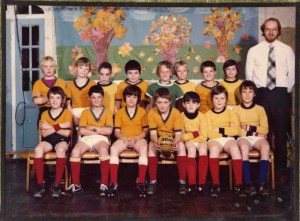 Back Row
Andrew Rees, Danny Jerimiah,Kerry Hughes,Darren Prosser,Paul Edwards, Shaun Emmanuelle,Carl Watson ? Beardsley, Mr Trefor Coles (Teacher)
Front Row
PaulJones, Barrie Bates,Martyn Longford,Malcolm Price,Hadyn Jones (R.I.P) Andrew Evans (Ento) Jason Gunning.
A 7 a side Trelewis school team
Back Row
Jason Garbett, Tommy Gwillym,  Terry Mortimer
Front row
Alan Thomas, David Mitchell, Kevin Jones (capt), Shaun Quinn
Back row
??? Rob Watkins ? David Forrest, Jason Fenn, Adrian Richards(sabre)
Middle row
Miss Hopkin ? Mark Wooley, David Jones, Ashley Davies, Philip Bufton, Hadyn Jones (Kewi), Andrew Bowen Mrs Hart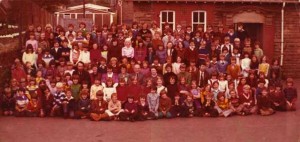 Some of the names of the children above are…
Back row (Row 7)
Rodney Powell, Popeye, Bug (Lee Beynon), Shaun Hislop
Row 6
Stephen Jones (school house), Andrew Price,?(Prankster), Julie Morris

 
Row 5
Liz Anthony, Julie Pope, Martine Hake, Llew Thomas
Row 4
Helen Grifiths, Shirley Melly, Sonia Herbert
Row 3
Lynette Wiltshire, Mr Huws, Mrs Owen, Mrs Morse
Row 2
Debra Howard, Joanne Rogers, Susan Jackson
front row
Adrian Richards(sabre) Ashley Davies, Rob Watkins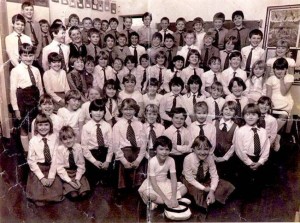 Trelewis School 1984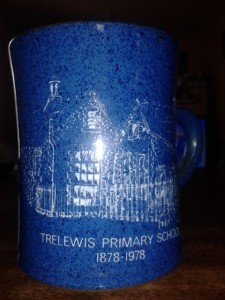 In 1978 the children were given a Centenary mug
collection of photographs by School staff member Daphne Gunning
School catering department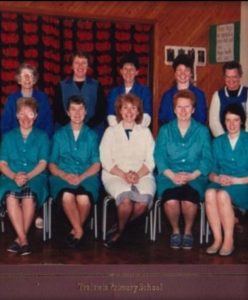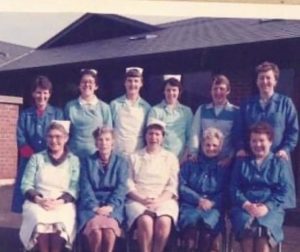 Above Heather Summers, Moira Watkins, Jeannette Morgan, Lorraine Preece, Edwina Scanlon, Sylvia Gunning, Beatrice Collins, Dorothy Phillips, Daphne Gunning, Kitty Eynon and Verna Penny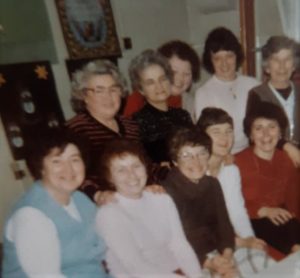 Some of the children in class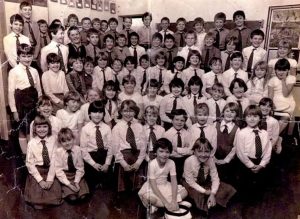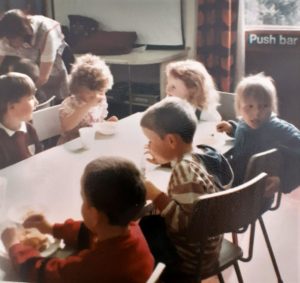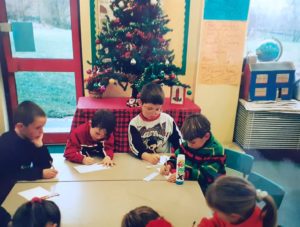 Father Christmas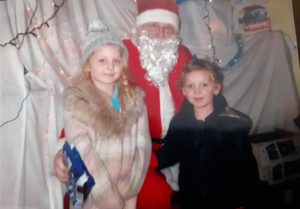 Group photographs of the children mainly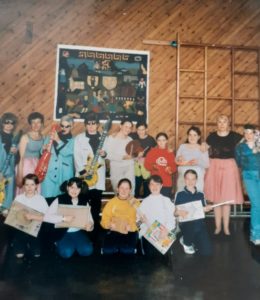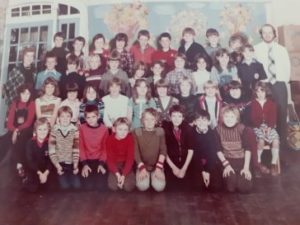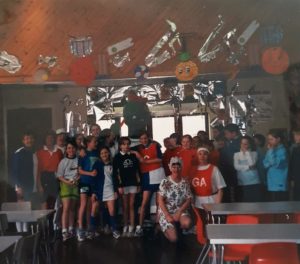 Above includes Danielle Bridges, Autumn Treharne and Ashton Mogford
Some lucky award winners presented by Daphne
Gavin Warren