Sports
Quakers Yard football teams 1949-1952
We have three photographs of the football teams that represented Quakers Yard between 1949-52…We would be grateful if someone could provide names for the persons in the photographs (courtesy of Ron Davies)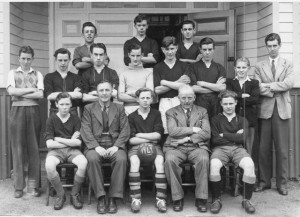 1949-1950 team (above)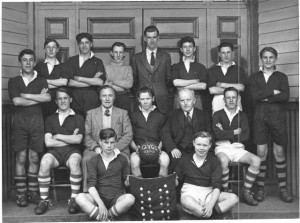 1950-51 Team(above)
On the far left seated arms folded is John Jones (Joss) and at the other end of the seated row  is Ken Evans (Charlie). They both represented Wales at under 14 level.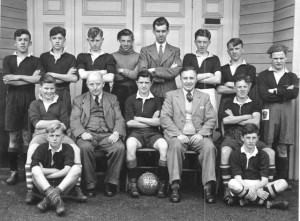 1951-52 side(above)
Another Quakers Yard team from the Fifties thanks to Peter James for this one below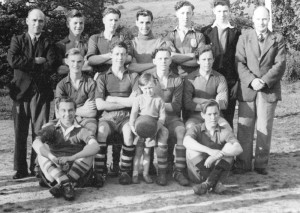 Back left Tom Bailey,Sid Harris , Ray Cross ,Doug Andrews
Middle row Glen Richards,Des Williams 
Woodlands Football teams 1952-53 (courtesy of Ron Davies)
Woodlands Y.C.
Ron Morgan, Dilwyn Williams, Terry Davies, Tom Bailey(Manager)
Des Williams,———, K.Andrews, Sid Jenkins, Tom Yoxall, ———-
Brian Davies, Glyn Humphreys?, Sid Harris, Dave Thomas, Ron Davies.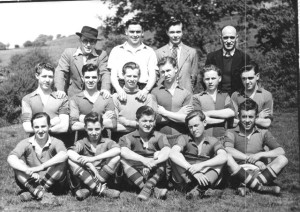 Below is another team from Woodlands Quakers Yard 1953 (courtesy of Ron Davies) We played a friendly at Llanidloes, Ron apologises for forgetting a lot of the names but to be fair it was over 50 years ago!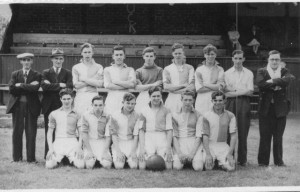 Quakers Yard School RFC 1936-37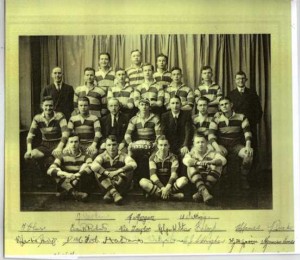 Their autographs are on the photograph, does anyone know any of the players? Quakers Yard grammar School always had a top class Rugby team.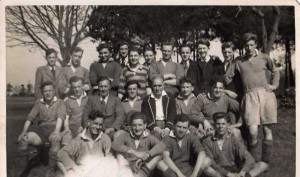 Quakers Yard Grammar School RFC 1948, at Treharris Park ( photograph courtesy of Aldo Opel)
We do not know the identity of all the above but here are some of the names.
Back Row supporters
far left Russell Pittick( Edwardsville) far right John Hopkin, Shoe shop, Fox Street.
third row
Cyril Sloggett (Mary St) third from left, next to him in a striped shirt is Haulwyn Griffiths of Cilhaul, next is Colin Evans of Fell Street, next, not in a kit is Henry Perrin of Suzzanah Place, then standing with his arm on the shoulder of Aldo is Gwillym Edwards of the Commercial Hotel.
second row
fourth from the left is Ron Davies of Fox Street, next was TH Lewis, games master of Pleasant View.next Roy Beynon of Edwardsville, finally Aldo OPel (2 Fox Street, Treharris)
First row
first on left is John Lewis of John Street.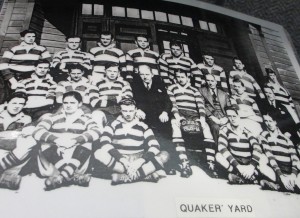 War time school rugby team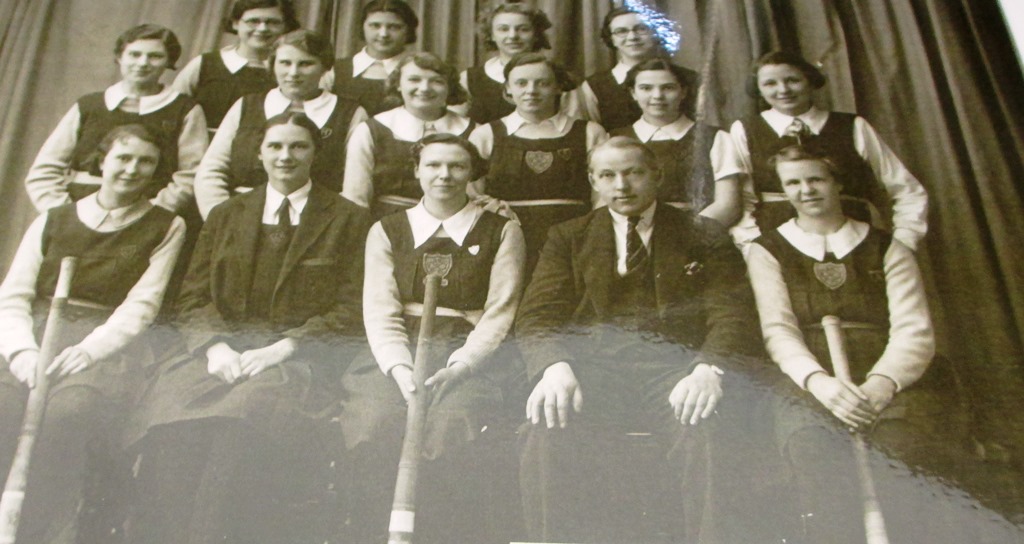 1936 Quakers Yard grammar school Hockey team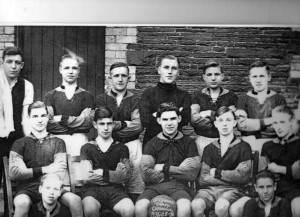 Boys Brigade football team from St Cynon Church, Quakers Yard… league champions 1934-35-36…in the picture front row is Doug Broadstock…in the back row is Mr Andrews, father of John Andrews. (pic courtesy of Adrian Broadstock)