This page is about important events and the years in which they happened, some will be very important dates, others will not be, but they are important or significant in their own way in the history of the Treharris area. This page will be a work in progress and we are always looking for more interesting events/dates to add to the page. If you have any dates/events that need adding, please contact us through the contact page
550 Approx
Medieval Church built at Llanfabon
1530
Llancaich Fawr is built in an area that is now part of Nelson
1583
The Pontygwaith (bridge of the works) was constructed near a small iron works, it still stands today
1628
By the start of the Stuart dynasty the Prichard family had prospered and the house was extended to demonstrate their status
1642
When Civil War broke out between King and Parliament Colonel Prichard was actively involved in raising men and money for the Royalist cause in Glamorganshire
1645
When King Charles I came to visit Llancaich Fawr and allegiances changed to Parliament
1665
Quakers opened a burial ground on the Pantanas estate, now the centre of Quakers Yard. William Howe of Bristol had the honour
1700
Mary Chapman left the burial ground to the Quakers in her will, the burial ground is still in the middle of Quakers Yard today
1790's
At a small community in Penlocks , canal engineers built a staircase of 16 canal locks down to the canal basin at Abercynon
1802
The Victoria bridge was built at Quakers Yard to carry Trevithick's steam locomotive across the river Taff
1811
Parish register records a hamlet in the area consisting of 27 families employed in Agriculture
1830-1840
Salem chapel and the village inn were opened on Bedlinog square
1840
Brunel Viaduct built near Quakers Yard
1841
Taff vale Railway was built, station at Edwardsville named Quakers Yard
1846
ST. Mabon's Church, Llanfabon rebuilt with just a few remains of the old Medieval building kept.
1851
Berthlwyd Chapel, Pentwyn, Quakers Yard built
1858
Stone Viaduct built to take trains from Quakers yard station across the river and through the mountain to Cynon valley
1858
Quakers yard low level station was opened in January
1860/1870
Exact date not known, Nelson Handball court was built on land owned by the Wingfield and Macintosh estate
1862
Second viaduct built alongside the original Brunel viaduct in Quakers Yard, main line doubling was in progress
1865-1868
Dowlais iron company opened 6 Colly coal levels at Bedlinog
1871
Records show small settlements in Graigberthllyd and Quakers Yard, Twyn y Garreg farm was also recorded
1871-72
The "Huts" were built to house the men who were to sink the new mine in Treharris
1873
FW Harris started the sinking of Deep Navigation colliery in Treharris
1873-1914
Over 110 miners died in accidents underground. At Deep Navigation
1876
Moriah chapel, Bedlinog was built
1877
Sardis chapel (English congregational chapel) opened
1878
The Dowlais iron company sunk Bedlinog colliery
1878
Navigation Hotel was built
1878
Trelewis infants and Junior school was opened
1878
Calfaria Baptist Church opened in Nelson
1879
First saleable coal was produced at Deep Navigation colliery
1881
Brynhyfryd chapel was built Treharris
1883
NantWen colliery and Number 8 Colli level were open in the far end of the bottom of Bedlinog. Tabernacle chapel was built, Treharris
1884
Four sinkers were killed in an accident (altogether 6 colliery sinkers were killed in the sinking of the Colliery in Treharris)
1884
161 miners were trapped underground at Bedlinog colliery
1886
Second viaduct opened near Edwardsville to carry the Rhymney railway from Quakers yard to Merthyr Tydfil
1886
Bontnewydd hotel opened in Trelewis
1886
St Marys church built in Trelewis
1886
Police station in Edwards street erected
1887
The Graig Bedlinog School was opened
1888
Beech grove cemetery opened Edwardsville
1889
Treharris Athletic football club was founded
1889
Ebenezer chapel in Trelewis was opened
1895
Meeting of the Masons to form a Brethren for the area at the now demolish Commercial hotel next to Treharris Athletic FC
1891-92
Treharris Athletic F.C. won the South Wales and Monmouth Cup
1892
Jimmy Wilde the Flyweight boxing champion of the world was born at Pentwyn Deintyr, near Fiddlers Elbow, Quakers Yard
1893
Ocean coal company take over the Harris mine, it was to be re named Deep navigation colliery
1893
The Truant school was opened in Edwardsville
1893
The workmen's hall was built, it later become a cinema "The Palace"
1895
Saren chapel was built Bedlinog
1895
The Salvation Army 1st came to Treharris
1896
Saint Mathias church was built in Treharris and Bill Edwards become the Salvation army Corps Sergeant-Major
1899
Bethel chapel Treharris and Soar (Welsh Wesleyan) Bedlinog opened
1900
Wesley chapel was erected
1875-1900
A large area of housing was built in Treharris and Trelewis to house the families and miners employed at Deep Navigation
1908
Trinity chapel opened in Trelewis
1909
Library opened in Treharris
1910
Is a red-letter day in the history of the Masonic Lodge, for it was on that day that the Foundation Stone of the new building was laid on the Williams terrace site Treharris
1911
The Masonic Temple was Consecrated by the provincial Grand Master RW Bro Lord Llangattock
1911
Bedlinog, St Catog's church was opened
1912
Treharris park was opened
1912
Nelson and Llancaich station opened to replace the old Llancaich station to the north
1913
Tornado struck Edwardsville with maximum force
1914-18
Treharris Soldiers and Sailors Relief Fund was formed Ald. Andrew Wilson JP was the secretary, World War 1
1916
The first pit head baths in south Wales were installed at Treharris colliery
1921
Deep Navigation colliery power station opened , it supplied electricity to Lady Windsor colliery in Ynysybwl
1922-24
Taff Merthyr colliery was sunk
1922
Quakers Yard grammar school officially opened by Mayor David Davies
1922
Whitehall Golf Club, The Pavilion, Nelson, Treharris, estimated year it was opened.
1923
Treharris boys club opened
1924
Bedlinog collieries closed, Graig Cemetery Bedlinog opened
1925
May 31, a proud day for Trelewis as a union Jack was unfurled to reveal the war memorial on Captains hill.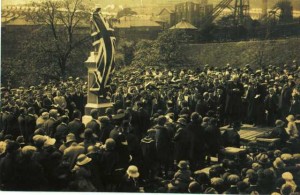 Bedlinog War memorial was also unveiled on 15th November that year.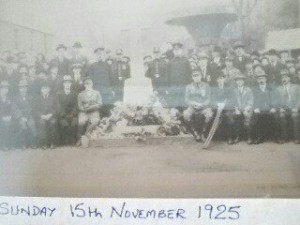 1926
Taff Merthyr colliery opened, the Treharris and District Scout Troop was formed
1926
The General Strike and the Treharris Soup Kitchen is founded, Treharris had its own town crier, William Williams, of Evan Street
1926
Setting-up of Spencer's Union, the South Wales Industrial Union is set up at Taff-Merthyr Colliery. Many miners opposed this union in favour of the south Wales miners Federation.
Nelson Memorial erected next to the Nelson Inn
1928
Boxing, December Danny Andrews of Treharris beat Tommy Farr in a sixth round knock out
1930
Taff Merthyr Garden village (Storm town) Trelewis was being built
1930
The majority of houses were built in Cilhaul, Treharris
1930s
The Annual Children's Fancy Dress Ball at Treharris
1932
Trelewis Welfare Outdoor Bowls club which was founded
1932
More modern baths were built at Deep Navigation with the old baths turned into a new lamp room
1933
Treharris Library clock is erected in memory of the men and women of this ward who served and fell for the cause of humanity in the Great War 1914-1918. Associated with the clock are two war memorial plaques.One for each of the World wars.
1934
Nelson Rugby football club was formed
1935
Reopening of Bethania Presbyterian Church, Treharris
1936
Methodist chapel opened in Garden village Trelewis
1936-1939 Spanish Civil war
Some of our townsfolk honoured for their fight against Fascism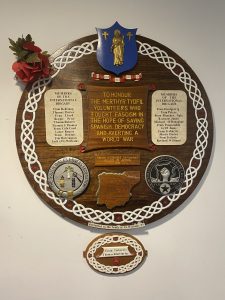 1937
Edwardsville open air baths opened
1937
The Central Stores Treharris won the Treharris Chamber of Trade Coronation decorated premises contest
1939-45
World War 2
1942
Bevin boys were employed at the local pits
1948
May Day Celebrations at the Athletic Ground Treharris
1948
The opening of the new Junior Lending Department at Treharris Library
1950
Cardiff City played Treharris Athletic. A Benefit match in aid of Idris Morris, Cilhaul, Treharris
1950-51
Treharris Athletic F.C. were the Welsh amateur cup winners. South Wales Miners' Strike
1952
The impressive tribe of Treharris Indians won 1st prize at the Open Jazz Band Competition at Cyfartha Park by only half a point
1954
Trelewis drift mine opened
1957-80
The Edwardsville truant school was converted to a home for the elderly
1960
Deep Navigation power station closed, Electricity was now obtained from the National grid
1961
The current Treharris male voice choir was founded
1964
Bedlinog, Trelewis halt, Trelewis Platform, Treharris, and the Nelson and Llancaich railway stations closed
1967
Quakers yard grammar and Technical school closed
1969
Jimmy Wilde "The ghost with a hammer in his hand" Quakers Yard's former boxing champion of the world dies
1975
New junior school at Edwardsville opens replacing Webster Street, Woodlands, Edwardsville and Treharris Primary
1978
After 85 years, The Salvation Army moved from Webster Street Hall to Perrott Street. Treharris Community Centre opened
1984
New primary school built in Trelewis
1984-85
Miners strike, "women in support of miners" groups set up in communities around Treharris
1984
Venissa Head of Edwardsville represented Great Britain in the discus and shot at the Los Angeles Olympic Games
1986
Edwardsville baths converted to a covered modern swimming complex
1988
The Treharris Heritage Stone by Afan Taf School was put in place. a lot of information on this site is from the work that was done by the staff and children of Afon Taf High School
1989
Trelewis Drift mine closes
1991
Treharris teenager Mark Cook won a Mc Donald Child of Achievement Award
1991
Deep Navigation closes on Good Friday, End of an Era celebrations in Treharris
1993
Taff Merthyr Colliery is closed by British coal
2002
June, the re-dedication of the Trelewis war Memorial in its new home at the centre of the village.
2008
Edwardsville baths is closed, although protestors hoped for a change of heart from Merthyr Council
2008
Rahbers Corner and the old Storeys store demolished
2009
Work begins on the new Health centre, located above Railway Terrace, just below the Boys and Girls club.
2010
Edwardsville baths demolished.
Bargoed House nursing home closed
Dog and Rabbit club shut down
Treharris RFC open new clubhouse on site of pitches
Extension and refurbishment of Nelson RFC
2011
Colliers Cwtch opens to replace the old Dog and Rabbit
2012
Work begins on a new housing estate in Trelewis
Work begins on a new Bargoed house complex Treharris
2013
Woodland school demolished Quakers Yard
Work beings on Palace site Treharris
Colliers Cwtch formerly the dog and rabbit is renovated
2014
Work completed on the Treharris Square
Work begins on refurbishment of the Navigation hotel Treharris
New Bargoed house and bus station completed
2020
Corona Virus lockdown in the district from March 23rd