Treharris Boxing
Peter James wrote a fantastic piece of history about Quakers yard on this website please read it here.
https://www.treharrisdistrict.co.uk/peter-james-quakers-yard/
Part of his story mentions boxing in the area he wrote "It must have been something they put in the water, or was it sheer pride and passion of being Welsh that produced these valley's boxers. As youngsters we would be inspired by these fighters and I can well remember boxers of other stature within the locality, such as Danny Andrews and his son Terry, Marlow James, Keith Picton and the like but it was the Bon that I can associate with.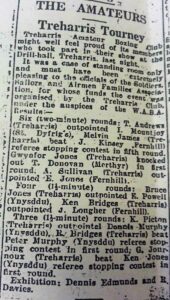 There used to be an old British Legion Club behind the Bon in Perrott Street Treharris that we used as a boxing club and I was taught how to handle the gloves with a trainer called Billy Reece from the factory (Melin Caiach), his son whose name was also Billy could have been a really good boxer along with another good lad by the name of Ossie Jackson. Many of us would spend an evening learning the old skills and come home sweating but fully satisfied that you had taken a punch in the face and did not even complain. It takes a lot of guts to step into the ring and face an opponent, whom you know nothing about, and I like to believe it made something of a man of me. It would certainly hold me in good stead during my Army days, when everyone was expected to represent their Company in boxing competitions. After my experiences in the Bon back home, I really relished the idea of boxing in the Army and indeed I did represent my Company on a few occasions. After the Bon boxing club was to finish, some of our lads would go to Trelewis Club and I believe that it was many years later that the Royal set up a club"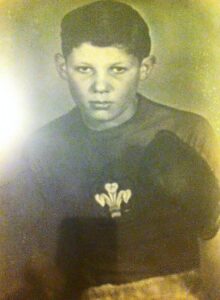 Keith Picton was one of a number of promising boxers to come from Treharris, born on 17th August 1936, and was the Welsh schoolboy champion he went on to have an excellent  army, and amateur career in the Featherweight division , he even fought the great Howard Winston, before turning professional in 1961. (special thanks to Linda Picton for the following photos and clips)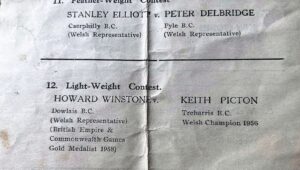 Army champ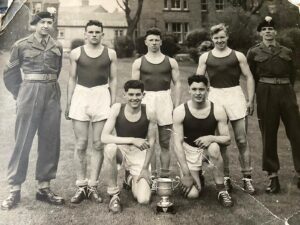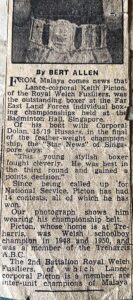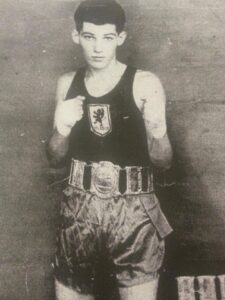 Early days and praise from the Borough council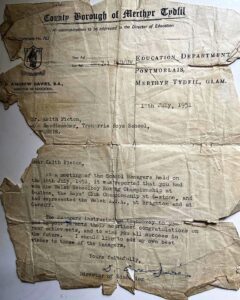 Some programmes from the era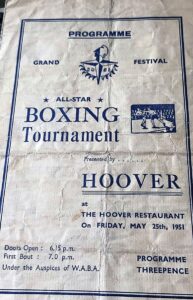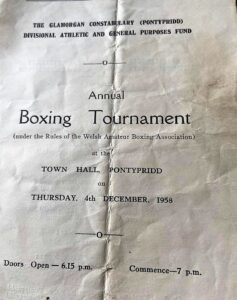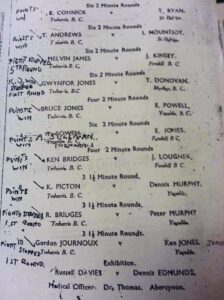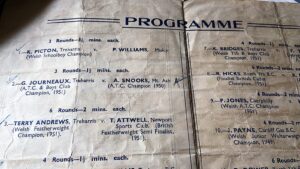 He had a short pro career last just 6 fights and 30 rounds, winning the first four with points decisions before losing the last couple by knock out after 16 months out of the ring possibly through injury, he lost twice in two weeks in his unsuccessful comeback and  he retired from the professional circuit in 1963.
His record was
Sept 11 th 1961, Drill Hall Cardiff, defeated Brian Evans on points
October 2nd, 1961, Town Hall, Maesteg defeated Brian Evans on points
January 9th, 1962, Civic Hall, Wolverhampton, defeated Sugar Ray Johnson on points
February 26th, 1962 Merthyr Tydfil, defeated Maurice Daniels on points
June 11th, 1963, Royal Albert Hall London, lost to Don Gibson, Knock out
June 24th, 1963, Market Hall, Carmarthen, lost to Lyn James, knock out
Treharris Colliery Boxing team 1920's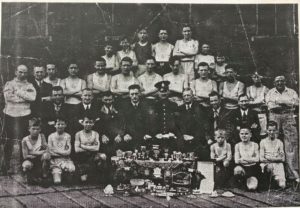 1940's and 1950's cycle club
Unfortunately can't find any information about the club but we do have a copy of the club badge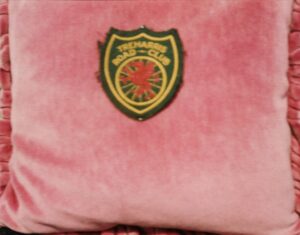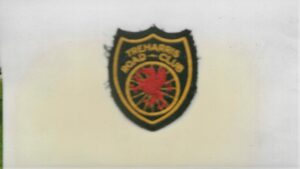 Treharris football
Junior Teams
1994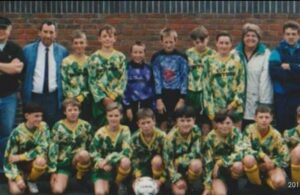 There will be a dedicated page to Treharris football that was in existance before the merger with Edwardsville based Great Western Football club at this link
https://www.treharrisdistrict.co.uk/treharris-football-team/ 
Treharris Western Athletic formed 2009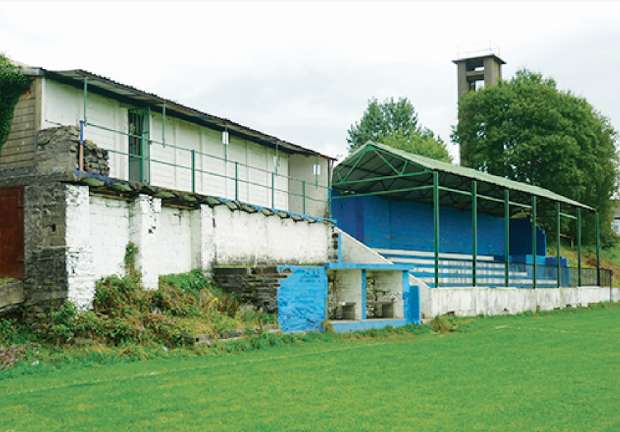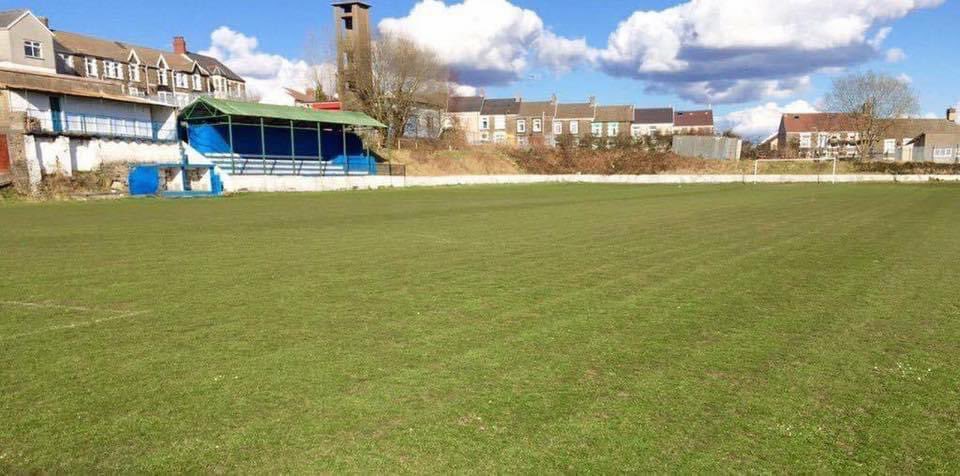 New ground for the Oldest football club in South Wales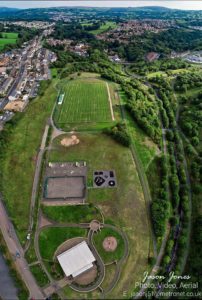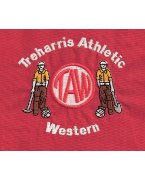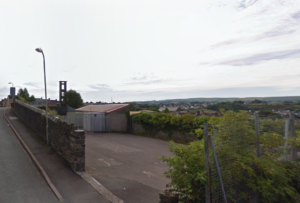 2009-10 WELSH-2 34 15 6 13 69 67 51 7/18
2010-11 WELSH -2 30 9 6  15 45 49 55 33 13/16
2011-12 WELSH -2 30 4 5 21 30 92 17 16/16 RELEGATED
2012-13 WELSH 3- 30 6 7 17 50 68 25 15/16
2013-14 WELSH -3 -36 9 10 17 61 91 37 16/19
2014-15 WELSH -3 34  6   6  22   42  89 24 17/18
2015-16 WELSH -3  34  13  6  15  72  60  45  9/18
2016-17 WELSH -3  29  14  5   10  53  50  47 5/16
2017-18 WELSH 3  30   17 3   10  76  64   54  4/16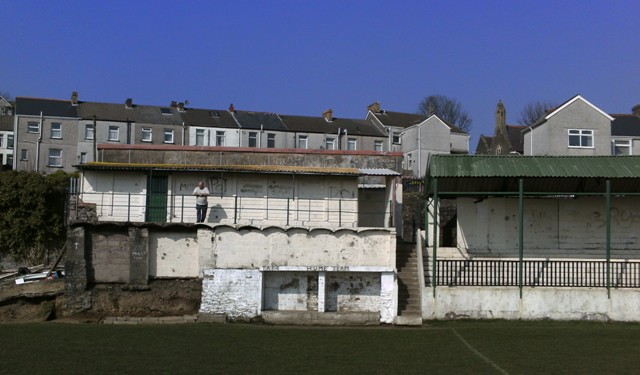 Mike Casey working at the club 2009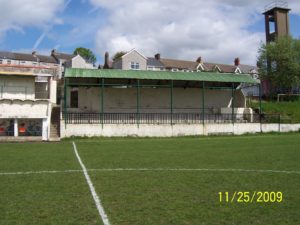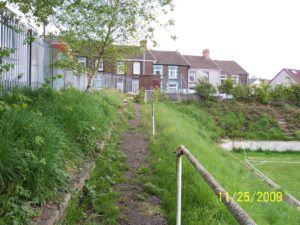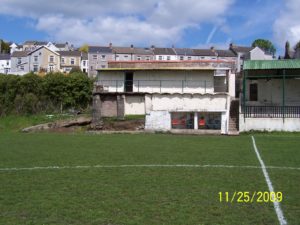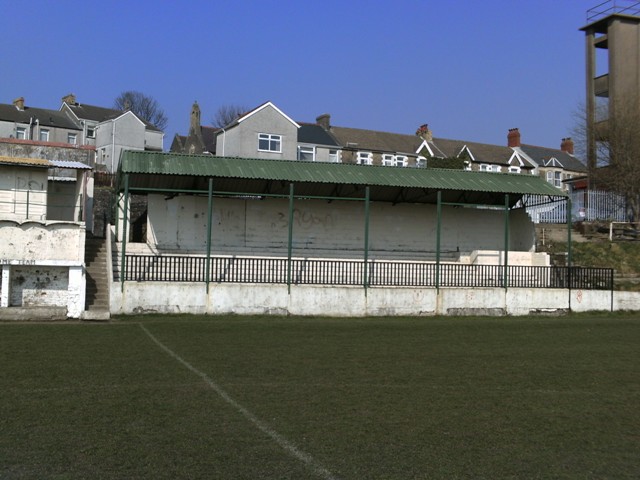 March 2009 the stand
Below we see a good crowd for a local Derby match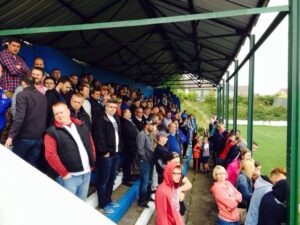 Mike Casey and Peter Ress both represented Treharris on the FAW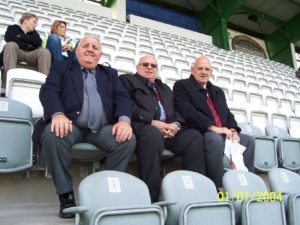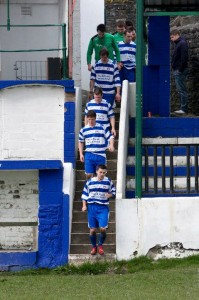 2011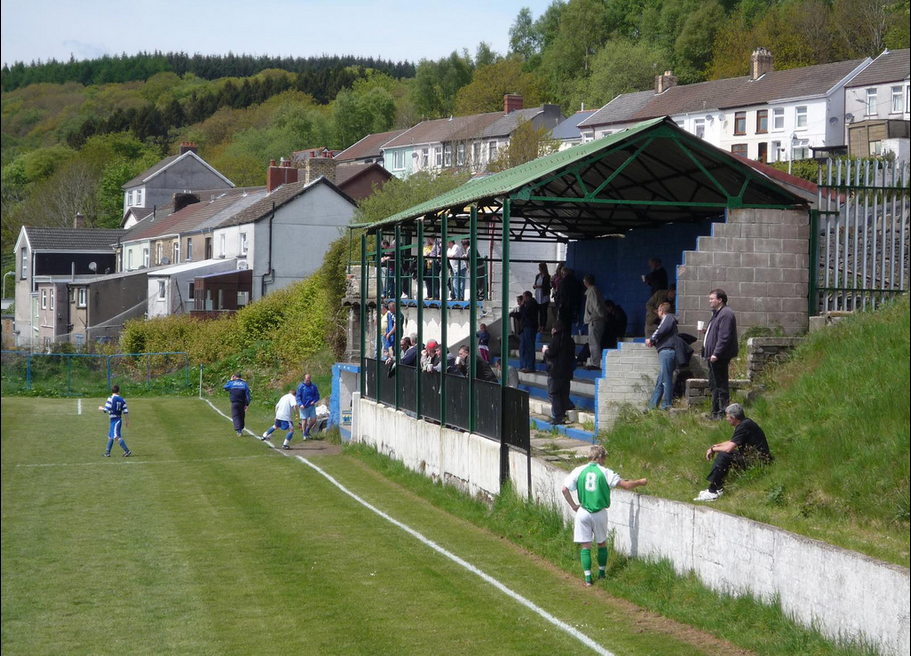 Match day 2011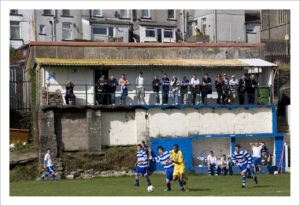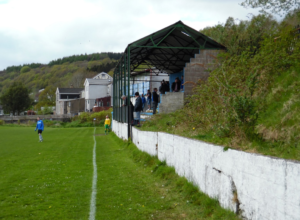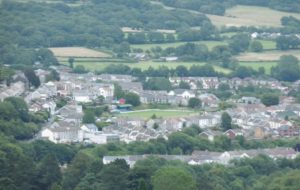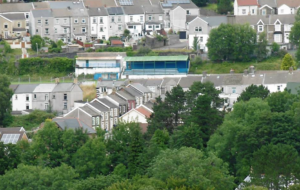 View of the Athletic from the opposite hillside
Each year a football match is played in memory of Dai proctor who sadly died so young, Treharris Western often provide players for this match, mainly veterans and there is normally a decent crowd here are some pictures from 2012 by Lee Dare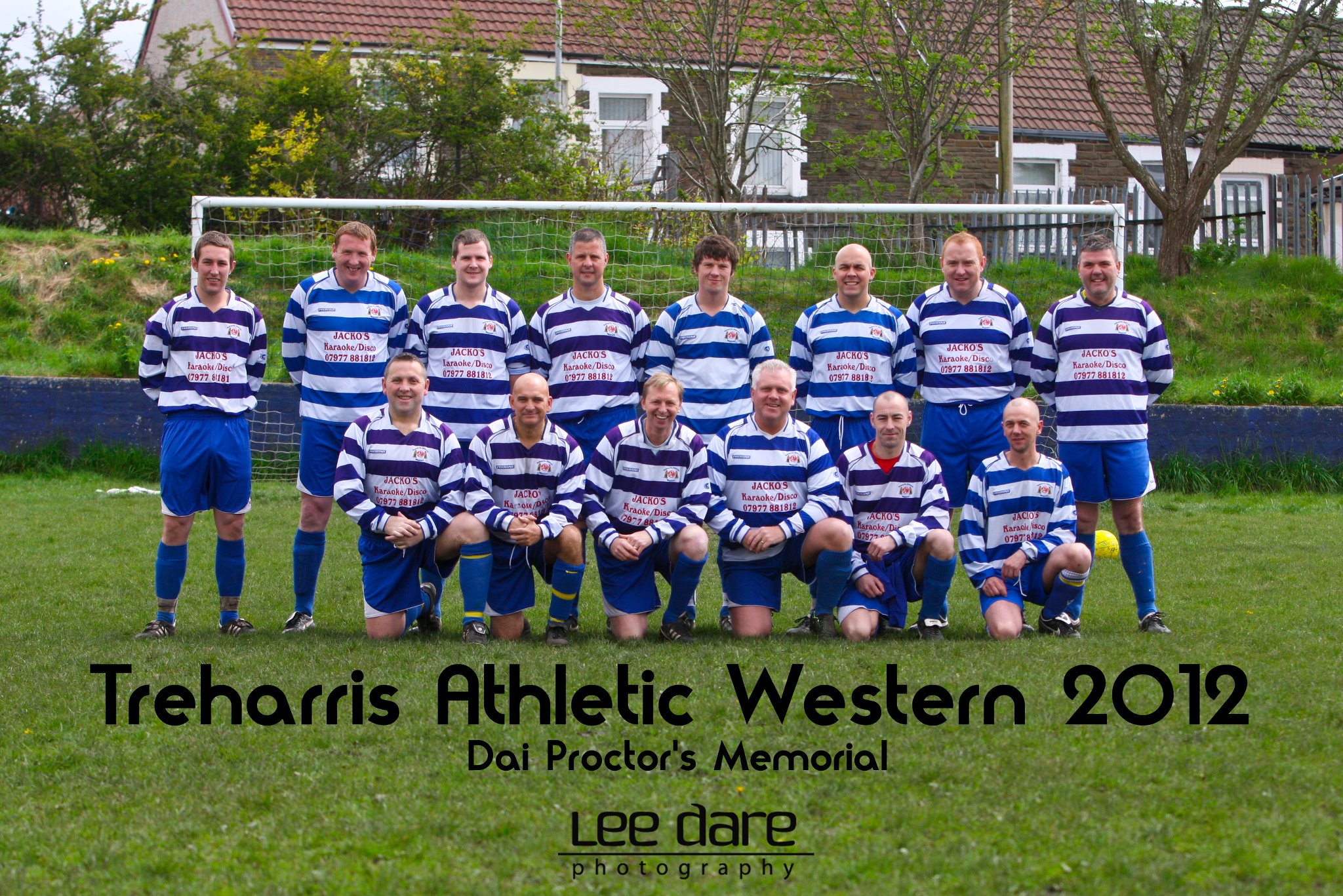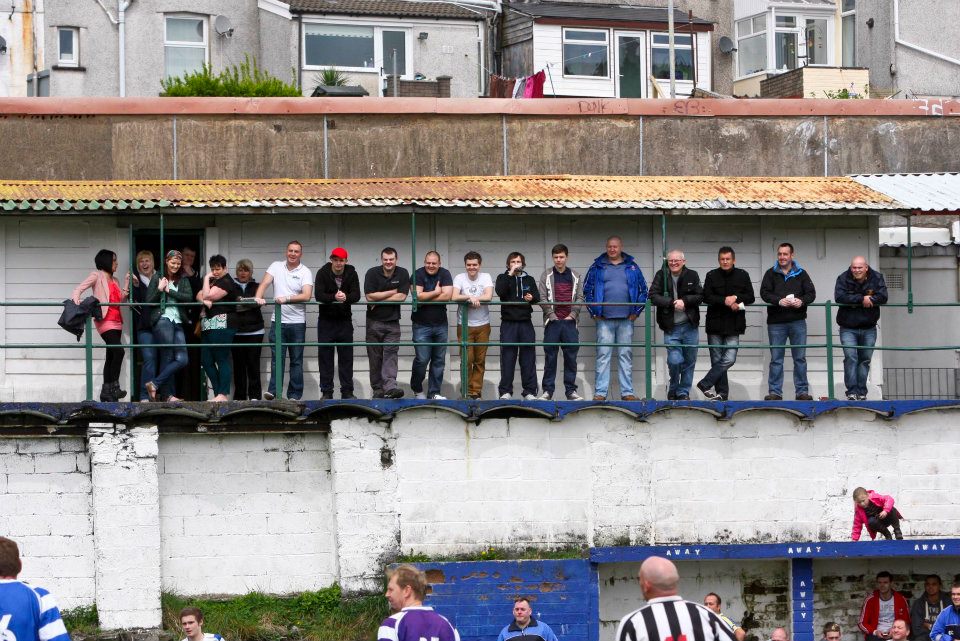 Spectators by Lee Dare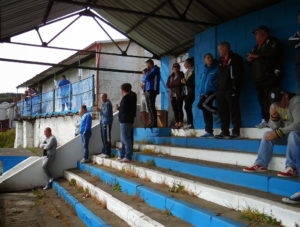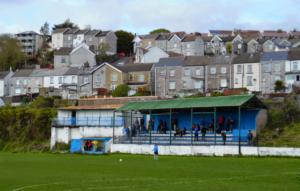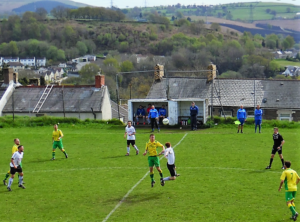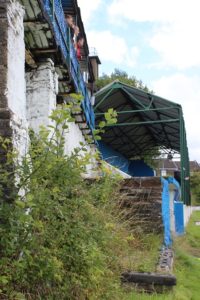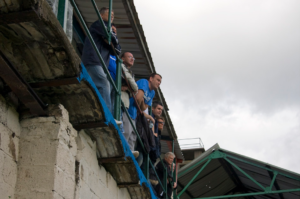 An unusual view of the ground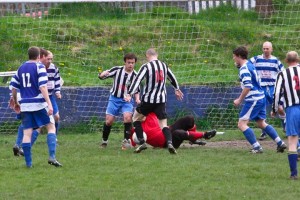 Goal mouth scramble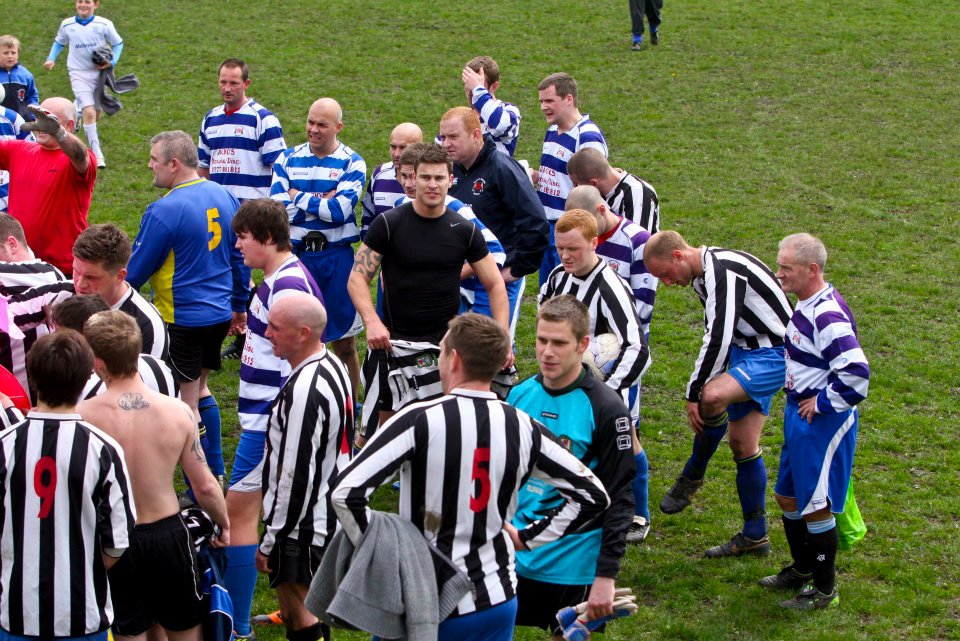 3-1 win for the Western v the Navi
Charity games?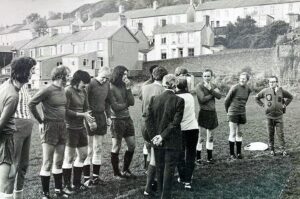 2017 last season at the famous old ground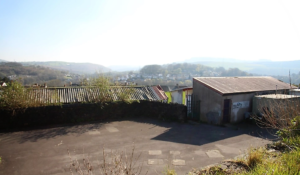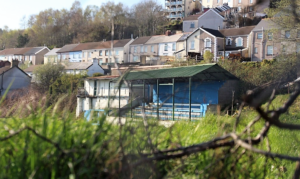 During May 2018 the demolition of the iconic Athletic stadium began but a very serious accident at the site has delayed the completion of the work and in July 2018 here is what remains.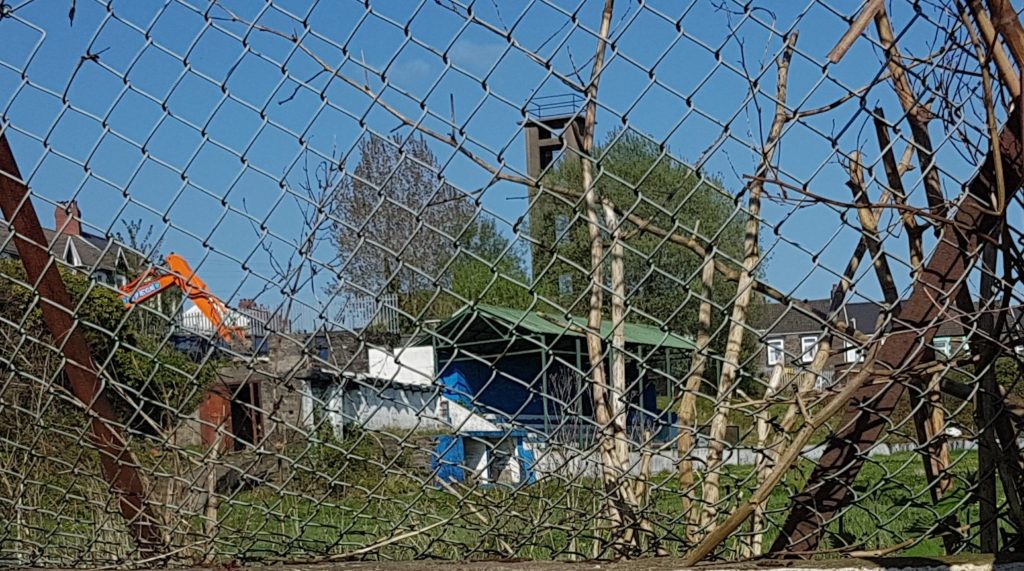 From the lane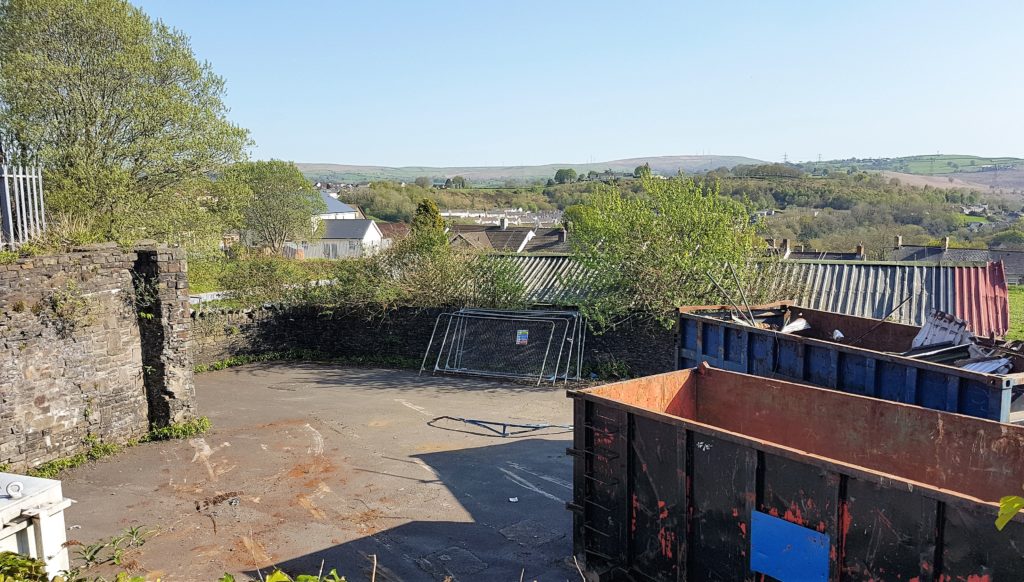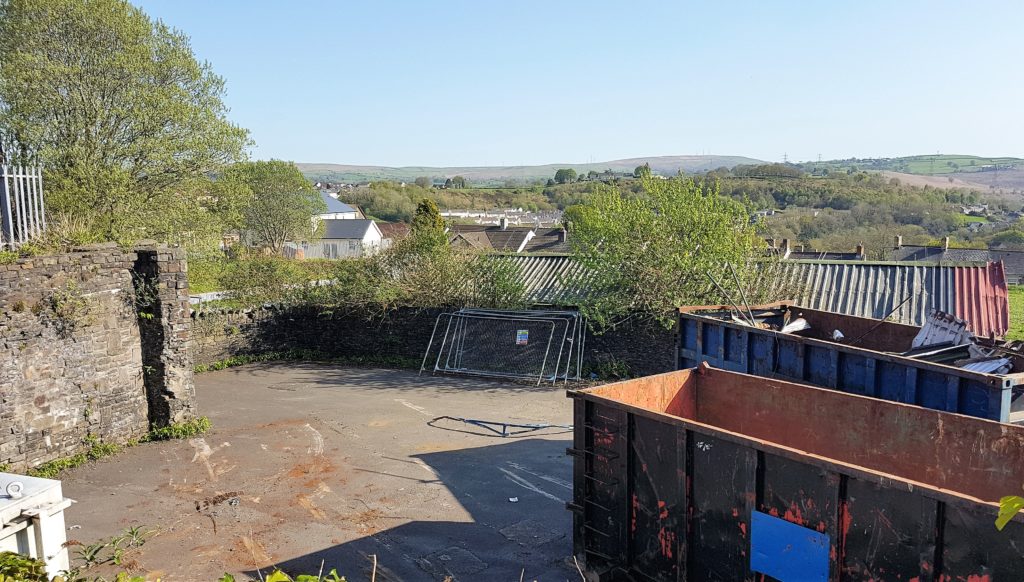 Behind the stand and the old pub footings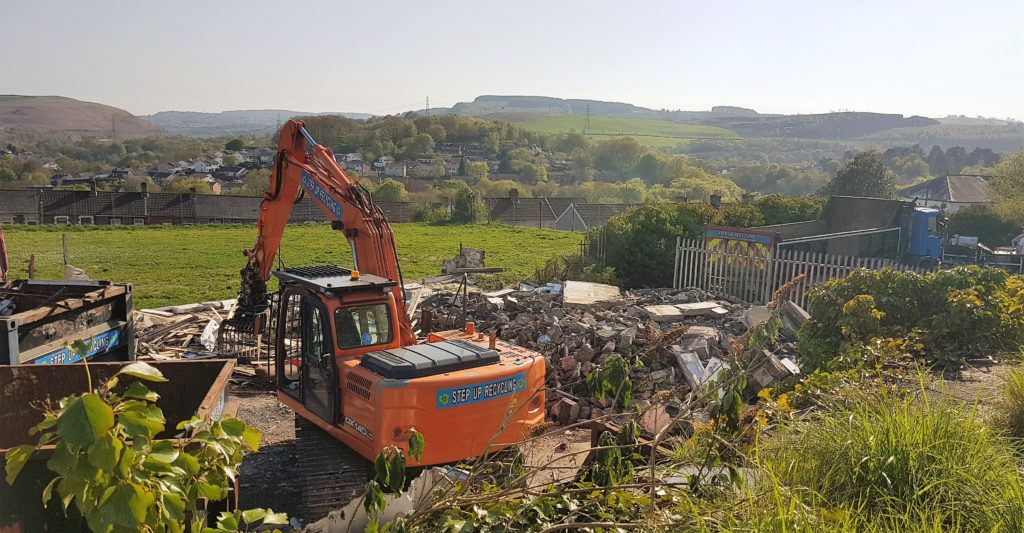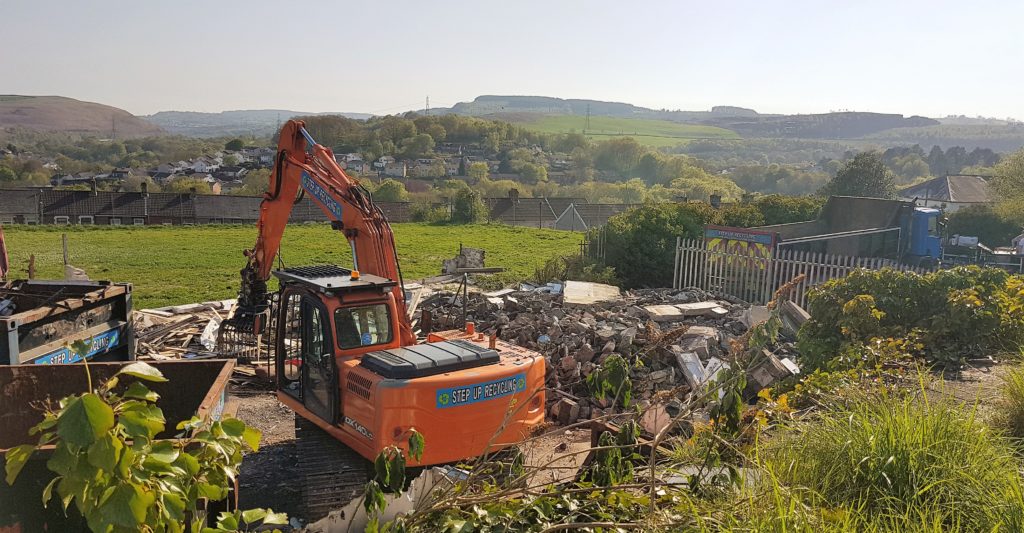 Dressing rooms are gone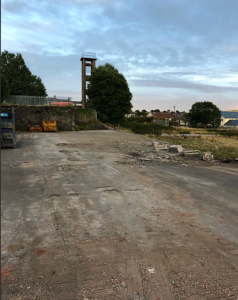 Behind the old stand August 2018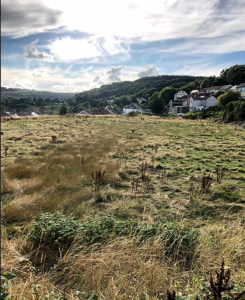 View of the former pitch from the Fire station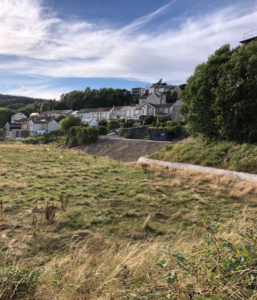 View of the former stand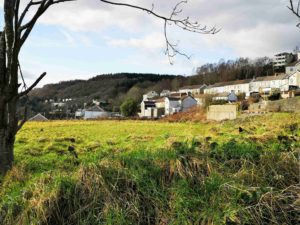 Photo of old ground February 2019
Treharris Mini Football 
https://www.treharriskidsfootball.co.uk/blog
Incredible work has gone on to transform the Athletic stadium into a new home for the young footballers of Treharris and district, boys and girls can get coaching and excellent facilities on their doorstep and the ground can live on and produce many more starts of the future. Please read the blog on their website above to see the transformation. 
On August 11th  the ground was officially opened by Robert Page, the Welsh team manager, in the presence of local councillors, and 150 young players  and their families, below we see a photo gallery of the event thanks to one of the main organisers Kieran Jones who gained permission to show these.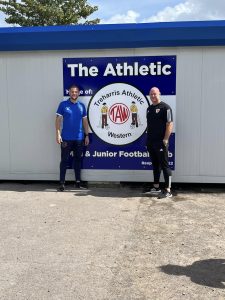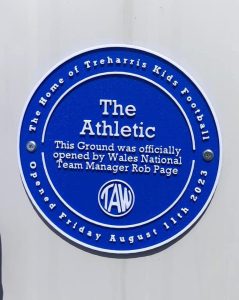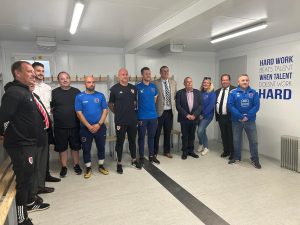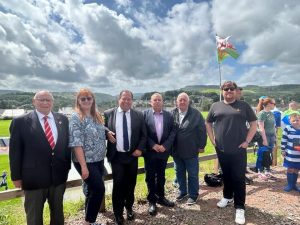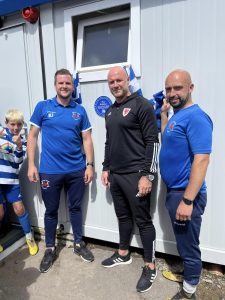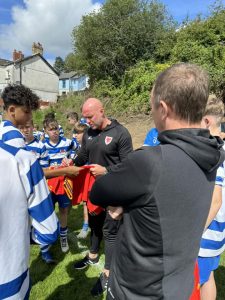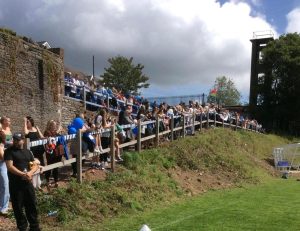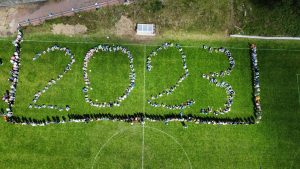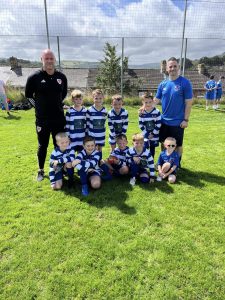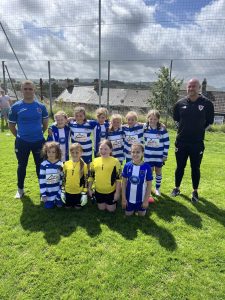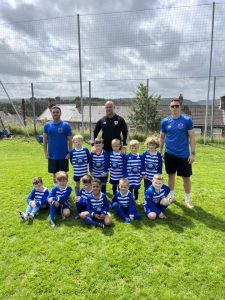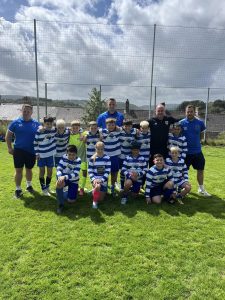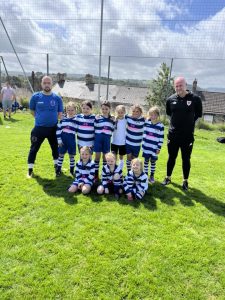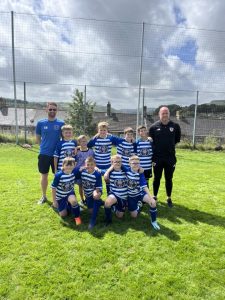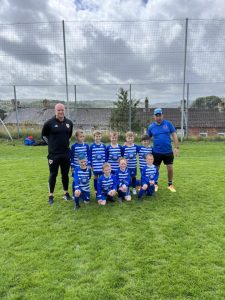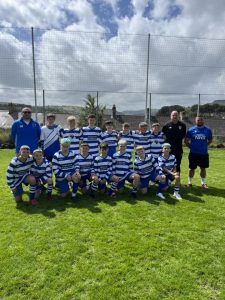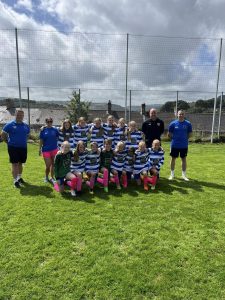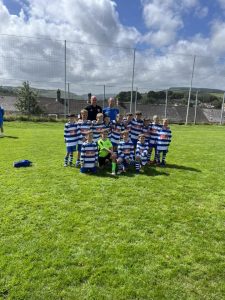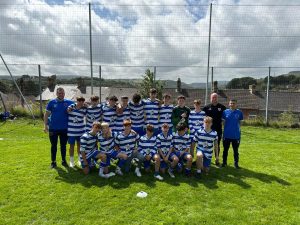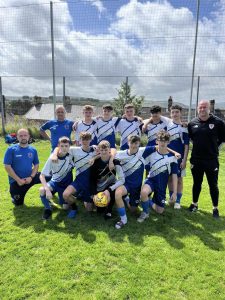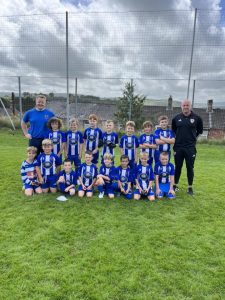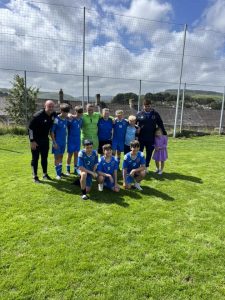 1n 2018 the Treharris Athletic Western Team moved to their new home on the former Colliery site in Trelewis. A new era for the pioneering club.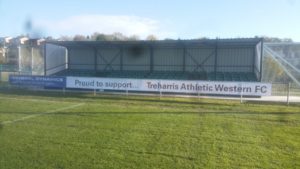 Jason Jones Aerial photography sent me this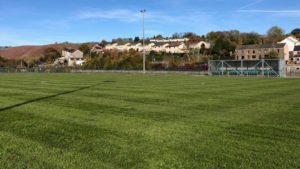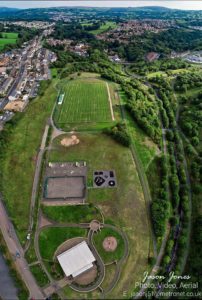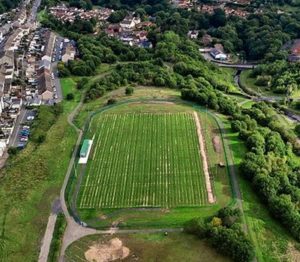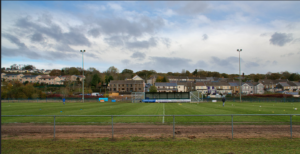 New Dressing rooms were erected on the site July 30th 2019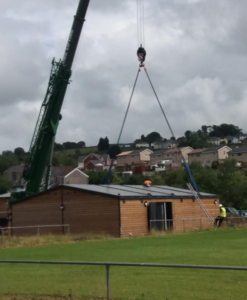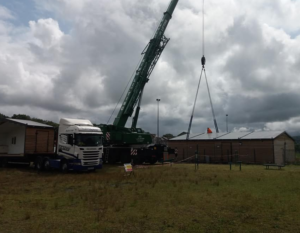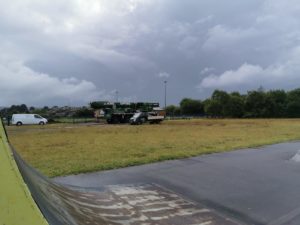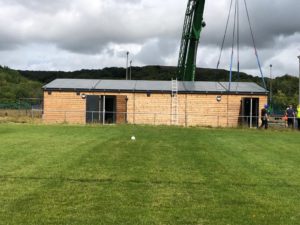 Treharris Ladies football team September 1951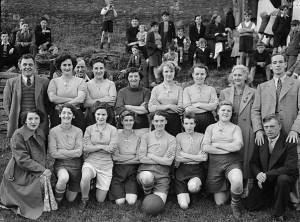 Does anyone recognize the people in the photo?
Treharris Rugby club the Phoenix
The first team I have photos of is the one started at the Perrott Inn during the mid 1970's by Len Jones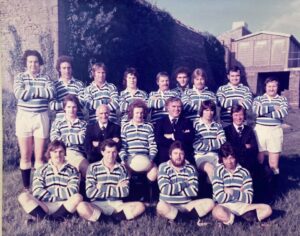 Gary Sullivan wrote…
This photo above was taken on the Football field as it was closer to the Perrott than Treharris Park
Mike Wilson, Peter Ross, —- can't remember name,Brian Hall, can't remember name, Arfon Grindall,Glyn Francis,Len Toogood, Dick Morgan, middle row can't remember think next was Peter Ross dad,Ritchie Rogers, Len Jones,Bernard Kirwaun, Jack Phillips, front Gary Evans,can't remember, Alan inch Hughes, Gavin Wilson
another from the 1976-77 era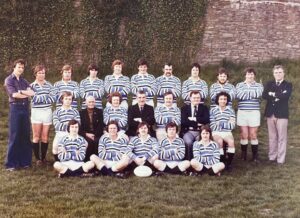 Below we see Back row Billy Townsend Kevin Jones Neil Roper Paul Smith Len Jones front row Gary Evans looks like Mousey Alan Inch Hughes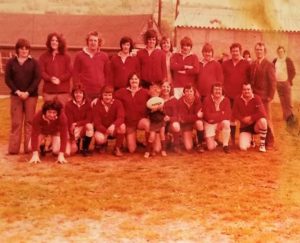 Kevin Jones and Mike Harrison amongst this line out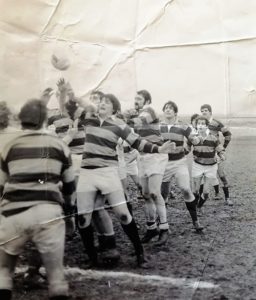 Two more below possibly 1976 outside Afon Taf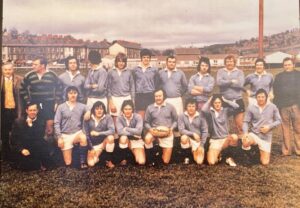 1982 approx, Treharris Park
Below we see a team with the Parry Brothers from 1984 also in the photo are Bleddyn, Alan Parker and Jeffrey Sullivan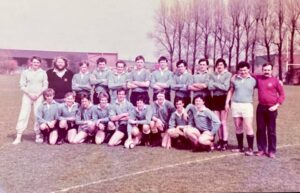 1990's includes Terry Parry,Martin Wells and Craig Rees.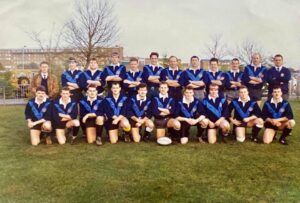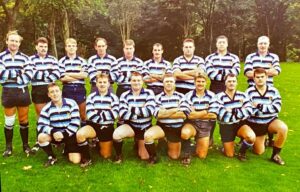 Glyn Gila Jones coach below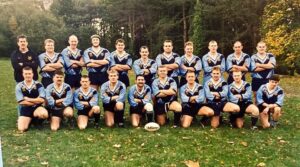 The current ground on the Millennium Park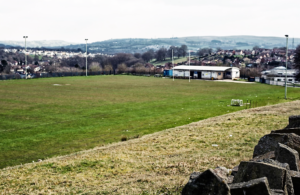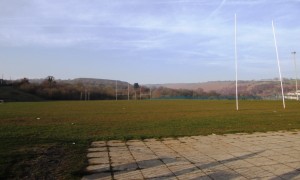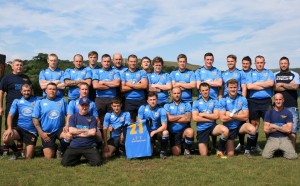 Treharris RFC 2012-13 SEASON
I have been sent some photographs of the  Treharris Rugby team mainly from the mid-nineties when the original senior team were formed, they are courtesy of former player Terry Parry
Now we see some of the presentation evenings and nights out, some well-known faces amongst these.
Nottingham youth tour 1984 possibly
The Treharris district once had an excellent cricket team, here is a photograph of the trophy winners in 1923. The team had won the Pontypridd and District knock out cup.