People
The Darby and Joan club, Edwardsville
In the UK, Darby and Joan is still a way to describe an elderly and mutually devoted married couple who live a placid and uneventful life, often in humble circumstances. There are many Darby and Joan Clubs, so named, in various parts of the country, social clubs for pensioners, which hold dances and other events. The name is indeed strictly a misnomer, since the clubs are for all pensioners, not only married couples. One such club was built in Edwardsville and was very popular for many years…sadly it is now demolished but luckily we have found a photograph of the Darby and Joan club tea committee sat outside the club in 1964.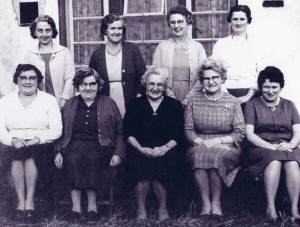 Back row (left to right)
Mrs A Davies, Mrs L.Evans, Mrs A Mandry, Mrs M Hubbard
Front
Mrs N Flood, Mrs M.Griffiths, Mrs A Plowman, Mrs M. Adams Mrs G.Rees
The Merthyr Tydfil Council planning group agreed planning permission during April 2007 to demolish the club and build flats in its place
P/07/0008 – Demolition of existing building and erection of
new building comprising 7 no. flats and associated parking
– Site of Darby and Joan OAP Club the Avenue
Edwardsville.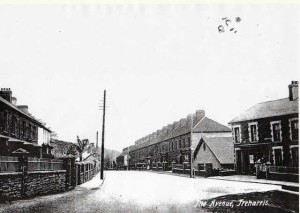 Site of the old club next to shop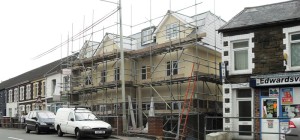 New flats being built