Contents of the Trelewis people page
 People who entertained us and raised monies for charity
Art Exhibition OAP hall
 Photographs of people from the village
 Iory Jones…Trelewis football league class one referee
 Images of Trelewis people during World War 2
Adults who lived in Trelewis in 1976 according to electoral list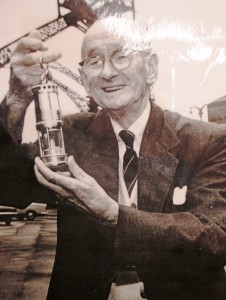 W Smith aged 94 a Trelewis miner
Entertaining and Charity events
The district is well known for being charitable and we are very lucky in Trelewis to have so many people "game for a laugh".
The Bont entertainers and the villagers who used to entertain us in the Trelewis Ex servicemen men's club are just two examples of the efforts made to raise monies for charities.
Often they will dress up and often they will sing, dance, mime,tell jokes, anything to entertain and raise monies for good causes. I hope to find more photos to highlight the work these fantastic volunteers have done over the years.
Massive thanks to Daphne and Jeff Gunning, two of the main fundraisers, for contributing the following photographs.
The Bont Entertainers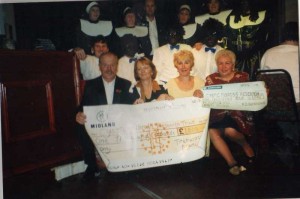 All the hard work pays off and the Bont entertainers once again raise more money for charity, this time its the Cystic Fibrosis research that benefits.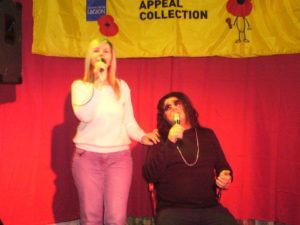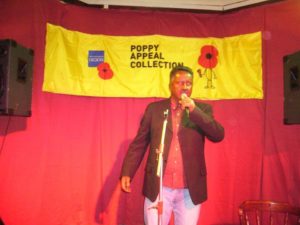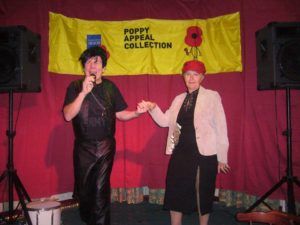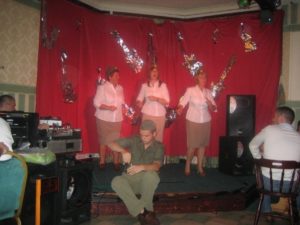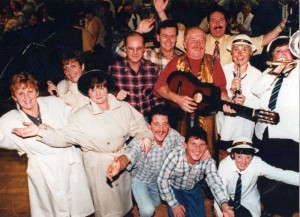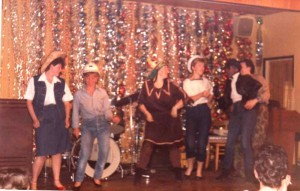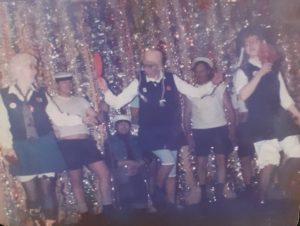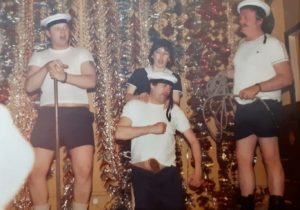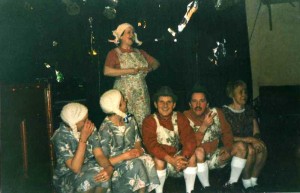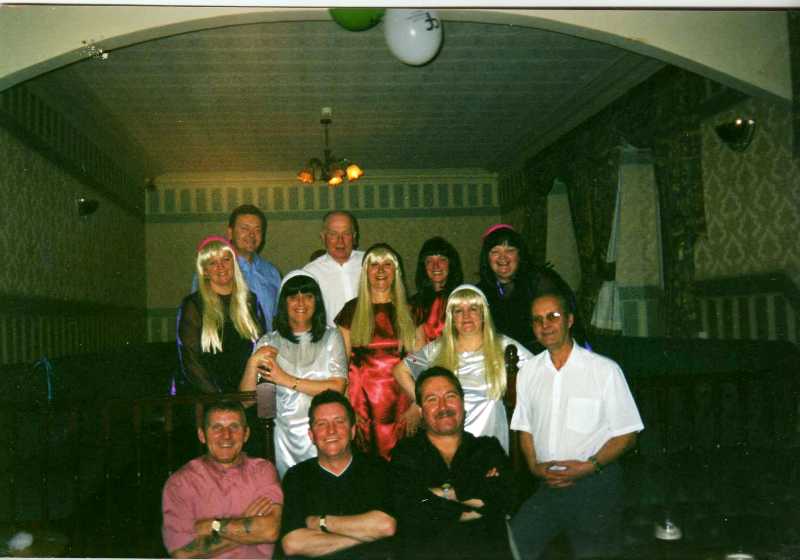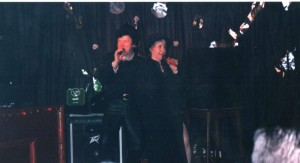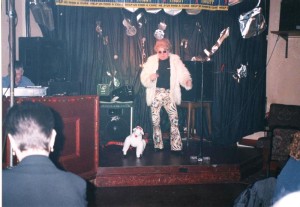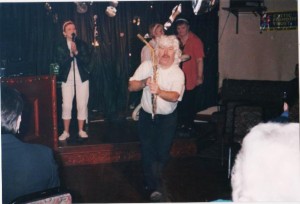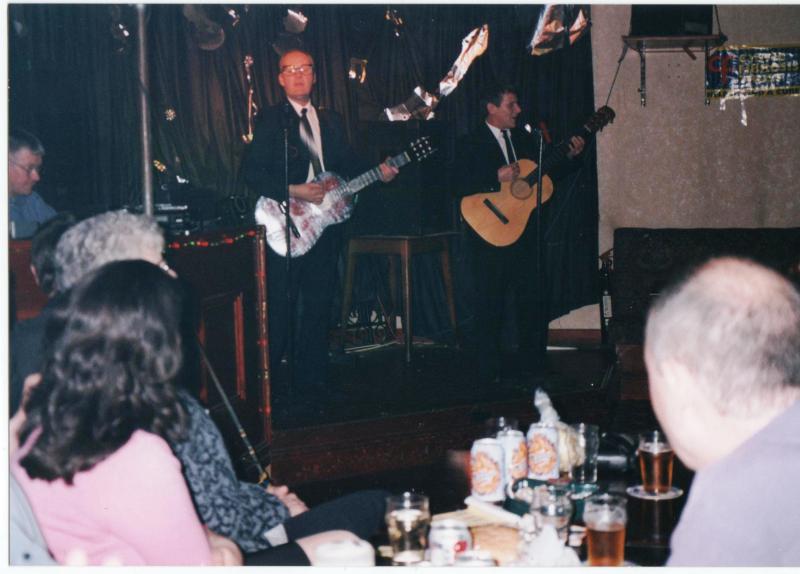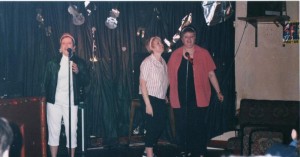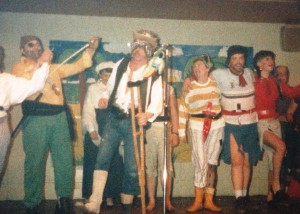 Additional photographs are courtesy of Lynda Collins of Cherry Tree way,I am very grateful for her contribution and you will see others that were donated by her and her son Darren throughout the website. Most photos in this section are courtesy of Daphne Gunning.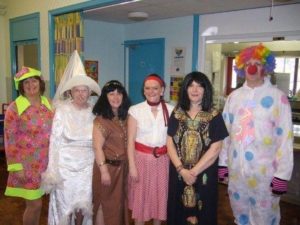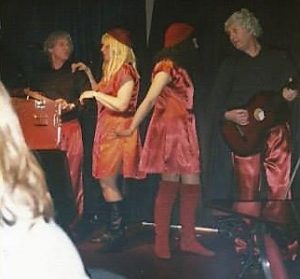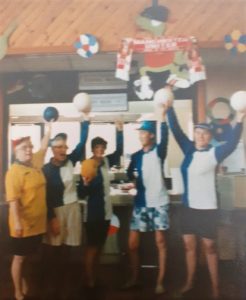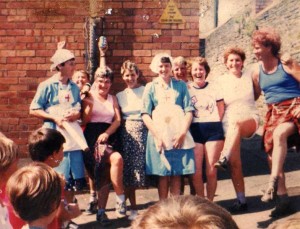 Dinner ladies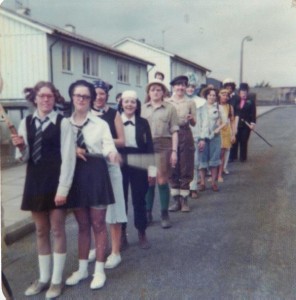 Cherry Tree Way girls
Three photographs below of a fund raiser involving the Bontnewydd pub…you will notice the god quality of the third photograph…this is the work of Hank from Nelson who worked on the photo to improve it..Nice to see Jack Pugh(r.i.p) and some old school pals..Phil Rex Lewis and Dai Price amongst the crowds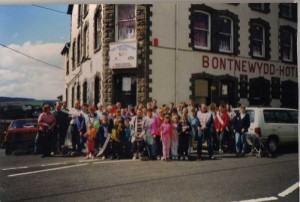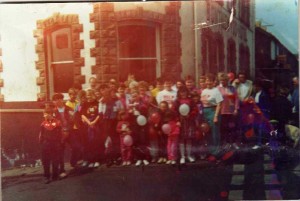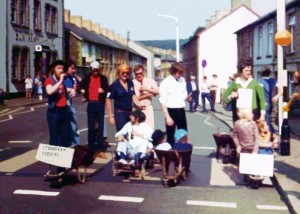 Jack Pugh,Charlie Vaughan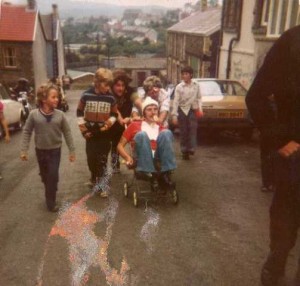 Charlie Vaughan in Barrow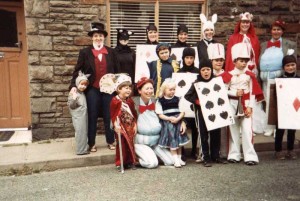 Fancy dress in Railway Street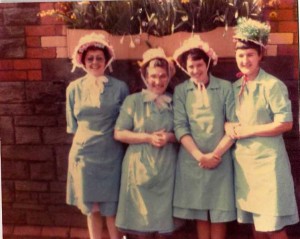 all dressed up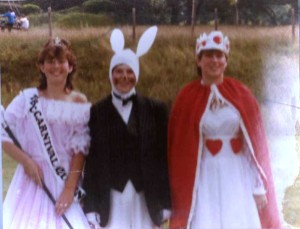 Carnival queen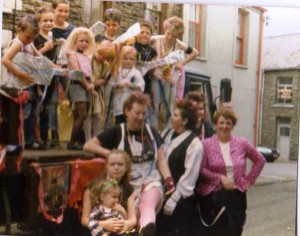 Carnival day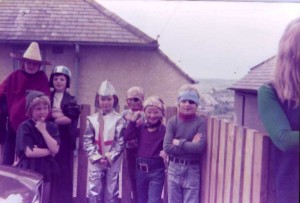 Cherry tree way lads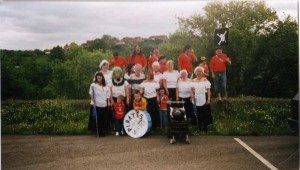 Pirates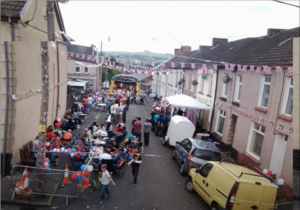 Street party for the Queeen in Richards Terrace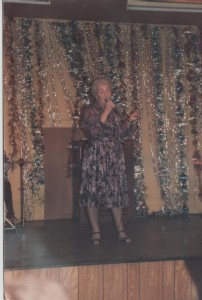 Mary Carter Cheery Tree way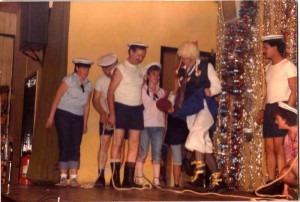 Brian Jones and friends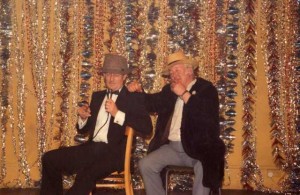 Brian Jones and Bill Holton "Flanegan and Allen" at the Trelewis club
Art Exhibition at the OAP hall 2009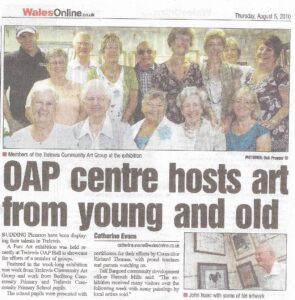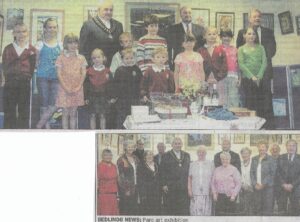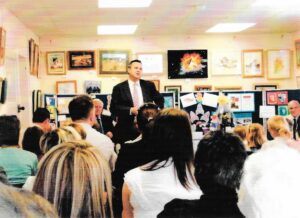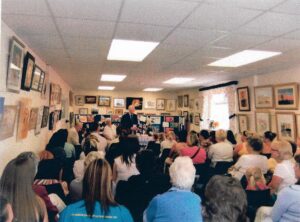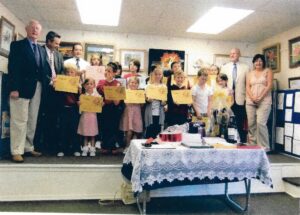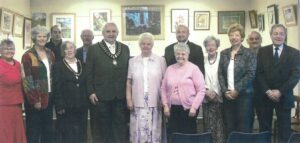 Photographs of people from the village
This section is a collection of photographs that I wanted to add, they are people I knew or people that I have memories of that lived or still live in the village. Before I  come to the photographs I have written a small piece about the people of the area.There are also family members in this section that I wanted to keep here. Unfortunately as we get older its inevitable that some of the people in the photographs are no longer with us, but we can remember them and hope they rest in peace. 
Treharris District…Some unusual names we give our friends
I am 61 years old now and my nick name has been Corky since I was a young lad, simply because my surname is Corkrey. I was in a class that had five boys named Paul, four had to be given nicknames to solve this problem…mine was easy, Paul Gwilym became "Bobo" Something to do with his family I think? Paul Davies was in the canteen at school and something had happened to his lips if I recall, from that day on he became known as two lips, shortened to "Tulip"…The other Paul Davies in our class had William has his middle name, so his initials were PWD…hence he became known as "Pud"
We also named Derek Bates, "Deckchairs", sadly no longer with us.
There have been many nicknames associated with characters from our area, I will try to recall some that I have heard about over the years and maybe it will jog memories and we can all add to this article…To start with we can mention the people associated with their jobs, a typical Welsh thing…Mike the Milk, our local milkman. We then have John the box and Dean Death, from the funeral directors in Treharris. Not forgetting Brian the Baker from Bedlinog.
When I was a young boy growing up in Trelewis I can recall the Scottish families moving down into the Wimpey estate and my two mates were both nicknamed "Haggis" …Many familiar nicknames from Trelewis even in these days include, Clunk, Popeye, Pongo, Titch, Minger, Mickey Pup, Glen Crow, Yoko, Spud, Nobsky, Skylab, Prankster, Flappy, Bowler, Mac, Bleep, Buppa and Ento.
From Treharris I can re call a Cyril, Bun, Yargo, Tommy Cush, Big Egg, Churchill, Blondie, Mouse, Jug, Dayo, Muckeye, Bow, and Tick.
Down in Quakers Yard you have Stephen Edwards nicknamed "Duncan" after the famous footballer. Another familiar name from thirty years back was "Smiler"
In Nelson I remember a Honk, Greaser, Jumbo, Chunky, Nev, and Hank
Working at the Taff Merthyr pit, I often came across even stranger nicknames attributed to the workers there including my very good friend Mike Thomas, affectionately known as "Pigs head", then there was Dai small coal, "Johnny Good looking", Ron Seawood from Nelson was called "Cold Tea" something he would repeat three or four times every time you crossed his path. We had the tall Dai "Long", Ditto, Plastic spanners, Tabs,Grouch, and many more.
There are many more of course and there will be many I have missed, it is not a Welsh thing but there are some Welsh traits involved, especially when describing characters…the girls do seem to get off lightly but I can definitely remember a girl named Voodoo, also another called the Buzzwagon and a middle aged lady named Joan ten bob…a name that conjures up many possible reasons.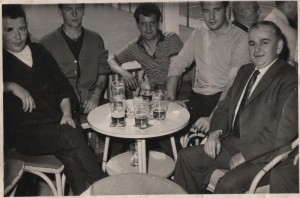 Percy Collins, Gary Davies,Terry Atherton, Mike Davies, Len Davies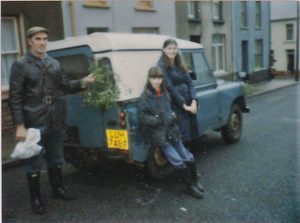 Edward Miles with the fruit and Veg delivery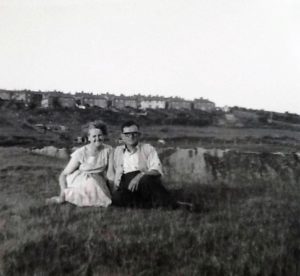 Mair & husband George Williams formerly of Heol Isaf  sitting in front of the quarry with Stormtown in the background.pic courtesy of Sally James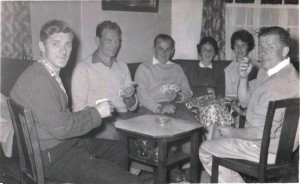 Playing cards above are Jack Social, Jack Jones (Nelson) Len Davies Molly Davies, Beryl Jones (Nelson) and Gwillym Davies (Cherry tree way)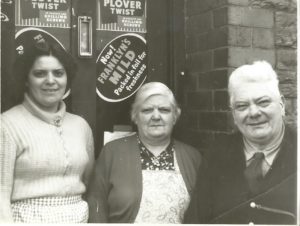 Margaret Edwards (nee Mason) Rachel Mason outside shop in Park Terrace with Asaph Jones (station master trelewis halt) thanks to Una Nicholas for use of the photograph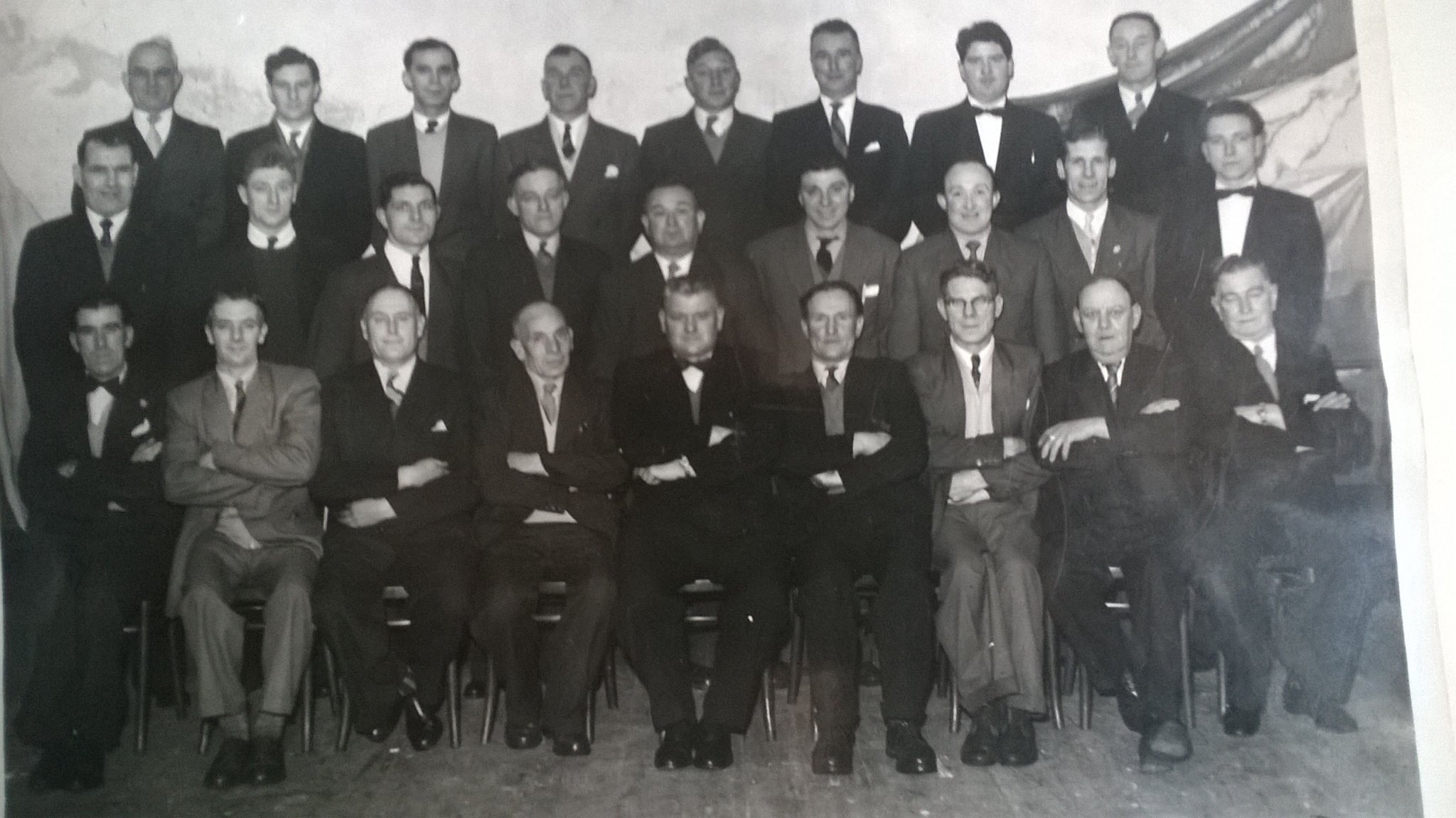 The Bontnewydd Hotel Cork Club 1950's to 1960's
Alan Harding wrote the following…when my parents kept the Bont they had what was called a cork club it was a savings club for all us members which would be paid out on the week before the miners fortnight this is the only names I can remember feel free to help me with the others.

Back row

3 from left Henry Morgan 5 Avon Hughes 7 Harry Collins 8 Llew. Phillips.

Middle row

. 2 from left Cyril Evans 3 Arthur Stephens 4 Ken Carmichael 5 Billy Rowland's 6 Cled Johnson 8 Ken James 9 Alan Harding. 

Front row;

 1 Ted Hughes 2 Will Jones 3 Don Carter 5 Charlie Jones 7 Niah Powell 9 Fred Harding ,Landlord.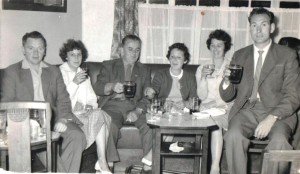 Drinking in Ffaldcaiach Inn:- "Tec and Eira Davies, Len and Molly Davies, Jack and Beryl Jones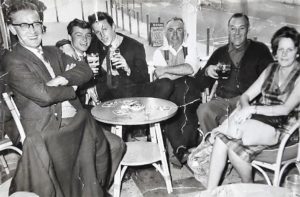 Lew Williams, Michael 'Bias' Evans, My Dad, Walter Webb and two strangers in Porthcawl – 1960's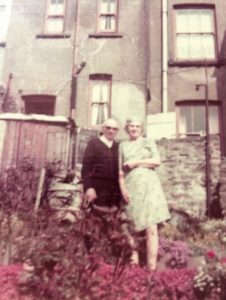 Percy and Catherine Davies of 8 Edwards Terrace, Trelewis.Pic thanks to their grand daughter Karen Davies 
Wedding reception below with some familair Trelewis faces Dai Price, Charlie Vaughan, Brian Foster, Dai O'neil and Andrew Watkins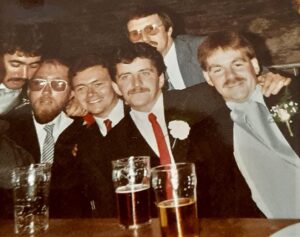 Below we see a 1930's march by Trelewis ladies oppossed to the new Government mean testing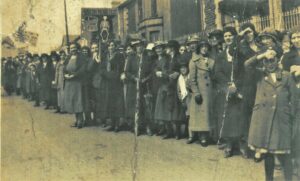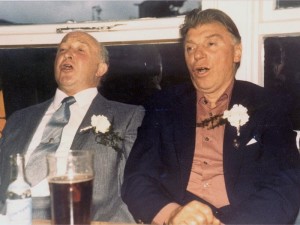 Jax Westmoreland donated this photo and wrote "My dad, Cyril Jones (Sqwidge) and his best friend Cled Johnson singing in Trelewis Legion in the early 80s."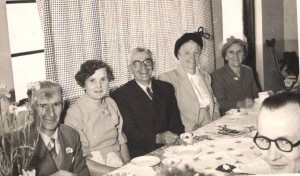 Trelewis Ambulance dinner 
L/r Harold Williams, Rose Williams , Ernie williams , Bessie (Ernies wife), Lil Williams  bottom right corner Harry 

Williams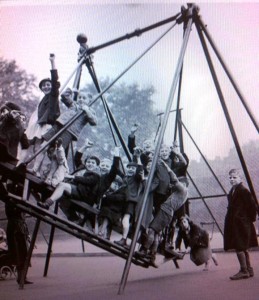 Shingrig estate children early 1960's in the park on the Jigger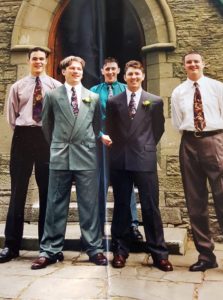 Some beauts above but good lads Cam,Dean, Steve, Darren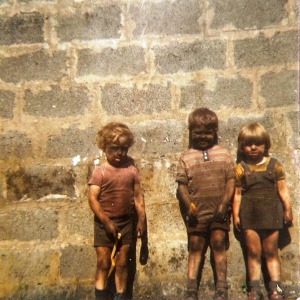 Typical Trelewis children in the seventies covered in coal having played near the colliery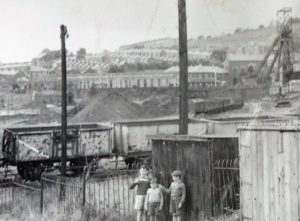 More kids playing near the pit in Bontnewydd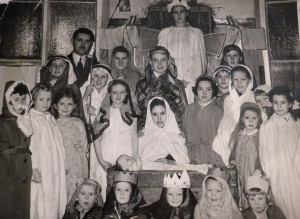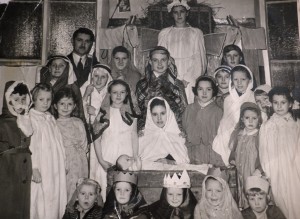 Ebenezer chapel, Trelewis Nativity 1951
Front row:-Margaret Jenkins, Anona Morgan, Ann Jones, Sheila and Jeanie Carmichael
Next row:-Leighton Price, Marie Griffiths, Gillian Thomas, Carol Williams, Annette Davies, Margaret Hughes, ?, Robert Owen, Betty Morgan
Behind them:- Jeffrey Cox, Alvin Morgan, Ann Thomas, Gareth Davies, David Jones,  Jayne Griffiths with William Lambert above them.
The minister is Shem Morgan and the angel at the back is Christine Owen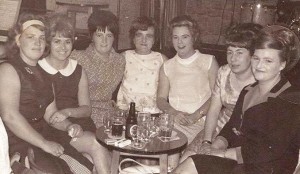 from the left Betty Giles, Wendy Morrisey, Gillian Morris, Joan Smith,Marion Hodder,Margaret Haycock and Beryl Roberts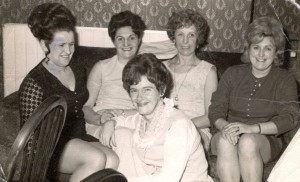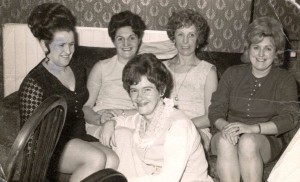 Back row left to right Maretta Owen,Pam ?, Hilary Jones and Jackie Wearn lady in front ?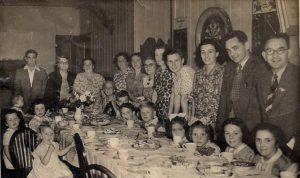 Here is a photo taken on Coronation Day 1953 in the upstairs room in the Ffaldcaiach Inn.
 The first television we had ever seen and it was quite small for such a crowd to be clustered around.
All the children on the photo lived near by.
Margaret Davies ,Mary Davies, Merril Price, Lynne Price, Tecwyn Evans, Ian Davies,  John Roberts,and Colin Davies and an assortment of mothers and fathers
Below we see some photographs of Trelewis British Legion (Ladies Section) with Mrs Ivor Lewis , Mary Lewis , Pam Williams & also some old Mothers Union members (thanks to Richard Edwards)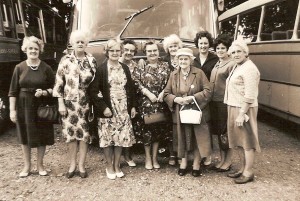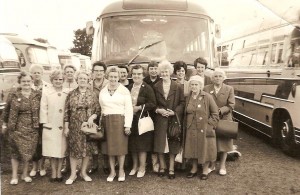 below we see a Trelewis OAP trip from 2009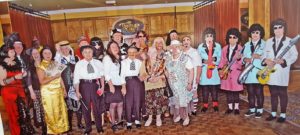 Below we see Trelewis church choir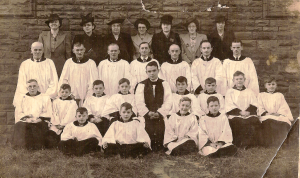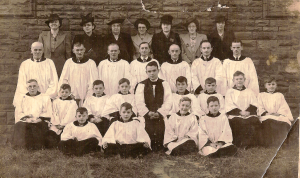 Below we see a photo of the lovely farmer Les Miles, sadly missed.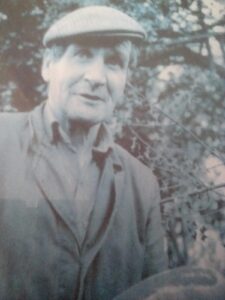 Below we see the very kind and sadly missed Linda Jones when Prince Charles visited Wales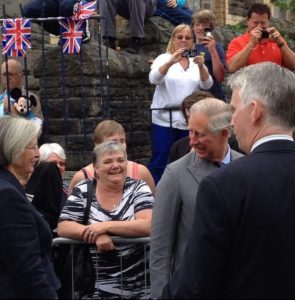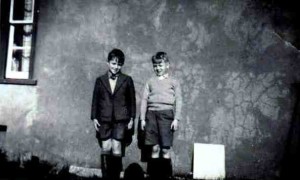 Mike Williams (Mike the Milk) R.I.P. on the right of this photograph taken over 60 years ago at the farm at Maen Gilfach Trelewis with his cousin from England on his left.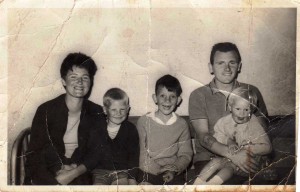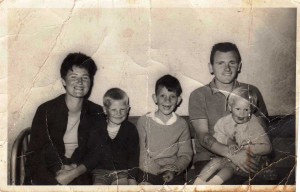 My mother Marion Corkrey need Chapman, Myself,Jimmy Morgan ,my cousin, my father James Corkrey and sister Ruth Corkrey now Lambert
Below a family trip Porthcawl, Myself Gilbert and Shirley Morgan my mother Marion Chapman(Corkrey) and yound David Morgan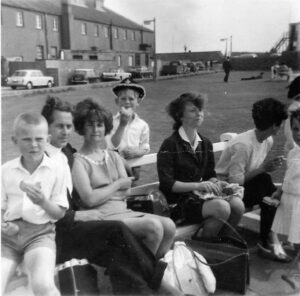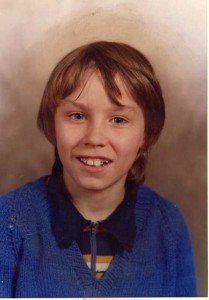 A young Neil Coxe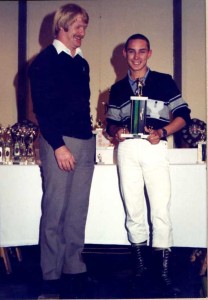 Neil getting an award from Steve Fenwick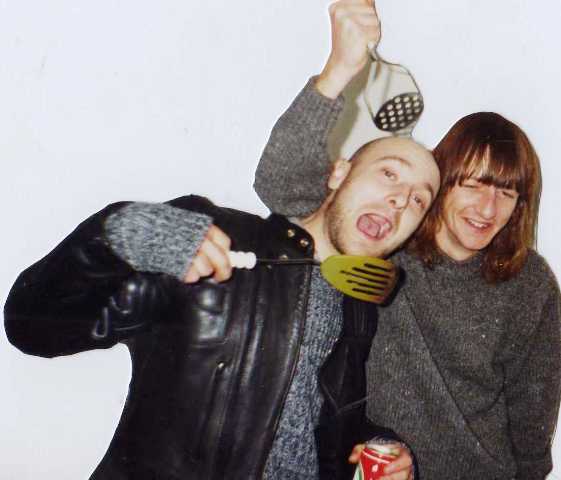 Taylor and Flappy a mad combination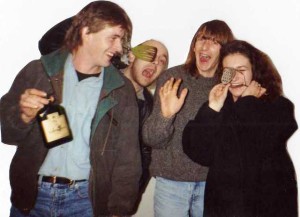 Roger Jones and his former girlfriend join forces with John Taylor and Barrie Francis.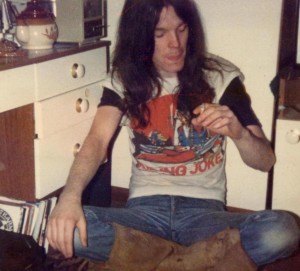 Leighton Smart 1985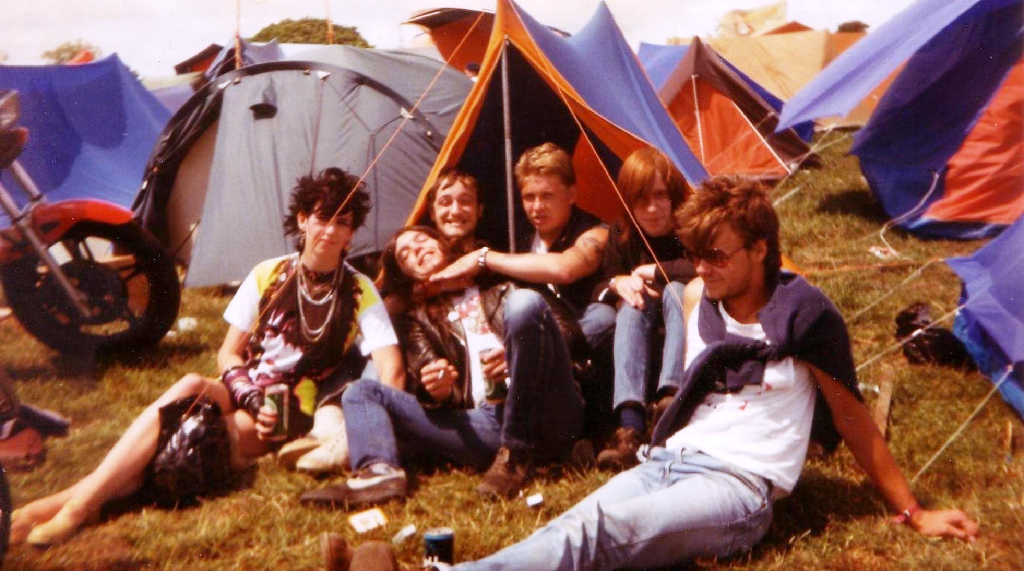 Bronwen Fleming (r.i.p.) , Leighton Smart, Jonathan Taylor (Jaffa), Tracey Pickett (Ianto), Alan Davies from Stormtown, and  Marco from Bontnewydd Tce!)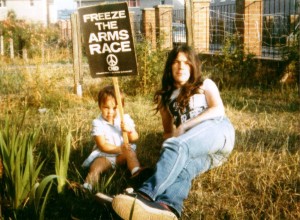 Leighton and Dewi Smart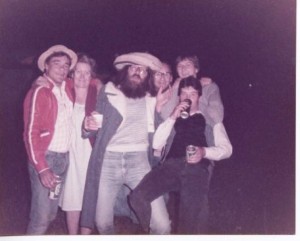 Steve Williams,Neil Powell, Alan Hughes,Clive Richardson ,Micky Johns 1983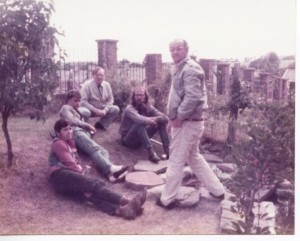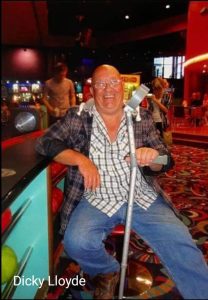 1983 in Richard Lloyds garden on the Shingrig, Micky John, Tull and mates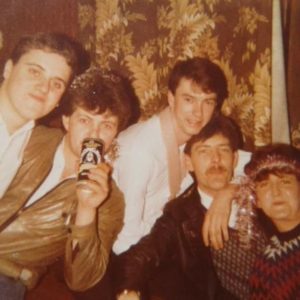 Popeye, Pongo, Dai Hughes (R.I.P) Jim Tonner and Marylyn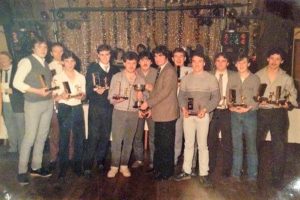 Ex Club Pool team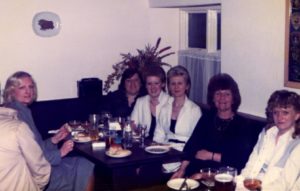 A night out, Violet,Denise,Ruth, Mam, Cindy and Diane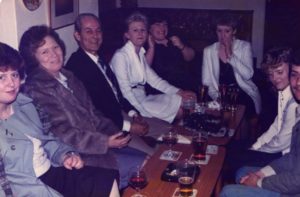 Shirley and Gilbert Morgan and family/friends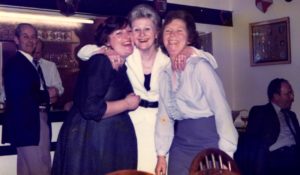 Gilbert, Violet, Ruth and Shirley Below we see a selection of Trelewis people throughout the years thanks to these photos donated by Daphne Gunning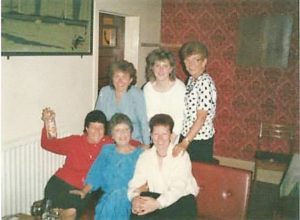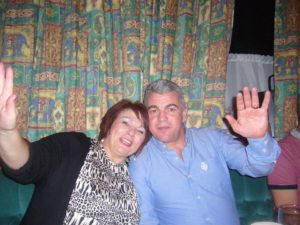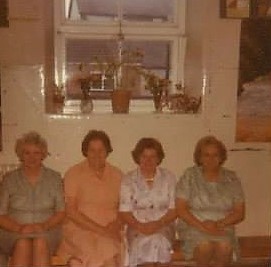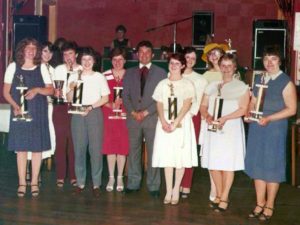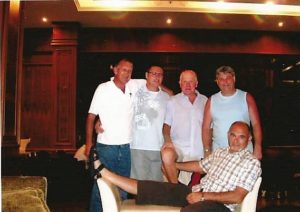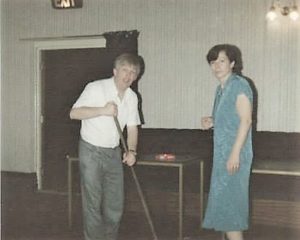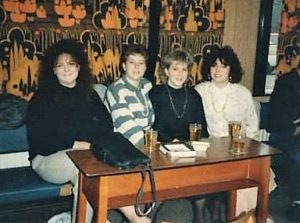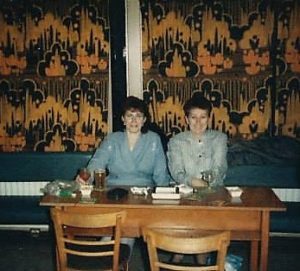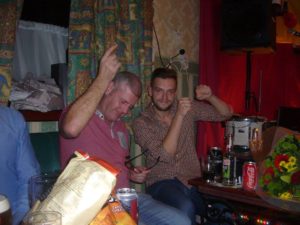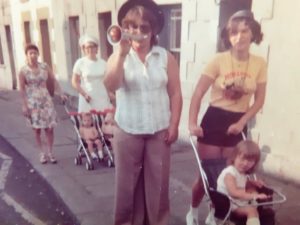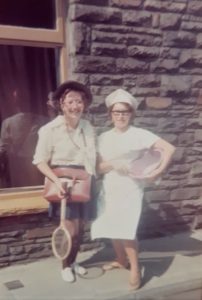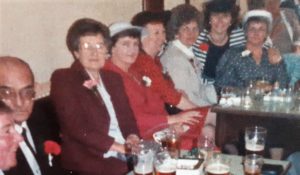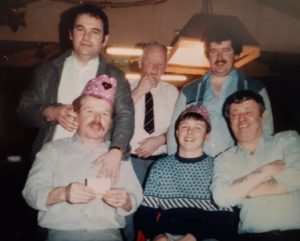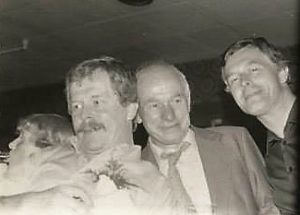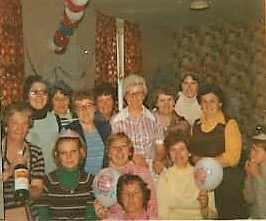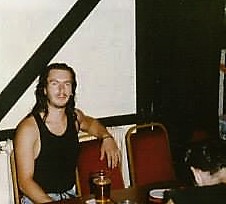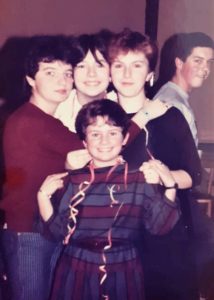 Trelewis Ambulance Hall members
The hall which was built in the lane behind the High Street. First aid was taught there to a very high standard and many of the people who used to attend the Hall went on to work in medical capacity. Hubert Chapman, Joe Bromley and Mary Lewis can all be seen in the photograph below and they all did great work in the hall.
Nurses, doctors, Ambulance personnel, first aiders and paramedics are amongst some of the professions that the pupils went on to as a career after their early beginnings at the Trelewis hall.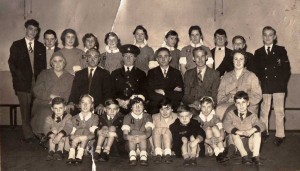 Back Row left to right 
Alan Mee, Dennis O'Brien,Ly Price Pat Donoghue, Gillian Hughes, Jean Bromley,Nancy,Miriam Telling,Ken Humphries, Norman Williams.
Emlyn Edwards
Middle row Centre

Mrs Lewis(mother of Mary Lewis),  Ray Powell,  Joe Bromley,? Hubert Chapman Mary Lewis
Front row
one of the Mee twins Christine Williams, ?? Ann Morris, ? Susan Donague, Kerry Watkins, the other Mee twin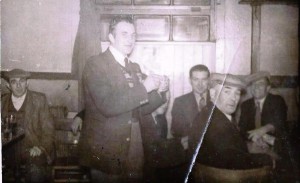 Above we see the Ffald in the sixties Viv Harris and his father are both in this picture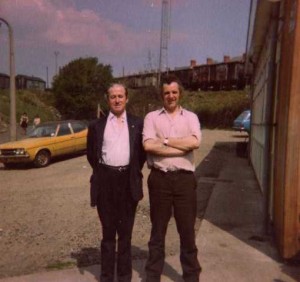 (photograph courtesy of Gary and Mostyn Jones)
Mostyn Jones and Mr Belton outside the Trelewis Ex Servicemen's club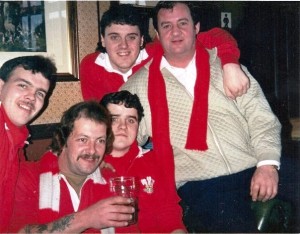 Raggy,Dai Pongo RIP  Laurance and Popeye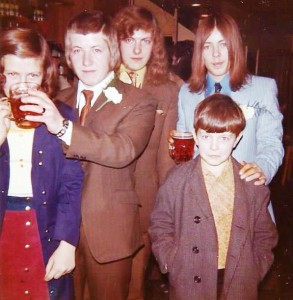 The Harris family, Mouse, Pongo,Sam,
Micky Johns, spud and the boys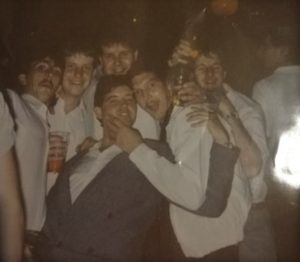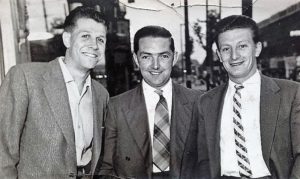 Above we see Brian Bazeley, Viv Harris and Terry Evans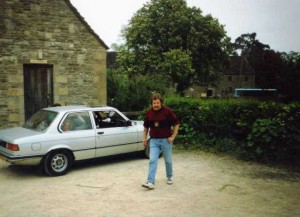 David Harris(Pongo) in the 1980's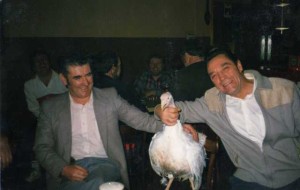 Danny Melly and Emo Bates get the bird.( pic courtesy of D Melly)
Christmas at the Bontnewydd about 20 years ago (1989 and what a funny day this turned out to be…Robert Rees had promised Danny Melly a fresh Turkey for Christmas…Fred Rice, Bowler, Mac, Emo Bates, Maldyn and Dai Jones, Billy Murray and all the regualrs were left speechless when Robert arrived at the Bont with the fresh Turkey…it was very much still alive and was flapping around in the bar until, after much laughter it was caught and under control.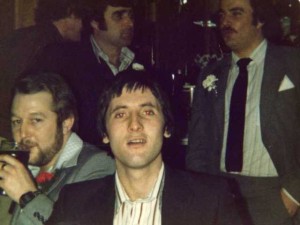 Background 
Lyn Roberts and Teifion Evans .
At the table 
Martyn Carlick and Harry Mclean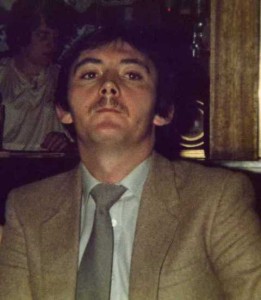 Wynford Jones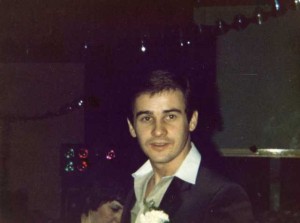 Paul Eynon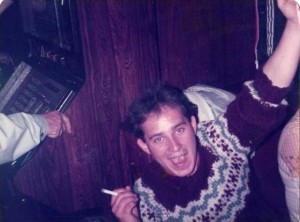 Coxy with a lot of hair
Phil rex Lewis and Glen Candy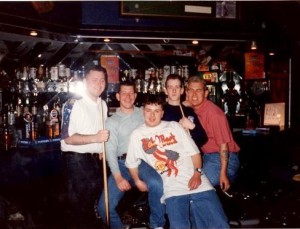 Ento, Eggy, Glen, David G and me (Corky) 1994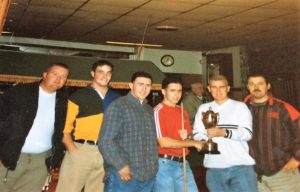 Another from the 90's Nigel, Andrew, Steve, Alex me and Barry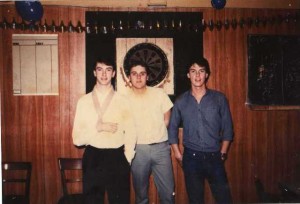 David Hughes, Gary Jones and Ian Jerimiah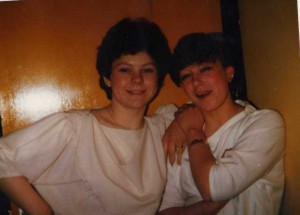 Martine Hake and Charlene Cusack at the Ex Servicemen' s club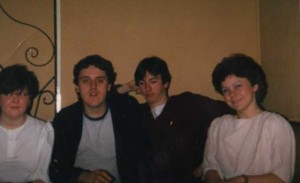 Shirley, Gary,David and Martine
(photograph courtesy of Vic Hughes)
Leighton Rees at a Darts Exhibition to raise money for the youth football team in the village, organised by Vic Hughes at Trelewis Ex Servicemen's club.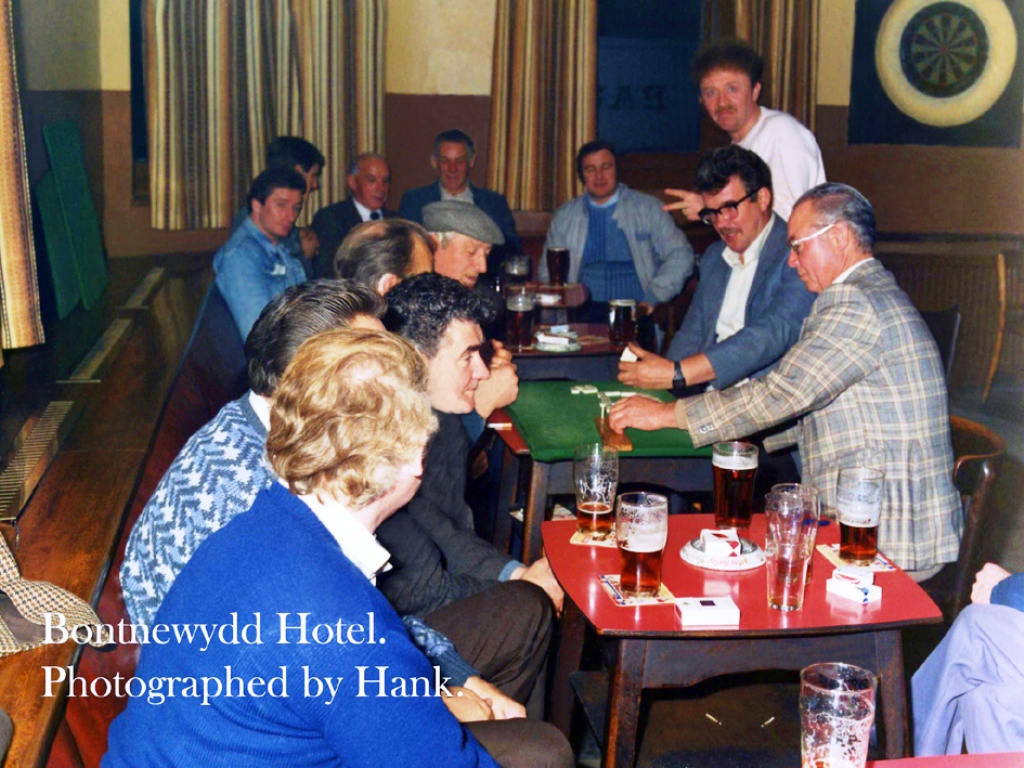 A great old photograph courtesy of Hank that shows a typical scene in the old bar at the Bont over 20 years ago, some of the characters present were Ditto (Dennis Ninnis) Gwyn Curly Jones, Ento, Danny Melly, Ken Jones and Lally.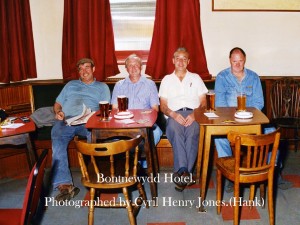 Another gem from Hank featuring Lally, Barry Rees, Brian Baber and Mike Hunt.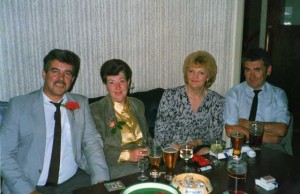 Lally and Danny and their wives at a local wedding. (picture donated by D Melly)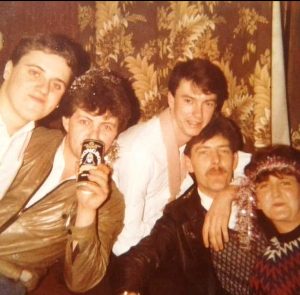 Gary Popeye Jones Pongo Harris, Dai Hughes, Jim and Marilyn Toner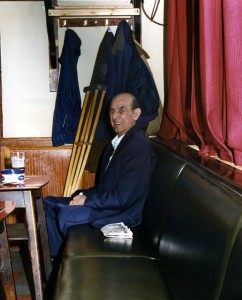 Reg Probert at the Bontnewydd Hotel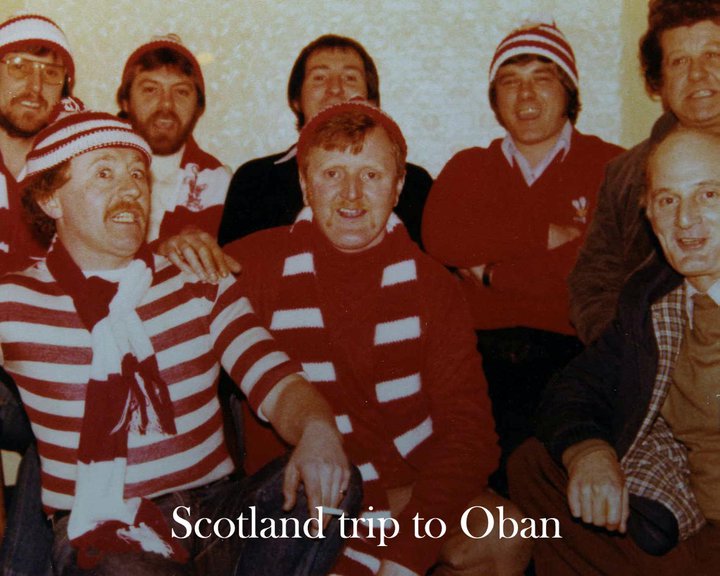 Back row: Charlie Vaughan.Chris Watkins. TJ, Terry Jones. Tony summers. Rory Bus driver. Front Row: Gwyn Jones. Mike Chapman. Rocket Ron.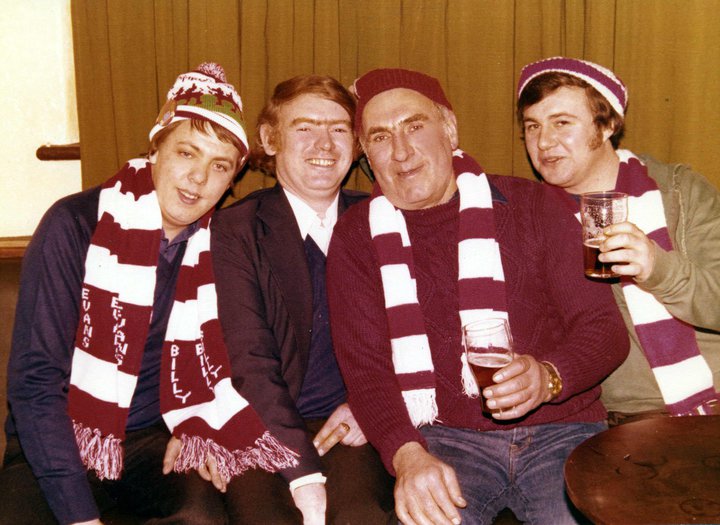 Billy Evans, Bowler, Doug Broadstock and Gareth Evans (Ento)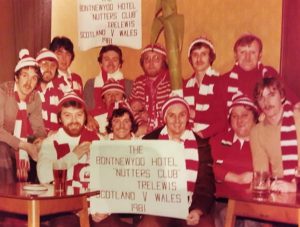 Nutters club from the Bont
RemasterDirector_18da6b0cf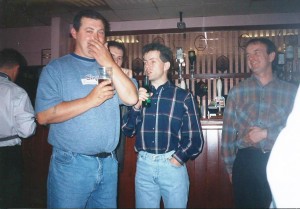 Barry Maloney, Paul Harris and Tony Morgan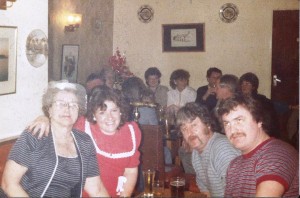 Above we see Violet and Maldwyn with their mother Lillian and brother in law Ken Jones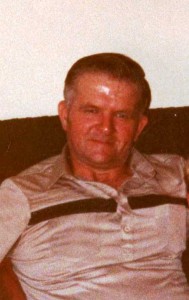 Jess Williams R.I.P.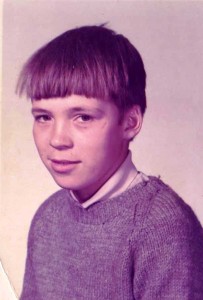 Adie Williams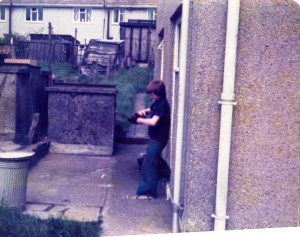 Andrew Tich Williams West View Crescent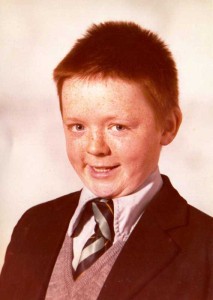 Andrew Tich Williams age 14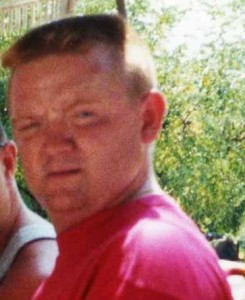 Andrew Tich Williams age 45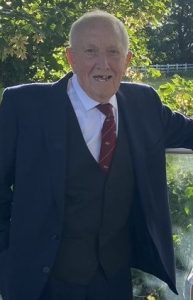 Arthur (Pandy) Jones R.I.P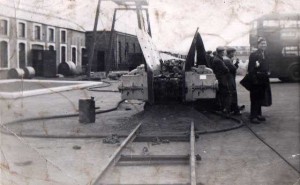 Doug Broadstock on Top pit Treharris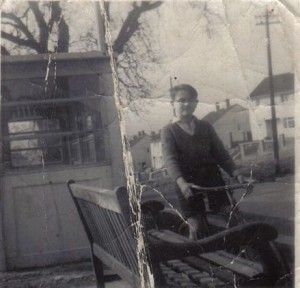 Neil Powell on the Shingrig 1964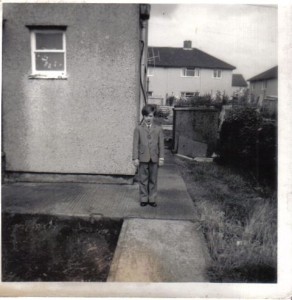 Rodney Powell (Rocktop) aged about 9 outside his home on West View Crescent, Trelewis approx. 1973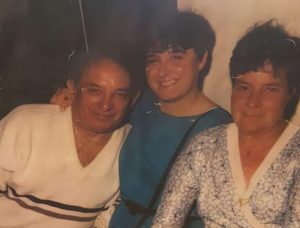 The much missed Terry and Iris Coxe with daughter Debbie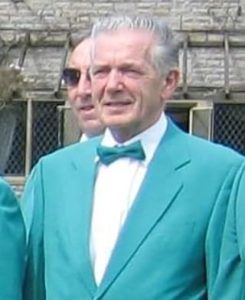 The Lovely Brian Humphries sadly passed away in May 2020, a valued member of Treharris choir
Below we see a collection of photographs courtesy of Justin Vaughan of Trelewis people.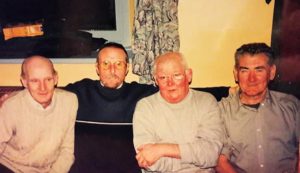 Ron Evans, Charlie Vaughan Percy and Danny Melly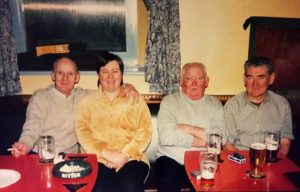 Ron, Kim, Percy and Danny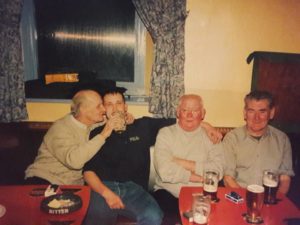 Ron,young Denzil, Percy and Danny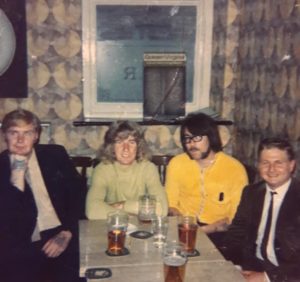 Mike Hunt, Alun the farm Williams, Hank and Bev Powell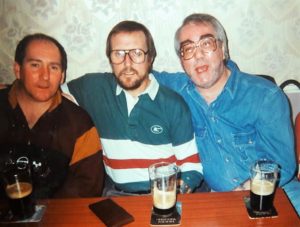 TJ Jones, Charlie and Hank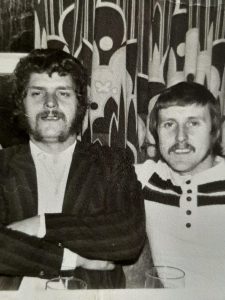 Wicko and Charlie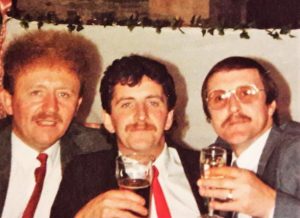 Curly Gwyn, Dai O Neill and Charlie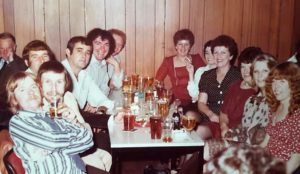 Near left, Roy Goddard, Charlie Vaughan, Mike bronco, Gwynne Davies, Vic Hughes, Gwynne Jones,
Near right patty Jones, Jeannie Vaughan, Christine bronco, June Davies, norma Hughes, Jennifer Davies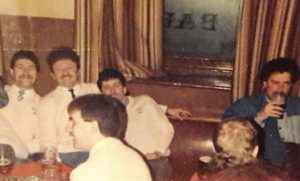 Includes Adrian Broadstock and Gwyn Jones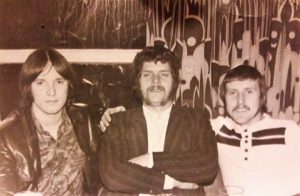 Pat Jeremiah, Tyronne Wicks, and Charlie Vaughan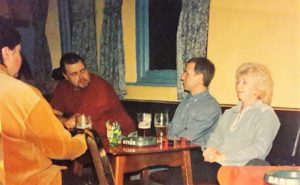 Karl Amesbury, Phil and Sue Woods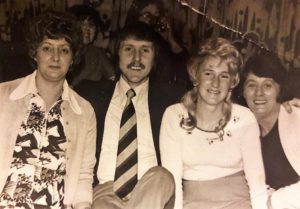 Esme Williams and Christine court with Charlie Vaughan and Mrs John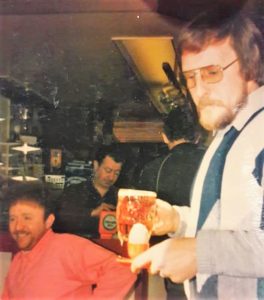 Gwyn Jones sitting with Charlie and Trevor behind the bar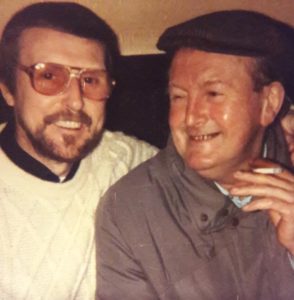 Charlie Vaughan and Siony John Bufton R.I.P.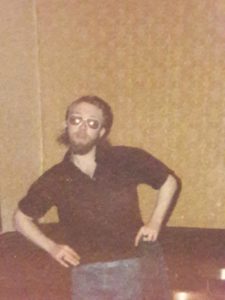 Jack Pugh (Park Terrace) R.I.P.
Scotland Trips 1977 and 1979 from the Ffaldcaiach Inn 
Over thirty years have passed now since the two trips I was lucky to be part of in the late 1970's. Mike Williams or Mike the Milk as he is more commonly known was the main organiser and we used to save every week at the Ffaldcaich; the landlords then were Molly and Dennis Barwood. We also had a dummy club, all members had to carry a thimble with them at all times or pay a two bob (ten pence fine) all monies from the dummy club went towards a good time on the trips.
From what I can remember we went on a mini bus the one year and on a coach we shared by the "Dog and Rabbit" and the legend that was Parsons on another. My memory is fading now it was a long time ago but some of the people that were with me on those trips were, Michael Williams, Alun Williams, Glen Candy, Paul Eynon, Derek Wheeler, Will Toner, Hadyn Williams, Lyn Roberts, Lyn and Wynford Jones, Mike Jones( Ystrad Mynach)Mike Betts, Keith Cullen, Teifion Williams, Neil Powell and Brian Prosser.
I had had a serious accident by the time of the second trip and I am not sure from which year the following photographs came from but I believe it was 1979. They were great times and the Ffald was full of good people, the trips were fantastic and everyone had a brilliant time
We stayed in a posh Hotel…The Strathearn Hotel in Kirkcaldy Fife…those were the days…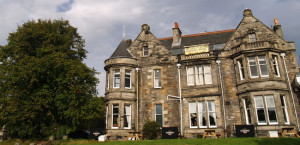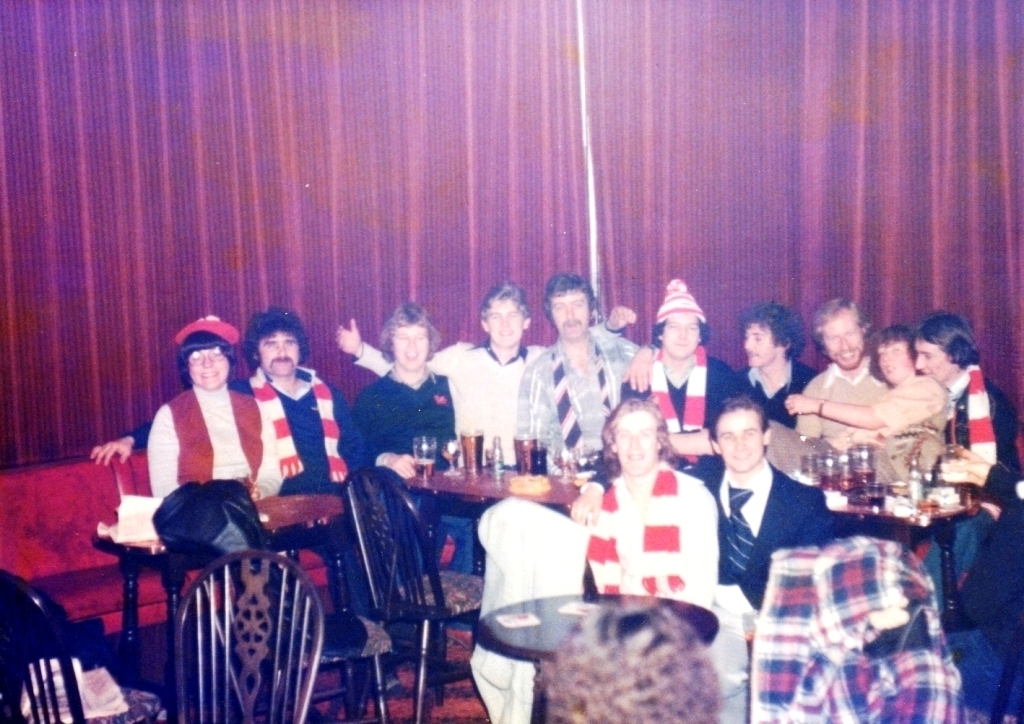 Team photo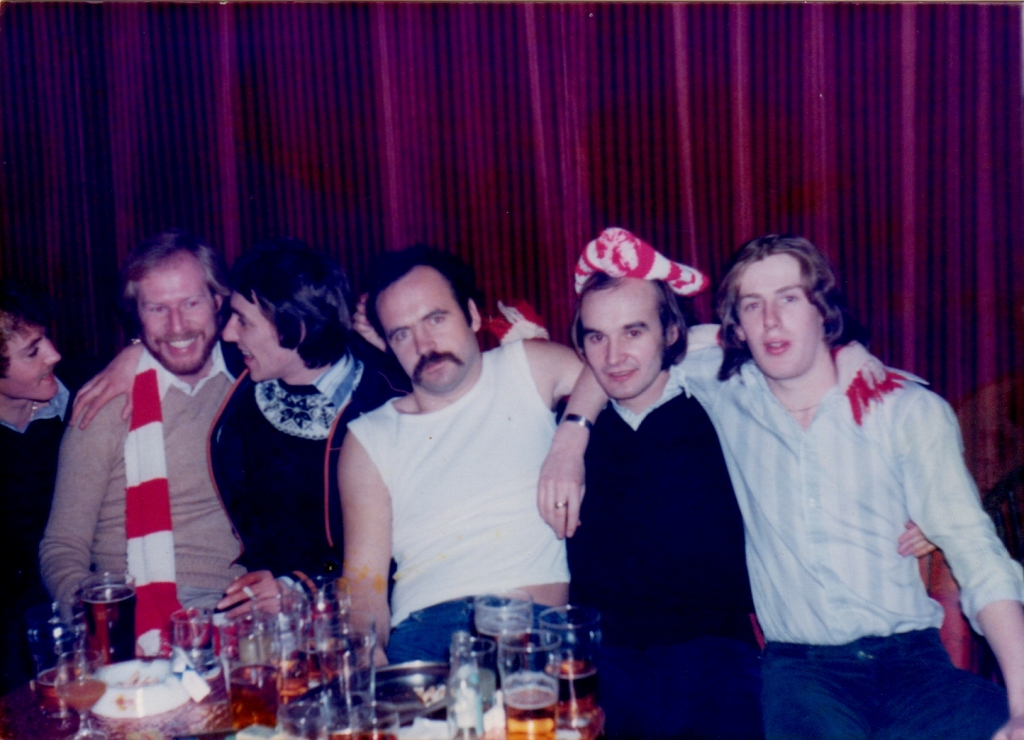 Derek Wheeler, Wynford Jones, Glen Candy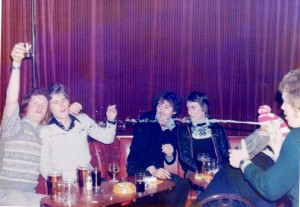 Water Fight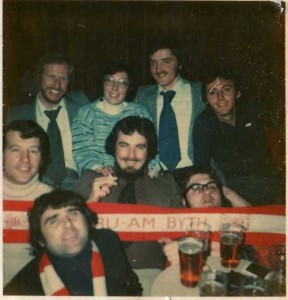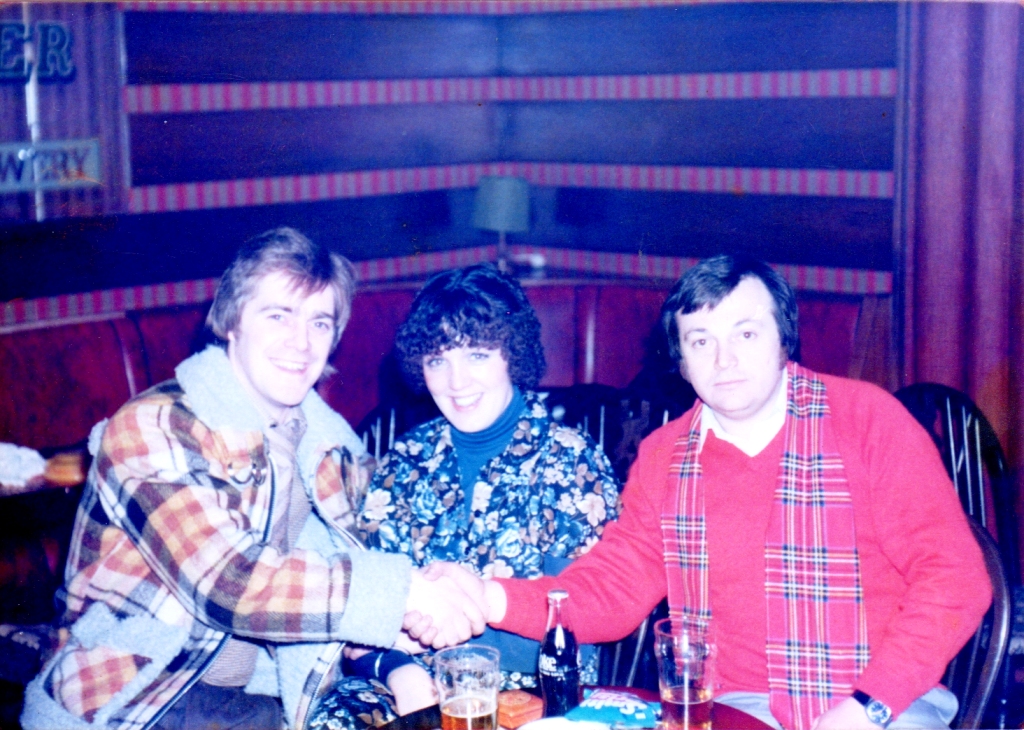 Brian Prosser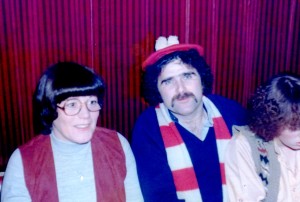 Lyn Roberts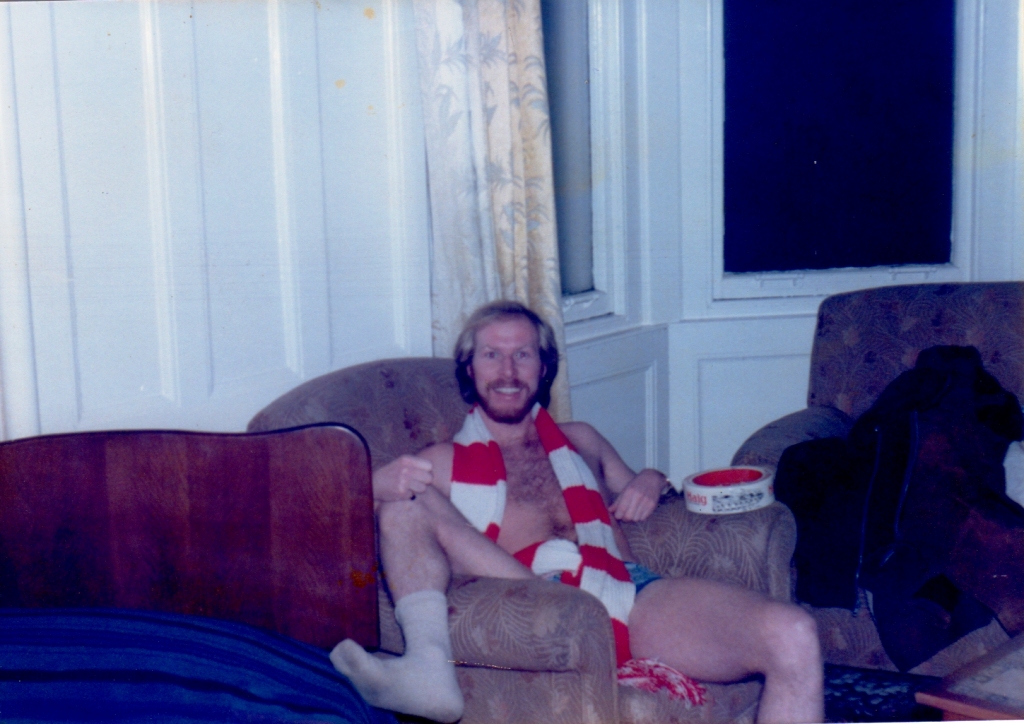 Derek Wheeler
The Next set of Photographs are family ones but hopefully will bring back memories for Trelewis People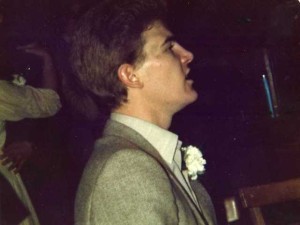 That is me in 1980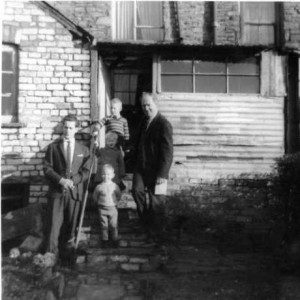 My Uncles Ron Chapman and Gilbert Morgan at the rear of 43 High Street , Trelewis, Children look like myself, my sister Ruth and cousin David Morgan.
Below we see Gilbert Morgan with his 2 sons David and John and Aunt Gert of 43 High Street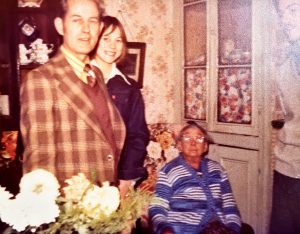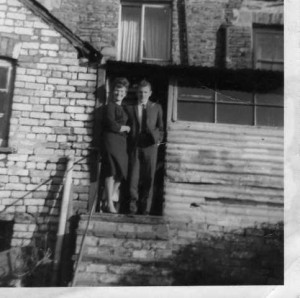 My Mum and Dad Jimmy and Marion Corkrey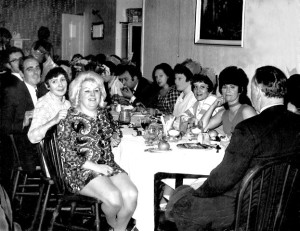 My Mother Marion and friends in the Ffaldcaiach upstairs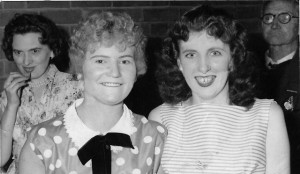 Marion Chapman (my mother) and her best friend Dilys of Penn Street Treharris (1957), Dilys married Bob Hughes and they run the Palace cinema for a few years.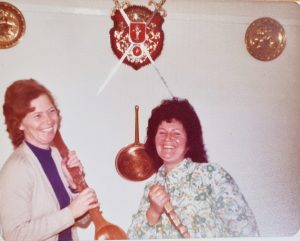 Above we see Aunty Shirley Morgan and my mum Marion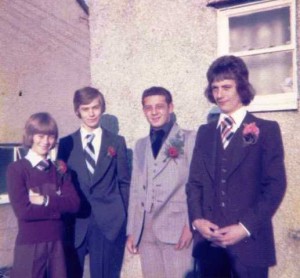 My cousins David, John and Jimmy Morgan with Marcus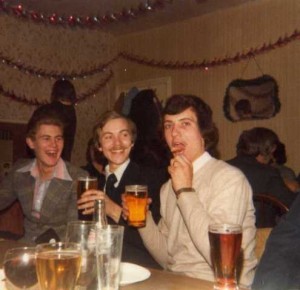 Me John and Jim Ffald 1977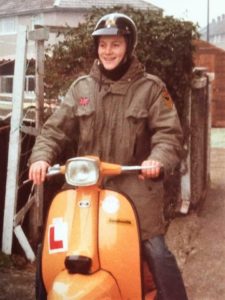 Above is my first cousin David Skylab Morgan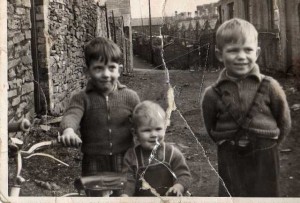 Jim Morgan, me and John Morgan 1962 Behind High Street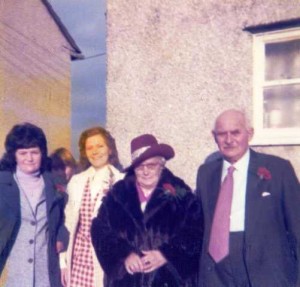 Mother Marion, Aunty Shirley, Doreen and Ron Chapman my Grandparents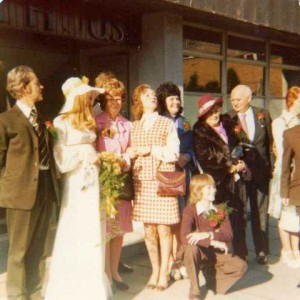 Gilbert and family at Jimmy and Cindy Morgan s wedding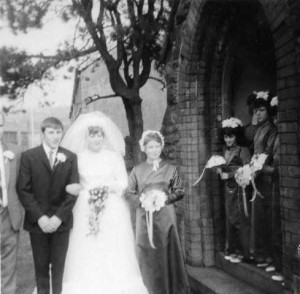 Charlie Vaughan marries my second cousin Jean with Sally Carmichael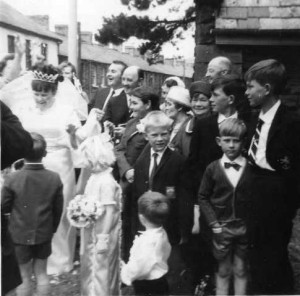 My Aunty Jennifer gets married in Trelewis Church to  Darryl Hotchkiss
I am the one squinting my eyes with Blonde hair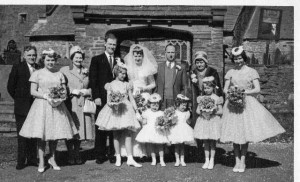 My mothers brother Ron Chapman marrying Eileen.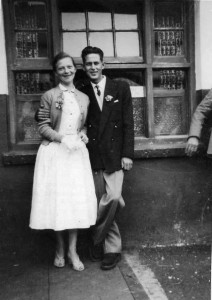 My Uncle and Aunty, Gilbert and Shirley Morgan 1956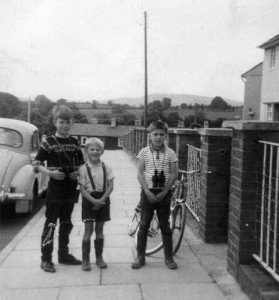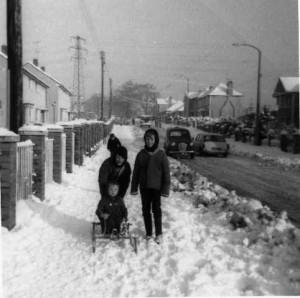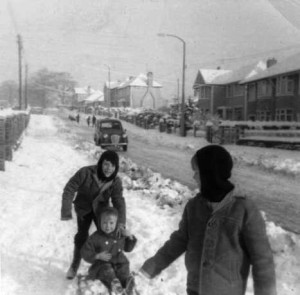 Above my cousins in the snow Gelligaer road 1963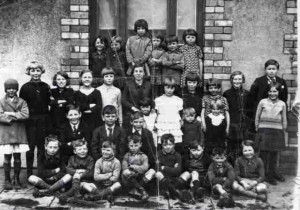 A group of Schoolchildren from Trelewis in Bontnewydd Terrace, in the front row 3 rd from the left is Des Chapman, now of 6 High Street Trelewis, this photograph was taken in the 1920's.
Continuing with my indugence of Family Photographs the following were taken by my uncle Gilbert Morgan of Gelligaer road Trelewis and donated by his sons David and Jimmy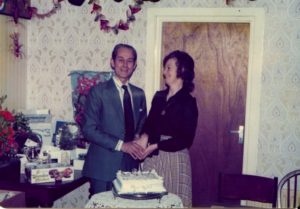 Uncle Gilbert and my mums sister Aunty Shirley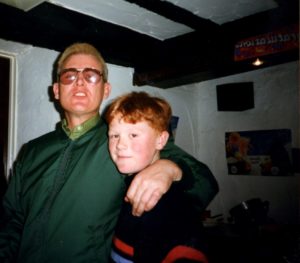 A younger me and my Youngest son Peter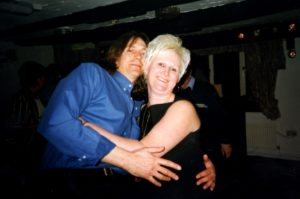 My cousin David and sister Ruth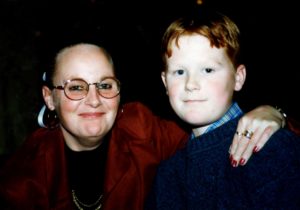 Diane Williams and Peter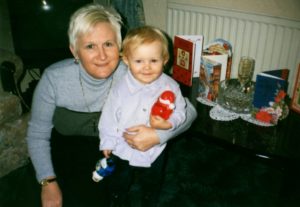 Ruth and Charley Lambert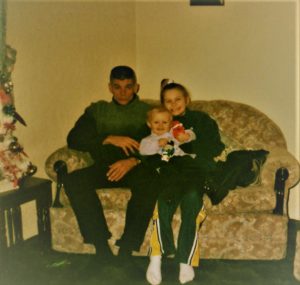 John Lambert my Brother in law with my nieces Kirsty and Keeley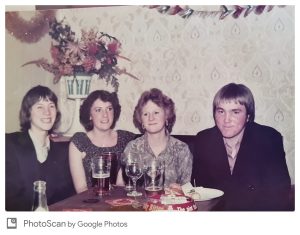 Above we see Dai Morgan, Violet Jones Ruth Corkrey and Dean West
The Next set of Photographs feature mainly people from the Shingrig Estate, they were kindly donated by Kevin Williams and probably taken by his dad Tabs (Teifion Williams). How many can you recognise? Starting with the man himself Tabs getting the coal in.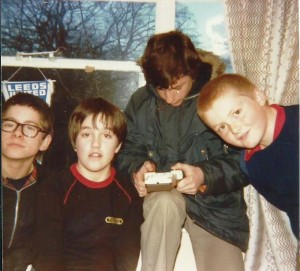 Wyndham Stokes, Kevin Williams Nigel O'connor
Neil Coxe,Russell Court,Chris Davies,Dai Williams and Wyndham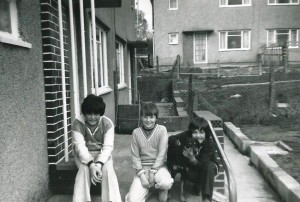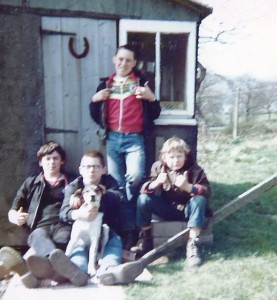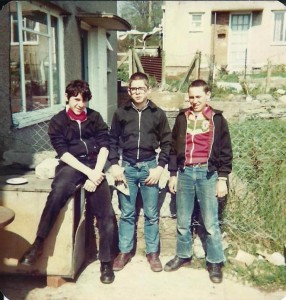 Dai Williams, Wyndam and Coxy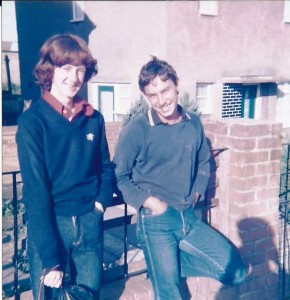 Gag and Neil Coxe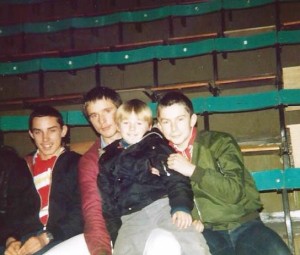 Neil Coxe, ditdot Jason Gunning lee Oliver.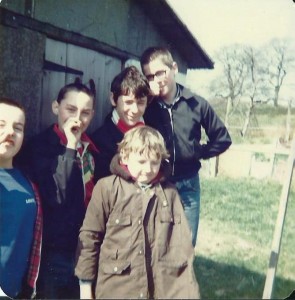 Neil Dai wyndham Darren Carl.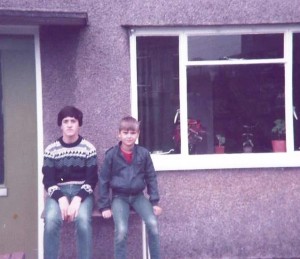 The Following are a collection of a presentation night 1984 approx
Neil Coxe footballer of the year , Kevin Williams & Barry Williams for darts, John Forest darts, mark Bellangford table tennis cant remember Simon Davies and Buppa it was in community centre Trelewis Boys Club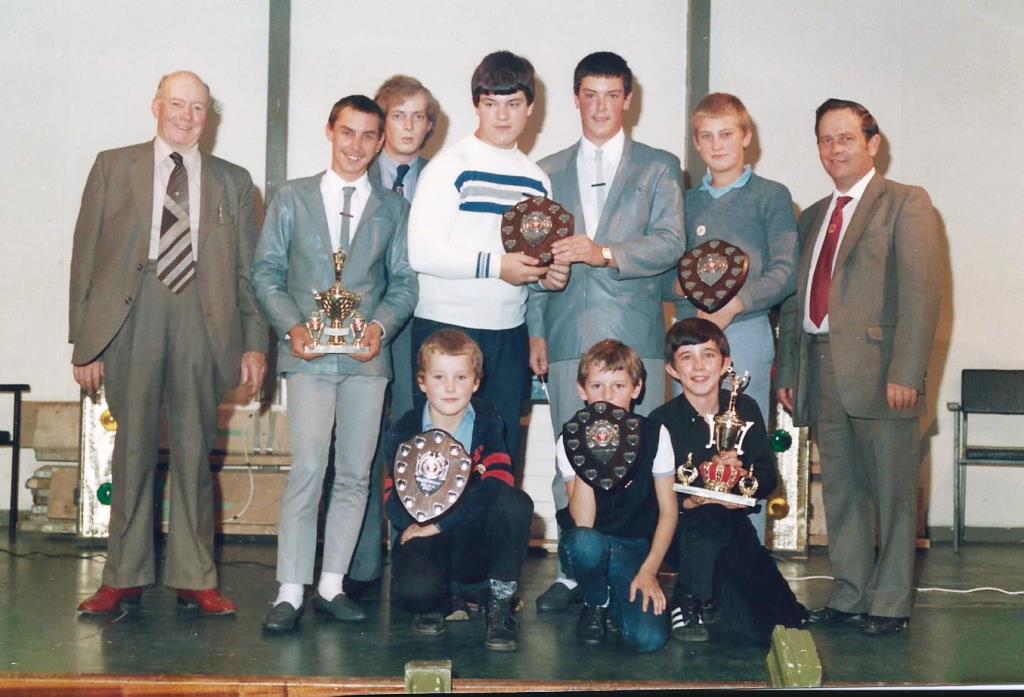 Steve Davidson,Neil Coxe, Kevin Williams,Barrie Williams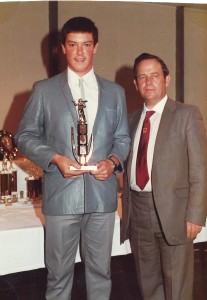 Kevin Williams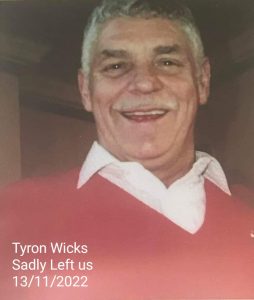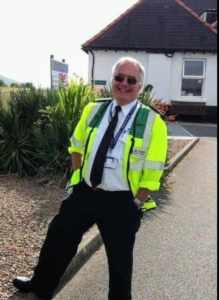 Malcolm Bromley of Stormtown who did so much for the community and beyond, sadly no longer with us may he rest in peace.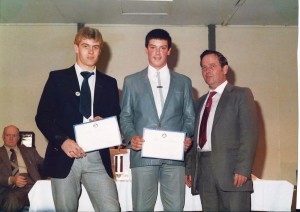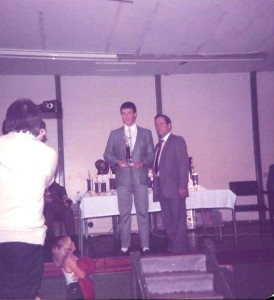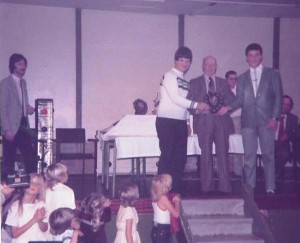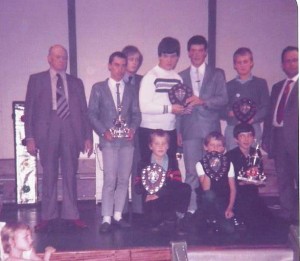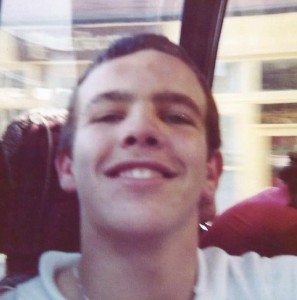 Raggy on the way to the Miners Gala Cardiff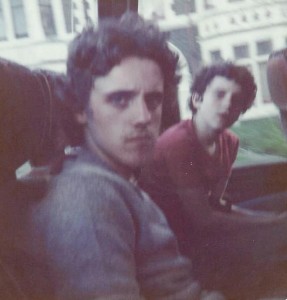 Popeye and Kiwi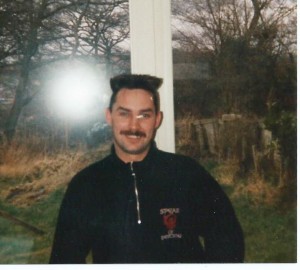 Coxy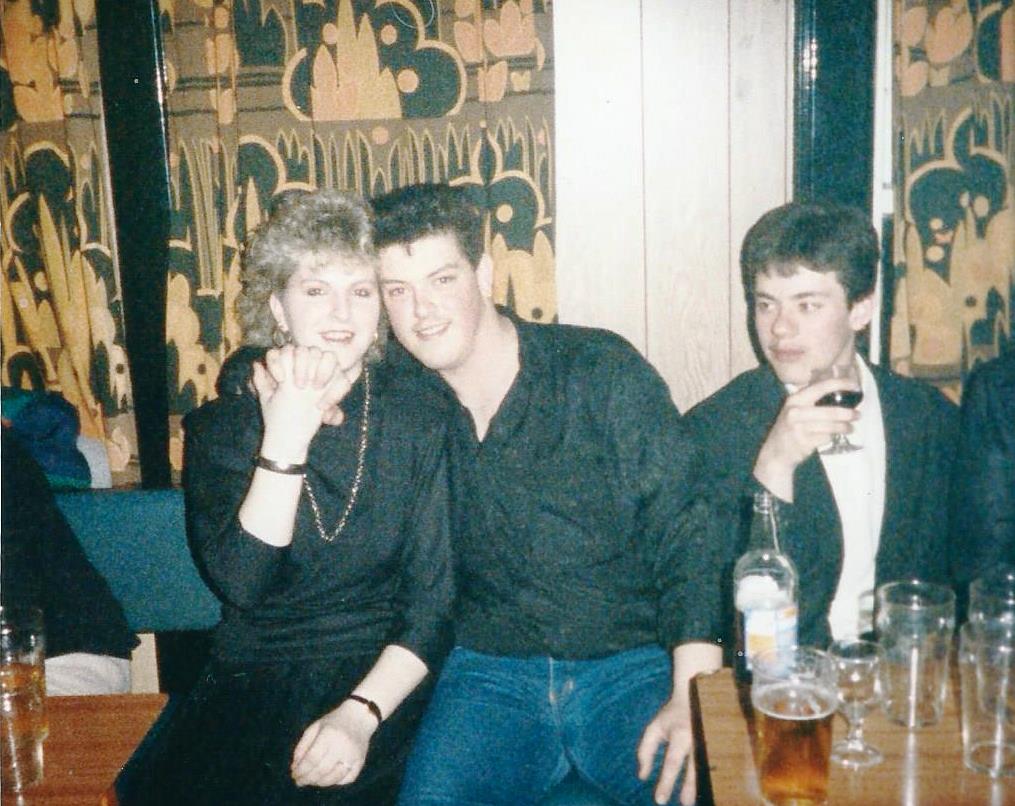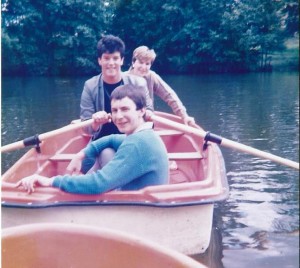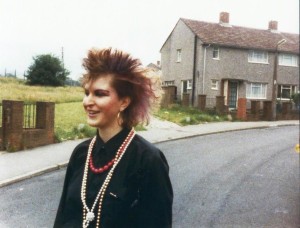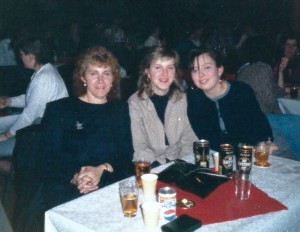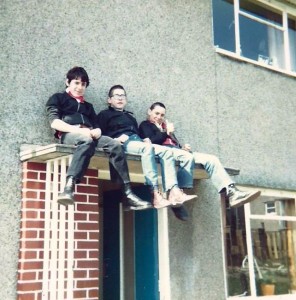 Dai Williams,Wyndham and Neil
A wedding now from 1988 (Kevin Williams)he donated these to the site and people who worked at Taff Merthyr will know people in them.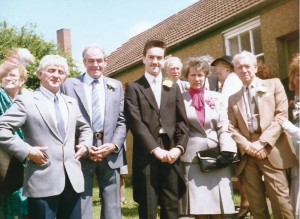 Tarzan,Gus,Darren,Norma and Viv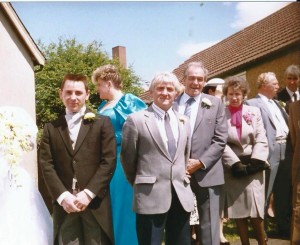 Dai Williams,Tarzan and Gus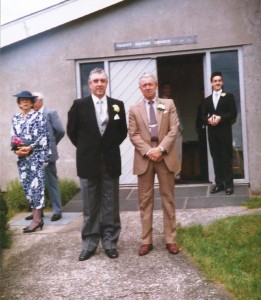 Tabs and Viv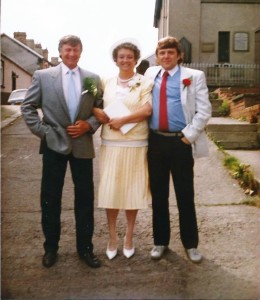 Gareth Coles and Bernard Davies looking after Mrs Williams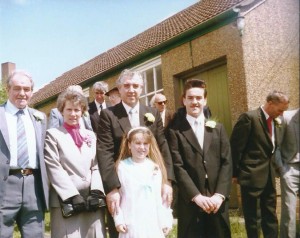 The Queens Silver Jubilee 1977 street party Shingrig Estate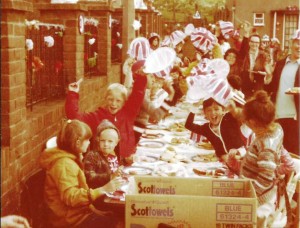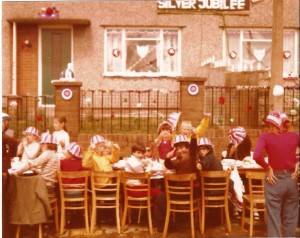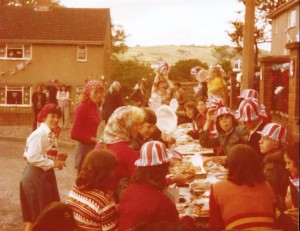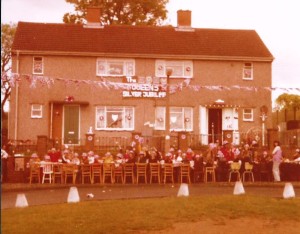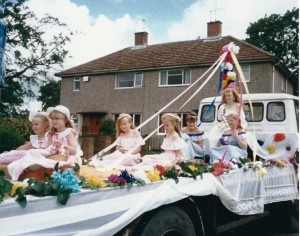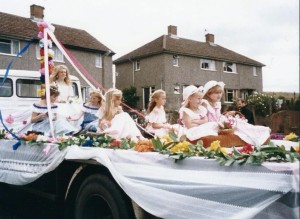 Carnival Queen
Iorwerth Price Jones, Trelewis…The Quiet Referee.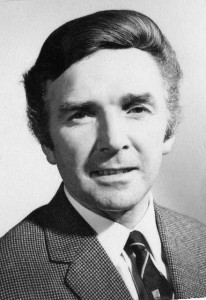 It is hard to imagine in these days when Welshmen are not allowed to referee in the English leagues, that we once had an elite class referee actually living in the High Street, Trelewis.
Iorwerth Price Jones (Iory) was born in number 1 Hylton Terrace Bedlinog on the 18th December, 1927. He grew up in the village and attended the infants' school at Commercial Street and then onto the Bedlinog Boys School at Oaklands Terrace (Where the new surgery has been built) the girls' school was at the end of Hylton Terrace in those days…
When he was 13 years of age he played for the Bedlinog Boys school team, who played wearing distinctive Black and White squares on their shirts. One day they had arranged a match against Trelewis down on the Trelewis Welfare fields, a good local derby. The match was interrupted by men shouting that a young lad had wandered too close to the nearby quarry and had fallen in; people rushed to help as the game was abandoned, but the youngster lost his life in the deep waters of the quarry… a dangerous place that had a buried crane neck rising above the surface and many parents feared their children playing there. In later years the quarry was filled in with waste from the collieries.
Eddie Jones, Iorys' father was a collier on the coal face at Taff Merthyr colliery and young Iory was soon to follow in his fathers footsteps.
At 14 years of age, Iory got a job at the nearby Taff Merthyr Colliery, he spent two years underground, mainly on the tension end that pushed the coal towards the waiting trams, and it was called District 15. In those days before cap lamps, he was expected to collect a lamp weighing 14lbs and carry that all the way into his place of work, and of course back out again at the end of a long shift. Dai Hughes was the manager then, he lived in the big house on Captains Hill called Brynffynon. At 16 years old Iory had to work on top pit due to suffering with dermatitis and started work with the Blacksmiths. He used to catch one of the Bert Davies buses, with wooden seats, that picked up at Bolwells shop near his home.
Iory also attended the Treforest mining school where he studied Welding fabrication and was fully qualified upon leaving. Iory left the collieries after 9 years and worked for a number of years in Cardiff at a government training centre. He then got a teaching job at Cross Keys College, where he worked for over 25 years, during which time he became a top class football referee. He was fortunate enough to be allowed to take time off on occasions when he had to be away refereeing.
Iorwerth was a very good young footballer who got picked for the Nelson Welsh league team, he then got transferred to Treharris and finally played in the Southern league for the very powerful Merthyr Tydfil team. Unfortunately a problem with his left knee forced him to see the local doctor in Trelewis, Dr De Souza, who strangely enough held his surgery in the front room of number 12 High Street, a house that Iory would later make a home for him his wife Margaret and their daughter. Dr De Souza diagnosed a cartilage problem and performed an operation at St Tydfil's' hospital in Merthyr to remove it, this spelt the end of Iory's playing days, he was determined to still keep involved in football though and started refereeing local league games.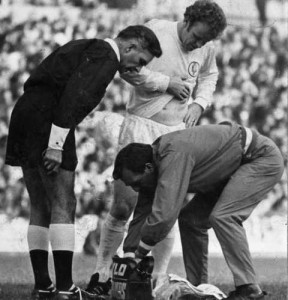 Iory observing an injured Billy Bremner
Iorwerth began serious refereeing in the Pontypridd and District league, where assessors would mark your performance; he was getting excellent marks and soon went from Grade C to a grade B. He became a Welsh league referee and move up to a grade A, eventually his talent earned him a place as a football league linesman…a great honour.
After a few years, an even greater honour came his way, when he became one of the 5 Welsh referees on the football league list, that was allowed by UEFA and FIFA…The other four at that time were, Leo Callaghan, Hadyn Davies, Clive Thomas and Jack Gow. Unlike these days, he was expected to officiate at all levels, one week he could be at St James Park, Exeter, and the next at Old Trafford. Iory was 38 years of age, and was being paid £13 a match plus expenses, a far cry from Today's referees' wages.
The day finally arrived for Iory's first match in charge; it was Portsmouth v Birmingham City at Fratton Park, August 24th 1966, what a match it was, a nine goal thriller with the away team going away with the two points after an amazing 5-4 victory. During the season he officiated at plenty of games including matches at Tottenham, Fulham, Wolves and Chelsea, before the season was concluded he was elected to the F.I.F.A panel of referees after just one season as a football league referee as well as being put on the UEFA list to referee matches in their competitions.
To keep fit, Iory would do a lot of road work around the valleys and often run all the way to Dowlais and back, he also attended the gymnasium. Iory was also a keen cricketer and liked playing Badminton and Bowls; he really was a very fit man, despite his earlier problems with his knee.
On the 20th September 1967 he ventured into Europe and officiated in Switzerland at An European Cup Winners Cup game at the Stadium olympique pontaisen. It was to be the first of many European adventures of Iory. He was also the referee at the Welsh cup final between Cardiff City and Hereford later that season….both John Toshack and John Charles played in that two legged final which Cardiff City won 6-1.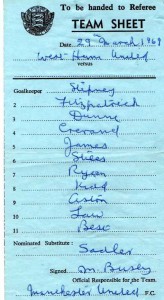 A genuine team sheet that Iory still has, signed by the legend Matt Busby in 1969, look at the famous names on the list.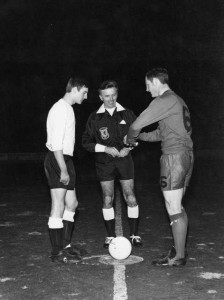 A game in Europe
Into 1968 and Iory was 40 years old and into his third season as a Top referee, he was making many friends in the football world and was respected by some of the games biggest names, Bill Shankley, George Best, Bill Nicholson to name just a few. He would often travel to games with his wife Meg and they would be greeted by club commissionaires and often Meg would get treated like royalty, especially by Shankley at Liverpool.
Often before matches, Iory would be in a room that was filled with a buffet for him and the linesmen and the press would pop in, people like Jimmy Hill, Brian Moore and Ken Gorman and the press men would often devour all the food before the officials had a chance to get a sandwich, but it was all good fun and Iory had a good relationship with many from the press but he was well aware that not all of them were genuine and he had to be careful at times in what he said.
In September he was abroad again, in the middle with two Welsh Linesmen at his side for another European match, this time in Cologne, his reputation was growing.
In 1969 he became part of a new refereeing scheme called the elite referees, to cover the most difficult games, another testament to the respect that Iory had earned. He was now classed as one of the top referees in Great Britain, along side other top refs such as G. Kew, W. Gow, Leo Callaghan and Jack Taylor. In October he reffed the famous Benfica and Eusebio and he also officiated a vital World cup qualifying match in Luxemburg.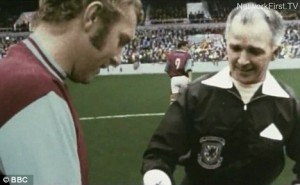 With Bobby Moore
During 1970 he had the honour of being one of only four British referees chosen to attend an International course of referees in Florence.
He also was held in high esteem in Europe and was chosen to ref behind the Iron Curtain in East Berlin, which was an amazing experience in those days. Cameras and secret police everywhere and his interpreter always had to accompany him and his linesmen wherever they went. It was freezing cold there and Iory was seriously considering calling off the game due to a frozen pitch, however he was assured it would be playable. 200 soldiers were sent to the stadium and the completely removed the thick ice and top layer of grass to make the match safe to play, the stadium was full to capacity and Iory claims it was one of the best games of football he ever had the pleasure to referee in.
On the 16th February 1970 he received a letter from the Association of Football league referees and linesmen, informing him that he had been appointed to the reserve list of referees for the upcoming world cup finals in Mexico. A truly magnificent honour, he was sent a full supply of kit from Slazenger, all red. Unfortunately he never got to make the trip, the F.A.W. decided not to send him over, even though there was a fourth reserve Russian referee sent over by the Russian FA.
July 1970, and the disappointment of not making the trip to Mexico was offset by the fact that once again Iory was appointed to the list of referees for matches of E.U.F.A. competitions for the following season. In November he was appointed to ref the biggest match in round two of the European cup, Athletico Madrid v Calgari, a 1-0 victory for the home side in a game that Iory excelled in.
He often had Welsh linesmen with him on trips to officiate in Europe and on May 12th 1971, he was awarded the Nations cup match in Berne between Switzerland and Greece, the two linesmen were from Swansea, Tom Reynolds and Trevor Jenkins. June 1971 and once again Iory was appointed for another year to referee European matches.
In 1972, Iory run the line with W. J. Gow (Swansea) referee in an England v Northern Ireland match at Wembley, some of the superstars that played that day included,, Gordon Banks, Norman Hunter, Alan Ball, Rodney Marsh and for Ireland Pat Jennings, Terry Neill , Pat Rice, George Best and Sammy Mcilroy
Iory continue to gain plaudits for his quiet but fair approach to refereeing and he continued to get International matches and big games, however he never got to referee an F.A. Cup final, he got very close and short listed but lost out to an English man called P. Partridge and in true Valley fashion he took it on the chin saying "Well it's only fair really because I have officiated at a Welsh Cup final that the English Final be done by an Englishman"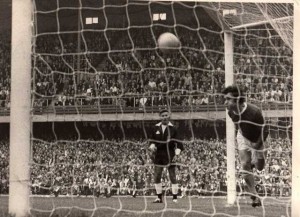 Iory was well positioned to award this controversial goal, it did cross the line.,
At the end of the 1973 season on April 28th Iory found himself at Anfield, , in a vital end of season game that could see Liverpool become League Champions. As usual Shankley arranged for Meg to get great hospitality and a vital game got underway with Liverpool needing to draw. In an exciting game the match finished goal less and amid great celebrations Liverpool were Champions. Iory was getting changed in the Referees' room, a special place, off limits to most people, when a knock was heard on the door, it was Bill Shankley.
"Hello Iory" would you like to keep the match ball?"  Iory often took the match ball home from games or other memorabilia and he would raffle it for charities back home in Trelewis, his way of giving something back to the village. "Yes please" said Iory, and Shankley said "come with me"
They walked to the Liverpool changing room, a scene of great celebration and excitement and on the sight of Shankley a respectful silence filled the air.
"I want you all to sign this ball for the Referee" and they duly obliged, along with the great Shankley himself. Iory still has the ball to this day and there is a photograph here to prove it.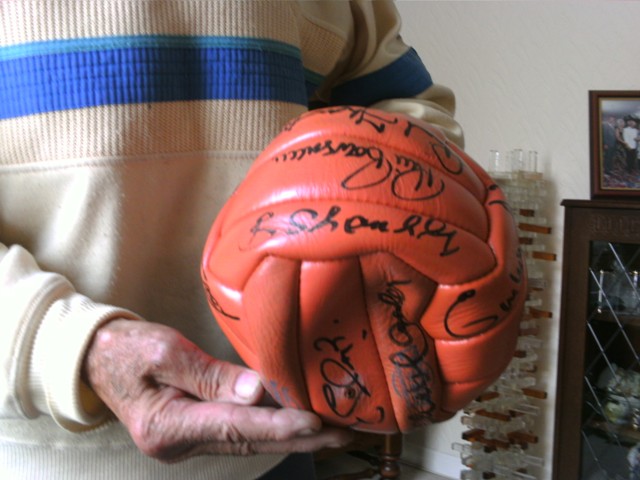 Note Bill Shankleys signature on the match ball
Iory would often appear on "Match of the Day" but there were no videos in those days so he never could get a copy. He did ask a friend once who worked on the BBC to try to get him one but his mate came back and quoted a small fortune to secure a copy, so Iory never got to keep a copy.
Again Iory was the match referee for Home International matches and during his career he reffed some of the most famous footballers in British history.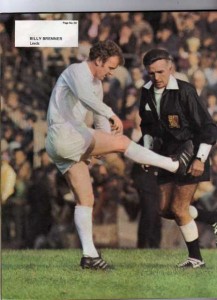 Again Iory is seen with the former Leeds and Scotland legend, Billy Bremner
The 1974-75 season was to be the last Season in which Iory would referee at the top level, he had reached the age that referees were forced to retire, even though he was still very fit and probably more knowledgeable than at any time during his career.
The first game was up in London at Stamford Bridge. home of Chelsea and their manager Dave Sexton, it was a league game in the top division, Chelsea v Burnley, a famous name was on the coaching staff ay Chelsea, Mr Dario Gradi who later became a record breaking manager at Crewe.
He was to ref many crucial games that season and again he was busy in Europe, he was well liked and respected for the way he controlled matches, to his credit he only ever sent two players off the field of play, Peter Storey of Arsenal and Billy Bremner of Leeds, both for fighting each other.
Iory was to finish his football league refereeing career down in Devon at St James Park, Exeter, a far cry from some of the magnificent stadiums he had officiated in, but they made him very welcome and put a lovely piece in the match programme congratulating Iory on his services to football as a referee.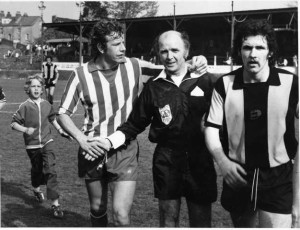 The final league game at St James Park, Exeter
Following the end of his refereeing career, Iory was still very fit and still enjoyed a game of bowls and generally keeping himself in good shape.
He was approached by Alan Hardaker, the secretary of the football league, to become a referee assessor for the area, to cover matches in Hereford , Cardiff, Swansea, Bristol etc, local to Iory…this was a special job and often Iory was remain anonymous to the match officials as he marked their performances out of ten, from the stands. He would often know the referees personally, many had run the line for him over the years and were close friends, he still had to mark them fairly but he never said a bad word against them…Iory knew that referees made mistakes, but he also knew that they were honest mistakes and his marks reflected that opinion.
After six years Iory final give up the job of Referee assessor at the age of 53. He continued his teaching career until he was 62 years old, whilst his wife Margaret had a successful secretarial career at Tredomen engineering offices in Ystrad Mynach, where she worked as a personal assistant to one of the managers.
Once they retired they had more time to enjoy their lives and took to the seas, partaking in many cruising holidays, mainly to the Baltic or the warmer Mediterranean, its something they still both love doing in 2009. They have even sat at the Captains table.
Iory is a very skilful maker of Welsh love spoons and he has made quite a few in his time, he even made one for the Captain of a P & O Cruiser, who was delighted to receive such an unique and personal gift. He has also made a beautiful spoon for his wife. They have a daughter and two wonderful grandchildren who have also enjoyed a trip on a cruise ship in the past.
Iory has often attended local schools or youth clubs to talk about his career in football and he is a very interesting orator. Some of the local children speak in high regard of Iory and I received this from Gary Jones who now lives in Field Street.
Growing up in the high street Trelewis my brother Martyn and I were football crazy; having Iory living on the other side of the street was a bit special. I can remember stopping him on the street and asking where he was refereeing on the following Saturday, we would then look forward to match of the day to see if we could see him.
On a couple of occasions we were invited down to his house to watch the European games with him and his wife Margaret, I  am sure they were the first games I ever saw on a colour TV!  Speaking with Iory recently about his football memories and achievements, I told him I that I could talk to him about football all night long, his stories are so interesting.
So there you have it, a Trelewis man, who was known throughout Europe by the greats in the football world.  Iorwerth Jones the quiet referee
Three photographs of Trelewis people during World war 2
I will endeavour to find out more about the pictures and who the people are, all help appreciated
A woman's' group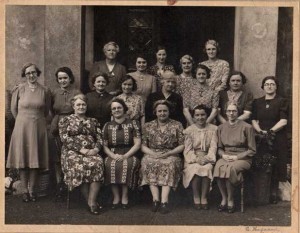 Below,Trelewis war time police or are they Home guards?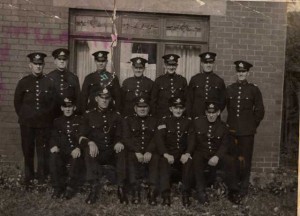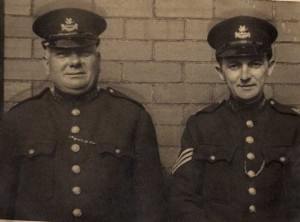 Trelewis people on the Electoral role 1976
In 1976 the adults who were allowed to vote in Trelewis were added to the Electoral list for Merthyr Tydfil. This information is not copyright and open to be viewed by the general public at Merthyr Tydfil Library.
I have spent a few hours at the Library and put together a list of adults who lived in Trelewis in 1976…I have covered quite a lot of the streets but have missed out a few…I will try to get the missing names and Streets at a later date. It will take me a few weeks to type all the names in.
I have compiled these lists for you to see who lived here 38 years ago, I hope the names bring back memories; some of the people are very much still alive and actually still live in the same houses as they did back in the year of the heat wave…1976.
High Street 
Edgewood                                      B John and Jane Humphries
Brynffynon                                    Brian and Dorothy Davies, S Frederick and Phyllis Hill, Will Thomas
Derwendeg                                    Mary Davies
Brynheulog                                    G Iorwerth and C Mary Davies
Maes y Bryn                                  G Margaret Jones
Brynamlwg                                    T David and Ruth Ward
BrynGoleu                                     Melville and Linda Thomas
Brynfedwen                               J William B Gwynedd and C William Bevan
Maesyrhaf                                  M Glynys Morris
Rosedale                                    S Anthony and Mair Howard
Brookville                                  Alice and Sandra Bazeley
Frondeg                                      Dennis and Pauline Gunning
Lynvern                                      James and Beryl Luckwell
Glenbrook                                 J Earnest and m Sarah Greening, Phyllis Cudlip and Gwladys Owen    
Oakfield                                     Gwyn and Mary Watkins   
Glenview                                   J Stuart Price
Gwynfryn                                  Vivian and Joan Thomas
The Glyn                                    Jessie Ashman
Maes-yr Haul                           I Wallace and Mary Edwards
Ashgrove                                  Gerald, Belinda, W Robert and John Evans
Delfan                                       J Richard and Honore Lloyd       
Sherwood                                R Amy Watkins
Breezy Hill                               Graham Watkins
Tryfan                                       V Alfred and Margaret Knight
Hawthorne                              T William and P Sheila Rees
1                                                 No record
2                                                 M Price, L Colin and Mair Turner
3                                                 Maud Tudor
4                                                R David Arthur
5                                                G Benjamin and E Olwen Jones
6                                                Desmond and L Elisabeth Chapman
7                                                Tom David and M Phyllis Jones
8                                                Charles, Clive and Jean Vaughan
9                                                A Ron and E Margaret Williams
10                                              C Frank and Kate E Amesbury
11                                              Walter Webb
12                                              Iorwerth, Evelyn, Margaret and A Christine Jones
13                                              Earnest and Olwen M Jones
14                                              Mabel Denham
15                                              no record
16                                             William and Margaret Davies
17                                             John and Elizabeth James
18                                             John Brown, Thomas Lorna and Violet Bishop
19                                             Richard and Olive B Jones
20                                            A John and Lyn Noble and George Robbins
21                                            E Rose Griffiths
22                                            TH William, S Josephine and Anne Williams
Bontnewydd Hotel              Ronald, L Evelyn, R Mark Old and Stephen H Roberts
26                                            Eironwen,J Alfred and S Margaret Price
27                                            John, Mary, John and Morfydd Hood
28                                            Terence and Jayne Hyslop
29 and 30                               No record
31                                            David C, Hazel and Christopher Richards
32                                            Thomas W and Nita Owen
33                                            Michael and Gwenllian Gunning
34                                            John E and Joan Thomas
35, 36, and 37                       No Record
38                                            Clement and Valerie Watkins
39                                            No record
40                                            A Cecil and C Leslie Lewis
41                                            Henry C Jones and M Catherine Dale
42                                            Empty
43                                            A Gertrude Kelly
44                                            Gareth and Lorraine Preece
45                                            Raymond and Eileen Batten
46                                           R John and Georgina Owen
47                                           Empty
48                                           S Abel Davies
49                                           Muriel Johnson
50                                           Alan M and Lynda Jones
51                                           Iain M and Johannah Davies
52                                           Iris Edwards Graham T and Kay Burnett
53                                           Gilbert, Betty and Philip Hodgson
54                                           Raymond, Constance and Christopher Williams
55                                           Keith and Christine A Batten
56                                           Michael and Jennifer James
57                                           Hugh W Maretta, Helen, Martin and Jane Owen
58                                           Haydn and Florence Williams
59                                           G Frederick Garbett
60                                           H Herbert Lawrence and George Price
61                                           F Harold and Marion Collins
62                                           Roy and Nancy Morgan
63                                           Alvin and Virginia Morgan
64                                           R David and Tegwedd Jenkins
65                                           P David and A Marilyn Hamer
66                                           Idris and Doris Price
67                                           David and Teresa Harris
68                                           No record
69                                           Gladys M White
70                                           David K and Evelyn L Driver
71                                           Margaret Williams
72                                           Julie A and Bernard Weston
73                                           Peter and Edna Davies
74                                           Bryn and William Davies
75                                           Elizabeth Morris, Brian and Gillian Baber
76                                           Vivian and Audrey Harris
77                                           P Hannah Polly
78                                           J Theo and B Ada Morgan
79                                           Mostyn and Jillian Jones
80                                           no record
81                                           Emrys and Doris M Moses
82                                           Annie M Jones
83                                           John D and Sylvia R Morgan
84                                           Stanley L, Violet, Alison and Valerie White
85                                           William H Bevan
86                                           David K and Ann Francis
Gelligaer Road
Lyndhurst                                         Douglas Morgan
Caer Berris                                       Phillip and Susan Rosser
Bryndarwyn                                     Annie J Davies
Red roofs                                         Wilson and FSME Britton
Lynwood                                          Albert J and Millicent Dimwiddy
Greenfield                                        Lionel, Beryl and Julie Fisher
Maes Glas                                        Griffith, Margaret, Felicity and Peter Roberts
Oak wells                                         James and Eleanor Weale
Erw Llyn                                           William and Charlotte Jones
Fair mead                                        Thomas and Ann Morgan
1                                                        Pauline Pope
3                                                        Meirion and Kath Jackson
5                                                        Dwynwen Griffiths and Sarah A Jenkins
7                                                        C Ivor Mason
9                                                        T George and M Gertrude Morris
11                                                      Arthur, Joan and Haydn Jones
13                                                      Gilbert, Shirley, Jones and James Morgan
14                                                      Frank and Marjorie Godhold
15                                                      Len, Rosemary and Elaine Longford
17                                                      Terry and Lynda Bell
19                                                      Robert, Eryl, Ian and Judith Coles
21                                                      Len, Jenny and Peter Davies
22                                                      William and Audrey Gray and Nina Monk
23                                                      Richard and Florence Jones
25                                                      Michael and Linda Williams
27                                                      G William and I Phyllis Price
29                                                      W Patrick and Elizabeth Donoghue
31                                                      Ivor and Elsie Williams
33                                                      Mary Price
35                                                      Kathleen, Robert and Kevin Jones
37                                                      R Arthur and C Mabel Hughes
39                                                      Selwyn and Ann Bates
41                                                     Michael and Joan McGuire
43                                                      George Bayliss
                                        Maes y Coed
1.                                                       No Record2.                                                       No Record3.                                                       Margaret and Lynda Yates4.                                                       Alma Davies5.                                                       John, P and W Mantle6.                                                       Georgina Ash7.                                                       Alec and Martina Hyslop8.                                                       L. William, N and J Davies9.                                                       James and Mary Jackson10                                                      Empty11                                                     Martin and Alma Davies12.                                                     Annie Thomas13                                                      Trefor and Betty Jones14                                                      Gweirydd Owen15                                                      E Nora Williams16                                                      Empty17                                                      William, Minnie Rob Dixon18                                                      No Record19                                                      Gareth and Glynys Jones20                                                      J David and Pat Thomas
Pandy View 
1                                                           David and Cleo Stokes
2                                                           Doug and Jennifer O'Connor
3                                                           Teifion and Ceinwen Williams
4                                                           Ken, Christina and Sandra Court
5                                                           Ken and Val Davies
6                                                           David and Valerie Lewis
7                                                           George and Ann Hodder
8                                                           Danny and Clarice Jeremiah
9                                                           Tyrone and Sandra Wicks
10                                                         V Terrence and Dorothy Brewer, W Edgar Downton
11                                                         Trefor and Esme Williams
12                                                          Jeanette Forrest
13                                                         Arthur, Sylvia, Margaret and Susan John 
West View Crescent 
Number                                                Residents
1                                                           Maxi and Carol Herbert
2                                                           Edward and Doris Pritchard
3                                                           Beryl, Nicholas, Erika Lukatschat
4                                                           Tydfil Jones
5                                                           Fiona Morgan/Fleming
6                                                           M Lillian Pearce
7                                                           Marion Corkrey and Brian Bell
8                                                           Edith and Harold Batten
9                                                           Gwyn and June Davies
10                                                        Brian and Gwyneth Prosser
11                                                        James and Margaret Lewis
12                                                        Gary and Teresa Rice
13                                                        Terry and Pauline Lewis
14                                                        Ben and Maud Williams
15                                                        Reg and Edna Powell
16                                                        Malcolm and Gillian Cowles
17                                                        Jainie Briggs, Mike and Linda Edwards
18                                                        Brian and Sandra Gibbons
19                                                        John. Florrie, Doug and Ron Nolan
20                                                        Jeff and Laura Bridges
21                                                        David and Pat Jones
22                                                        Augustine and Beatrice Finn
23                                                        David, Val and Maldwyn Jones
24                                                        Victor Plant and Iona Van Gasse
25                                                        Jess, Hilda, Paul and Adie Williams
26                                                        M Llewella Price
27                                                        Dennis, Ruby, Peter and Andrew Phillips
28                                                        Ron and Pat Mitchell
29                                                        Elfed and Joyce Smart
30                                                        Gordon and May Gunning
31                                                        Graham and Wendy Davies
32                                                        Glyndwr and Carol Chard
33                                                        Empty
34                                                        Robert and Catherine Davies
35                                                        Empty
36                                                        Raymond and Vera Rees
37                                                        Alf and Myfanwy Howells
38                                                        Billy and Marlene Evans
39                                                        Liz Giles
40                                                        J, Margaret and Barbara Lucas
41                                                        Thelma Banner/Ganner
42                                                        Edward and Kitty Pritchard
43                                                        Cyril and Ann Evans
44                                                        Fred Rice and Dorothy Forrest
45                                                        Empty
46                                                        M Gladys Davies
47                                                        Anianwyn Pritchard
48                                                        Gerald Smith, Glynys and Robert Elliott
49                                                        M and G Jenkins
50                                                        Clive Richardson, John Gwilym and Sylvia Williams
51                                                        John and Sharon Gwyllym
52                                                        Sonia Bell
54                                                        Annette Thomas
56                                                        Iris McMahon and F Cecil Martin
58                                                        Farouk and Susan Alam
60                                                        Patricia and J McDermott
62                                                        Thomas and Phoebe Grant
64                                                        Brian and Valerie Williams
66                                                        Mick and Gwyneth Rogers
68                                                        Elsie and Merlin Sage 
Nant Gwyn 
1                                                           T. David and P Helen Walters
2                                                           Cliff, Lillian, Susan, Beverly and Clive Bishop
3                                                           Doug and Maureen Dower
4                                                           Glyn and Margaret Anthony
5                                                           Ivor, Nesta and Wayne Denham
6                                                           Robert, Christine and John Forrest
7                                                           Richard and Wendy Lloyd
8                                                           Pat and Isobel Colhoun
9                                                           Elisabeth and Charles Sparling
10                                                         Ken and Linda Jones
11                                                         Maureen Rees and Paul Butcher
12                                                         John and Linda Davidson
13                                                         Rowland and Georgina Manuel
14                                                         E John and K Meryl Pemberton
15                                                         David and Jacqueline Preece
16                                                         No record
17                                                         J Ronald and Beryl Harris
18                                                         No record
19                                                         R Reginald and A. Patricia Goddard
20                                                         Empty
21                                                         Tom, Eileen, Derek and Carol Wheeler
22                                                         Trevor, Maria, Anne and Heather Jenkins
23                                                         Brian and Catherine Williams
24                                                         Ceridwen Banner
25                                                         D Kenneth Pritchard
26                                                         Terence and Iris Coxe
27                                                         Empty
28                                                         Steven and Susan Jenkins
29                                                         Jim, Ellen, Andrew Fleming and Elisabeth Price
30                                                        Gary and Susan Spearey
31                                                        P Bernard, Mary Leonard and M Bridget Meehan
32                                                        Empty
33                                                        David Gwyneth, Jackie and Cortina Ford
34                                                     Alexander, Jean and Archibald Drysdale
35                                                     Empty
36                                                     Ralph and Ann Martin
37                                                     Victor and Norma Hughes
38                                                     Alan Hughes
39                                                     T Gareth and Jane Evans
40                                                     Mostyn and Margaret Thomas
41                                                     L David and I Maureen Bufton
42                                                     J Mary James and W J James
43                                                     EG Frank and P Kathleen Heydon
 No more even numbers in this street
45                                                     Colin and Yvonne Selway
47                                                     Frank, Margaret, Raymond and William Hares
49                                                     Graham and M Sylvia Gwilym
51                                                     J Raymond and Gladys Plant, Lynette McLean and Michael Plant
53                                                     AV Henry, M Sarah and Alexander Cherrett
55                                                     William, Isabella, William, John and Bernard Toner
57                                                     Henry and Doris McLean
59                                                     Terry and Linda Jones
61                                                      Wyndham and JoyThomas    
Mandeg
1                                                          Ivor and Mary Wiggins
2                                                          Maldwyn and Pat Hardwicke
3                                                          Fred and Anne Williams
4                                                          Irene Batten
5                                                          Doug, Annie and Peter O'Connor
6                                                          Lionel Tolley
7                                                          John and Olwen Angel
8                                                          Albert, Marion and Susan Hodder
9                                                          G. Ivy Jones
10                                                        Winifred Ainsbury
11                                                        Patricia Duggan
12                                                        Meirion, Pat, Peter, and Ronnie Jones
13                                                        Joseph and M. Violet Porter
14                                                        R. Alice Thomas
15                                                        Billy and Maureen Baird
16                                                        Fred, Rita and Graham Bell
17                                                        Basil and Sheila Pickett
18                                                        Leslie and Phyllis Paget
19                                                        Daniel, Evan and Edna Thomas
20                                                        Annie Griffiths
21                                                        no record
22                                                        Doug and Janice Parslow
23                                                        Elsie Hefron
24                                                        V, David, M Morfydd and Teifion Evans
25                                                        James, Jean and Wayne Scanlon
26                                                        Ron and Elsie Williams
27                                                        Ron and Pearl Price
28                                                        J William and J Rhoda Hardwicke
29                                                        Doug, Doug, Robert and Elizabeth Jones
30                                                        L Sydney and M Ethel Jenkins
Pandy Cottages
1                                                         William Cooper
2.                                                        Norman and Megan Read
Laburnum House                            D. Eric and PF Geraldine Williams 
                                                                         Cherry Tree Way
1                        T John, TJ William and RM Evelyn Morgan
2                        V Doug and   Shirley Broadstock
3.                       Terry, Margaret and Susan Donoghue
4.                      Doug and Annie Evans
5                      No record
6.                      Ruby and Tina Harris
7.                  Leonard and Mary Davies, J David and Teresa Mc keown
8                       No Record
9                   Joan Reg, Mike and Rex Hunt
10.                 Emrys, Marilyn and Derek Bates
11.                 Joyce Davie
12.                A Louise, Gwilym and Gaynor Davies
13               Kenneth and Thelma Jones
14                 Iorwerth and Sarah B Jones
15               Anthony P and Lynda M Collins
16.             Aldwyn and Marian Rees
17              Mike T and Christine Cusack
18,             Ken, E Margaret, Tommy and Nell Ninnis
19              Earnest, Terrence and M Doris Atherton
20             Olwen Davies and Clifford Phillips
21             Violet M Jones
22            Cliff and Dorothy Curtis
23            Mary Carter
24            Melvyn and Ruby Salmon
25            Phyllis Garbett
26           Evan, Hilda, Robert, Roy and Martin Williams
Edwards Terrace and nearby homes
1                                                   Kevin and Wendy Hawke
2                                                   Eva B Bounds
3                                                   Nigel and Barbara Carter
4                                                   Jeffrey d and Margaret Evans, Glyn and Susan Davies
5                                                   Rachel White
6                                                   G David, A Morfydd, R William, W David and Glyn Jones
7                                                   Minnie A Rees
8                                                   Percy H and Catherine M Davies
9                                                   Percy, Sylwen Collins and Denzil Davies
10                                                 R Edith Davies, Dorothy D Harris and Leonard C Dobbins
11                                                 James Y and Yvonne Davies
Tawel fan                                   Elizabeth J Storey
Coedceirios                                Prudence E Lewis
Eryl House                                  Colin B and Joy Fenn
The Cloister                               David J and Doreen Garbett
Hazeldene                                  Goronway, Eunice, Adrian and Karen M Watkins
Bontnewydd House                 Edward W, Margaret and Doreen M Hotchkiss
Ty Draw                                      Emrys and Gladys Owen
Penygroesheol 
1                                                   Albert and Gladys Williams
2                                                   Margaret Davies and John T Rees
Priscilla Terrace
1                           L Eleanor, Leonard and J Belton
2                           Paul and Janice Hotchkiss
3                           John and Sheila Garbett
4                           J William and Irene Cadwallader
5                           J Margaret Williams and Leonard Brookes
6                           Michael and Linda Williams
7                          Albert and Heather Tolley, Syd and liz Howells
8                          Wyndham and Cecilia Griffiths
9                         Ken, Olga and Sally Carmichael
Gilfach Maen house         J Griffith and R Elsie Davies    
Stormtown adults 1976
Heol Isaf
1                                                       Gwilym O and Gertrude M Thomas
2                                                       George and Maud Powell
3                                                       Sidney J and Maureen J Wilkins
4                                                       David H and Gwladys M Payne
5                                                       Anthony C and Heather Summers
6                                                       Margaret Wilson
7                                                       Cyril and Violet Jones
8                                                       Jervis and Annie Evans
9                                                       William Tucker
10                                                     Brian and Margaret Mills
11                                                     William, Millicent and William A Tudor
12                                                     Henry E and Edith O Davies
13                                                     Wilfred, Rachel, Malcolm Deanna Hitchens
14                                                     John H and Rachel Morris
15                                                     Thomas G and Lettice M O'Neill and George Williams
16                                                     Emlyn J and Olwen M Rogers
Ael y Bryn 
1                                                       Sophia Watkins
2                                                       Megan and Patrick Biddle, Elisabeth J Prosser
3                                                       Daniel J and Margaret Rees
4                                                       Samuel, Glynys and Margaret L Evans
5                                                       David M and Gwyneth Walters
6                                                       Reginald and Frances Pocock
7                                                       Alun and Edna Humphreys
8                                                       Margaret Plimmer, Brian and Violet Davies
9                                                       Stefan and Linda Plaszczyca
10                                                     John E and Isabel H Roberts
11                                                     Walter H and Margaret Jones
12                                                     Henry and Gwyneth Humphreys
13                                                     Vera M Turner
14                                                     David and Martyn Bridges
15                                                     Douglas, Margaret and Ian Gibbs, Margaret Brown
16                                                     David, Margaret and Sian Roberts
 2 Gilfach Maen Cottages            Denzil and Angela Evans
Brondeg
1                                                                     John and Lillian O'Brien and Martin Richards
3                                                                     William O and Elsie Thomas
Penrhiw farm                                              Ronald E, Margaret C and Edward John Thomas
Cathays cottage Bedlinog Road              Thomas J and Mary Wilson 
Maen Gilfach
1                                                             David H, Aileen and Lynne Harris
2                                                             Primrose Coombes
3                                                                     Percival, Nancy and Alun Williams
4                                                                     George, Dilys and Meirion Thomas
5                                                                     no record
6                                                                     Thomas, Molly, Janet and Julie Thompson
7                                                                     Ken and Phyllis Lewis
8                                                                     Gary and Valerie Davies
9                                                                     Albert E Davies
10                                                                   William F Woosnam, Harold and Dorothy Wilson
11                                                                   Cornelius and Annie M Collins
12                                                                   Charles, Emma and William Jones, William Jenkins
13                                                                   Gareth and Margaret Roberts   
14                                                                   Michael, Thelma, Stephen and Jacqueline Cusack
15                                                                   Rowland and Susan Jones
16                                                                   Ethel M Edwards
17                                                                   Joseph Exton
18                                                                   Ivor J and Sandra J Harris
19                                                                   George, Anne, Beverly and Christine Powell
20                                                                   Rose L Bromley
21                                                                   Haydn, Marion, Robert, Stephen James
22                                                                   Albert J, Lillian and John H White
23                                                                   Charles F and Annie Rees
24                                                                   Edith Jones
25                                                                   Ronald J Scrivens
26                                                                   Maxwell, Constance, Avril and Gillian White
27                                                                   Theodore, Nancy and David Rees
28                                                                   Anne Davies
29                                                                  Alun M, Olwen, Emlyn Edwards and Charles Dunning
30                                                                   Royston and Margaret E Andrews
31                                                                   Elizabeth E Jones and John E Williams
32                                                                   David M, Melinda J and Derek A Davies
33                                                                   Joseph and Lillian Phillips
34                                                                   Stanley, Annie and Maureen Dunning
35                                                                   Eunice Coxe, Carys and Stephen Ridgeon
36                                                                   Trevor and Mary Tellyn
37                                                                   Llewellyn and Dorothy Phillips
38                                                                   John and Evelyn Taylor
39                                                                   Emlyn and Janet Roberts
40                                                                   William and Phyllis Sims
41                                                                   William R and Joan E Thomas
42                                                                   Beatrice Brimble
43                                                                   John Prosser
44                                                                   John H Morgan
45                                                                   Jeffrey and Kathleen Summers
46                                                                   Len+ Sylvia Tom, Denise Edwards, William Norman
47                                                                   Morgan C and Edith Thomas
48                                                                   Granville and Mary Lewis
49                                                                   Benjamin and Charlotte Price
50                                                               Bruce and Betty Giles
51                                                               Brian and Eleanor Rich
52                                                               Elisabeth Tellyn, Mervyn and Gwyneth Jones
53                                                               Joseph, Marjorie, and Malcolm Bromley
54                                                               Cyril, Annie, Terry, Gaynor, Brian and Martyn Jones
55                                                               Wendy Morrissey and David J Blackwood
56                                                               David and Maud Probert
57                                                               Leonard, Elisabeth and Meirion Davies
58                                                               David L and Jeanette Morgan
60                                                               Harry and Doris Oliver
62                                                               Howell Thomas
64                                                               Vernon, Eunice and Marilyn Price
66                                                               Raymond and Catherine Jones
68                                                               Hannah Evans and John Edwards
Maen Ganol 
1                     Lynda M Lewis
2                     Patrick, Jean, Jean and Catherine Clarke
3                     Harold, Beryl, Sharon and Philip James
4                    James, Gladys, Keith and Stephen Davies
5                    Clive, Elisabeth and Stephen G
6                     William and Enid Jones
7                     Irene Giles
8                  Emily Williams
9                 Kenneth and Patreesa Humphries
10              Albert J Turner and Romano J Font
11           Albert J and Roseanne K Howells
12            Frank and Flossie Harris
13            Ken, Millicent and Marilyn James
14            John R Florence and Gwynfor Jones
15           Delwyn and Sybil Howells
16           Arianwen, Margaret and Edwin Jeffrey's
17         Ieuan G Thomas
18     Elizabeth J and William J Wearn
19         Tudor I Catherine and Clifford Morgan
20       Sarah A Hughes
21       Gwillym and Margaret Thomas
22       Thomas and Eurwen Wilcox
23       Rebecca Rees, Peter O and Margaret E Williams
24     Roy and Catherine Davies
25     David, Agnes, and David I Sims
27     Gwillym, Violet M Wendy and David W Morris
29             Brian and Myra Bates
31          Oliver and Bessie Davie
33          John and Elizabeth A Hughes
35         David W and Betty V Price
37         Joshua and Haedwyn Summers
39        Cornelius and Margaret Melly
41       John A and Susan Jones
43       Trevor, Glynwen, Christine and Alan James
Field Street
1                                                   M Violet Howard
2                                                   Mary Marl
3                                                   William J , Annie J, Muriel and Phyllis Edmunds
4                                                   A Hugh and Joyce Hughes
5                                                   Idris Joseph
6                                                   Gladys Beynon
7                                                   Emrys and Hannah Thomas
8                                                   William A and Martha Rowlands
9                                                   Hilary A Jones
10                                                 Edna M Davies
11                                                 William J and Catherine Sellick
12                                                 William R Bishop and George B Hughes
13                                                 no record
14                                                 Reginald, Margaret and Jayne Williams
15                                                 Owen R Williams
16                                                 Edna M and Dennis Partridge, Gary Smith
17                                                 Raymond and Mary E Small, Leslie J Chapman
18                                                 M Gertrude Harman
19                                                 Thomas J and Janet Walters
20                                                 William H Thomas, Albert J and Dorothy Boyce
21                                                 Anita H Cochrane
22                                                 Austin and Verna Penny
23                                                 Frederick G and Marjorie Phare
24                                                 Frederick W and Alice Selway
25                                                 Michael I and Elisabeth E Jeremiah
26                                                 Brian and Sharon Foster
27                                                 Vivian and Barbara L Beynon
28                                                 no record
29                                                 J Annie Hughes
Richards Terrace 
1                                                  Brian C and Mary M Jones
2                                                  George F and Gladys M Thomas
3                                                  Alice E Hyslop
4                                                  Michael and Christine M Davies
5                                                  Anne and Peter Watson
6                                                  Raymond J and Margaret Rees
7                                                  May Bounds
8                                                  Cyril J and Valerie Morris
9                                                  Raymond K and Margaret Haines
School House                            Iorwerth T and Jessie B Thomas
Mary Street 
1                                                   William H and Sandra A Brown
2                                                   Nellie P Morgan
3                                                   Kenwyn Bounds
4                                                   David and Marilyn Watkins
5                                                   Wayne and Elizabeth J Edwards
6                                                   William and Helen Griffiths
7                                                   John and Shirley Barry
8                                                   Russell G White
9                                                   J Richard, G Muriel and M Thomas Kings
10                                                 Elizabeth Thomas
11                                                 Leonard C and Doreen L Bridges
12                                                 Gordon and Leslie Davies
13                                                 Gertrude J Jones
14                                                 Iris Hindley and Alice M Williams
Bontnewydd Terrace 
Lletty Coed                                Douglas J, Gladys and Katherine Jones
1                                                  Leighton, Phyllis, Alun P and Jean Candy
2                                                  Rose, Evan J and Barrie L Lewis
3                                                  Roger H Williams Georgina L Hake
4                                                  Reginald Brown
5                                                  Howard W Lewis and Elizabeth O Lewis
6                                                  Malcolm W and Wendy A Jenkins
7                                                  Thomas and Annie Jones, Zephaniah Powell
8                                                  Stuart K and Marilyn Yendle
9                                                  Beryl Watkins
10                                             Margaret Watkins
11                                             no record
12                                             Francis C and Ada M Lambert
13                                             Austin E and Edna R Martin
14                                             Maxi C and Audrey Wiltshire
15                                             David J and Lyndy A Morgan
16                                             Margaret E Watkins
17                                             no record
18                                             David R Annie G and Kay Davies
19                                             Beatrice M Watts
20                                             Mary Lewis
21                                             Idwal M Thomas
22                                             Gwyneth Morgan
23                                             Gilbert and Irvona Pride
24                                             Annie Edwards, Arthur, Dilys and Colin Stephens
25                                             Leslie R and Phyllis Powell
26                                             Ron, Catherine and Ann Evans
27                                             Reginald, Evelyn and Barbara Batten
28                                             Pauline R Griffiths
29                                             Wilfred G Mary I and James E, Howard and Ann Davies
30                                             William and Horace Smith
31                                             Reed and Gladys Jenkins
32                                             E Redvers Exton and Beatrice M Edwards
33                                             Martha Williams
34                                             Albert J, June, Angela and Jeffrey Whitcombe
35                                             David and Kay E Jones Phylis D Gibbs
36                                             no record
37                                             Walter, Violet and Carol Haines
Railway Street 
1                                              Phillip Jenkins, Catherine Candy, Geoffrey and Doreen Howells
2                                              James I , Margaret, Carol and Helen Williams
3                                              Terrance M and Yvonne Thomas
4                                              Geoffrey E and Rosalind Gunning
5                                              Walter R and Margaret T James
6                                              Christopher and Moira Watkins
7                                              Thomas H and Laura E Gunning
8                                              Olive and Moira Williams
9                                              no record
10                                           Michael J and Sylvia Gunning
11                                           Elizabeth White
12                                           William J and Shirley Bufton
13                                           Alfred, Margaret M and Margaret E Davies
14                                           Muriel Jones
15                                           Sydney J Davies and Graham Thomas
16                                           Eva Price
17                                           Raymond B, Cheryl A and Lillian Amesbury
18                                           William C, Valerie, Jeffrey and Terry Holton
The cottage                          Gwendolin Lewis, Cyril E, Beryl and John Amor
Glyn Bargoed Road
Oakdene                                          Maldwyn, Margaret and Margaret R Rowe
Glyn Bargoed Villa                        Raymond and Margaret Ashman 
1                                                        Bronwen George
2                                                        R Alma Rees
3                                                        Alan and Anne Jones
4                                                        John Salmon
5                                                        Clifford l, Clifford J and Elaine Moss
6                                                        Glyndwr and Annie Barrar
7                                                        Dennis and Sandra Andrews
8                                                        John and Jean S Walters
9                                                        Nancy A and Elisabeth Jones
10                                                      Archibald Piddington
11                                                      William, Dilys and Elfed Robins
12                                                      Evan, Blanche, Lewis and Hannah Evans
Glyn Bargoed House                     John H and Catherine M Davies
Old surgery House                        Tom, Glynys, Gareth, Margaret and Beverly Jarrod
Park Terrace
1                                                      Layton, John, Gail and Kelvin Pugh
2                                                      Edith Kuner
3                                                      Richard and Joan Jenkins
4                                                      Brythonwen Ashton
5                                                      Elvett and Hetty Davies
6                                                      Marjorie Parsons
7                                                      William and Blodwen Breese
8                                                      Beryl M Davies
9                                                      Tom, Olwen, Clive and Susan Jones
Brynamman                                  Sarah Whiteman, Muriel and Christina Jenkins
Ffaldcaich area 
Woodleigh                                    Islwyn, Audrey and Martyn Carlick
Beachwood                                  David J and Margaret Davies
2 Caiach Villas                              H Forrest and Mary Roberts
1 Caiach Villas                             Ann Williams, John and Hilda King
Plot one                                        Keith Fry, Wendy and Mike Cattle
Plot two                                        Anne and Dragan Cenic
Plot three                                     no record
Plot four                                        Gerald and Dorothy Perry
Ffaldcaich Inn                              Dennis and Molly Barwood
Venetia Bungalow                      Walter T and Jessie Jenkins
Brynhyfryd                                   William Davies
 Hundleton                                   Clara Richards
Bracken bank                               Susan, Beryl and Thomas Cooke
Stephen Croft                              Susan, Mary and Thomas Lory, Gladys Thomas
Muggleswick                                Florence and Rachel Storey, Margaret I Frowen
Tegfryn                                         Tegwedd and Robert G Evans
Ivanhoe                                         William H Evans
n