Methodist beginnings
Mr Aaron Phipps, mentioned in the story below, was rescued from a serious accident at the Llancaiach colliery in Nelson, please go the colliery section (Nelson area) to read about his lucky escape.
The story below comes from an article in the programme for the 150th anniversary of the Salem Chapel in High Street Nelson, 2009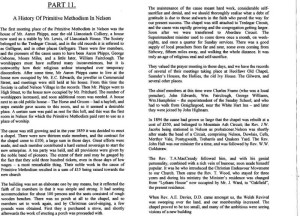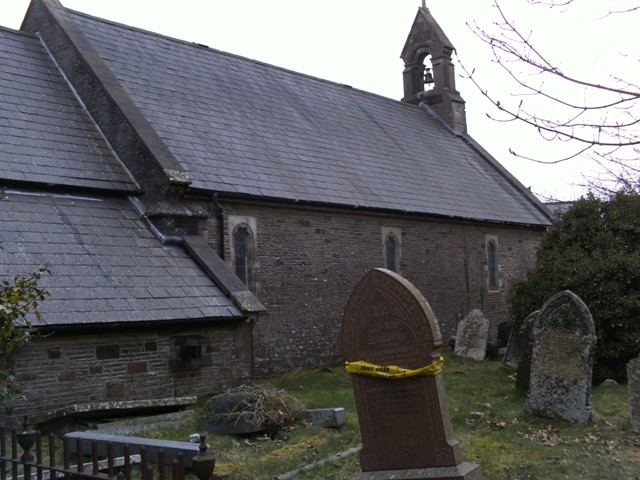 Former religious buildings in Quakers Yard
Berthlwyd Chapel Pentwyn Quakers Yard Built in 1851, modified, altered or rebuilt 1880 Now a private home Ebenezer Wesleyan Methodist church Mill Road Quakers Yard Demolished Congregational Libanus Quakers Yard Demolished Horeb, Wesleyan chapel and graveyard Pentwyn Deintyr Quakers Yard
Religion in the Treharris area
Salem Welsh Baptist Chapel
Oakland St, Cwmfelin, Bedlinog
Still in use in 1996
Salem Welsh Baptist
Bedlinog
850 sittings
Rev Wm Morton
1895
Trinity English Baptist
Bedlinog
350 sittings
Built in 1909
1910
Trinity Baptist chapel
Richards Terrace
Trelewis
Still open in 2005 (planning application)
Moreia Ind chapel (Moriah)
High St, Bedlinog1870
Altered or Rebuilt 1876 and 1901-1909
Still in use in 1985
Moriah Welsh Cong
Bedlinog
400 sittings
Rev Robert Orton Jones
1895
Sardis English Congregational
Bedlinog
Sittings 150
Erected in 1902
1910
Bethel Independent Chapel
St Mary St
Bedlinog
Built in 1932
Ebenezer Welsh Cong
Trelewis
Erected in 1879
300 Sittings
Rev D Ffrwdwen Lewis
1910
Soar Wesleyan Methodist Chapel
Craig St
Bedlinog 1889
Modified, Altered or Rebuilt 1911
Not still in use pre 1996
Wesleyan
Bedlinog 1895
Gosen Welsh CM
High St. Bedlinog
300 sittings
Rev Thomas Clement Thomas 1895
Taff Merthyr Wesleyan Methodist Chapel (Garden Village)
Brondeg
Taff Merthyr Garden Village
Trelewis
Built in 1936
1811, December 23; Protestant; a house called Bontnewydd;Trelewis
Treharris
English Baptist
1899
Bethel Baptist Chapel
John St, Treharris
Built in 1877
Modified, Altered or Rebuilt 1881
Rev David Howells was the first Pastor of Bethel English Baptist Church, Treharris in 1882. He was also the minister of Bethesda E.B. Church Penrhiwceiber in 1894 and of the new church, Bethesda, Penrhiwceiber in 1904
Brynhyfryd Baptist Chapel
Thomas St, Treharris
Built in 1882
Not still in use in 1998
English Baptist Chapel
Perrott St, Treharris
Built in 1880
Seats 350
Rev William Nicholas 1895
Rebuilt in 1898
Treharris (Edwardsville)
Independents
1906 Closed
Now Spiritual Chapel of St David's
English Ind chapel
Rock View/Park Lane, Edwardsville
English Congregational
Edwardsville
Erected in 1905
Seats 300
Rev Evan Mathias 1910
Tabernacle Ind Chapel
Perrot St, Treharris
Built in 1881
Altered or Rebuilt 1883, 1893 and 1904
Still in use in 1996
Welsh Ind
Perrott St, Treharris
Erected in 1893
Seats 850
Rev David Phillips 1895
Bethania Welsh CM Chapel
Penn St, Treharris
Erected in 1880
Seats 500
Rev J Pumsaint Jones 1895
Saron Welsh Wesleyan
John St, Treharris
Built in 1895
Not still in use in 1998
Rev John Edward Thomas
1910
Treharris Primitive Methodist Chapel
Treharris
Built in 1887
Seats 300
Wesleyan Methodist (Forward Movement)
Perrot St, Treharris
Built in 1880
Altered or Rebuilt 1890
Not still in use in 1998
English Wesleyan
John St, Treharris
Built in 1883
Seats 118
Bethania, Treharris
Denomination not given
Built in 1906
English, Treharris
Denomination not given
Built in 1862
Modified, Altered or Rebuilt 1894
Mount Pleasant
Mary St, Treharris
Denomination not given
Calfaria Baptist Church
Nelson
Cemeteries
Cemetery at Beechgrove formed in 1888
3 acres 1895
Edwardsville
Graigfargoed Cemetery
opened in 1924.Bedlinog,
Llanfabon
Llanfabon Cemetery is situated at Llanfabon in Nelson and has been in operation since 1969. The Church in Wales and the Council administers the cemetery. The section managed by Caerphilly Council is 0.4 hectares and has new graves and garden of rest plots available
The Church in Wales within the Anglican Communion came into being in 1920, when the Act of 1914 disestablishing the Church of England in the principality came into force. The four ancient Welsh dioceses of Bangor, St Asaph, St Davids, and Llandaff became a self-governing church, with the bishop of St Asaph, Alfred George Edwards, as the first archbishop of Wales.
St Cadocs Church
Bedlinog
built 1911
Now a family home
St Mathias Church
Treharris
Built 1896
http://www.churchinwales.org.uk/~l346/index.htm
St Cynons church and school
Quakers Yard
built 1863
A School was also built on this site in 1876, it was closed in 1949; being the last church school to close in the Borough
Now Demolished
St Marys church
Trelewis
built 1887
now a family home
St John The Baptist Church
Nelson
St Mabon Parish Church
Llanfabon,
Nelson
The first recording of this site being used as a Church dates back to records in the Vatican Archives and refers to the rebuilding of the Church by the Earl of Hereford in the eleventh century.
By 1836 the building had fallen into disrepair and the then Rector was requesting funding from the 'Church Building Society' for repair grants. The appeal was not successful, for in 1846, it was decided to demolish the building and fully rebuild it.