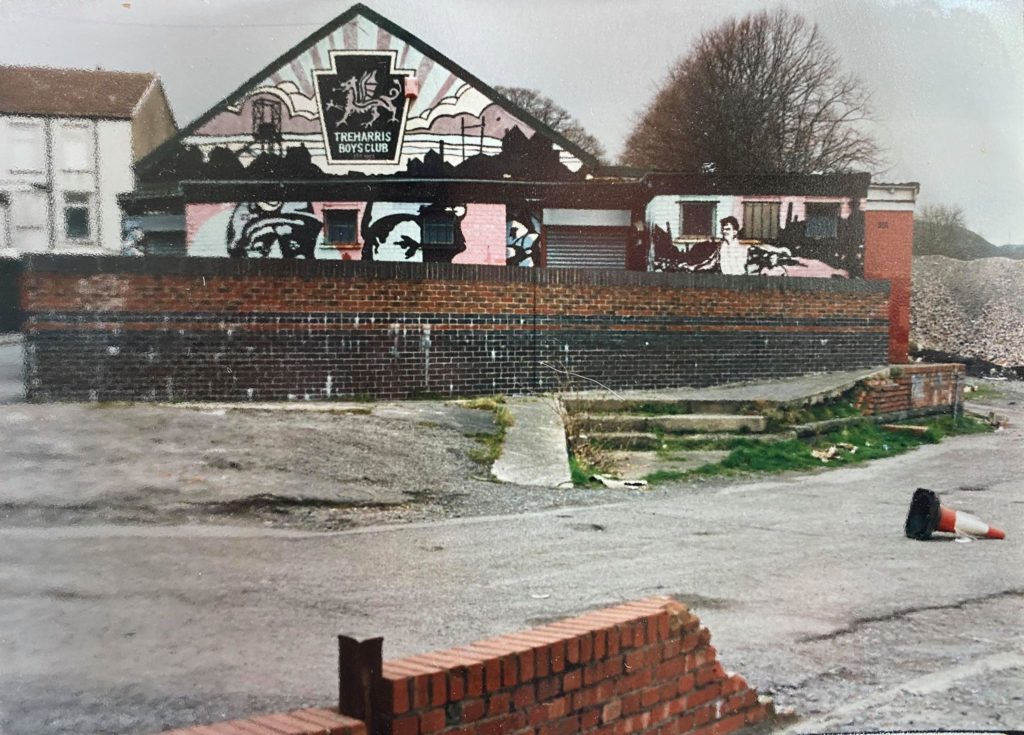 In 1923 the first Boys' Club opened in Treharris, founded by Captain John Glynn-Jones  and David Davies. Captain Glynn was the welfare officer of Davies' Ocean Group of Collieries, which had coal mines all across South Wales. Captain Glynn had become concerned with the welfare of what were known as "collier boys", youth working in the mines, and developed the idea of a club boys could join that would encourage cultural activities, discipline and a healthy lifestyle. Other clubs followed the Treharris club, opening in Nantymoel, Ton Pentre, Treorchy, Wattstown and Nine Mile Point.
Captain Glynn, believing unity between clubs should be fostered, eventually the idea of a camp where members of different clubs could attend. The first of two of these camps, the St Athan Boys' Camp, opened in 1925, with the second, the Abercrave Adventure Centre, opening in 1958. In August 1928, after a meeting of Boys' Club leaders at the St Athan camp, the various existing clubs united as The South Wales Federation of Boys' Clubs.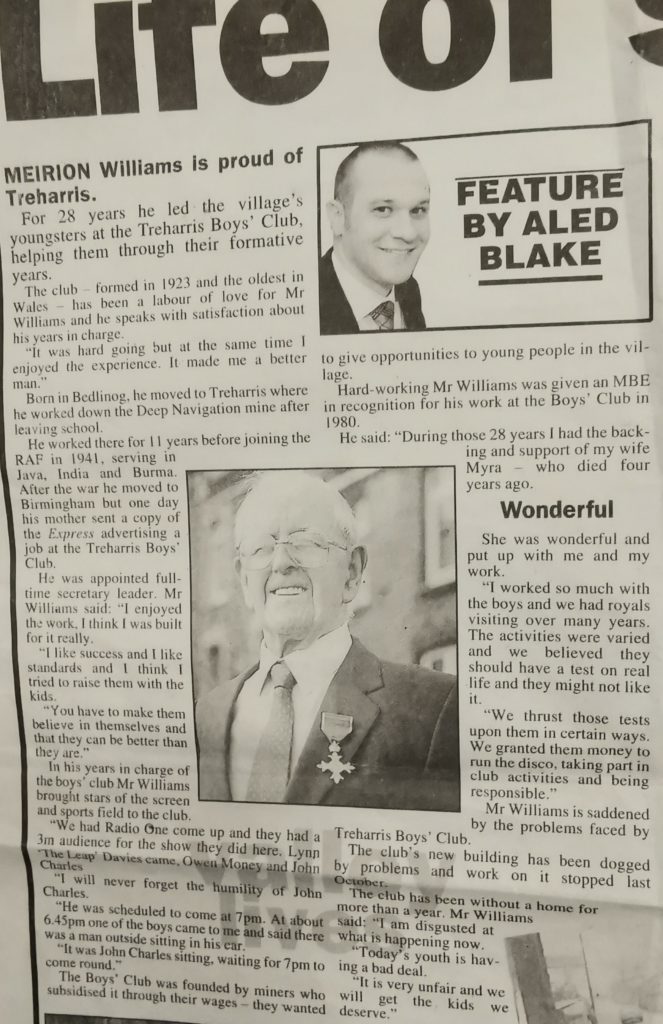 Meirion Williams ( above) was one of the finest leaders the club has had in its history and he was honoured with an MBE by the queen.
In 2020 the club is known as the Boys and Girls club and its leader is Ray O'neill, who with the help of the club trustees and his staff have got the club back on its feet after some difficult times. He agreed to allow me to show photgraphs of the club spanning back decades, I also have received various other photos over the years from various contributors which I will also add.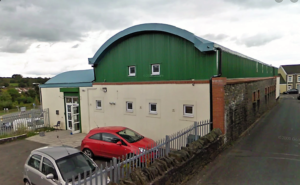 Contents
The Building itself
People who helped run the club over the years
Celebrity visits 
Events and presentations at the club
Sports teams representing the club
The Building itself.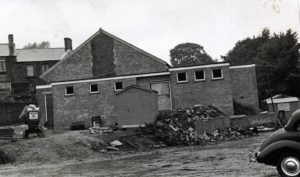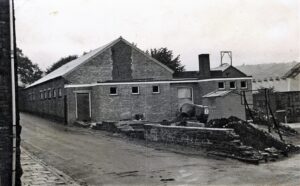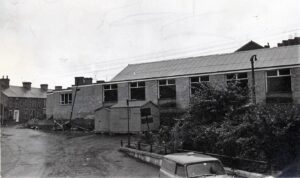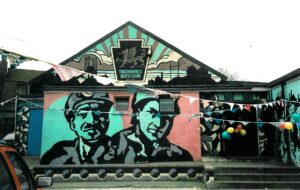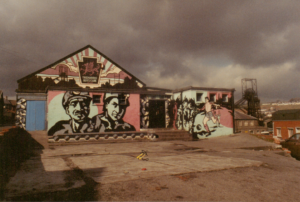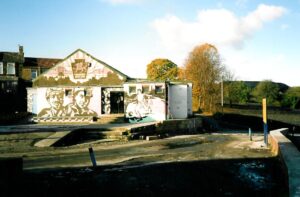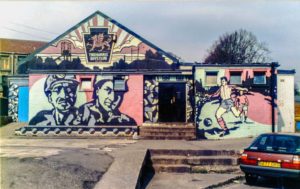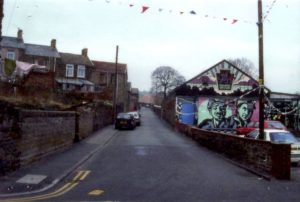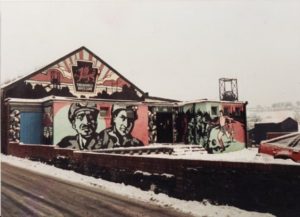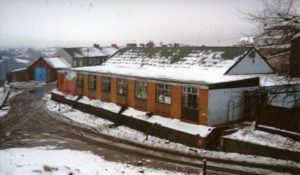 The building badly needed updating, In the late 1990s, organisers of the club began applying for grants to upgrade the deteriorating facilities at the club house and secured funding from various bodies including European grant aid. But building delays meant that thousands of pounds of European grant money was demanded back because the time limit had expired, leaving the club building as just a steel frame shell.
No roof on club house

Ernie Galsworthy, one of the club's trustees explained.
'Finally there'
"It was awful, they wanted us to give back £70,000 that we hadn't yet spent and they even tried to claw back the £70,000 we had spent.
"It was a very worrying time. It all came about because of various building problems – we found a cellar which we didn't know existed for example.
"So we missed the deadline they had set us to complete the project. "Building work had to be abandoned until finances could be secured, meaning that the club had to operate from a temporary headquarters.
Organisers of the club have battled for funding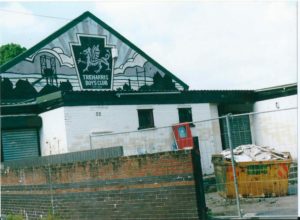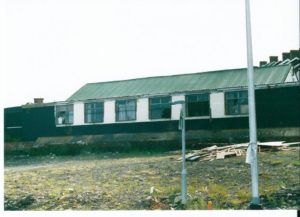 "Seeing the building finally ready to open is such a relief," said Yvonne Galsworthy, the chair of the club.
"It will make a huge difference to the young people who will use it.
"I'm just glad we are finally there," she added.
The rebuild has cost around £650,000, which has been paid for through various grants.The multi-purpose building will offer space for mother and toddler groups and pensioners groups, as well as having a sports hall and a high-tech digital computer lab.It is also hoped that funding to complete a planned dormitory space will be secured in the near future.Kevin Davies, the community education officer for the club said: "We are all really pleased with the results but we are going to carry on applying for grants so that we can get everything we want done."The young people are really excited about the new club – it has been so long, they have been asking when is it going to be ready and now it nearly is," he added.
March 20, 2005 Merthyr Express
New HQ for oldest children's club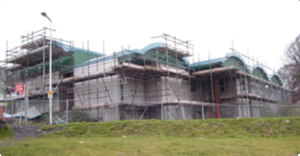 A new headquarters for what is believed to be the oldest children's club in the UK are nearly complete. The £650,000 project follows a four-year funding battle which almost saw the project collapse.
Treharris Boys and Girls club near Merthyr Tydfil was set up by local miners 82 years ago.
But it has not had a permanent base since building work stopped after grant money was withdrawn in 2001.After years of reapplying for grants, organisers are finally putting the finishing touches to the new HQ.It is hoped that the new base will act as a focal point for the town.
The club, originally opened in 1923 and was paid for by workers from the neighbouring Deep Navigation Colliery, which closed in 1991.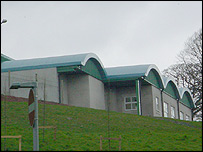 People who helped run the club over the years
Boys committee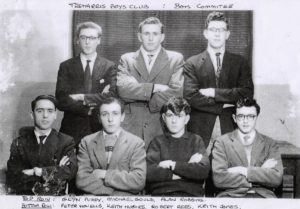 Canteen girls at the Boys club Includes Mrs Jones, Shirley Drane and Betty Rees, Chris Baber, Meg Duggan in the 1960's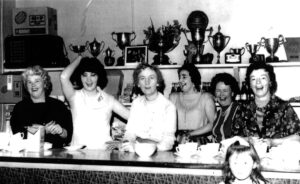 L-R MEG DUGGAN ANNE JONES VALERIE HILL Behind is MRS WILLIAMS CHRIS BABER SHIRLEY DRANE MRS JONES QUALITY STORES MRS ROBBINS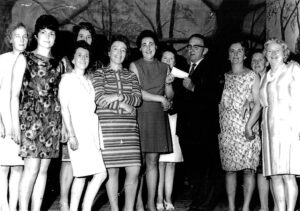 Celebrity visits John Charles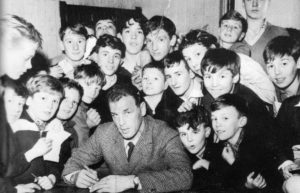 Events and presentations at the club
The Boys club had many success stories over the years and many of it's members went on to reach their potential…two such successes were Jeff Barrass and Laurie Veale seen below collecting their Boys club of Wales caps from the mayor of Merthyr Ithel Davies.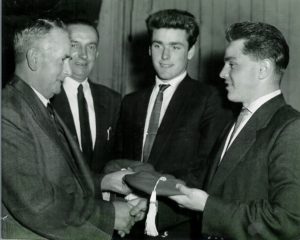 Gary Sullivan and Brent Yoxall win prizes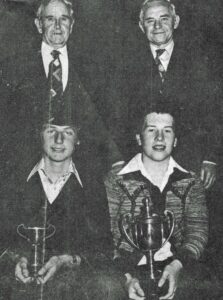 Tiger wins boy of the year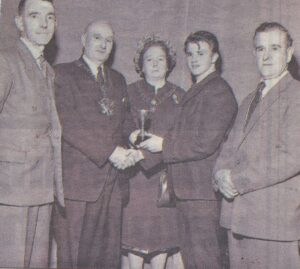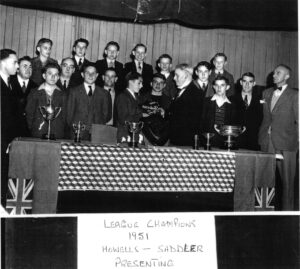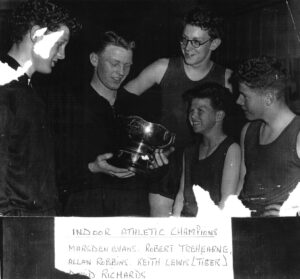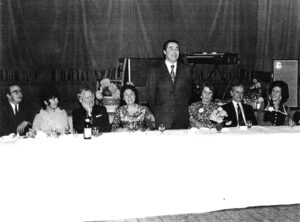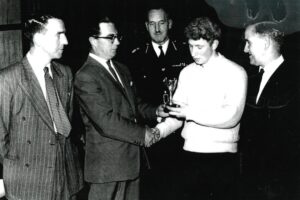 Presentation night at the boys club early 1970's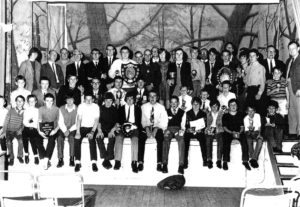 Treasure Island at the boys club 1949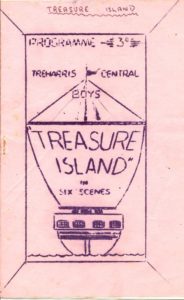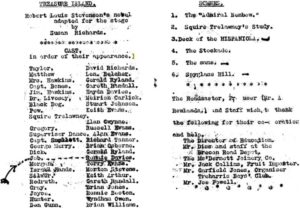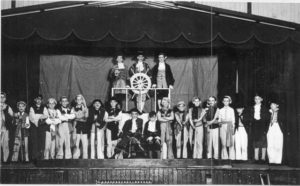 Snow White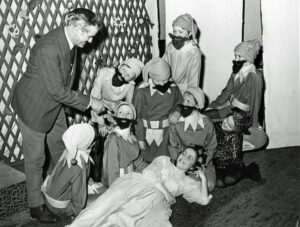 Aladin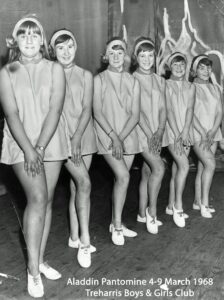 Mother goose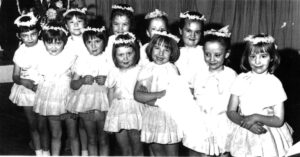 Dance classes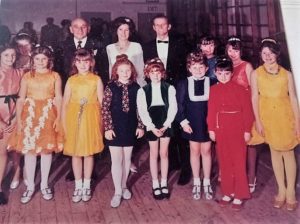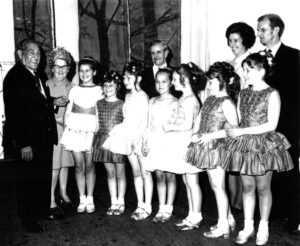 Sports teams representing the club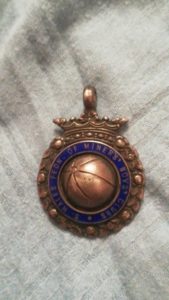 Table tennis programme event at Treharris 1956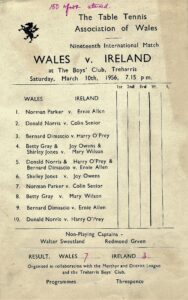 Boys club U 18 Champions 1952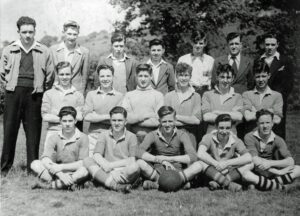 Under 19 team 1971 below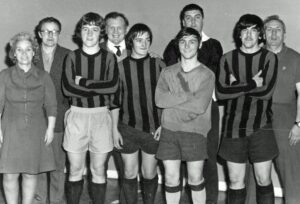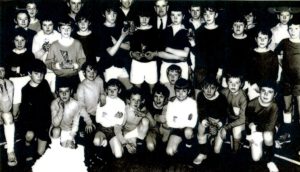 Below we see Mel Lock Howell Williams Geof Barras Larry wells kelvin lock miss Bernard baker Ron Morgan Paul Rosser next two from Quacker's yard Alan Edwards boy David Morgan John Veal Mike Walker Meirion Thomas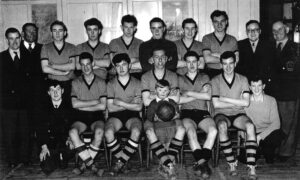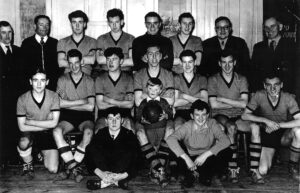 John Andrews and M Williams the adults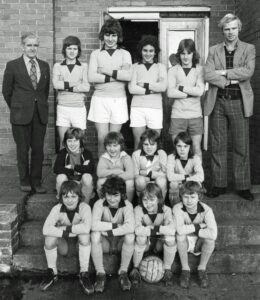 Below -Boys clubs of Wales under 16's Runners up
Top
Mel Locke Manager, J Selway,A Powell, G.Roberts,C Evans, S Rees Secretary.
Middle
G Wilson, A Walker,W Townsend, E Sloggett, P Robson
Bottom
D Morgan, A Price (captain), G Davies, Dai O'Neill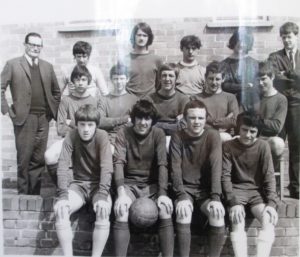 A very good Boys club team from 1973
Back row. Mel Lock, (manager ) ( ? ) Byron Farr , Adrian Hill , Phil Jones , Martyn Sapic , Arfon Grindal, Nigel Owen, Michael Mc Donald, Kevin Watkins, Russell Thomas, Meirion Williams(Boy's Club Leader) .
Front row.
Gary Veal, Kelvin Arthur , Steve Picton, Roger Pride, Wayne Baber, Kevin Thomas,
Mascot Paul Veal .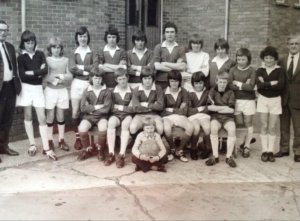 Charity matches to raise funds for the club played at the Athletic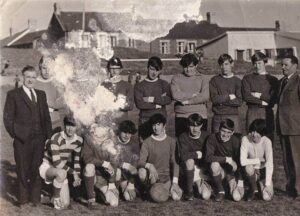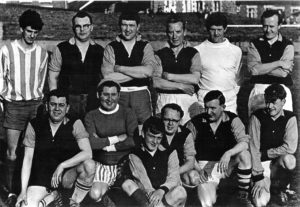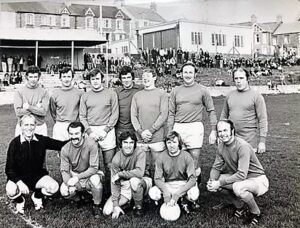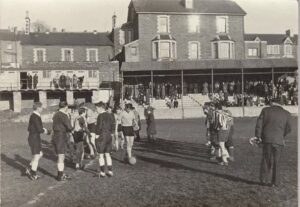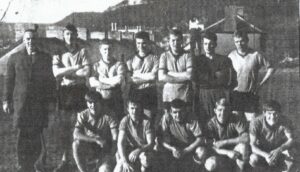 Boys club trips to St Athan
( article by Ron Davies(Quakers Yard, who now lives in Portsmouth)
 I'm not sure if this was arranged through Treharris Boys Club. It was a great week and no doubt perhaps the first time we had stayed away from home for so long. We were in huts and not in tents.
Some of the names that I remember…..Johnson brothers, Colin Blackburn, Danny Tanner,St Johnson, Brian Humphreys, Keith Evans, Myself sitting on floor on left side of photo. Hopefully someone can name a lot more.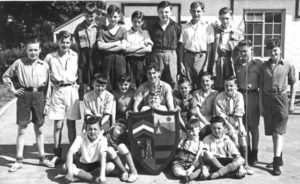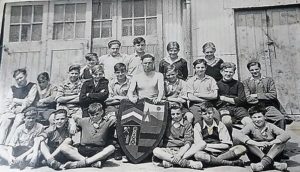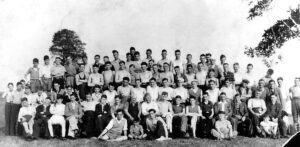 Boys club U 12′ S  visit to Shoreham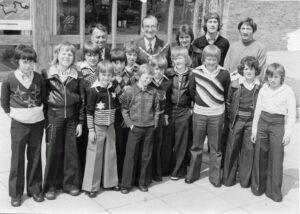 1977 Merthyr express photo of Treharris younsters in Cresta cafe Fox Street, asking for there to be a club for girls aswell as boys, eventually they got their wish but many years later.
Julie Evans, Karen burt, Susan Hopkins, Sharon Evans, Beverly Haskell, Sandra protheroe,
Michelle Lewton Tracy?? Donna Haskell, Mark Adams, and not sure of other boy.