This page is specifically about the stories and photographs of people that live or have lived in Treharris. Some will be old and some new but it will all relate to the Treharris town
Treharris Co-operative Society
A Treharris miner from Fell Street David Daniel Davies
Treharris Scouts and Brownies
Mari Kelso family history in Treharris area
Variety of photographs featuring Treharris people
Media and Entertainment in Treharris district
Surgeon on the run…Dr Harrison at Treharris
Andrew Wilson JP
Gresham place and its people.
Fred Jones (Freddie Pies)
The clubs and pubs and the characters that used them
Roger Vowles..the story of the pit hooter
Jones of Treharris bus company
Gordon Parsons a true character
Meirion Williams MBE..Treharris boys club
Some of the Marriages that took place Treharris 1863-1928
Historical documents relating to Treharris houses
Treharris Co-operation Society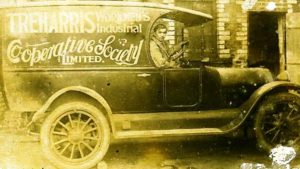 Treharris was blessed with a large shopping area run by the Co-op in the early part of the last century and the stores sold just about everything and also had a very good Butchers department. Most the Treharris stores closed in the1970's but since a recovery, by the Co-op group, we are now lucky to have a Co-op back in the town, albeit just a grocery shop these days. There are also Co-op stores in the High Streets once again in most towns.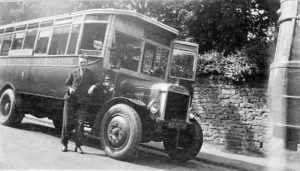 We have some early photographs of one of the Treharris stores, which was across the road from the square chemist.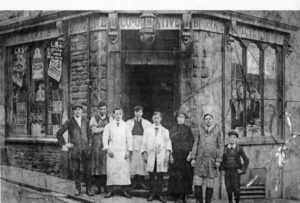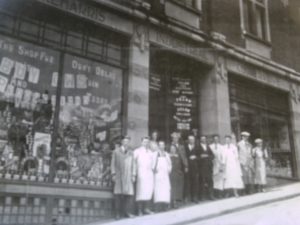 Treharris Workmen's Industrial Co-operative Society was founded in 1889. They seemed to have been really entrepreneurial, starting quite a large Coop in a village in a neighbouring valley. The full name of this co-op was spelled out on its Arcade Building.
In the 1930s the Treharris amalgamated with neighbouring Societies to become part of 'New Tredegar, Treharris, and Troedyrhiw Co-operative Society'. This Society merged with the national Co-operative Retail Service in 1944. It was then designated Cooperative Society, Taff Bargoed(Ystrad Mynach).
You can clearly read the Treharris sign below
Our Arcade Buildings / Pierhead Building lost its 'Treharris' name therefore in the 1930s. After 1944 it had its normal 'COOP' sign.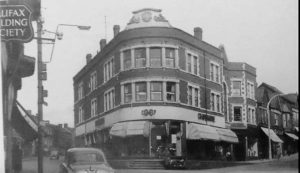 Scouts trip 1987 approx. featuring Gareth Owen, Philip Turner, Jody Thomas, Jamie Haggert
Mari Kelso and her family history in the Treharris area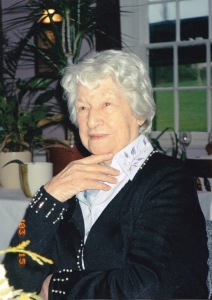 Mari Kelso has kindly sent me some information and photos of her family that goes back over one hundred years, she wrote the following "Hi, Just looking at your website and thought I'd email you as this week, 12th February, my Aunt celebrates her 100th birthday.(pictured above when we celebrated her 90th birthday in 2005 )  She, Janet Jones (now Simons) was brought up in The Huts along with her sister, Morfydd,who also lived to be 100 and brothers, Will, Ben and Tom ( who lived in Caiach Terrace, Trelewis). "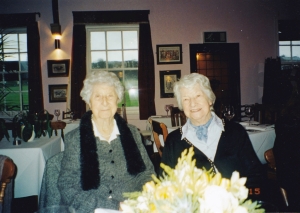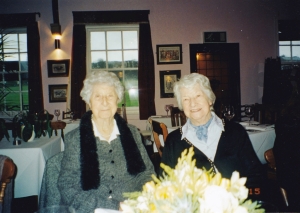 Janet and Morfydd ,two Treharris girls who celebrated reaching 100 years old
Their grandfather was William Jones Check, a Councillor, deacon in Brynhyfryd Chapel and check weigher in the Deep Navigation, he died in 1928. Below we see an interesting photocopy of a poem and picture written in memory of one of his sons, William Hopkin, who died in 1919 in French Guinea of sunstroke. They lived in Thomas Street at the time.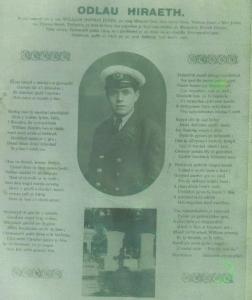 As you can see it is all in Welsh, it says,
In loving memory of my nephew William Hopkin Jones, aged 19 the eldest son of Councillor and Mrs William Jones, 29 Thomas Street, Treharris who died of sun stroke in Konackry, French Guinea, West Africa on November 30th 1919 and who was buried there the same day in the European Cemetery.
Then there follows an Englyn of 4 lines and then a long poem by his Uncle from Abertridwr who signs himself by his Bardic name, Berianfa, I have tried to find out who he was but haven't managed it.
We haven't got a photo of his father William Jones Check, but he came to Treharris in the 1880's from Skewen .He was a Councillor at the time of Andrew Wilson who is on this website. He married Mary Davies in 1889 and they lived in Perrott Street with his wife's parents Daniel and Mary Davies who had come from Conwil Elfed, Carmarthen. He married 3 times and Hopkin was one of the sons of his third marriage.
Mari writes "my grand mother, Mary Ann was born in 1891 and her mother died when she was 3 or so.
She was brought up by her maternal grandparents in The Huts.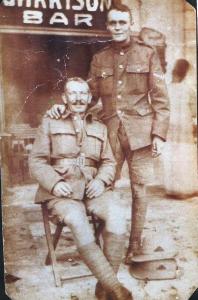 She married Charles Jones (seated above in Palestine outside the Garrison Bar! ) who had come from Pontypool with his sister and 2 brothers in the 1890s. He died in 1927.  ( His sister Bessie lived in Treharris all her life had a big family 6 girls and one boy I think. She lived into her 90s and was deaf and blind. I remember visiting her, she lived with her daughter Beatrice who had a son called Ieuan, not sure if he still lives in Treharris).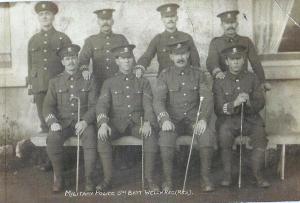 Charlie Jones  when he was in the Military Police in the Reserves before World War 1 ( back row far right)
They had 5 children and lived in The Huts until the 1930s when they moved to Bargoed Terrace. She died in 1937, aged 45. She had been an invalid for years and my Aunt had looked after her for many years."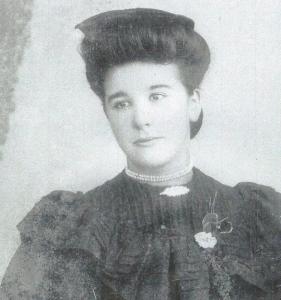 Mary Jones when a young woman daughter of Charlie and Mary, Mari's great grand mother
Below we see a photo of Treharris Girls' School in approx 1916 or 1917, its not very clear. Mari's mother is second from the left in the back row but one.
Also a photo taken outside The Huts, possibly 1930 or 31, Mari's Auntie Janet is at the back on the right and her Uncle Tom, who lived in Trelewis is in the next row, 3rd from the right with folded arms.
Janet left Treharris in the late 1940s and now lives in Sheffield with her daughter.
My mother, Morfydd was a district nurse in Bedlinog in the late 1930's and early 1940's, during the time of Dr D'Souza. She worked all her life as a nurse and lived in Gloucestershire, Cardiff and lastly Anglesey where she died in 2009, aged 100.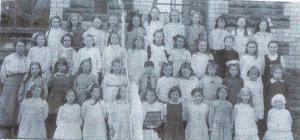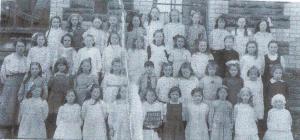 Names of the girls on the school photo.
Back row left to right:
Annie Watkins, Irene Durbin, Joyce Cowdell, Minnie King, Hilda Moris, Bessie Powell, May Lewis, Phyllis Durbin, Dinah Thomas, Joyce R?, Liz Davies
Next Row:
Kitty Munkley, Maud Burman, Betty Evans, Bessie Davies, Ann Davies, Joyce Walker, Violet Farmer, Gwyneth Williams, Bessie James, Morfydd Jones, Ann Parish
Next Row:
Miss Thomas (teacher), Ethel Williams, Edith Bishop, Doris Curtis, Kate Evans, Rose Griffiths, Rose Samuel, Maud Davies, Ann Watkins, Sadie Rees, Lynne Davies, Kitty Williams
Front Row:
Nancy Jones, Ellen Evans, Phyllis Arnold, Betty Davies, Mary Davies, Lilian Atherton, Joyce Lewis, Bronwen Davies, Roma Durbin, ?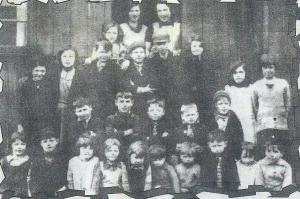 Variety of photographs featuring Treharris people
This section of the website will be a variety of photographs in no particular formation, of Treharris people.
Treharris police officers in Edwards street and 1913, includes James Charles Hankins grandfather of Wayne Hankins who kindlu allowed us to publish the photos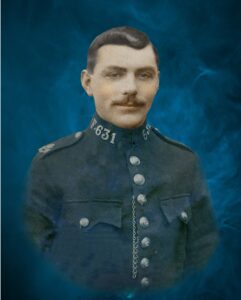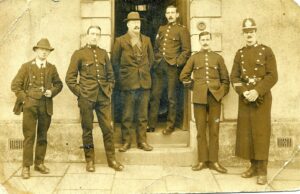 First two courtesy of Mary and Lee Dare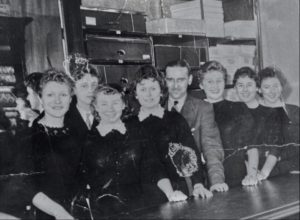 1956 ,the Co-op Drapery in Treharris — where the Salvation Army used to be apparently…left to right Ilene Watkins Trevor ? Gladys Richards Nancy Salmon Mr Watts ? Lorna Mary Parker , Diane Parker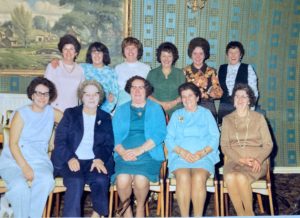 Mary thinks it was a cork club meeting…possibly taken in the Commercial ,the pub where the Athletic was end of John Street
Back row
Avril Davies
Mary Parker
Linda
?
Christine
Pat from Cilhaul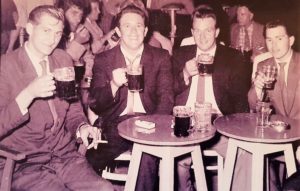 Morton Evans- David Roberts- John Rogers- Laurence Veale- Blackpool possibly, thanks to Suzanne Matthews for the photo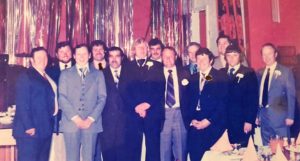 Gary Journeaux named them as; My father Tickle Journeaux ,Andy Sullivan, Churchill Journeaux,JD Stevens,Blonde, Reg Matthews,Roger Vowles,Lucus, Dai Rob,Morten (shorty),Treharne
This set of photographs come courtesy of Christine Crosby, she wrote the following…
I was born at my Gran's house at 8 Edward Street, Treharris and we visited most Sundays. I remember attending Edward Street's Coronation Party (Aged 7) I also spent school holidays with my Aunt Gerty & Uncle Charlie Byrd at the Waterworks House Edwardsville. Alas none of the family are alive anymore.
Here are the lovely photographs she sent me, hopefully the faces will bring back some memories.
Far right Christine s' grand mother Mrs Mary Hill  and second from left her friend Mrs Hale, both from Edward Street.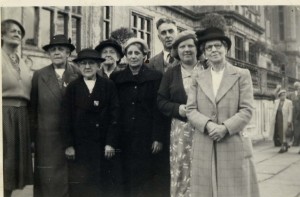 Mr & Mrs Tom Hill and children (l/r) Florence, Frederick, Gerty & Jim (Edward Street)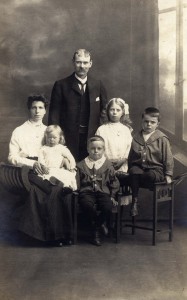 Uncles. Charlie Byrd, Fred Hill, ?, Fred Mandry.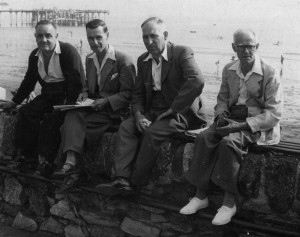 Sisters Florence Hill, Gerty (Hill) Byrd and Baby Rosemary Byrd.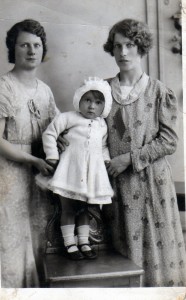 Brothers Tom, Fred and Jim Hill of Edward Street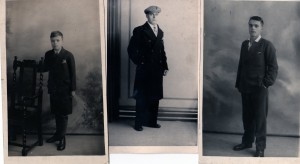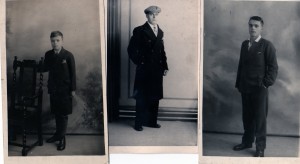 Children of Cilhaul apprx 1930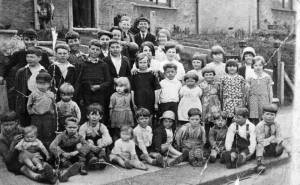 Penn Street lad off to the Navy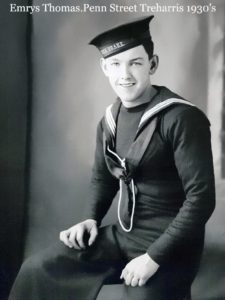 Not sure of occasion on Commercial Street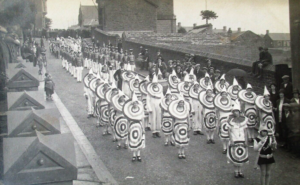 Webster street party royal occasion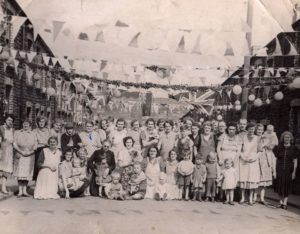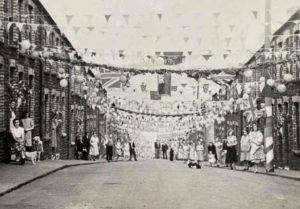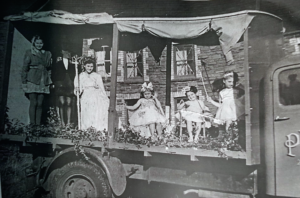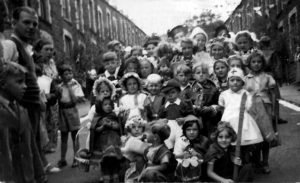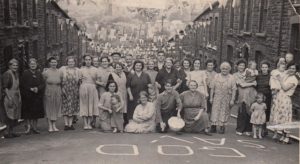 Town Cryer visits Evan street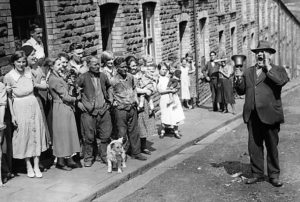 The town cryer is William Garibaldi Williams aka Will Pup, of 10 Evan Street.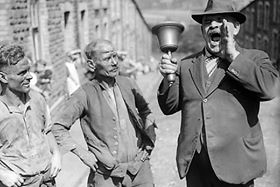 Tommy Yoxall far Left and Mr Hancock from 11 Evan Street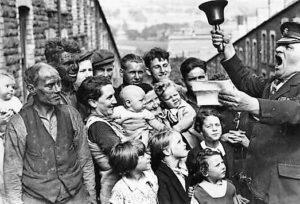 Welcoming the Taff Merthyr striking miners home Cilhaul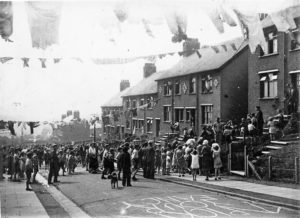 Pritchard Street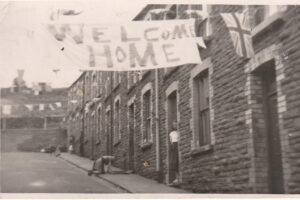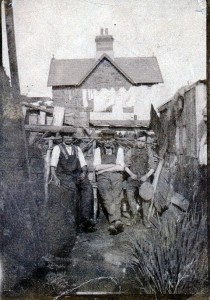 Can anyone tell me where this photos was taken.  I think it could be what was known as the Waterworks House in the background and it was taken from a back garden of a house in Nant Ddu, Cardiff Road. Does anyone know who the people are?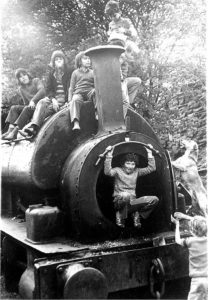 above we see an old engine with Micky Tich, Russell Thomas, joe Hawkins and Philip Lewis (thanks Jill Jenkins)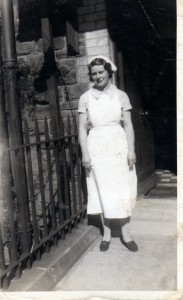 Florence Hill (Edward Street) outside the Truant School where she worked until 1945.  She looked after The Superintendent's children Edward and Christine Edwards.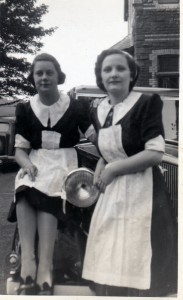 Florence Hill and friend Eileen Breeze at The Truant School, Edwardsville.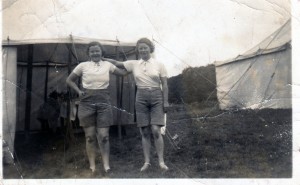 Photos taken from the Commercial hotel Treharris 1908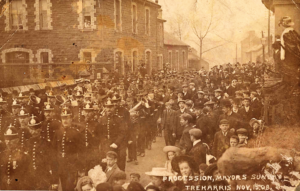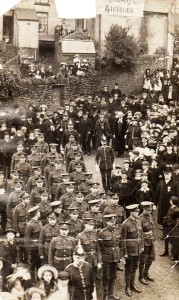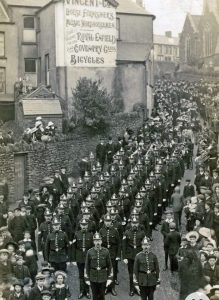 1926 Rally of the Treharris people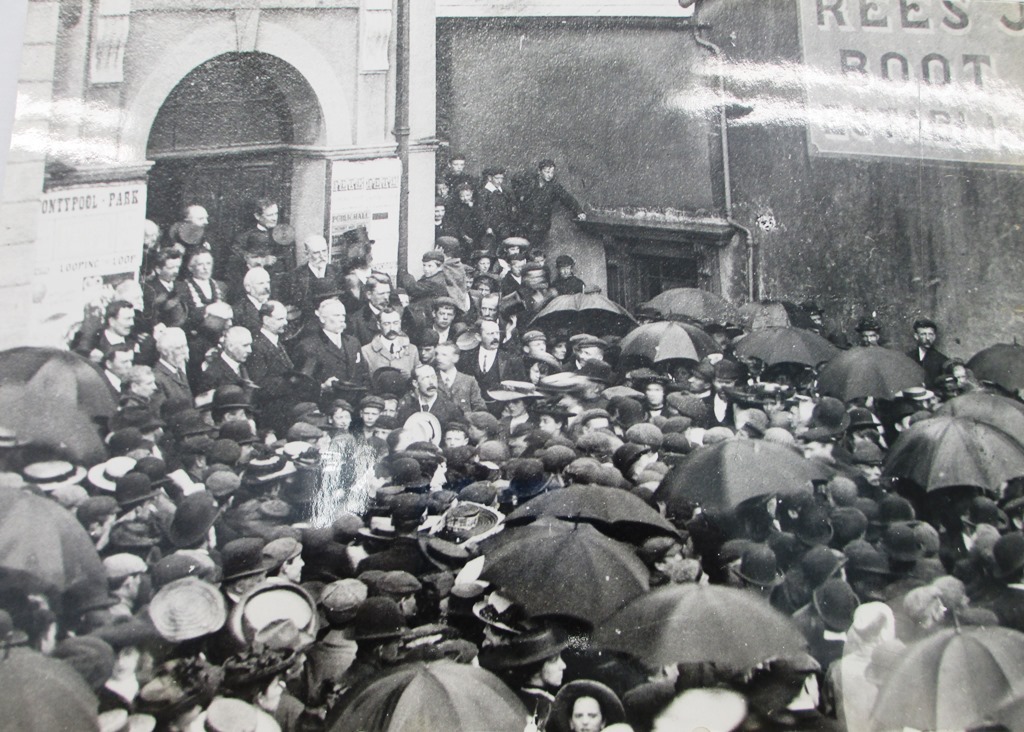 Treharris relief committee 1926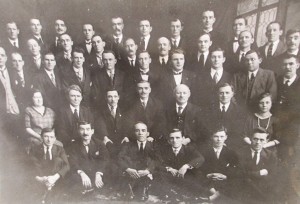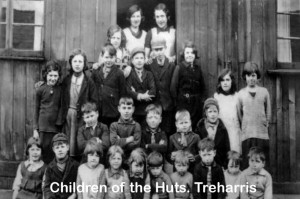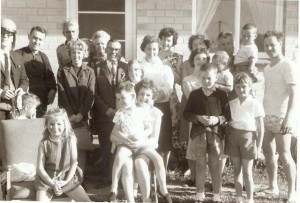 William Phillips took this picture in 1965-66, he wrote the following
The photo I took at the rear of our house (when we use to live in Adelaide) 1965-66. The reason I thought it might be of use for the website is because of five families pictured four are originally from Treharris. 1: My Mother Lena, my wife Pat and two children Susan and Adam. 2: Delwyn Lloyd, his wife May and two children David and Lynda. 3: Malcolm Andrews, his wife Valerie (formerly Tanner, Quakers Yard) and two children Tracy and Neil. 4: Ken Bridges, his wife and two children. (I can't remember their names.) All formerly Treharris residents,(Malcolm, Nelson)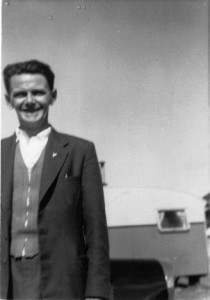 Oswald Ossie Davies (formerly of Cilhaul)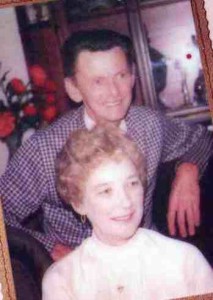 Another photograph of Ozzie with his wife Gwyneth  approx 1982
They lived at 45 and then later, 52 Cilhaul with their three children Ossie, together with his father, used to have a vegetable round (horse & cart) and gave this up in the 1950's,
Oswald worked at Deep Navigation for most of his working life, and was a member of the John Street Conservatives Club
Oswald and his wife followed their children to Australia in 1982.Their youngest sister (Trudy) emigrated to Melbourne, Australia in 1974 and their eldest Linda (Hart)  followed with her family in 1980.Their middle daughter (Rosanne) and her family arrived in 1982, together with Ossie and Gwyneth 
Sadly Ossie passed away in 1986 and Gwyneth in 2000, after enjoying time with their family  in Melbourne.
Their cousin Mairie is married to Bill Corkrey, (who is my grandfathers brother) ,in Adelaide, Australia.  Mairie's mum (Joyce Morgan of Nelson) was Gwyneth's sister.
(Thanks to Linda Hart (Australia) for the photograph and information)
June and Mike Morgan with Deep Navigation power house in background
Peglers/Meadow Treharris Staff outing approx 1970
A night out with the staff of the meadow / Peglers.Treharris
Treharris chamber of trade ladies
My grandfather Edwin Corkrey, dad Jim, me, and my two sons Geraint and baby Peter 1985
Salvation Army at the Webster Street Church 1964 with
Another from 1964 of the Salvation Army at Webster Street
1950's Roger Vowles far left and buddies
Three pool night photos from the Royal , icludes sadly missed Maxi Wiltshire ,Keith Pound and Kevin Carpets.
Delwyn (Bilko) Lloyd from Penn Street. He was a Bingo caller until we emigrated to Australia in 1965. He is front row, dark suit & glasses.
Top right dick Munkley from fell street and it's jack Gethin his brother in law he was from fell street and Mr Warren
Billy Williams
unsure who these lads are
Johny Edmunds of Webster street with the horse
Helen up Webster street
1863-1928
Thanks to Carolyn Jacobs at Merthyr library we have come across some public records of marriages that took place in the Treharris area in a sixty five year period between 1863 and 1928. Hopefully some readers will recognise some old relatives. These are the ones we found but there are many thousands more.
Saint Cynon church, Quakers Yard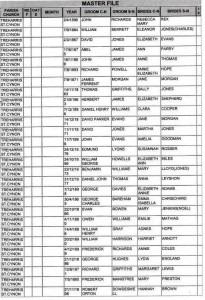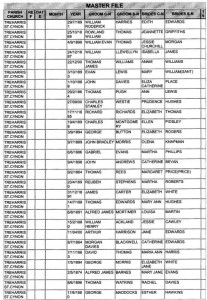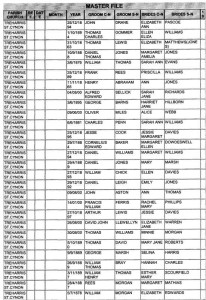 Saint Mathias Treharris and St Cynon, Fiddlers Elbow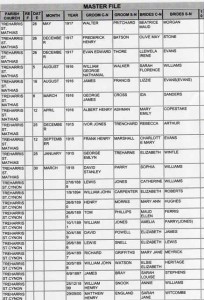 Saint Mathias church Treharris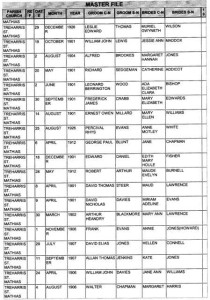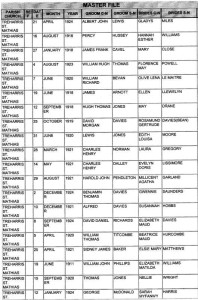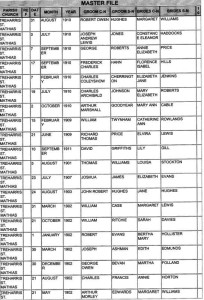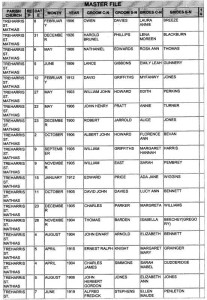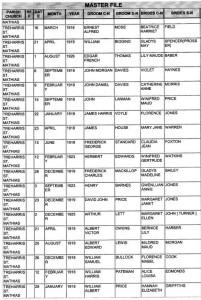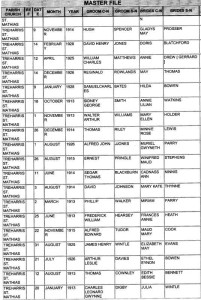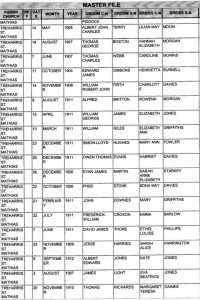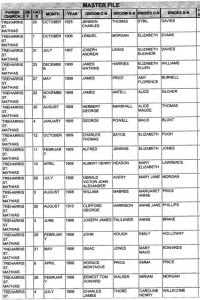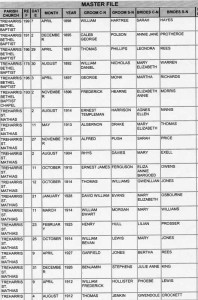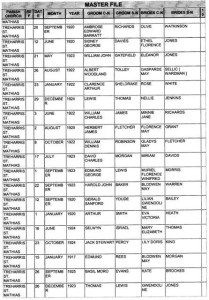 Funerals were obviously also a big part of life in the area and Gaynor Samuels has sent me this story of her relative from all those years ago.