Contents of the Nelson people page
Nelson Home Guard 1943 and 1944 Bob Evans collection
E.A.Evans
Delia Heaton and her sisters
Ray Davies
Nelson Wheelers Cycle club
Danny Morgan
Haelfryn Thomas Lewis…head teacher Llancaiach school
Sir Tasker Watkins
Photographs of People from Nelson…past and present
Robert Brain
Simon Weston O.B.E.
Nelson Home guard LDV (Local defence Volunteers)
The Home Guard (initially "Local Defence Volunteers" or LDV) was a defence organisation of the British Army during the Second World War. Operational from 1940 until 1944, the Home Guard – comprising 1.5 million local volunteers otherwise ineligible for military service, usually owing to age, hence the nickname "Dad's Army" – acted as a secondary defence force, in case of invasion by the forces of Nazi Germany and their allies. The Home Guard guarded the coastal areas of Britain and other important places such as airfields, factories and explosives stores.
However following the successful landings in France and the drive towards Germany by the Allies, the Home Guard were formally stood down on 3 December 1944 and finally disbanded on 31 December 1945.
Thanks to Bob Evans we have some photographs of the local home guard and a memorial programme from the Nelson "Stand down" dinner held at the Royal Oak, December 1944.
Bob wrote…I've attached some photos and documents of the Home Guard in Nelson which you may be interested in.
On the 1943 marching photo my father, Edryd Evans, is on the right of the front rank and my uncle, Gwyn Matthews is behind him in the second rank.
On the 1944 seated photo, my father is second from the left in the front row and my uncle is standing at the end of the second row.
On the Stand Down Dinner my father is 2/Lt D E Evans of No 10 Platoon of C Company.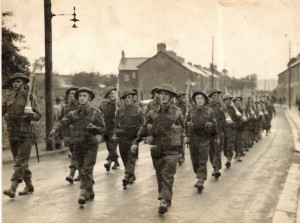 1943 Marching through Nelson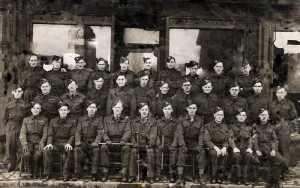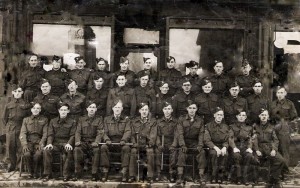 A battalion photograph 1944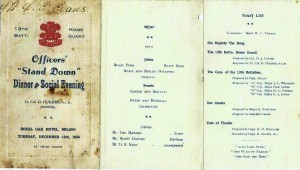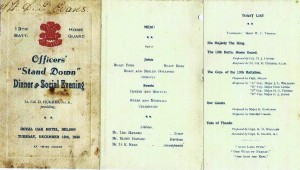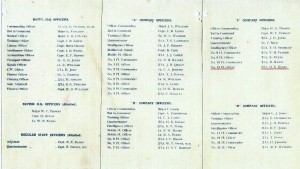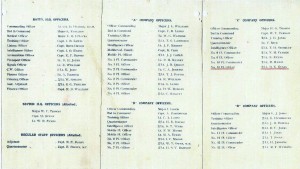 Above we see the programme for the Stand down dinner
Edward Arthur Evans
E. A. Evans wrote a series of small books based mainly around his home of Nelson, where he lived in Shingrig road. He had a fantastic knowledge of the railways in particular but also about the village. Please try to get hold of some his facinating books, possibly from the library and you can really enjoy some great memories of our district. Thank you for writing these books Edward.
Rails to Nelson 1988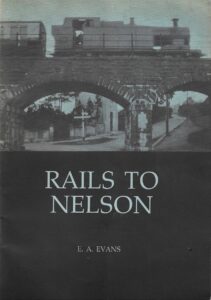 Nelson and Llancaiach GWR 1988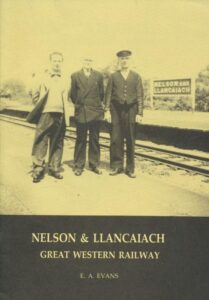 Nelson yesteryear 1989
Forgotten Nelson 1990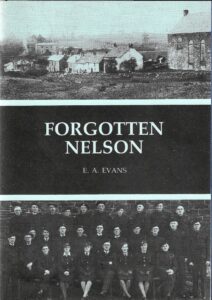 Nelson Nostalgia 1994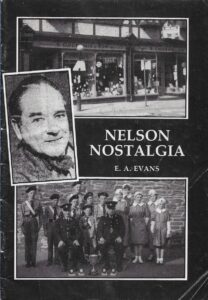 Three Viaducts 1994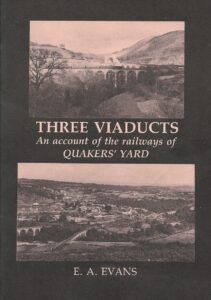 Old Nelson 1999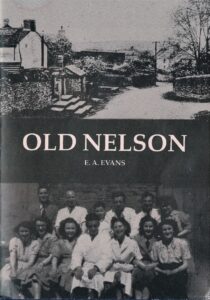 Delia Heaton and her sisters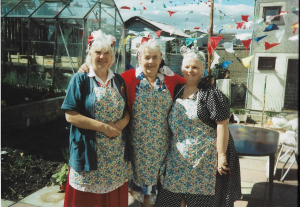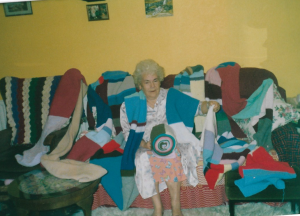 Rhoda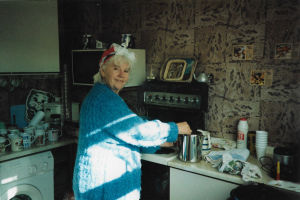 Delia lives in Bryncelyn close to the Community centre and she lent me a lot of photographs, mainly of carnivals and events in Nelson, which can be seen on the site. She also told me about her sisters, who are sadly no longer with us, and the knitting they did which went on to help so many people.
Elsie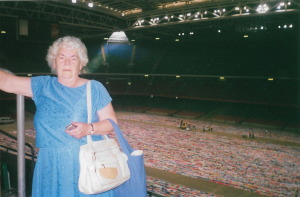 Including when they knitted many scarves to add to the collection at the National stadium that raised so much money for TY Hafan and the scarves were later donated to the homeless. Its great to see our local community involved in these fantastic charitable activities, well done girls.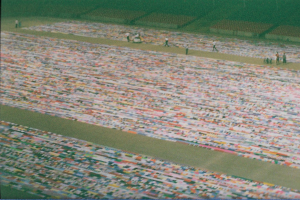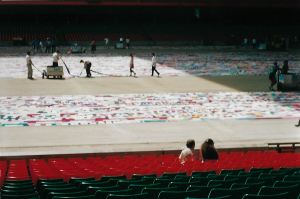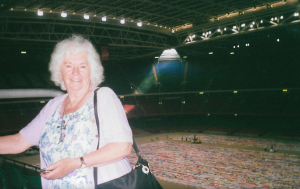 Ray Davies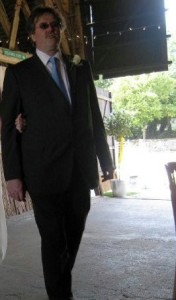 Ray has been helping me with the website and sending me snippets of times gone by in Nelson where he was born in the 1950's. Here is a little bit about Ray and some of the people he remembers from his youth living in Nelson.
Ray lived in rooms at 8 Wern Crescent opposite the Balfour, then 5 Station Road opposite the Police Station when he was a baby, and finally 26 Heol Pantycelyn in the mid fifties (which were detached bungalows I'll have you know)! Or the Prefabs to the rest of us, now the Trafalgar park estate.
Ray moved to a brand new semi at 3 Coed yr Haf in Brynmynach(opposite Tredomen) in the late sixties, although he was probably closer to Pengam, he continued to commute to Pontypridd Grammar until 1969. By the way, he was in school with Colin Brain, Bobby's older brother. Ray also recalls Simon Weston sitting on his Gran's front step opposite the Queen of Hearts (Cosy Cinema as it was) in the early sixties. The double fronted cottage on the left in one of your photos.
Ray was also in school with his twin aunties Terry & Pam Swattridge who together with sister Judith shared the same birth date. Simon later moved to Llwyn yr Eos.
Ray had many friends and acquaintances in Nelson stayed constant from junior school until he left in 1969. Here are some of the names he can remember…
Bob Rees(Odj) who now lives in Cardiff. Howard Evans(Howsh) who lives in Long Row. John Davies, Phil Davies(Tich) and Bobby Davies. Alan & Terry Fear.
Tim Arnold, Neil Arnold. Russell Hughes. Brynmor Morgan. Ken Cuthew. Peter Meyrick. Alan Voysey. Brian Polson. Wayne Finnemore. Ron & Ken Stephens. Vivian Vickery.
Martin Richards. Iorwerth Lloyd (Yorkshire) Gary Lloyd (Gakker) Gerald Richards(Cliff)
Malcolm Sims (Tinny) Norman Johnson ,Peter Brown, Peter Butcher, Paul Swales
John Matthews ,Graham Burnett, Michael Madison, Roger Hall, Gordon Jones
Andrew Evans Chris Bax, Paul Naldrett (Nobby) Andrew Farrow, Alan Candy
Pat Williams, Larry Richards Victor Crumb Ron Powell, Howard Lewis ,Alan Bridges
Alan Thomas (Tig), Peter Lewis, Jimmy Amos, Phillip Bryant
Jim O'Donnell (now living in Maidstone but formally of The Scottish Estate and Bedlinog School)
Gary Berezinski and Malcolm Bieleski
No longer with us…..
Graham Price. Ray Phillips(Mender), Gary Gwinnett, Kerry Thomas. Wayne Kite.and Andrew Portlock (Porky)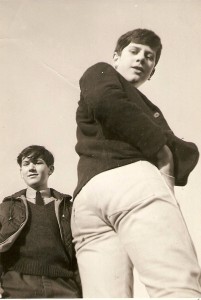 Howard Evans and John Mathews near the prefabs
Below we see a photograph of Rays' mothers National Identity card (there's a novel idea) when she lived with her aunty next door to Hughes the butcher, dated 1949.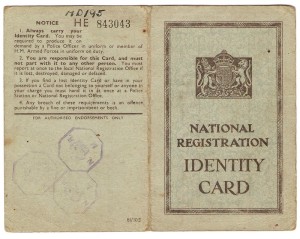 Below is a photo of Ray in the mid fifties in the Park, you can see the tower of St John's church in the background; this was before the new estate was built.
The boggy field behind had lots of newts and frogs ( a case for re-housing these days).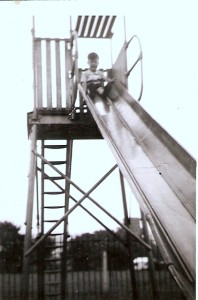 Ray recalls…
"The slide was also the site of Dai Lucas'(bookie) head dive, ask his sister Heather, as I'm sure she was there at the time.
We didn't have a witches hat in the playground, but the lullaby was always the favourite.
I've never seen another like it. Wick steeds were the makers, from Kettering.
The last time I had to buy in some playground equipment in Surrey, the British Company imported them from France!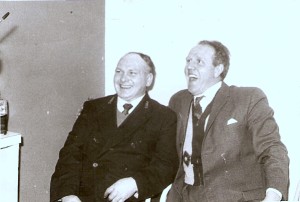 Rays' dad Charlie on the right of this picture( anyone know who the other chap was?)
Ray continues…I never had time for sport as I was out climbing trees on the patch of grass with the "green thing" on it.
We sometimes had a rope swing especially in the summer, and made house shapes with the mown grass.
The winter was probably the best as we could sit on tea trays and slide down the hill(which is still there) on the estate.
We also used single roller skates with an annual to sit on, and skated down the pavement.
Tickled trout in Sionies' pond, and caught bullheads and minnows in the brook down the welfare.
In the summer holidays we would walk up the mountain and spend the day building dams and swimming, stopping only to drink the bottle of tap water and jam sandwiches.
The best pool was below the bridge near Mill Cottage.
We watched the older boys picking wimberries with their girlfriends, but they were very lazy as they were always lying down!
We would watch the skylarks hovering, listen for pewits, and watch buzzards soaring.
We were spoiled for choice down the welfare, as we could go egging in the bushes, climb trees, paddle in the pool, watch football, watch bowls and tennis, play on the swings, all of which cost nothing.
The more adventurous boys would venture into the quarry and spot exotic birds like magpies, jays and cuckoos.
Some had shotguns and would help feed their family with rabbits, pheasant and partridge.
A few kept ferrets for hunting.
There was never enough time in the day to do everything."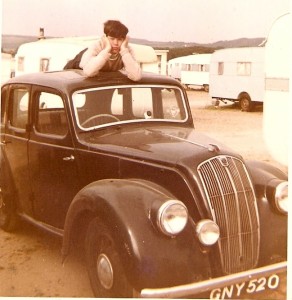 Ray on top of his dad's old Morris on a trip to the caravans at Porthcawl
Finally, after going to Art college in Maidstone in 1969 Ray has lived for the past 40 years in Kent.
When he was an Art Student, on his return home between terms, he occasionally played darts for the Tylers Arms and sometimes ventured over to The Ffald when Ann Cuthew was landlady. He was also on the Rugby Club Committee in the early 90s when he stayed with his Dad, and played Darts for them.
He is currently living in Folkestone, and although looking for work in the South East, He sometimes wonders whether he should try commuting to France, but whatever road Ray takes he will always remember the good times living in Nelson.
Below is a photograph which most people will recognise, taken from his Caerphilly Council Security pass in 1970 when he had a summer job working on the parks, his Dad was a dust lorry driver at the time.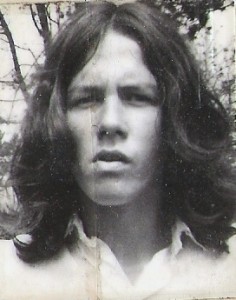 Ray in his late teens  
Some tales that Ray remembers from that time are below
"I will always remember the Saturday morning opening up Llanbradach Park, when a young lad came running up to tell me there was a dead body.
When I got to the park bench I found an elderly lady holding an elderly gentleman's hand, with a dog sitting at his feet.
"He's gone" she said quietly, "Stone cold"
Not having any first aid experience, I ran to the swimming pool and dragged one of the lifeguards out.
When I returned the police had arrived-I don't know what I thought the lifeguard could do in the circumstances.
The following week, Jackie Madison(I was in school with his nephew Michael Madison from Bryncelyn) had to explain why he wasn't on duty that morning, as I had been covering his shift"
Making bets with mates
Between the back lane to the bakers off the square and the old fish & chip shop used to be an external timber staircase which led up to Ira the barber's shop. You could have any style you wanted as long as it would fit under a pudding bowl! The fringe was always cut from forehead to jaw in order for a quiff to easily form when combed back.
When the Italian Barber arrived opposite the Cosy Cinema, you could have any hairstyle as long as it was an actor in Hollywood, and there was a black and white photo on the wall to point it out.
Of course the Teddy Boys were always leading one another on.
Wrestling with Kent Walton was on the telly and Billy Two Rivers was a favourite.
So one day Gary Williams' older brother decided to have a Mohican (long before David Beckham was ever thought of).
When he walked into the Cosy Cinema, all the other Teds had to pay up as he had won the bet!
Over the next few weeks more arrived.
The other wager I remember (before Health and safety and pc brigade were thought of), the same group decided it would be great fun to dive into the settling tank at the sewage farm in Mabon Road. I'm reasonably sure the same guy won the bet, but I suspect he lost a few friends until bath night!
Bobby Davies was another Ted game for a laugh.
Living on a farm, he was familiar with lots of heavy equipment.
So one night after a skin full he decided to drive an excavator through the village.
For some time later, after spending the night in the cells in the police station, he was known as DROT!
Ray sent me this e mail about an outstanding artist who was born near Llanfabon,Mr Dave Thomas… maybe others can tell us more about him
Dave Thomas and his family moved from Cwmheldeg in the 1960s after the hamlet was demolished.
The terraced row was on Welsh news every election time because it was the smallest polling station in Wales.
It stood on the road between Llanfabon and Cilfynydd on the opposite side of the valley to Llechwan Hall.
The Carpenter family also moved around the same time.
Dave attended Pontypridd Grammar and Maidstone Art College before moving to Falmouth in Cornwall to complete his Fine Art Degree.
His brother Dillwyn joined the army, and the family lived in the Bungalows on the right in Station Road.
I last saw him in 1970 when I failed to gain a place in Falmouth.
I was aware that he travelled, and spent some time teaching Art in Milan, before emigrating to Australia.
As you will see on his website he is a brilliant artist, and I hold the dubious honour of criticising a pencil drawing he once produced because I thought it was a photograph!
Bob Rees told me that his brother has passed through Nelson in the past, but I think both parents have now passed on.
Nelson Wheelers cycle club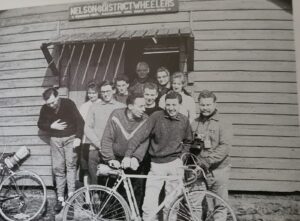 Photos courstesy of Ann Hill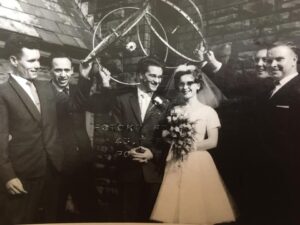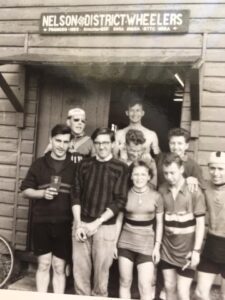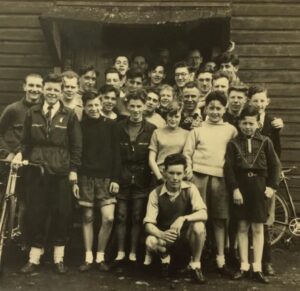 Tony, Ann, and Les Leaman (below)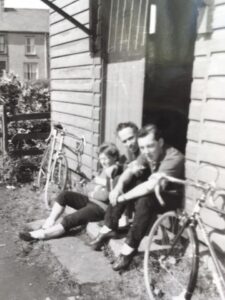 Setting off for a time trial end of Dynevor Terrace Tony Mulcuck waiting his turn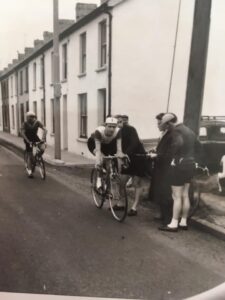 The Nelson Cycling club was very popular after the war and these photos are from approx 1949, sent to me by Brian Beck, infact the first two are him racing on his bike as a child on the then new road from Abercynon to Aberdare, the second one is his wedding day at snowy Llanfabon in 1962 to his now late wife Rita.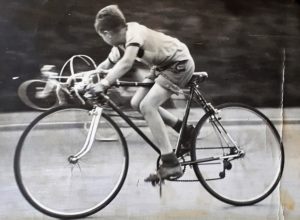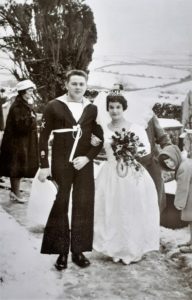 Below a few club members take a break after a long ride down to Llantwit Major
From left. Syd Dowden,Joyce Hall(later Swales) little Brian Beck. Ira Swales (his brother marriedJoyce).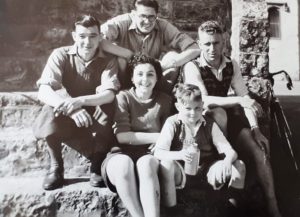 Club house presentation of a cheque towards the club funds
Taken in the club house. In the center with the cheque Tommy Bowen who owned a cycle shop and petrol pump in Dynevor Tce. The smart young man with collar and tie to the left of the table is a young Brian Beck. Also there is Derek Nicholas who later became a  butcher in Treharris and Ceri Hughes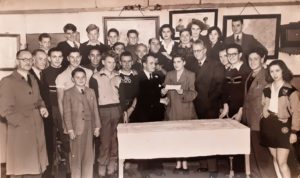 The cup being awarded to Edwardsville cyclist Des Adams
Top L _ R. Eric Arthur _ Trelewis. Bilsha Davies. Tom Jones.Byron Havard .
Bottom L _R  Maisy Denham. next is a local councilor and school master . finally Cliff Beck my uncle and a reprecentative of the NCU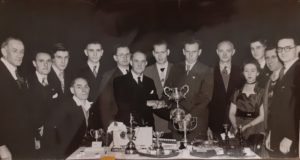 Danny Morgan R.I.P.
A later member of the cycle club went on to represent Wales was Danny Morgan a local butcher at the time,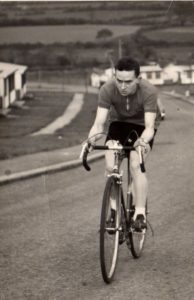 practicing here down the old Pre fabs by Bryncelyn, He sadly passed away October 6th, 2020, aged 86, may he rest in peace. Some photos from his son Counc. Sean Morgan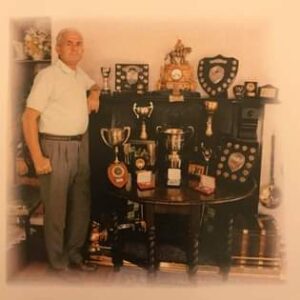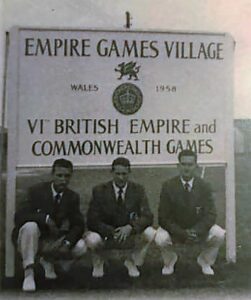 1958 Commonwealth games in Cardiff ,D. M. Morgan came home in 8th place in a time of  5 hours , 19 minutes for the road race, just three minutes behind the English gold medal  winner Ray Booty and 5 seconds behind Bronze medal winner Stuart Slack from the Isle of man.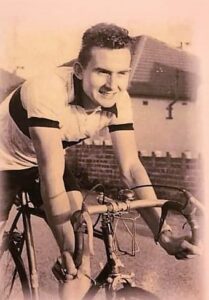 Haelfryn Thomas Lewis, 1901-1979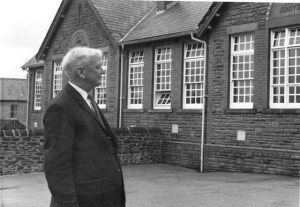 Some of Nelson's 'older' residents will remember Haelfryn Thomas Lewis, the highly-respected teacher and then head-teacher of Llancaiach Primary School in Nelson between 1917 and 1966, and faithful member and elder of Ebenezer (Heol Fawr) Calvinistic Methodist Chapel. Some of Mr Lewis's extended family still live in Nelson: Dwynwen Jones, his niece who lives in Bryncelyn, and Gwynn Lewis, his nephew who lives in Springfield Terrace.
Haelfryn Lewis was born and brought up in Pencarth Farm which was situated on what is now Heol Pont y Seison between Nelson and Ystrad Mynach. He was one of eight children born to William and Catherine (nee Edwards) Lewis.
William's family kept the Tylors Arms public house on Heol Fawr, and Catherine's forebears had lived and farmed in the area for many years after her grandfather had taken the lease on Blaengwawr Farm , the remains of which can still be seen on farmland near the mountain road to Senghenydd. Catherine's father moved his family from Blaengwawr to the land where Pencarth once stood, transferring the lease to his daughter and her husband when he died. Catherine's and William's children recall their upbringing at Pencarth with much fondness, as do their two living grandchildren, Dwynwen and Gwynn, who spent many happy hours there with their fathers.
Haelfryn, being the youngest of the seven surviving children, was able to sit his Scholarship (Eleven Plus) exam at the age of 11 and, having passed the exam, went on to Pontypridd Grammar School where he excelled in all his studies and where he was motivated to learn the Welsh language which his brothers and sister did not speak , thanks to the 'Welsh Not' rule under which their parents and grandparents had been educated. Haelfryn's ambition was to become a school-teacher but he was refused entry to the teacher training college in Barry on health grounds. Undaunted (and totally unfazed by the suggestion that his health was poor!), Haelfryn applied for a post as a pupil-teacher at his old elementary (primary) school in Nelson , the school that has become Llancaiach Primary School. Haelfryn was appointed aged 16-17 to the post, and went on to study in his 'spare' time to become a fully-qualified teacher. So much for poor health! In later years, Haelfryn became the head-teacher of the same school until his retirement from that post in 1966. So Haelfryn worked at Llancaiach as pupil-teacher, teacher and head-teacher from 1918 to 1966. That is a total of 48 years in the same post teaching generation after generation of the children of Nelson.
Haelfryn's three children recall several occasions where there was a knock at the door of their house 'Eryl', Efail Shingrig. There would be a stranger standing on the threshold, often accompanied by his family. 'Is Mr Lewis at home?' would be the question every time. The stranger would invariably be a past pupil of Haelfryn's who had returned to Nelson, often from the family's new home in the States or some other far-off land. Haelfryn, when called, would instantly recall the past-pupil's name and would invite them into the house. There would then be a long chat about the happy days that stranger had spent at Llancaiach School and much praise of the education and support they had been given by Mr Lewis as their teacher and headmaster. He was well-loved by many of his past-pupils.
Haelfryn became a deacon at Heol Fawr Chapel in 1934, and chapel secretary a year later. He attended the chapel regularly throughout his life , almost to the day of his death in February 1979 , and taught generations of children in the Sunday school at Heol Fawr. He also served faithfully for many years as the secretary and statistician of various district and presbytery committees that looked after the circle of Calvinistic Methodist chapels in Glamorgan.
Since his retirement from Llancaiach Primary School in 1966, many generations of Nelson children have been taught there, and many recall their teachers with much fondness and respect. But their parents or grandparents might also remember a teacher of an earlier generation with just as much love and respect.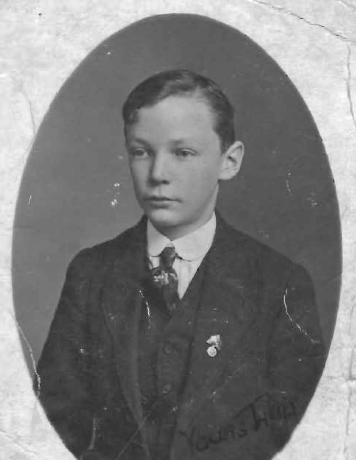 Haelfryn….aged 16
Sir Tasker Watkins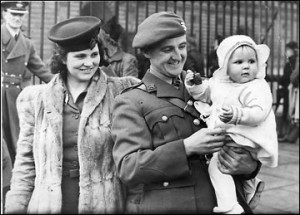 Sir Tasker Watkins November 1918-September 2007
Sir Tasker Watkins is probably the most famous person to have been born in our district; he was certainly one of the bravest, winning the Victoria Cross during the Second World War. He was a man that we can all take pride in, a valley boy who achieved so much during a very eventful life.
Tasker Watkins, the son of a mining engineer, was born in Nelson, Glamorgan, in 1918. He never lost his allegiance to South Wales, which was his principal home throughout his life. After early years at Pontypridd County School, he spent a brief period with his family in Essex before the Second World War and was studying to become a commercial attach when he enlisted on the outbreak of war.
When World War II broke out, Sir Tasker joined The Welsh Regiment and was appointed lieutenant in the 1/5th battalion. His actions at the Battle of the Falaise Gap in August, 1944, won him the Victoria Cross for leading a one-man assault on a German machine gun post.
The first Welshman to receive the award in the World War II, Sir Tasker's citation reads: "His superb leadership not only saved his men, but decisively influenced the course of the battle." Sir Tasker was promoted to Major, but was wounded in action in Holland on October 27 and sent back to England.
Below we have a programme from an event in Nelson to honour Sir Tasker ( Courtesy of Bob Evans)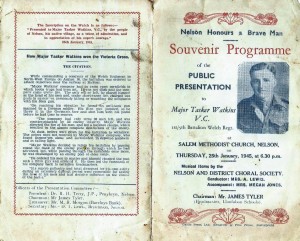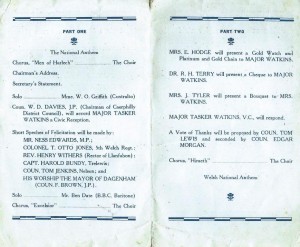 With his Army days over, Sir Tasker decided to embark on a legal career. In 1948, he was called to the bar and became a barrister at the Middle Temple. He was appointed Queen's Counsel in 1965, assisting Attorney-General Sir Elwyn Jones on the Aberfan disaster tribunal the following year.
Between 1962 and 1971, Sir Tasker was deputy chairman of Radnorshire Quarter Sessions and then Carmarthenshire Quarter Sessions. He was also Recorder of Merthyr Tydfil and later Swansea until 1971. Sir Tasker was called to the bench in 1970 and became Leader of the Wales and Chester Circuit.
He received his Knighthood in 1971 and served as Judge of the High Court of Justice, Family Division, until 1974. He then moved to the Queen's Bench Division, where he remained for six years.
Sir Tasker was promoted to Presiding Judge of the Wales and Chester Circuit in 1975 and in 1983 was appointed senior Presiding Judge for England and Wales to the Court of Appeal. He stayed in this post for eight years, eventually becoming deputy Lord Chief Justice.
Rugby Union was always a great passion of Sir Tasker and one of his proudest achievements was being appointed president of the Welsh Rugby Union in 1993. Sir Tasker was also a talented and passionate Rugby Union player, representing the Army, Cardiff RFC and Glamorgan Wanderers as an outside-half. He was president of the Welsh Rugby Union between 1993 and 2004, making him the second longest serving president in the WRU's 123-year history. He was appointed honorary life vice patron.
From 1987 to 1998, Sir Tasker was also the president of the University Of Wales College Of Medicine. But his longest presidency was with the British Legion in Wales, where he stayed from 1947 until 1968.
Sir Tasker died at the University Hospital of Wales in Cardiff on 9 September, 2007, a few weeks after a fall at his home in Llandaff. He is survived by his wife of 66 years, Eirwen Evans, and their daughter. He had lost his son in 1982
How Sir Tasker won his Victoria Cross
Lieutenant, 1/5th Bn.
The Welch Regiment, British Army Campaign World War II
Age 26
Deed
On 16 August 1944 at Barfour, Normandy, France, Lieutenant Watkins' company came under murderous machine-gun fire while advancing through corn fields set with booby traps. The only officer left, Lieutenant Watkins led a bayonet charge with his 30 remaining men against 50 enemy infantry, practically wiping them out. Finally, at dusk, separated from the rest of the battalion, he ordered his men to scatter and after he had personally charged and silenced an enemy machine-gun post, he brought them back to safety. His superb leadership not only saved his men, but decisively influenced the course of the battle.
Later honours
He achieved rank of Major.
Sir Tasker Watkins.
Knight Grand Cross (GBE)
Statue to be erected to honour Sir Tasker Watkins…story written Apr 23 2009 by Steffan Rhys, South Wales Echo
A MODEL of the statue that is to permanently honour "one of the finest Welshmen of the 20th century" was seen for the first time yesterday.
The 3ft clay statuette of war hero and high-ranking judge Sir Tasker Watkins was crafted by world-renowned sculptor Roger Andrews at his home studio in Llantwit Major.
Unveiling his creation, Mr. Andrews said: "If I never completed another work, I am certain this is the one sculpture I passionately wanted to create."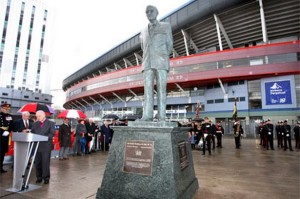 The completed statue
The model, which features the late Sir Tasker in his familiar leaning stance with his hands behind his back, will now be turned into a 9ft, one-tonne bronze statue which will stand on a 5ft plinth outside the Millennium's Stadium's entrance in Westgate Street from November.
The man behind the project, entrepreneur Stan Thomas, who formed Thomas Pies in Merthyr in the 1950s, said generations of visitors to the stadium would now learn about Sir Tasker and his achievements.
Sir Tasker, who was born in Nelson, Caerphilly, was awarded the Victoria Cross in 1945 for bravery in World War II and was president of the Welsh Rugby Union for 11 years until 2004.
During his lifetime, he was also Deputy Chief Justice of England and Wales and was awarded the freedom of the city of Cardiff in 2006.
When he died in September 2007, aged 88, First Minister Rhodri Morgan called him "one of the finest Welshmen of the 20th century".
Yesterday, Mr. Thomas, who knew Sir Tasker for 30 years, said: "As a man, Sir Tasker was short in stature but huge in personality.
"Very often we would gather in the County Club [on Westgate Street] and Sir Tasker would join us looking very solemn before coming out with such humour and stories  and that was the essence of the man."
There were contributions of £25,000 each from the WRU, Cardiff council and the Assembly Government for a permanent statue.
Mr. Andrews submitted his proposal to WRU president Dennis Gethin last August, after it had been approved by Sir Tasker's daughter Mair, who will give the statue the final go-ahead when she sees the model.
She was not at the unveiling yesterday.
Mr. Andrews, 60, a former engineer and property developer who has been sculpting professionally for 16 years, said: "It will be great to see my work at the stadium.
"My son told me one day he will be able to take his children there and tell them their grandfather did it.
"This is by far the most thrilling project I have ever been involved in."
Photographs of Nelson people
This part of the site is dedicated to photographs of people who live or have lived in the village of Nelson or Llanfabon.
Pride of place has to go to the first picture,John Charles the Welsh football legend at a wedding in the 1950's. The Nelson men pictured were all friends of John.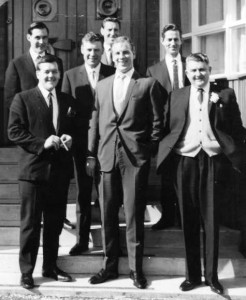 Front row left Renato Spinetti, John Charles. Maynard Morgan.
Middle of picture is Glyn Potter and to the middle right Gilbert Morgan we are unsure of the other two men at the back.
My Uncle Gilbert Morgan enjoying a pint in the Nelson Inn late 1960's?
 Ceri,Gary Tich,Towny,and John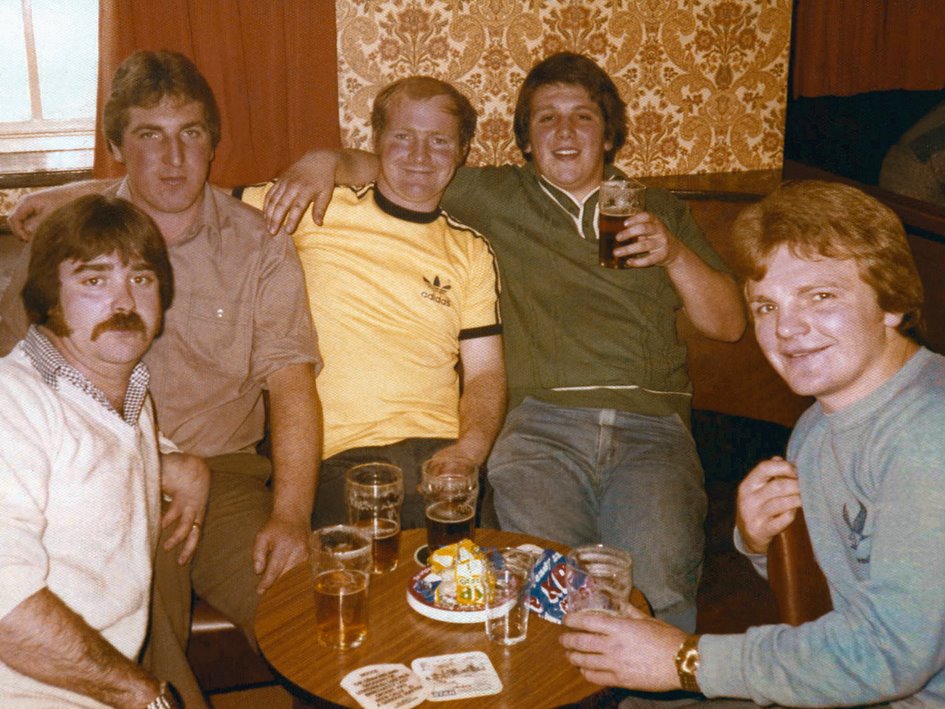 Kerry Jumbo Jones my good friend (R.I.P. 7.7.21)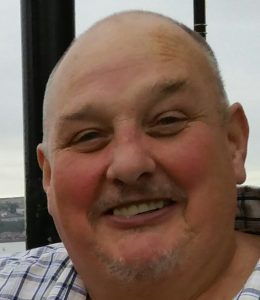 Another photograph thanks to Jeremy Swattridge from 1939, His mum infront of the car with the cosy cinema and the Institute in the background.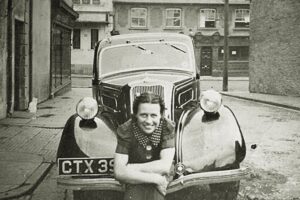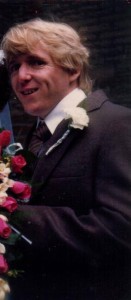 Brynly Dobson, a proper Character sadly no longer with us
Below we see Donald street we think its the Investiture celebrations ( photos thanks to Helen Trigger)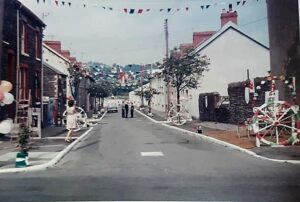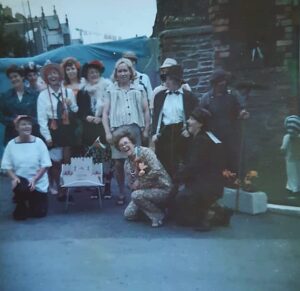 Pram race RFC charity day (Lynda Mathews in the pram)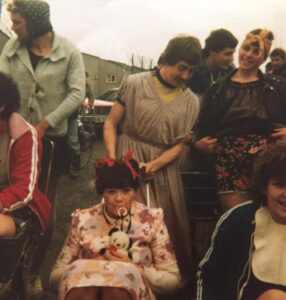 The Jones family at the rear of Ael-y-Bryn, High Street in 1963. Margaret, Lillian, John, Russell and Philip.(photo thanks to Philip E Jones)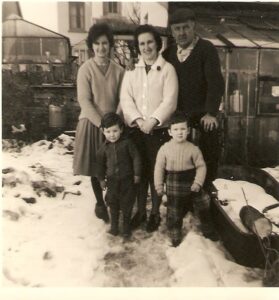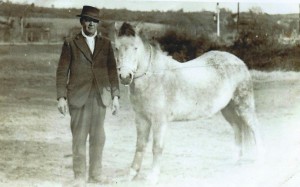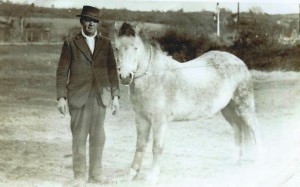 Above we see a photo of  Emlyn Pearce Bob Evans sent me the photo and wrote…
"One of my memories of Nelson in the early 50's is of a bakery in the lane behind nos 39 to 53 Shingrig Road. My father was a good friend of the baker, Emlyn Pearce, who lived in one of those houses.
Emlyn delivered in the village by horse and cart and I have attached a photo of Emlyn with his horse."
I haven't been able to find any historical information about the bakery, but this photo may stir a few brain cells amongst other visitors to your site and provide a research project for someone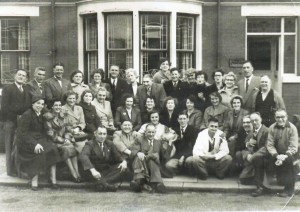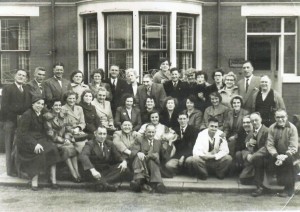 Above we see a photograph courtesy of Bob Evans..
 he wrote…"photo of a group from the Balfour Club in Nelson on a visit to the Blackpool Illuminations in about 1953.
My father, Edryd Evans, is at the very left hand end of the standing men and my mother Betty Evans, nee Williams, is the third from the left of the seated ladies."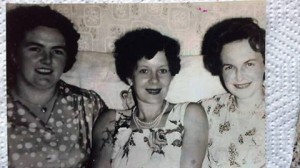 Shirley Adams,Audrey Harris,…??
Nelson Brownies 1970's ( Sian Miles)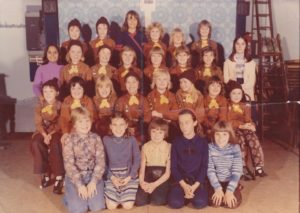 Helen & Claire Gwinnett, Michelle Green, Gail Jenkins, Penelope & Amanda Williams, Debra Hall, Suzanne Halliday, Elizabeth Baldwin, Tracey Barton,
Kids lining up to see TV in Llanfabon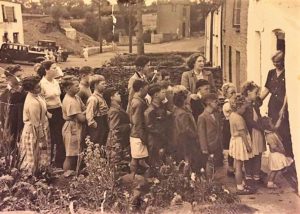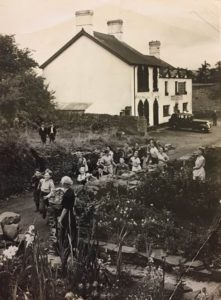 Nelson young men 1984
Chris Jones (Biscuit)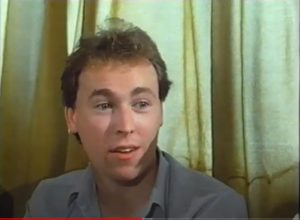 Gerald Boucher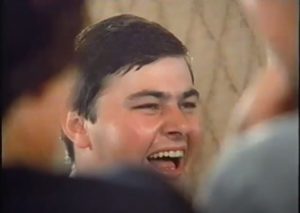 Robert Malloy (Molly) with Kevin Stankiewicz and Malcolm Nicholas in background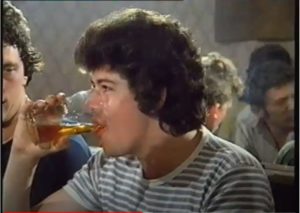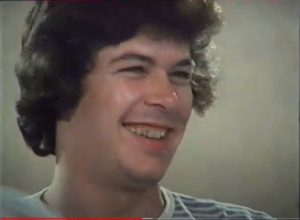 Bobby Brain and John Badham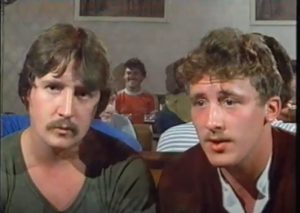 Lyn Morgan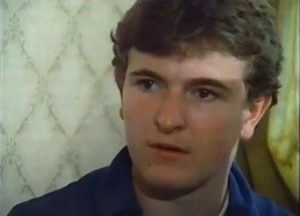 David Nixon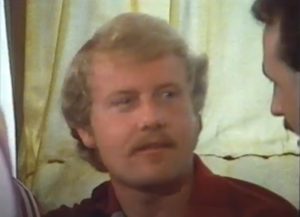 Nelson social club lads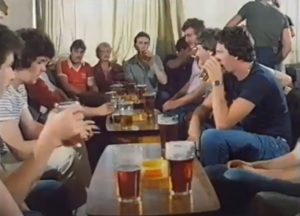 Mark Meredith (Honk)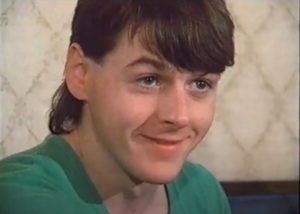 John Melly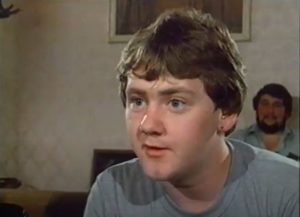 Dai Andrews Nelson RFC Disco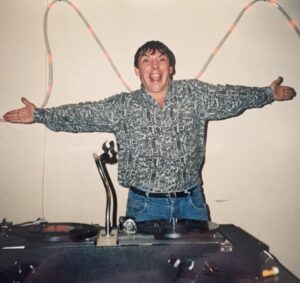 1974 Nelson RFC clubman of the year (photo Cyril Hank Jones)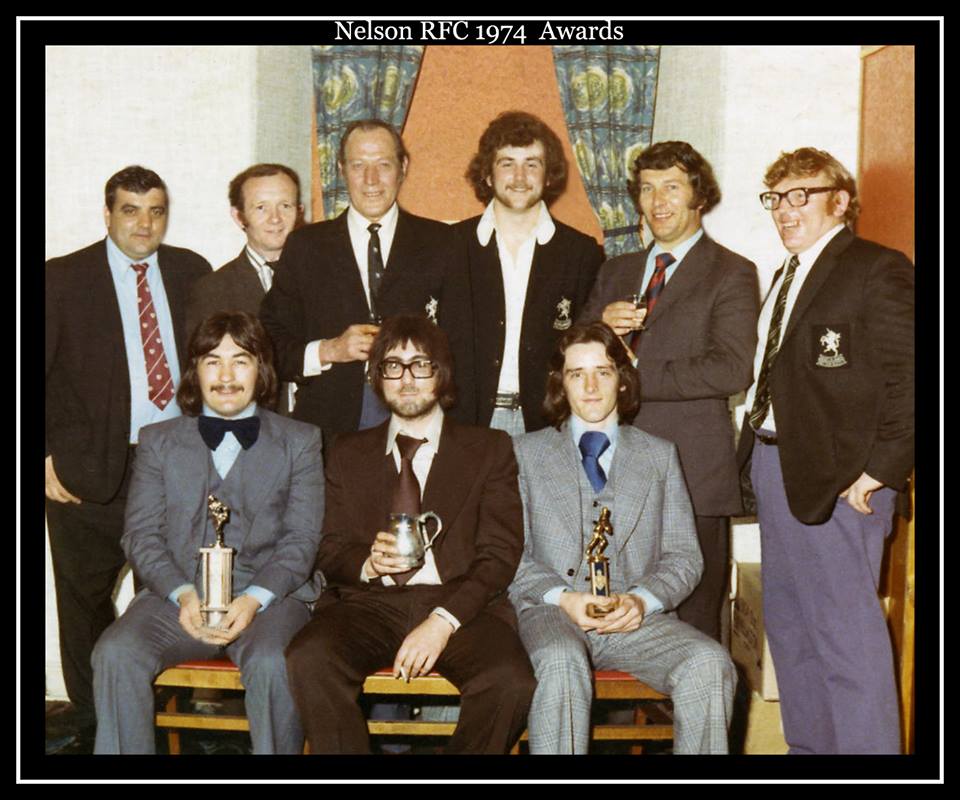 Standing,Billy Darkie.Clem Watkins.Les (Jamie)James.Steve Jones. John Dawes. Ronnie Roberts (Dai Twm).
Sitting..Alan (Chico) Hopkins.Cyril Henry Jones (Hank).Michael Toner
Nelson Buffs club members 100 years ago on the Handball court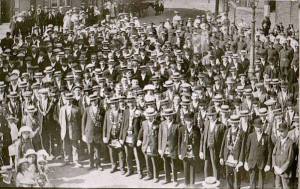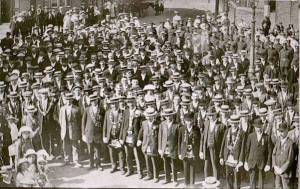 Danny Morgan and Friends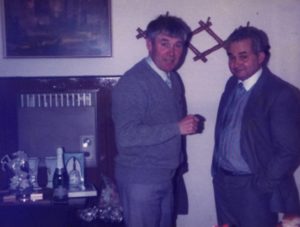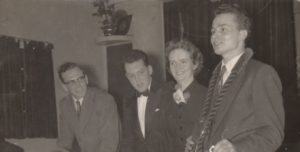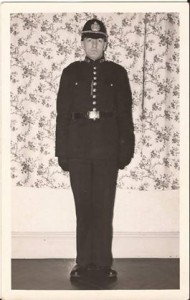 Pc Coleman a Nelson Policeman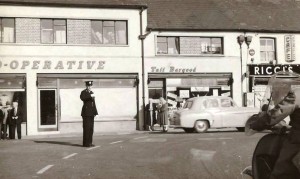 The Pantycelyn gang standing behind Bryncelyn in 1955
Left to right
Ray Davies, Malcolm Davis, Lynnette Rees, Bob Rees(Odj)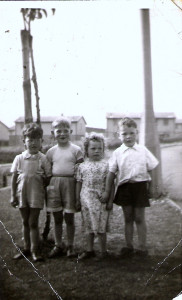 Richard Nabbers Ashley and mates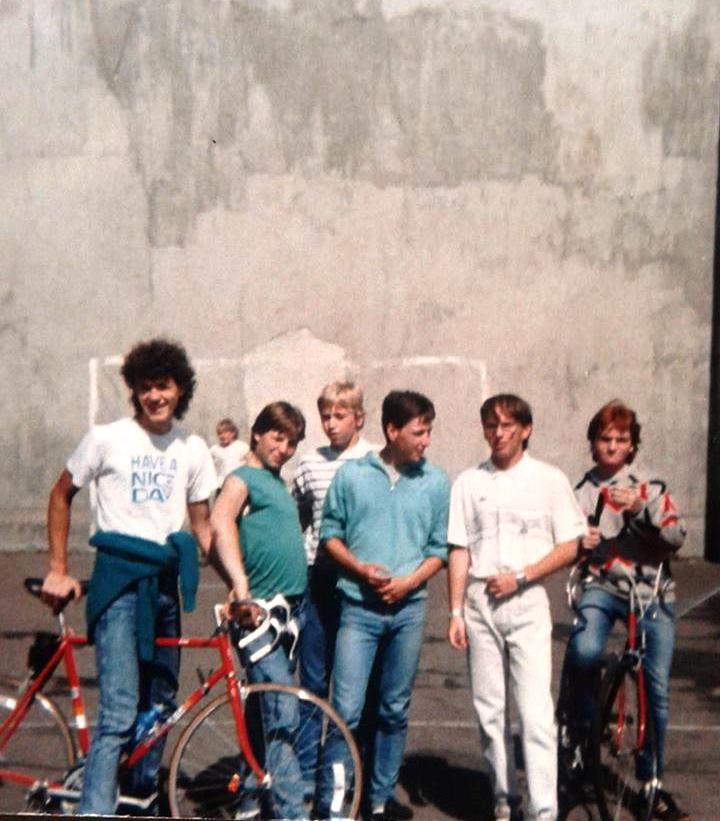 Paul Harris, Fagotts ,Codgey and Mike Bowen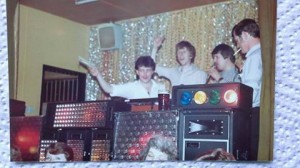 Lyndsey Rees's wedding,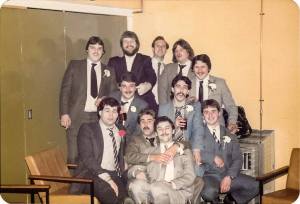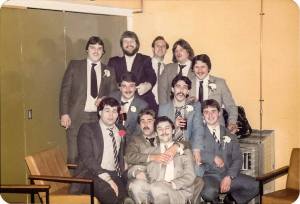 From the top left, Gary Selmar, Raymond Pound, Mike Maddison, Gary Phillips, David Hibberd, Phillip Jones, Bobbie Brain, Hugh Williams, Steve Carpenter, Lyndsey, Steve Cowles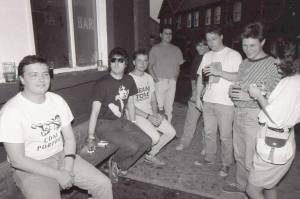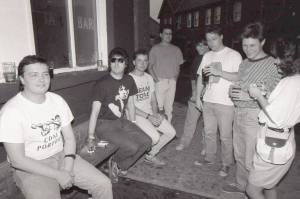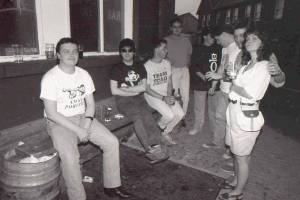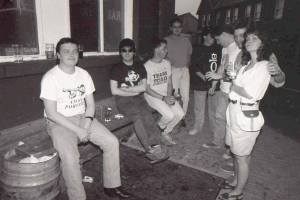 Above we see some people outside the Oak they include Peter Allford and Steve Evans, Peter Reid, Dewi Griffiths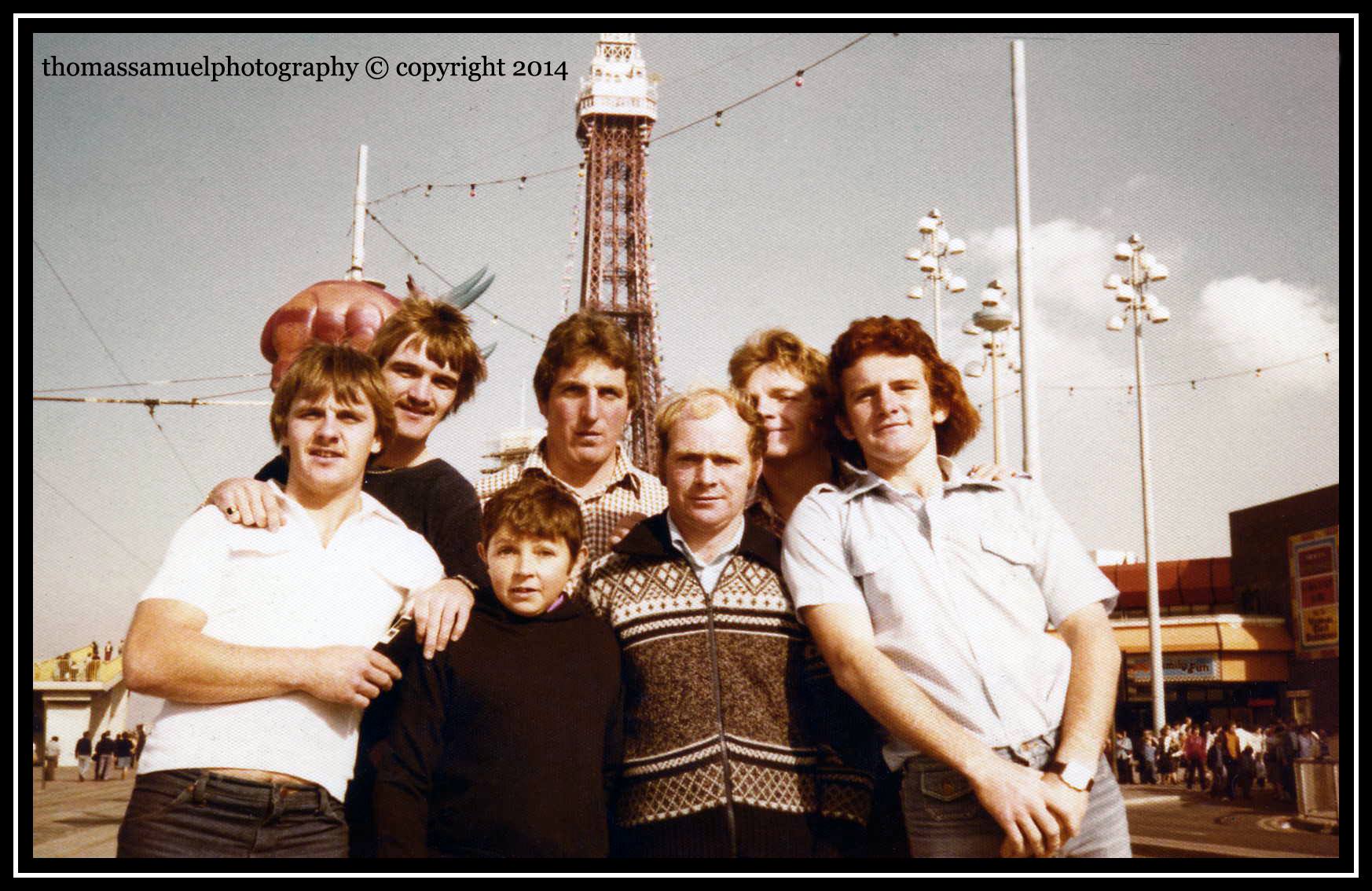 Gary Berezinski and Bernard Toner amongst their mates in this 1980's photograph taken by Hank.(Thomassamuel photography Nelson)
Nelson Boys club some photos thanks to Daz Middleton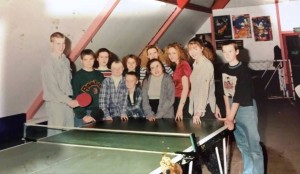 Alun Radcliffe and friends at Nelson boys club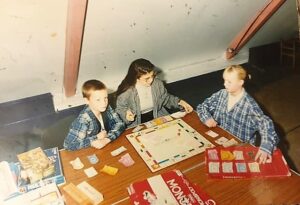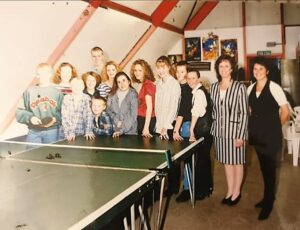 Dai Moon Gary brownboots and friends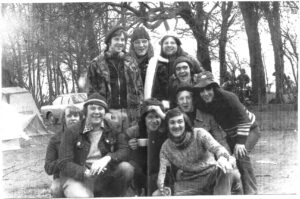 A very young Steven Carpenter taken by the nelson Prefabs (approx1965)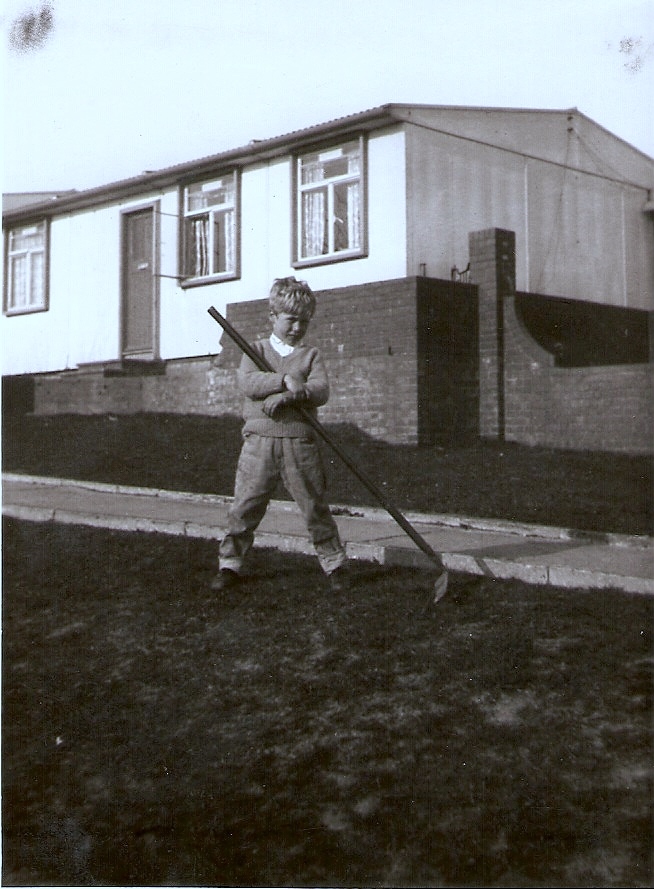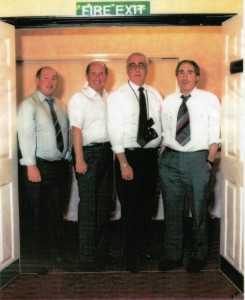 The Jones Brothers Hank, Martyn (Fred) Brian and Terry (TJ)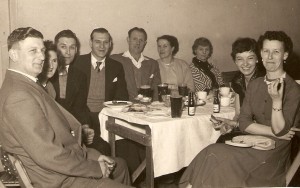 A drinking session with left to right Sid Crumb, Mrs Matthews, Bryn Matthews, Bob Davis(moved to Merthyr), Charlie Davies, Dilys Davies, unknown woman in background, Mrs Crumb, Enid Davis.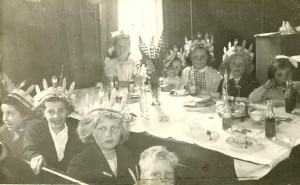 This picture  was taken in the small chapel (more a hut really at the bottom of Springfield Terrace (actually on the side called Caerphilly Road). All the children were from Nelson Gillian Shelton, Julian Williams, Myself( Janet Palmer now Gray) were from Springfield Terrace so was the girl with dark hair opposite me I think this was Gareth Evans' sister Anne? 
 The other children were from the Davies family who lived on the farm just outside Nelson i.e. Gillian, Jean and its either Bobby or John Davies. .  All the children went to Llancaiach School in 1954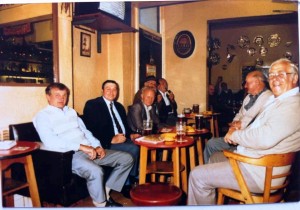 Members of the Tylers Arms Pigeon club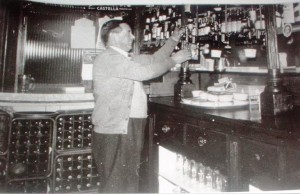 Dynevor Landlord Fred Allen 1955 approx.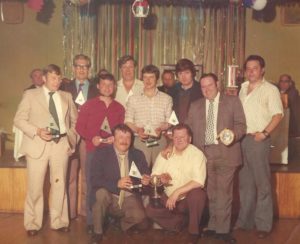 Nelson Darts team from 1977
Lyn carlick , Bryn Astley. 2nd row, L to R. Derrick ?, Michael Bias, Pat Donahue,Ray Davies. back row, Smacker Owen, Archie Clarke, Bobby Elis, Tony Morgan.
Below we see Edward Miles with his daughter Sian Station Tce.( who supplied the photo)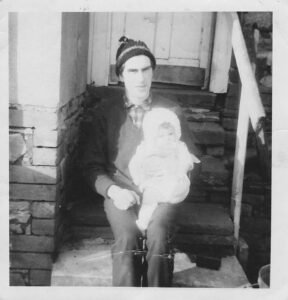 Terry Harris and mates Donald street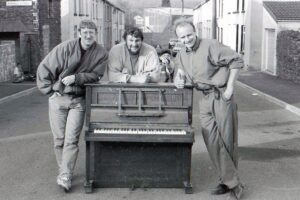 Robert Brain M.B.E.
Robert Brain, an unsung hero of Nelson.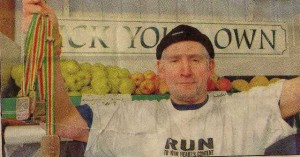 Bob in 2006 preparing for his 10th London Marathon, showing some of the medals from the previous nine.
Robert was born in Nelson, in the old prefabs, that were once below Bryncelyn. From there Robert moved with his family to the new Laing houses at Lan y Parc.
He attended school in the village and passed the eleven plus examination to progress to the Lewis boy's grammar school in Pengam. Bob showed a keen interest in running at school and played rugby but generally liked all sports.
After leaving school, Bob liked a pint in the Social club behind Dynevor Terrace, a regular haunt for underage drinkers. Some of his mates at this time were Brynley Dobson, John Melly, Greaser, Chunky and many others who were to stay lifelong friends.
Bob enjoyed rugby and finally joined the local team at the Park in Nelson. Nelson RFC was always a good side but Bob held his place for many years and normally played on the wing, but would also play flanker if required. Bob played for over 15 years alongside people like the Kelleher Brothers, Clive Philips, Rod Jones Steve Carpenter, Bernard Toner, Huw Williams and many more.
Bob was a collier and worked at the Treharris pit, Deep Navigation. When the colliery closed in 1990 he decided to open his own business…"Bob's fruit and Vegetables"…in the old public house, the General Picton, in Commercial Street. He also wanted to keep fit, so took up running.
Bob decided that he wanted to put something back into the community and decided to run for charity and try to raise some money for local good causes. He also thought that sponsored mountain climbs would also be a good idea, so he took that up as well.
Bob run is first marathon in 1996, the first one being the Snowdon marathon and has done many more since, including 13 London marathons, (his record time for running the London marathon is 3 hours and 10 minutes), 2 in New York and others throughout the UK…Every event he takes part in raises money for local charities including "Dreams come true", "Whizz kids"," Ty Hafen "He also likes to help Nelson causes and the boys club has benefited over the years.
When the Nelson hand ball team were to compete in Dublin, they needed sponsorship and once again it was Bob who came up trumps, raising a £1,000 towards the cost of the trip. Bob also has run in the Great north run and other prestigious half marathons.
He has run up and back down Snowdon in 90 minutes, which takes some doing and he has regularly visited the north Wales Mountains, also competing in the "three peaks challenge" on quite a few occasions.
The experience and challenge of Snowdon lead Robert to his next challenge, the higher mountains of South America, Asia and Africa.
He climbed the impressive volcanic peaks of Kilimanjaro in 2002…The mountain is the highest peak in Africa and rises 5,981 meters into the sky, or 19,330 feet…giving impressive views of the surrounding plains.
From Africa Bob decided to tackle the Russian mountain Mount Elbrus another volcano located in the western Caucasus mountain range, in Russia, near the border of Georgia, it is the highest mountain in the Caucasus. Mt. Elbrus west summit stands at 5,642 meters (18,510 ft) and it is the highest mountain in Europe; although it is actually on the border of Europe and Asia.
South America was the next adventure for Bob and his fund raising exploits took him to Peru and Argentina…In Peru he took on the impressive Inca Mountain Machu Picchu Often referred to as "The Lost City of the Incas", an amazing adventure.
From Peru to Argentina and the mighty Aconcagua, at 6,962 meters (22,841 ft), Cerro Aconcagua is the highest mountain in the Americas and the highest mountain outside Asia, located in the Andes mountain range, it proved to be a daunting challenge for Bob, but once again he succeeded and once again raised thousands of pounds for charity.
Bob has raised an incredible £150,000 during the last 18 years and at 51, he does not intend to rest on his laurels, in fact his next challenge will see him head to Edinburgh to compete in the Albert Bartlett Edinburgh marathon on the 31stMay, 2009; another 26 miles and 385 yards for charity.
So if you are in the Nelson area, call in and pay Bob a visit, he has lots of photographs in his shop,
Testament to some of his achievements over the years…he is always on the look out for sponsors
Bob is a true gentleman and a real unsung hero of our district.
Paul Corkrey
May 20, 2009
Below are some clippings of a few of Bob's fund raising exploits.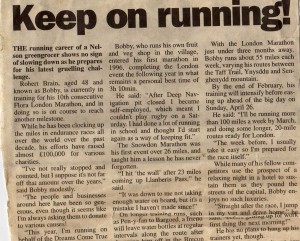 Merthyr Express clipping from 2006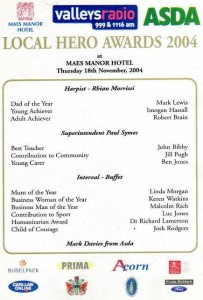 Local Hero award he won in 2004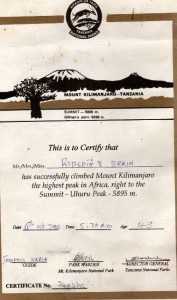 Proof of his Kilimanjaro climb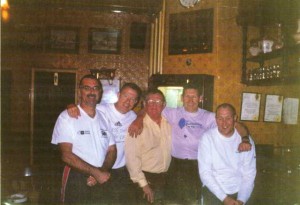 Relaxing with friends in London after running another marathon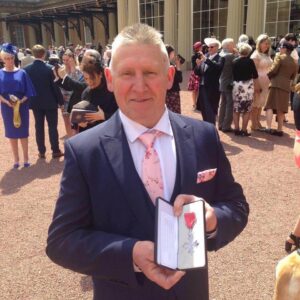 2016 Bob was made an MBE for charitable services to the community is greengrocer Robert Edward Brain, 58, from Nelson, Caerphilly, who uses his shop to raise money for charity as well as taking part in extreme challenges.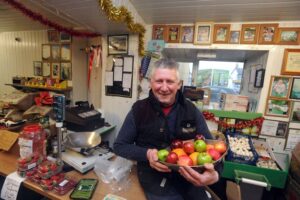 Since taking over the Mr X Father Christmas Appeal from his father in 1985 he has helped give presents to some 100,000 disadvantaged children. Gifts are delivered to collection points and he arranges distribution to the child's home through the Social Services network.
A member of the Royal British Legion and the Royal Air Force Association Mr Bravin also raises money for the Poppy Appeal and Wings Appeal Charities, with the Poppy Appeal raising a record total of £66,800 in 2013.
Simon Weston OBE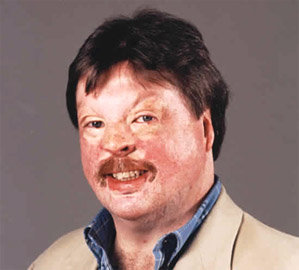 I knew Simon when we were both Teenagers, although I am 2 years older than him. I used to see him in Trelewis sometimes, he was the same age as my sister Ruth. Simon used to hang around with Carl Dicks, Lyndon Jones(Dopey) John Melly and Anthony Browning (OXO) amongst others and they would often be in the old boys club in Bryncelyn or the Youth club in Llancaich junior school. Nelson dance was very popular in those days and we all used to head for the disco at the community centre. Good times they were in the area, there was the odd fight and disturbances but nothing really serious and it was a very safe place for us to live in.
Simon was born in Caerphilly miners hospital on August 8, 1961. Simon was brought up by his mother Pauline and step father "Lofty" and although he lived in Singapore and Lincoln during his younger days, he returned to Nelson around 1967.
Simon was well known in the area and He joined the Welsh Guards in 1978 at the age of 16 . He served in Berlin Northern Ireland and Kenya before being deployed to the Falkland Islands
On June 8, 1982, he was with other members of his regiment on the ship the RFA Sir Galahad in Bluff Cove just off the Falkland Islands when it was bombed and set on fire by enemy Sky hawk fighters. The ship was carrying ammunition including phosphoric bombs and thousands of gallons of diesel and petrol. Twenty-two out of his platoon of thirty men were killed; altogether the Welsh Guards lost forty-eight men and ninety-seven were injured. Simon survived with 49% burns, following which his face was barely recognisable:
Simon recalled this moment…."My first encounter with a really low point was when they wheeled me into the transit hospital at RAF Lyneham and I passed my mother in the corridor and she said to my gran, "Oh mam, look at that poor boy" and I cried out "Mam, it's me!" And as she recognised my voice her face turned to stone. "
Simon endured years of reconstructive surgery, including over 75 major operations or surgical procedures. He suffered psychological trauma, drinking heavily and becoming suicidal, and admits his behaviour during this time was "terrible" He credits his mother with helping him to overcome this. In particular, her act of reuniting him with his old regiment, who refused to mollycoddle him (especially Glen White, who ran the Welsh Guards rugby side), forced him to "face up to the unavoidable and to be positive about everything including especially my future". I met Simon during this difficult time for him at the Queen of Hearts nightclub in the old cinema in Commercial street…He asked me how I was feeling, which was surreal when you think of what he had gone through himself. A few people did not like him during this period of his life and some of the locals found him arrogant. I had no problem with Simon whatsoever, maybe because I had also suffered a life changing injury it made me empathise with him. Anyway he got over the crisis and started to make the most of his life, not only that he started to put his unwanted fame to good use.
In 1986 Simon undertook his first goodwill tour, to Australia at the request of the Guards Association of Australasia. The resulting donations to children's burns units made him begin to feel useful again.
He also became patron of a number of charities that support people living with disfigurements, as well as the lead ambassador for The Healing Foundation. He also set up a national youth charity, Weston Spirit in 1988, shortly after moving to Liverpool. Simon became a well-known personality on radio and television, especially within Wales. He has been the subject of a number of BBC documentaries and presented his own radio show on BBC Radio Wales. He has been a commentator numerous times on television news programmes and documentaries. On June 14, 2007, the 25th anniversary of the Falklands War ending, he appeared on various UK television stations recalling his experience of the war. He has also appeared on programmes such as This Is Your Life and Who Wants to Be a Millionaire?
He featured in a £7million ad campaign launched in 2000 aimed at boosting recruitment into the police force He has written best-selling autobiographies as well as a series of novels. In 2003 he announced that he had been in talks over plans to make a film about his life.
Simons courage and charity work have been recognised and honoured a number of times. In 1992 he was awarded an OBE in the Queen's Birthday Honours list.[In 2002 he was awarded Freedom of the City of Liverpool. In 2004, he was named one of the top 100 Welsh heroes. In 2005 he was made an Honorary Fellow of Cardiff University
In 2008 Simon Weston accepted an invitation to become Patron of The John Thornton Young Achievers Foundation.
He is married to Lucy, with whom he has three children: James, Stuart and Caitlin. They met in Liverpool when she was working for his charity, Weston Spirit. They were engaged on June 8, 1989, exactly seven years after the attack on the Sir Galahad, and married on May 12, 1990.he has met and become friends with the Argentine pilot who dropped the bomb which caused his injuries.
Simon has endured serious injuries and has had to live through years of pain and suffering. He has also had to live with the horror of that fateful day in 1982 that changed his life and ended the lives of so many of his mates. He has seen the demise of his Charity "Weston Spirit" but he can be proud of the fact that the charity had helped deliver life changing opportunities to 85,000 vulnerable young people throughout the UK. He made something out of a bad situation and has been a credit and inspiration to his family, friends, comrades and of course the people of Nelson
Extracts taken from Wikipedia the free encyclopaedia and the thoughts of the Paul Corkrey (web master)