Edwardsville Schools
Quakers Yard Grammar School
Please visit their dedicated facebook page
https://www.facebook.com/QuakersYardGrammarSchool/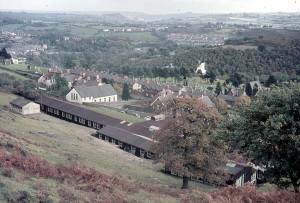 One of the most prostigious schools of the Merthyr Borough was Quakers Yard grammar School  originaly built on the site of the Primary school in Edwardsville, below is a photograph of the school.In 1922 Jacob Thomas was appointed first headmaster of the new Quakers Yard grammar school, Treharris, where he remained until his premature retirement owing to ill-health in Aug. 1931.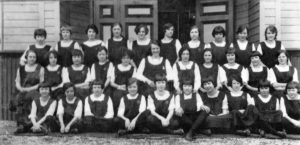 Some of the pupils from 1924 
The grammar school, renowned as an academic centre of excellence,  also produced rugby teams of great quality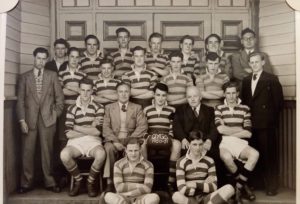 The 1950-51 team was captained by Colin Phelps and featured David Kelly, Richard Evans and from the commercial garage Haberfield Jones
Quakers Yard Municipal Secondary School/Grammar School was founded in 1922. The Junior Technical school was established in 1937. In 1955 the Grammar School and Technical Schools in Quakers Yard merged and reopened as one. The school closed in 1967, at a time when all secondary schools in the area were replaced with the new comprehensive school, Afon Taf High School. All pupils were transferred and the Headmaster of the Grammar School, D. W. Howells, continued as Headmaster of the new school.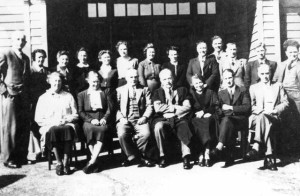 Above you can see a photograph of the teaching staff at Quakers Yard Grammar School in 1944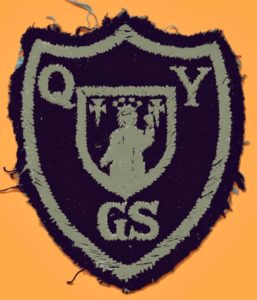 The school Blazer badge from 1969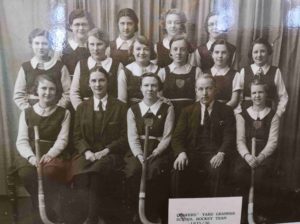 Above we see the School Hockey team from 1935-36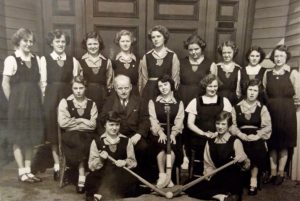 Above we see another Hockey team from approximately 1952/53
 John O' Brien remembered some of the girls
back row left to right cannot remember name but came from Edwardsville, Dorothy Wilson from Merthyr Vale, cannot remember name of next girl, Marjorie Davies from Aberfan, Estlyn Owens from Edwardsville, Barbara James from Troedyrhiw, next three girls I cannot recognise.
Seated row, L to R, first girl cannot remember name but came from Abercanaid, Mr.H.A.Davies, Pat Evans from Troedyrhiw, the gym mistress whose name I cannot remember, next girl cannot remember but from Merthyr Vale,
seated Judith Weale from Abercanaid and Jennifer Hilbourne from Treharris.
Quakers Yard Grammar football teams 1949-1952
We have three photographs of the football teams that represented Quakers Yard between 1949-52…We would be grateful if someone could provide names for the persons in the photographs (courtesy of Ron Davies)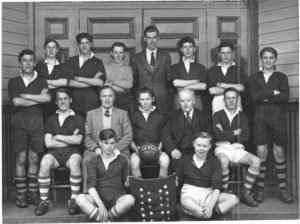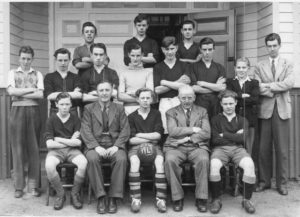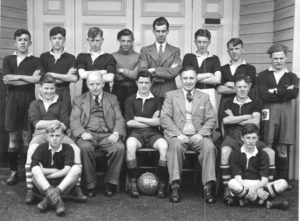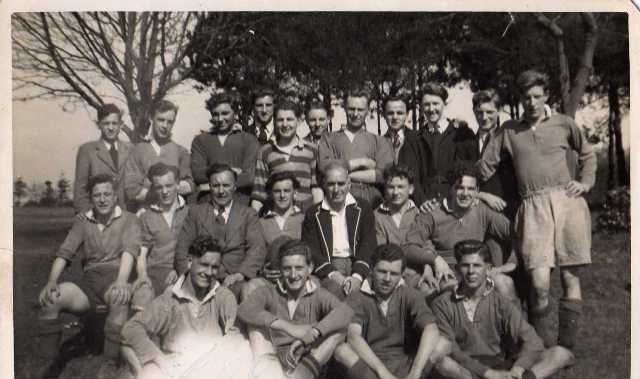 Above we see Quakers Yard Grammar School RFC 1948, at Treharris Park ( photograph courtesy of Aldo Opel)
We do not know the identity of all the above but here are some of the names.
Back Row supporters
far left Russell Pittick( Edwardsville) far right John Hopkin, Shoe shop, Fox Street.
third row
Cyril Sloggett (Mary St) third from left, next to him in a striped shirt is Haulwyn Griffiths of Cilhaul, next is Colin Evans of Fell Street, next, not in a kit is Henry Perrin of Suzzanah Place, then standing with his arm on the shoulder of Aldo is Gwillym Edwards of the Commercial Hotel.
second row
fourth from the left is Ron Davies of Fox Street, next was TH Lewis, games master of Pleasant View.next Roy Beynon of Edwardsville, finally Aldo OPel (2 Fox Street, Treharris)
First row
first on left is John Lewis of John Street.
Below we see the pupils from 1963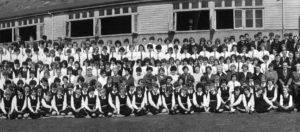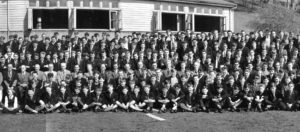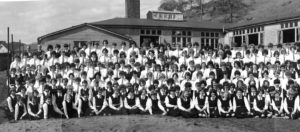 Before Edwardsville was named, it was usually called Quakers Yard, therefore, the name of the large railway station and schools were named after Quakers Yard
Edwardsville Council School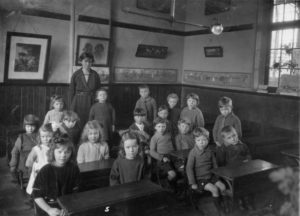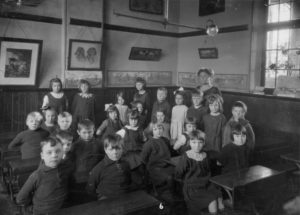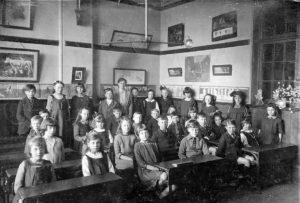 Above we see three photograths from the 1920's classrooms at the school ( Thanks to David White)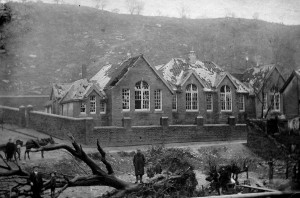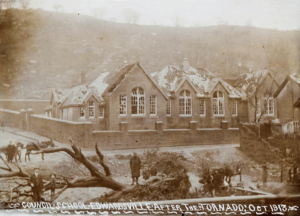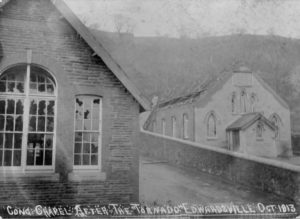 The Council School in Edwardsville 1913 hit by a Tornado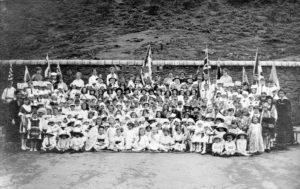 Celebrating Peace in 1919 at the school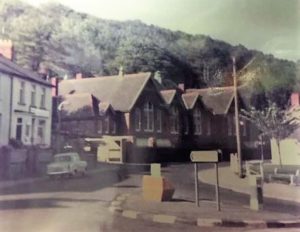 Above the school in the 1970s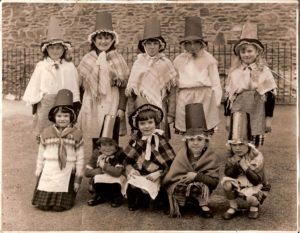 Edwardsville St Davids day photo 1964 photo ( Marcia Butcher)
Back row from left : Gaynor Roe, Moira Marshallsea, Sheila Bryant, Susan Pontin?, Marcia Roe.
Front Row from left: Adele Seward, Julie Davis, Sian Jones, Juie Halliday, Teresa Roe.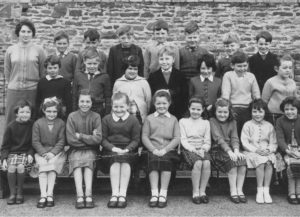 Edwardsville school pupils year unknown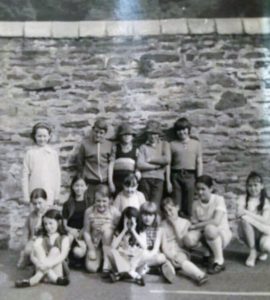 Picturethanks to Rosemarie Morgan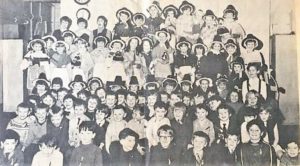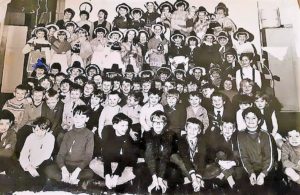 Above John Lambert and his schoolmates from 1970s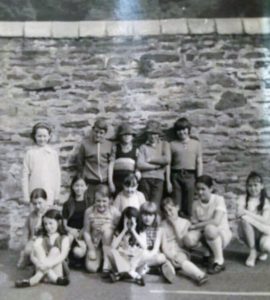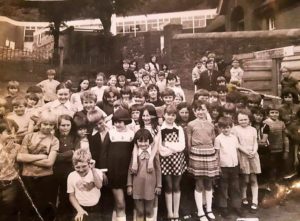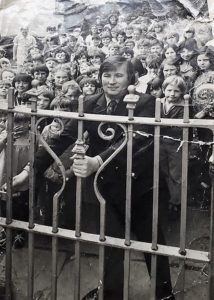 Headmaster locks the gates on the last day for the old school
A new school opened in Edwardsville in September 1975 and was built to replace the schools at Webster Street, Treharris Central, Woodlands and Edwardsville itself. The school, although occupying one site consists of two separate schools, junior and infants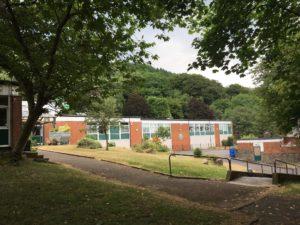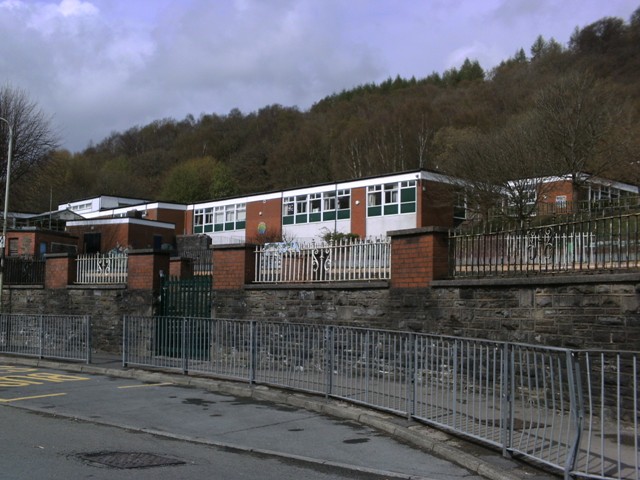 The Primary School in 2010