Nelson RFC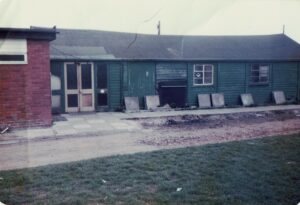 Nelson Rugby club was founded in 1934 and they play their home matches at the Parc ground which has a capacity of over 300. Their club badge is a white Unicorn on black. Their motto, "Profi Yn Iawn" means 'prove your worth'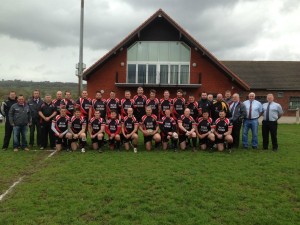 Back row: A Withers, J Davies, I Philips, A Williams, L Jones, I Morris, M Williams, L Price, B Cullen, P Muller, C Bax, R Jones, M Candy, R Sadler, A Williams, L Marsh, C Maybank, P Morris, L Thomas, A Gunning, P Nauldret, L Bowen.
Front Row: C Maybank, H Jones, S Parry, B Yates, J Spears, L Williams (Capt), I Hurn, D Thomas, J Difford, L Mathews.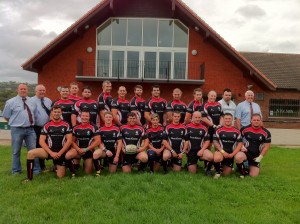 The Park,
Nelson,
Mid Glamorgan
CF46 6ES
The new club house extension taken 2013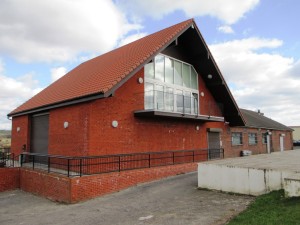 The pitch and stand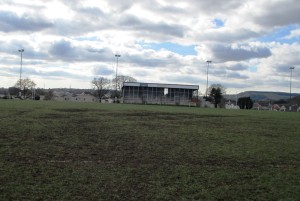 Entrance to clubhouse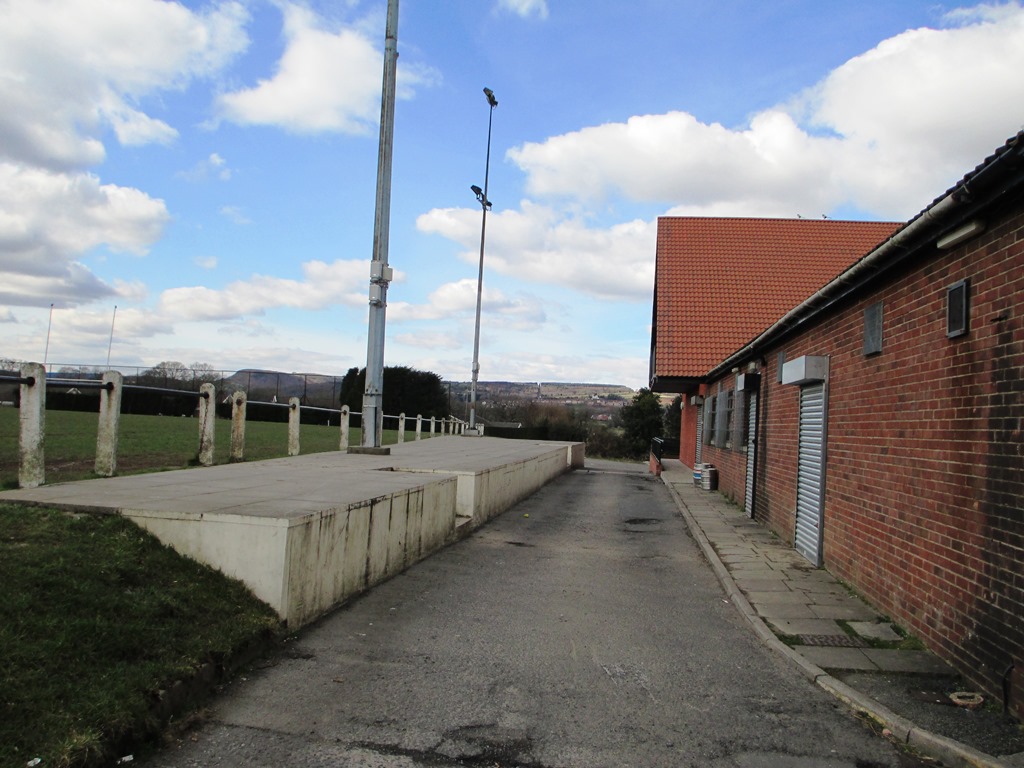 Canada Tour 1996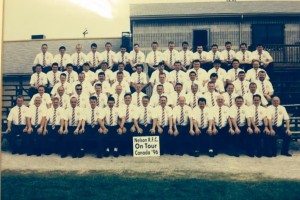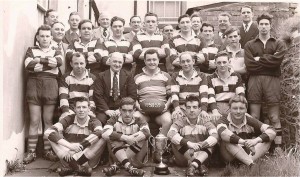 Nelson Rugby Football Club 1958/59 Cup Winners.
George Gould, Dai Davies, Malcolm Allen, Richie Brace (Capt.), Bob Lewis, Gwyn Davies, Howard Watkins, Bill Coleman, Bruce Jones, Arthur Way, Alan Edwards, Maldwyn Davies, Glyn Williams, Bert Watkins…….some unknown.
Can anyone fill in the blanks.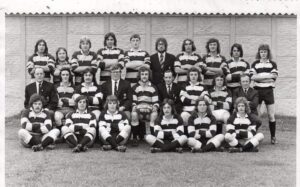 Below we see Nelson RFC 1981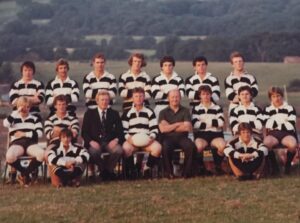 Nelson Youth 1989-90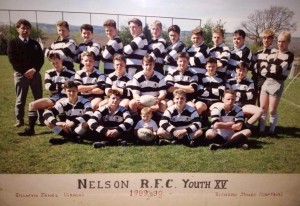 Nelson Youth 1988/89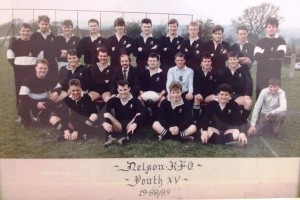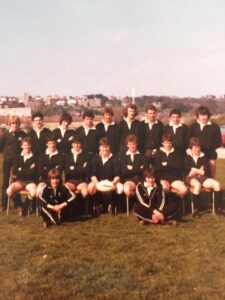 Nelson Cricket 
A Nelson cricket team apprx 1930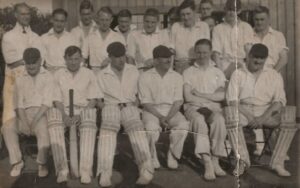 Whitehall golf course
Whitehall golf course was founded in 1922…for more information about the club please visit their website
Whitehall Golf Club came into being on the 1st June 1922 when the Club House was officially opened by the President, Mr Bruce Jones M.E.J.P., agent for the Abercynon Colliery, whodrove a ball off the first tee.
Many of the Founder Members had previously formed a small  club in 1919 called the Abercynon Golf Club; the course consisted of three fields rented from the tenant of Gilfach Farm on the Llanwunno Mountain.
The day when the club was officially opened was glorious. A large crowd of members and friends were served with refreshments by the Lady Members of the Club on the Green in front of the Clubhouse.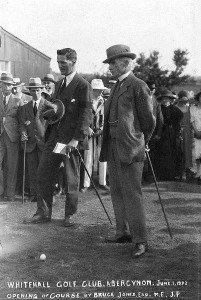 Some pictures of Whitehall 2013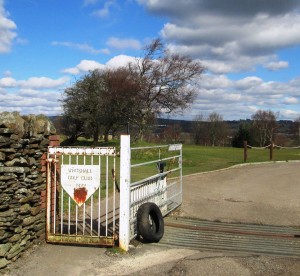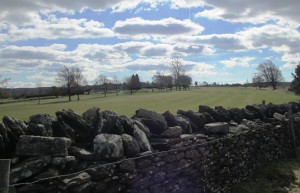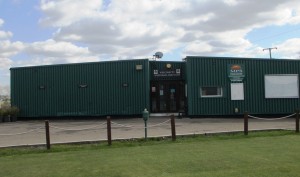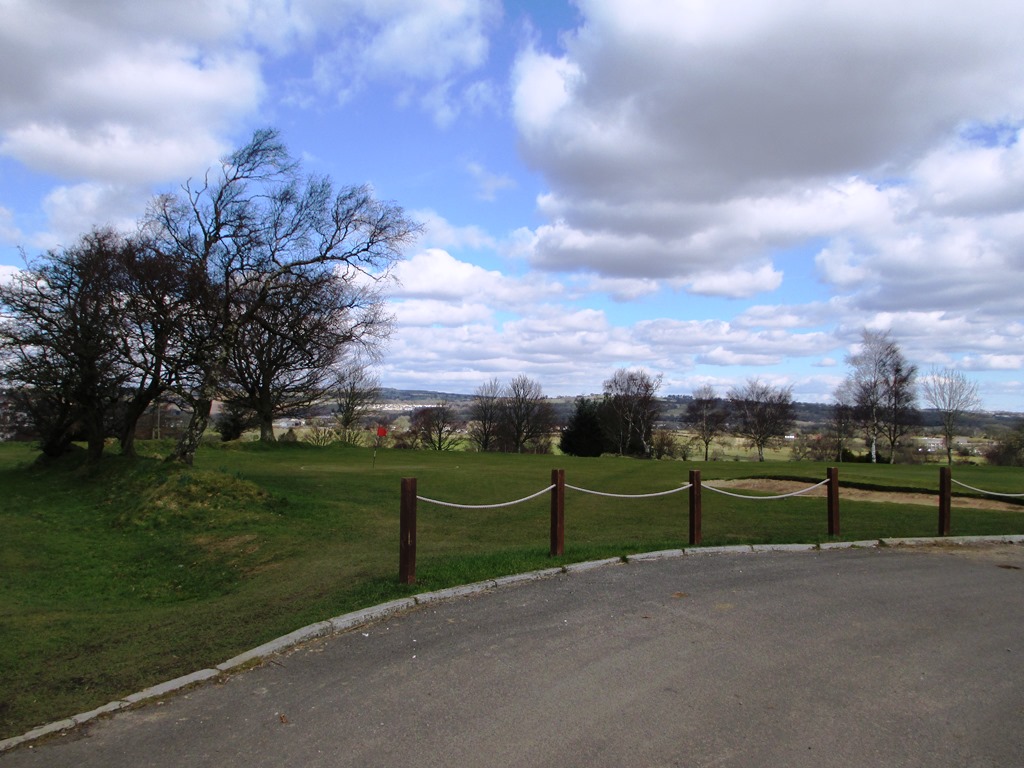 Nelson Football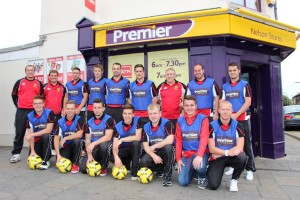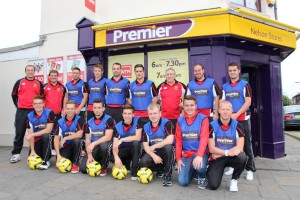 Club History. from Nelson Cavaliers website
The club was originally founded in 1972 and played their football on the Park field (now the rugby field).  The club moved to the Welfare ground and played there until approximately 1975, when the Cavaliers folded. The reasons for the club this are unknown, but players retiring and a lack of backing are considered to be the most likely rationale.
Football was played in Nelson in many guises through the years but in 1983 the Social Club formed a team to enter the Rhymney Valley Saturday League. The team then mainly played for the social side of football, but were a young and improving team.  At the club's AGM in 1992, John Price proposed a name change back to Nelson Cavaliers, John was one of the founders of the original Cavaliers. The change in name changed the face of the club.
For the 1992/93 season, with Terry Davies taking over as manager and Billy Matthews as captain, a more professional attitude was instilled in the team.  The hard work and dedication off the field was provided by a revamped committee headed by Carl Dicks and Peter Szpadt. The club's first season as the Cavaliers proved to be a success, with the club lifting its first trophy, the Rhymney Valley Cup.
The 1993/94 season proved to be a bigger success, with the club retaining the Rhymney Valley Cup as well as winning the Rhymney Valley League and gaining promotion to the 2nd Division of the South Wales Senior League with the club losing only two games, one of which was a South Wales Intermediate Cup quarter-final against Lisvane, who then went on to win the Senior League.
The 1994/95 season saw more achievements for the Cavaliers, with the club winning promotion to the 1stDivision of the Senior League, finishing third behind Penydarren and Whitchurch.
Unfortunately, the 1995/96 was not such a success with the club being relegated back down to 2nd Division after the loss of many players.
Following a few years in the doldrums, the club's young and exuberant team gained promotion back to 1stDivision in 2004/05, this time going up as champions! The club's first season back in the 1st Division saw the club finishing a creditable 5th place, and finishing runners up in the C.W.Bruty Cup, losing to local rivals Fochriw in extra time.
From 2003-2006 the club ran an Under 18's team in the South Wales Youth League. Although the youth team did not pick up any honours, it proved to be a success with a number of players now playing their senior football for the club.
From the 2006/07 the club formed another Saturday Senior team, in the Taff Ely & Rhymney Valley Alliance Saturday League. This was due to an increase in interest from players wanting to play for the club, many of whom had stepped up from the youth team.  All players were available for selection for both the SWSL team and the TERV team.
A junior section was introduced in the 2007/08 season, entering an Under 10's team in the Taff Ely Rhymney Valley Alliance League but unfortunately this only lasted for one season due to lack of numbers.
The club also has a veteran's team where former players and older current players join together.  The veteran's team has yet to win honours, although in the 2004/05 season, they reached the semi-final of the National Umbro Veterans Tournament, which is made up from teams across England and Wales, some of which had ex-professionals playing for them.
The 2009/2010 proved to be 'The Vets' most successful season with them reaching the final of the Consolation Cup only to lose 3-0 to a well drilled Swansea side.
For the 2010/2011 season 'The Vets' entered an Over 40's & Over 45's in the Veterans League with both teams having a good season with them finishing 3rd & 2nd respectively in their leagues and both teams reaching the semi final's of their cup competitions.
During these times the Cavaliers Veterans have regularly received international honours supplying a host of players to represent Wales against England, Northern Ireland & the Czech Republic
Also for the 2011/2012 season a Junior Section was revived and 'taster sessions' were planned to see the level of interest in the village and resulted in teams ranging from under 7's to under 11's. Therefore reducing the need for parents take their children out of the village to play their football.
Although we successfully entered mini sides at Under 7's, 9's and 11's in the Aberdare League we found it very difficult to compete the more established mini football sides, this is primarily down to the fact of Nelson parents taking their children to other teams outside the village. However, if more interest is shown in the future we will endeavour to resurrect the mini teams.
In 2011/2012 season the Cavaliers again ran two teams, showing the level of interest with a blend of old players and young players coming through the ranks.
Unfortunately a poor season for both teams resulted in the 1st team losing their Senior League status.
However, even with a poor run of form by both teams, not helped by not having a regular goalkeeper's, spirit within the club prevailed and we looked forward to a new season.
2011/2012 also heralded the retirement of two of the committee namely long standing treasurer, Vernon Clabby and 1st team manger Peter Jones. The club wish them well and look forward to seeing them as often as possible as supporters on a Saturday.
Season 2012/13 was to see a vast improvement in the clubs fortunes with the appointment of Martin Wilson as 1st team manager and Nathan Thomas as 2nd team manager adequately supported by club stalwart Rod Powell as coach.
The season began with the 1st team entering both the Welsh Cup and the Welsh Trophy but being drawn against stronger opposition in both competitions they went out in the 1st and 2nd rounds respectively although gaining valuable experience.
The 1st team also entered the prestigious South Wales Intermediate Cup and this turned out to be a different ball game. Beating teams from the other South Wales Leagues to reach the creditable 3rd round after proceeding through the Preliminary Round.
Following this both teams entered both local cup competitions, namely the Bernard Martins and Greyhound Cup.
Unfortunately the 2nd team went out in the early rounds of both competitions but the 1st team reached the semi final of the Bernard Martins Cup, losing to local rivals Cascade YC 2-1 but successfully beat Premier Division champions, Penrhos FC 6-2 in the Greyhound Cup semi final to go on to meet Cefn Hengoed FC in the final at Llanbradach Park.
After a tense opening ten minutes Nelson started to get on top and dominated the rest of the half. They didn't convert their chances and paid the price in the second half. Nelson tried to respond but despite a few chances never seemed likely to get back into it losing 2-0.
League form fluctuated but after a shaky start both teams put in some creditable performances, not always getting the results deserved.
A disappointing end to an up and down first season in the TERV Premier League for the Cavaliers 1st team but they will hope to build on it to challenge on all fronts for the 2013/2014 season.
Finally, to close the season, a game was arranged between "The Young Guns" and "The Golden Oldies" to show appreciation to Scott Jenner, who whilst playing for the 2nd team against Ystrad Stars unfortunately broke his leg. (for a 2nd time) Scott has been a dedicated member of Nelson Cavaliers and we all wish him the best for the future.
Nelson Cavaliers is enjoyable and ambitious club to be involved with, both on and off the field and have an enthusiastic committee who are doing their utmost to provide football across all age groups.
Again, the players, management and committee would like to thank all our sponsors and programme contributors for the support over this and previous seasons, in particular Jason & Andrea from The Dynevor Arms, for sponsorship for the entire squad and whose after match meals are becoming legendary with both home and away teams alike and finally welcome to new kit sponsor Nigel Fisher of BodyRock Vehicle Service Ltd.
A couple of older photographs of a Nelson teams ,the old Green shed on Nelson Welfare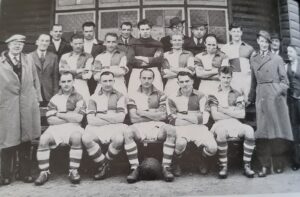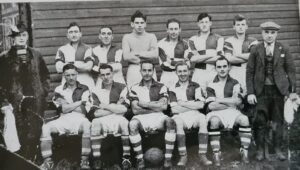 The league tables from the 1950's show a strong Welsh league Nelson Team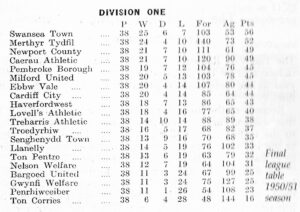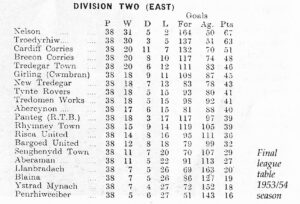 Nelson AFC has been known by a few different names over the years and football has been played at a few different venues, the village has seen some fine footballers representing the football club. We will try to compile a history of the football played at senior level in Nelson. A lot of the records have gone missing but hopefully we can come up with something accurate.
Nelson Rangers…1960's...Elfed rees, lewis Price, George Rosser, John Millet, Roy Gwinnut, Ken llewellyn, Dai betty, Brian Haggert, Dai Richards, Vernon hall, Tony rees..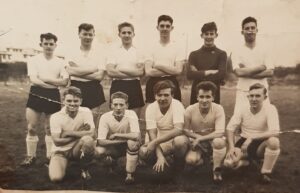 We can revert to the Nelson Cavaliers own website to get information from 1972-until the present day…
It will take some time and we will add to it as we go along, any help you can give us will be gratefully received.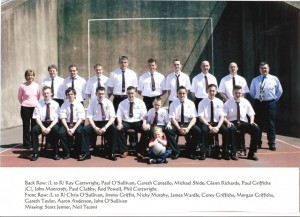 Nelson Cavaliers (above) taken 2005 approx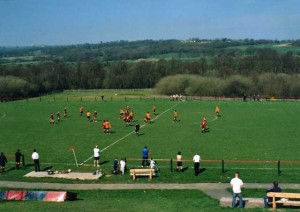 Nelson Cavaliers at their Wern football field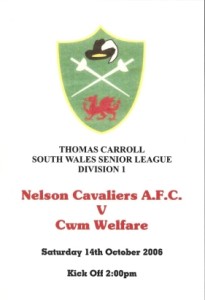 a match day programme
NELSON CAVALIERS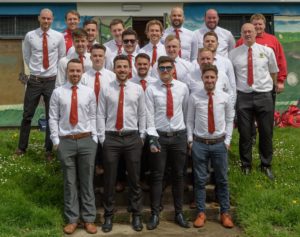 Lads preparing for a cup final 2018
Corona Virus 2020 update on club by club secretary After yesterday's FAW announcement we have today received confirmation from the league that our 1st Team have been crowned Premier Division Champions for the 19/20 season ?
Like so many other teams, we of course would have wanted to finish the season but unprecedented times didn't allow for that. The points per game average seemed the fairest way, although understandably whatever decision was made would upset some clubs. The management and more importantly the players deserve huge credit for the position they put themselves in, undefeated up until football was stopped, in one cup final, another semi-final and the last 16 of the South Wales FA Senior Cup.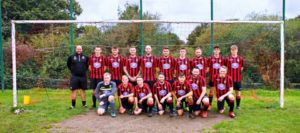 Champions 2019-20
1994-95   Joined South Wales Senior League as founder members of new Division Two… Promoted to Division One
1996      Relegated to Division Two
2004-05   South Wales Senior League Division Two Champions
Three points awarded
Promoted to Division One
2006-07   Three points deducted
2008      Relegated to Division Two
SEASON    LEAGUE     P    W    D    L    F    A    P      POS
1994-95   SW SEN-2  20   10    6    4   51   31   38      3/11
1995-96   SW SEN-1  22    3    3   16   25   64   12     12/12
1996-97   SW SEN-2  30    5    2   23   48   85   17     15/16
1997-98   SW SEN-2  30    8    5   17   45   80   32 *   12/16
1998-99   SW SEN-2  30   10   11    9   69   75   44      8/16
1999-00   SW SEN-2  30   12    4   14   54   83   37     12/16
2000-01   SW SEN-2  30   12    5   13   74   70   44      8/16
2001-02   SW SEN-2  30   10    7   13   55   81   37     11/16
2002-03   SW SEN-2  30    9    4   17   62   82   31     14/16
2003-04   SW SEN-2  30   15    5   10   65   56   50      5/16
2004-05   SW SEN-2  28   21    2    5   70   32   68 *    1/15
2005-06   SW SEN-1  28   12    8    8   72   58   44      5/15
2006-07   SW SEN-1  30   11    3   16   69   79   33 *   11/16
2007-08   SW SEN-1  30    5    6   19   35   93   20     16/16
2008-09   SW SEN-2  28    5    5    18   42   84  20     15/16
The Original Nelson football field Llancaiach
The first football field I can find a record of in Nelson is one near the Railway sidings that were near Llancaiach colliery and also close to the original Llancaiach Station. I have taken a photograph of the area Today (below) It really does not give any indication that a sports field ever existed there.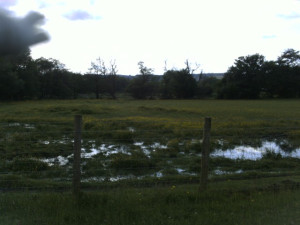 The Nelson football club of 1886-1887 won the South Wales Amateur league playing on the Llancaiach pitch above…Robert Amos has acquired a rare photograph of a medal presented to one of the players T Price of Nelson AFC…The photographs below are the front and back of the medal.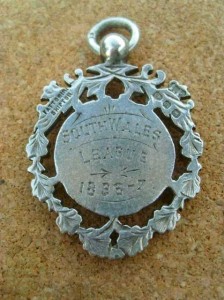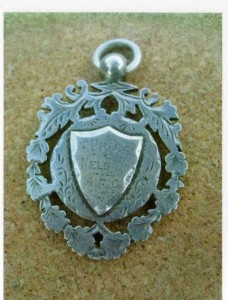 Nelson Boys club Football team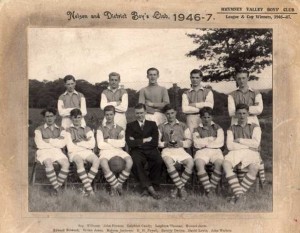 Nelson Boys club 1947 football team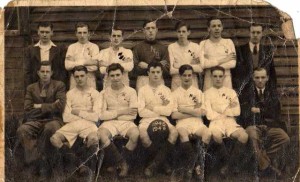 Nelson Boys club 1945-46 Earnie Powell is in the photograph
Nelson Boys club..youth committee 1977
Steve Jenkins,Lyndon Jones, Anthony Spiller Lyn Cussack(Skinner) Andrew Williams(Tich) Kevin Grifiths and Mike Denham from Trelewis are featured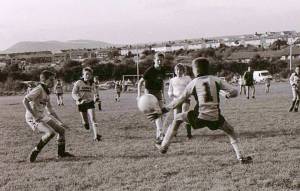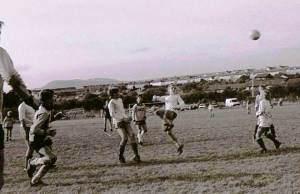 Boys club games on the old Welfare ground
Nelson and Trelewis Darts League
The league has been running for decades and luckily Neil Powell can update us from 1976 when he joined the league.This is what he wrote about the league.
 I started playing in this League in 1976 and have seen many Teams and Players come and go
The format when I started was,1001,8 a side best of three legs.What a difference in 2007,now we play 1 Fours,2 Pairs and 5 Singles and the standard of darts is getting better each season, partly due to the number of Super League and County players in the League
Our most well known player is Barrie Bates,who has been a member of this League for many years,and is now a top ranked PDC player
Barrie is the only player to achieve the magic 9 darter and this season 2007/2008 will be the 10th anniversary of that event
Barrie was then  playing for the Bedlinog Inn and sadly his mentor,Jimmy Hall, has passed away.
 The teams in the League, back in 1976, were all from Trelewis and Nelson,now we have teams from Bedlinog,Treharris,Penybryn, Cefn Hengoed,Ystrad Mynach,Cascade,Bargoed and Aberbargoed and the League seems to be growing stronger each season with more teams from other areas wanting to join.
In season 2008/2009 we went to 3 Sections for the first time,with each Section comprising 9 teams,which has given the "lesser sides" more chances of becoming Section winners/K.O Shield winners.Some teams are happy to go out on Friday nights and just play darts for the social side.Win or lose is not that critical to them. 
2014 and Nelson and Trelewis Darts league is still going strong with winter and summer leagues. Neil Powell is the current secretary.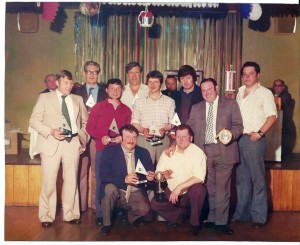 Balfour winning team 1980's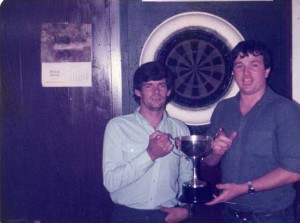 Steven Banner and Paul Davies doubles champions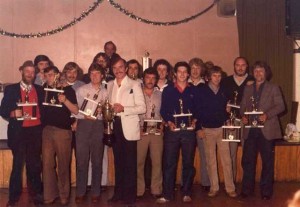 photograph courtesy of Neil Powell
Ffald A 1980 Presentation Night at Trelewis Ex-servicemens Left to right Syd Carter, Lyn Jones, ? ? Alan Williams,Neil Powell, Dennis Barwood,Keith Cullen, ???? Hayn Williams. Peter Angel, Gary Davies, Bruce Giles and Ken Davies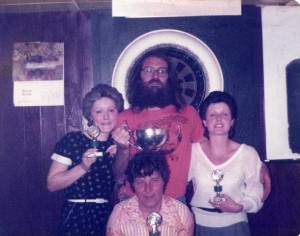 Neil Powell Player of the year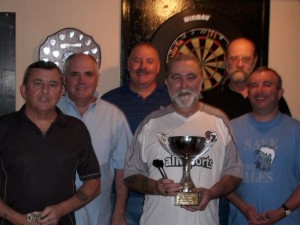 Ffaldcaiach Inn B 2008 — with , John Davidson, Robert Forrest, Johnny Jones,Jim Annand(Captain), Neil Powell and Mark Bell-Langford at Ffaldcaiach Inn.
Trelewis Legion B Section winners 1964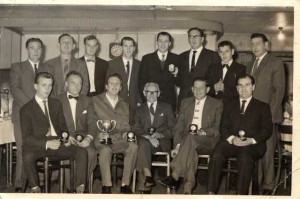 Back row
D. Phillips, I.Joseph, Brian Jones, L. Bufton, Emo Bates, Bill Jones, Barrie Williams, C. Belton
front row
G.Davies, J.Mathews (chairman), John Bufton(capt) H.Williams, Islwyn Carlick, J Williams