Historic Treharris
The following are extracts from historical survey of Treharris which was produced by D.H Gwynne Davies of the Merthyr historical society. It was passed on to me by my late great uncle Jack Corkrey, a great lover of history, I hope you all enjoy reading it.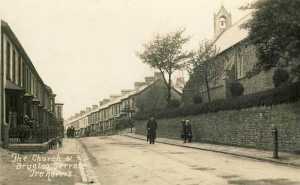 Treharris was once just a collection of farms on the hillside above Quakers Yard, the land was owned by Twynygarreg, Pantannas and Cefn forest land owners.
The story tells the tale of some gentlemen arriving at Quakers Yard station, these men obviously had a plan in mind and they headed to the old village of Quakers Yard before heading up into a field owned by the Twynygarreg farm until they came to the valley of the Bargoed opposite the farm of Pontnewydd on the opposite side of the valley. These men obviously knew about the geography of the area as they asked no one for advice or direction, they walked back and for here for a long time, talking with each other, something of great importance was being debated ,after a long period of time the men retraced their tracks and caught their train back home again.
Great speculation grew amongst the locals about the purpose of the visit from the strangers , this conjecture grew as news got out that land had been bought from the Twynygarreg farm with the intention of sinking a pit. Many thought it would be a very hazardous venture to try to cut through the rocky crust for coal, whilst some of the farmers were worried that their wells might dry up if a pit was sunk. A company under the chairmanship of F.W.Harris was formed with new directors, namely Webster, Hill, Huckett and Judkins.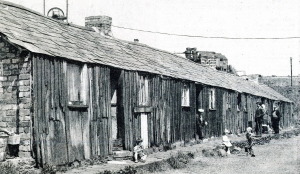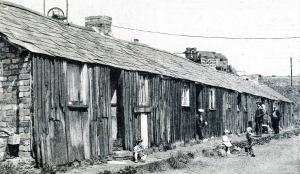 On Monday September 28th 1872 a level was opened near the Bargoed River, the first coal was produced and used by the new men that had been brought to the district to sink the new pit. Apart from the local farms the only dwellings in existence were the "huts" (please see the collieries section of the website under deep Navigation)
It was a very tough job sinking the mine, as the locals had predicted and there were fears that the mine might have to close but in 1873 the Ocean coal company took over the colliery and FW Harris gave his name to the village and the history f Treharris as we now know it began.