Trelewis Schools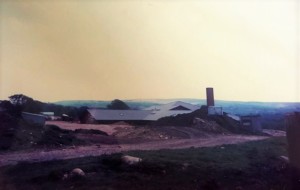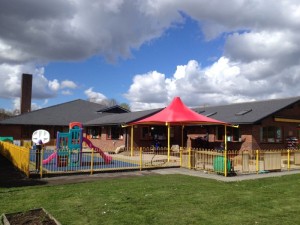 A new school opened in Trelewis in September 1984. It replaced the old buildings of a separate junior school and infant department. The new primary school is positioned in idyllic surroundings providing safe access well away from the main road. The school is built in the semi- open plan system .Its position is adjacent to Tir-Bach farm and close to the village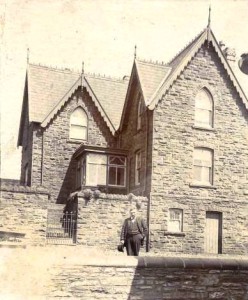 Caretakers house at the original school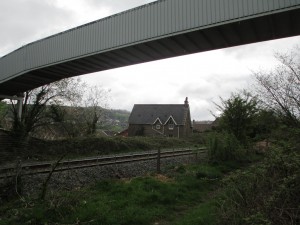 Rear of Caretakers house 2014 with footbridge to new school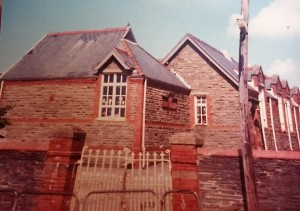 Trelewis infants school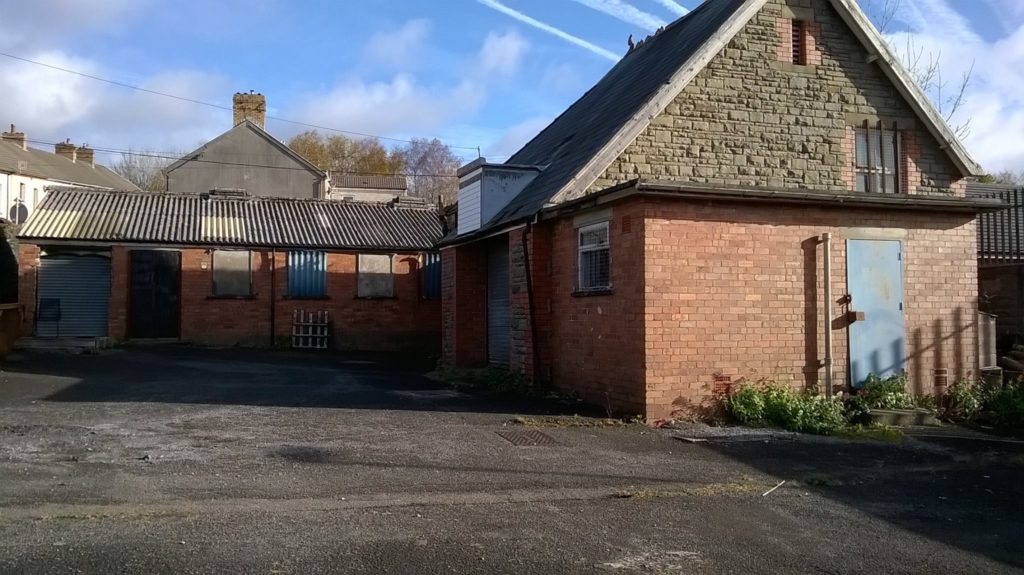 The old school Canteen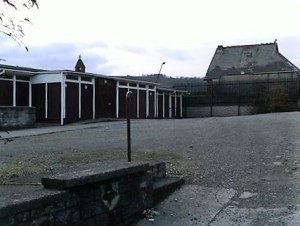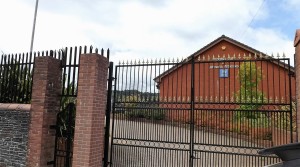 2016 and the school is long gone and now its the home of the Jehovas Witness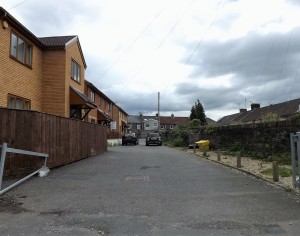 2016 Above we see what used to be the Junior school yard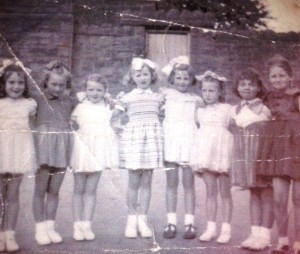 Wendy Lloyd (rainbow dress) Rita Jones and friends 1946c
The next photograph we have is from around 1960 and the retirement of Mr Tom Jones…he is being presented with what looks like a Transistor radio by Mr Iorwerth Thomas (head teacher) in the canteen of the School..Miss Hopkin, Mrs Owen and Annie Williams are all present.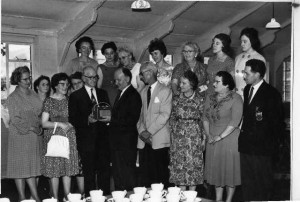 Below is a Drawing of the school by K Bounds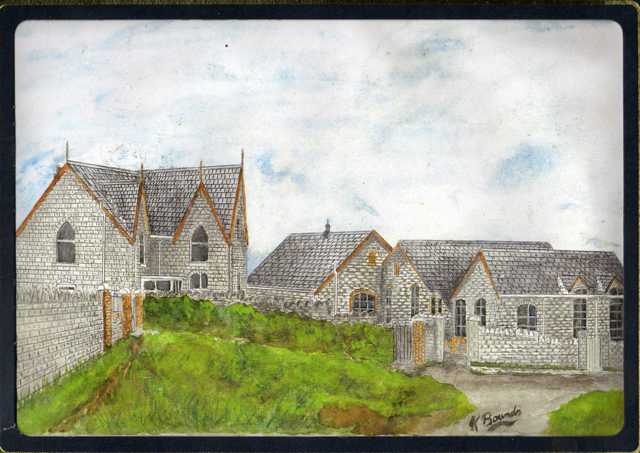 Trelewis School July 1955
The following photograph was donated to the website Michael Williams of Williams Dairy produce, it shows the children that passed the 11 plus examination in 1955. Sadly some of the people are now longer with us.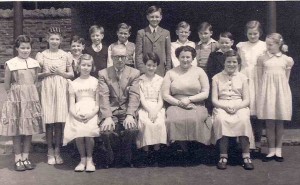 Back row left to right
Anne Morris, Carol Harris, Ken Humphries, Norman Williams, Malcolm Bell, Martyn Reynolds, Mike Williams,David Walters, Dennis O'Brien, Linda Jenkins,Carol Williams
Front row left to right
Jayne Griffiths , Adams Jones (head) Jean Bromley, Mrs Owen and Lilian Miles
Trelewis School 1961 
The picture below was taken to celebrate the passing of the 11 plus examinations in 1961.
I attended the same school between 1963-70 and the head teacher was the same Mr Thomas, I also remember Mrs Owen, Miss Hopkin, Mr Mitchell and Mr Huws.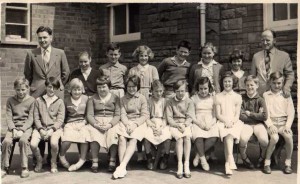 Back Row
Mr Griffiths,Jennifer Jones, Graham Stephens, Barbara Joseph, Gerald Osboune, Barbara Miles,Jeanie Roberts, Mr Thomas (Head)
Front Row
Derek Jenkins, Gordon Powell, Christine Land, Betty Parker, Margaret Davies, ? Mclean, Gaynor Davies, Christine Bishop, Linda Jarrod, Alun Williams (Percy) David Owen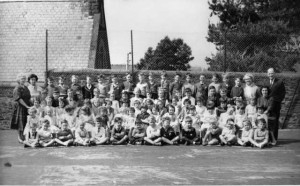 Above we have another 1961 shot of the  Junior School (Photograph courtesy of Pam Hockin…some of the children featured include ;
Graham Harris(Sam), Kevin Williams, Keith Scanlon ,Alan Candy, Elton Powell, Martin Carlick, Jack Pugh,Paul Powell, John and Jimmy Morgan, Susan Bridges , Alison White, Elizabeth Hooker, Wynford and Lyn Jones,John Duggan, Peter Jones,Judith Coles,Eleanor Belton, Sharon James, Kerry Pickett and Paul Smith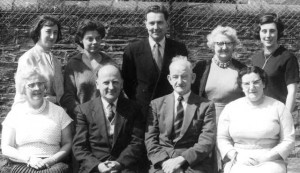 Some of the Teachers from 1961
Back row
Nita Pini, Eleanor Pennetti, Haulwyn Griffiths, Ann Williams, Pam Hockin
Front row
P Evans, Mt I Thomas, Tom Jones Mrs Enid Owen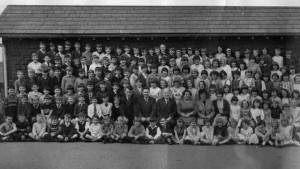 Trelewis Junior School 1965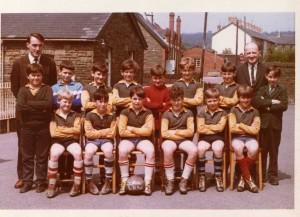 Trelewis School Team 1965
Mr Huws, and Mr Thomas teachers
Back row
Colin Rogers,Francis Philipson,  Lyn Jones,Lee McKenzie, Dai Clarke, Steven Davies, Stephen Johns, Dai Smith
Front row
Kerry Pickett,Harry Mclean, Teifion Evans, Mark Watts, Wayne Humphries,Derek Davies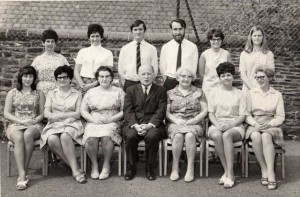 Above we have a staff photograph of Trelewis teachers approx 1967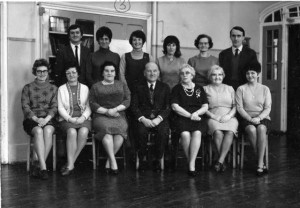 Above we once again see a Staff Photograph from the 1960's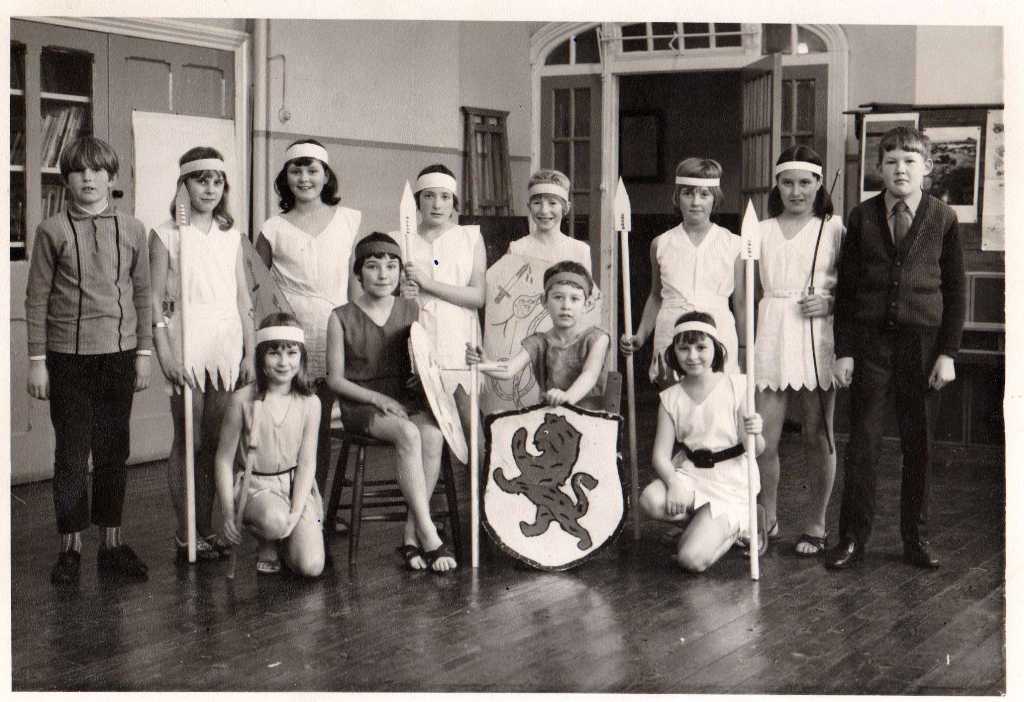 Above we see a School photograph of a play by the Trelewis pupils probably during 1968( courtesy of Kerry Wilde) The Play was called "A Stranger in no man's land
Back row
Martin Jones(Fred) Marilyn James,Elizabeth Jones (now Underwood),Jackie Jones,Cathy Clarke,Gaynor Davies, Anita Williams,Graham Rees
Front row
Dawn Collins, Katherine Jones, (now Hammond), Kerry Wilde, Gillian White
Above we see a classic School picture of Trelewis children 1968. I can see myself, Neil Giles, Ian Plant (Fando) Paul Lintern, Pwd, and many faces I used to attend school with.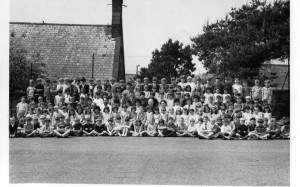 Above we see another picture of my school mates this time from 1969
Trelewis boys age 11, Football team 1970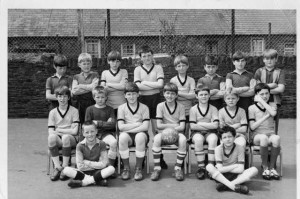 Back Row
Robert Bates,Paul Corkrey(me) Neil Giles, Paul Davies,Stephen Cowles,Elfed Robins, Paul W Davies, Philip Lewis.
Front Row
Kevin Stankiewicz,Barrie Lewis, Derek Bates,David Lewis, Anthony Gunning, Philip Anthony, Paul Lintern
Seated at front
Alan McLean  and Haydn Williams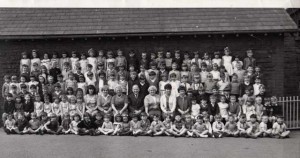 Too many to list in the long school Photograph, Myself and my sister are both in there and many of my friends. Everyone will know someone in the photograph which was taken in 1969.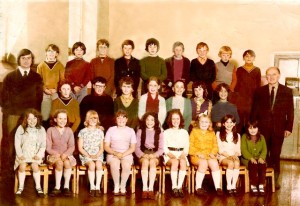 Trelewis School 1971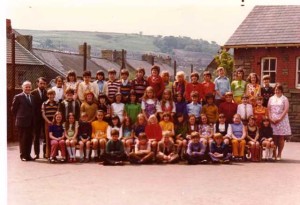 Trelewis School 1972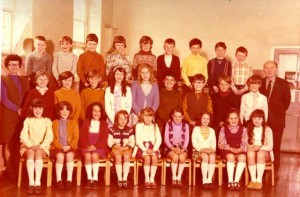 Trelewis School 1973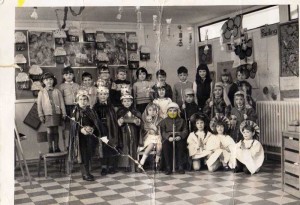 Can someone identify this picture? It is from the early 1970's at Trelewis school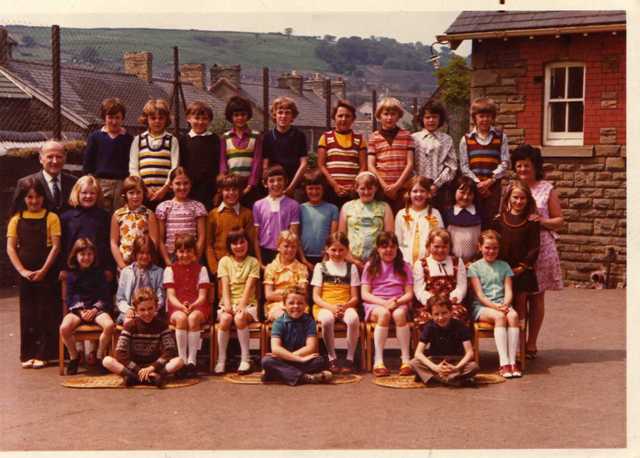 Trelewis School 1974
I cannot identify them all yet but will put some in
Back Row
Paul Wooley
Middle row
Nigel Carter, Fay Giles
Front row
Dawn Cowles,
Some of the people to look out for in the Black and white photograph above.
Back row
Martin Jones, David Jones, Ian Jerimiah (Yoko) Rob Williams(sensen)
Row 4
Dawn Thomas, Dean Parslow
Row 3
David Hughes, Gary Jones (popeye)
Row 2
Hayley Jenkins, Fay Giles
Front row
Lynda Richards, Kev Thomas, Andrew Price, Kevin Jones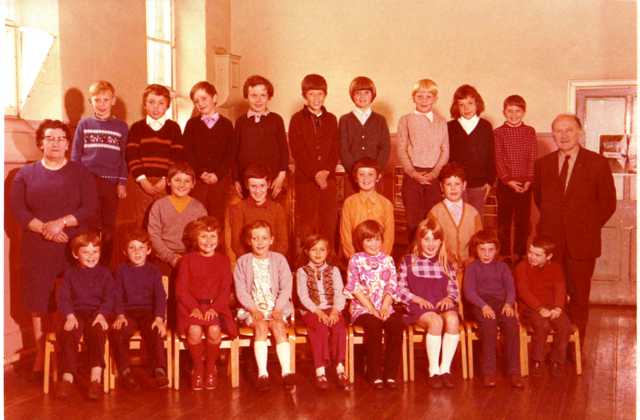 Mrs Owen's class back in 1973,(above) Denise Pope is 3rd from right first row, Nigel Cater is in the middle row and Dean Parslow back row 6th from the left.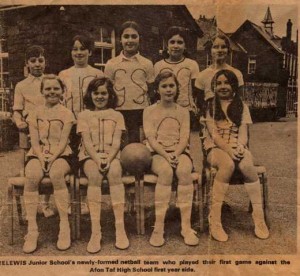 Newly formed netball team
Mr Thomas was a very well respected head teacher and when he retired in the mid seventies , the mayor of Merthyr paid a visit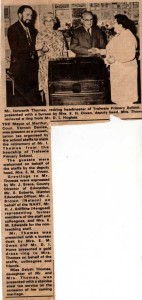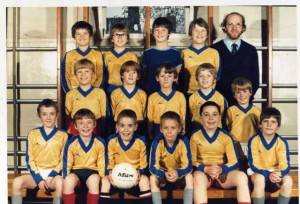 Back Row
C Watson, Dean Summers,, Kerry, Matthew ,Mr Coles 
Middle Row
?, ? Gwillym, Simon Davies,?,?
Front Row
Ian Williams (Beano),Darren Roberts Kerry Hughes, Shaun Emmanuelle, Darren Prosser, Alan Evans
The Two photographs below were both taken in the mid 1970's not sure of exact years (pictures courtesy of Iris Coxe)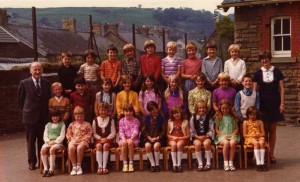 Back row
David Sparling, Kevin Coxe, Colin Price, Mark Morris, Dean Parslow, Ronald Evans, Mark Howard, Dean Fry, Steven Samuel
Middle row David Porter, Keith Davies, Nicola Pemberton, Annette Jones, Janet Morris, Denise Pope, Cheryl Johnson, Peter Bowen, Paul Walters
Front row Eleen Stokes, Leanne Barry, Sian Ford, Claire Rowlands, Rosalind John, Glenda Jones, Paula Giles, Fiona Clarke, Jennifer Hares Photograph taken 1973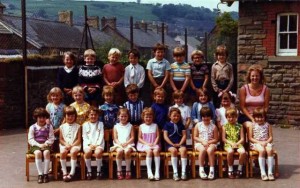 Neil Coxe,?? Shane Morgan, Wayne Bridges, Dean Garbett, Wyndom Stokes, Anthony Gwillym
Middle
Debbie Rees, ?,Sharon Collins, Carl Ainsbury, Barry Stankowitz, Amanda Gunning, Jean Thomas,Stephanie?
Front
?? Sian Williams, Lynette Wiltshire, Liza Jennings, Andrea Collins, Julie McLean, Karen Davies, Paula Jones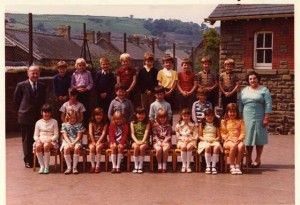 Back Row
Mr Thomas (Head) , Brian Summers, Alan Reid, Shaun Hislop,  David Thomas, Martyn Eynon, Kevin Thomas, Ken Thomas, John Thomas
Middle row
David Hughes R.I.P..Steven Auger, Andrew Giles, Gary Jones
Front row
J Colhoun, C Morgan, ?? Karen Davies, Michelle THomas, Andrea Watkins, Judith Thomas, Lyn Waddingham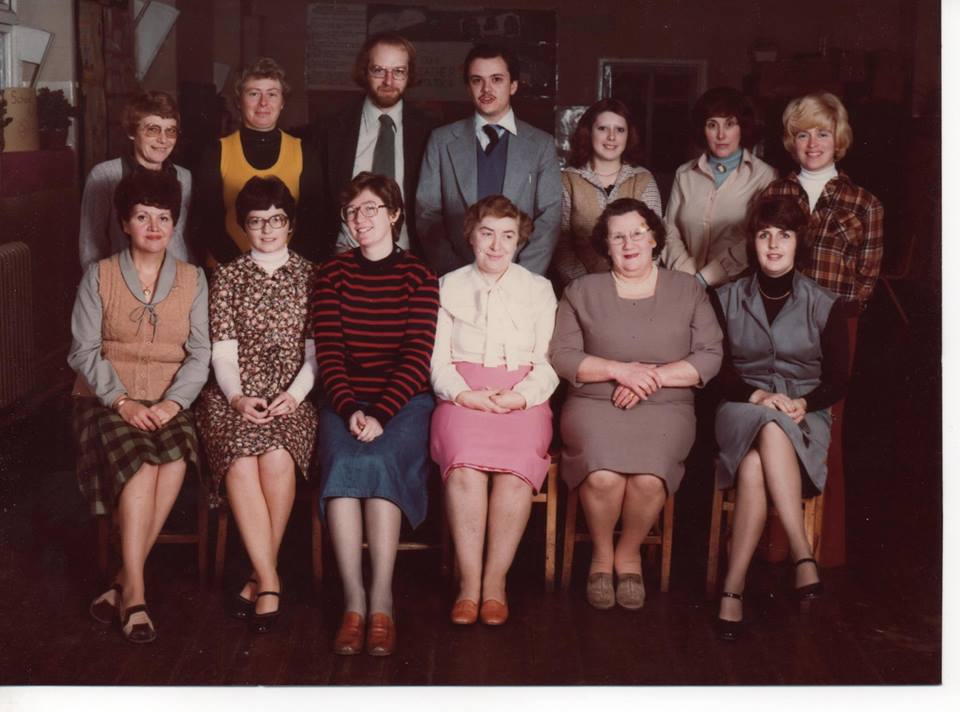 Trelewis Teachers 1979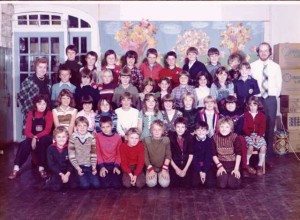 Some of the children above are Jason Gunning, Martin Longford,Karen Davies, Jason Dower, and Malcolm Price 1980's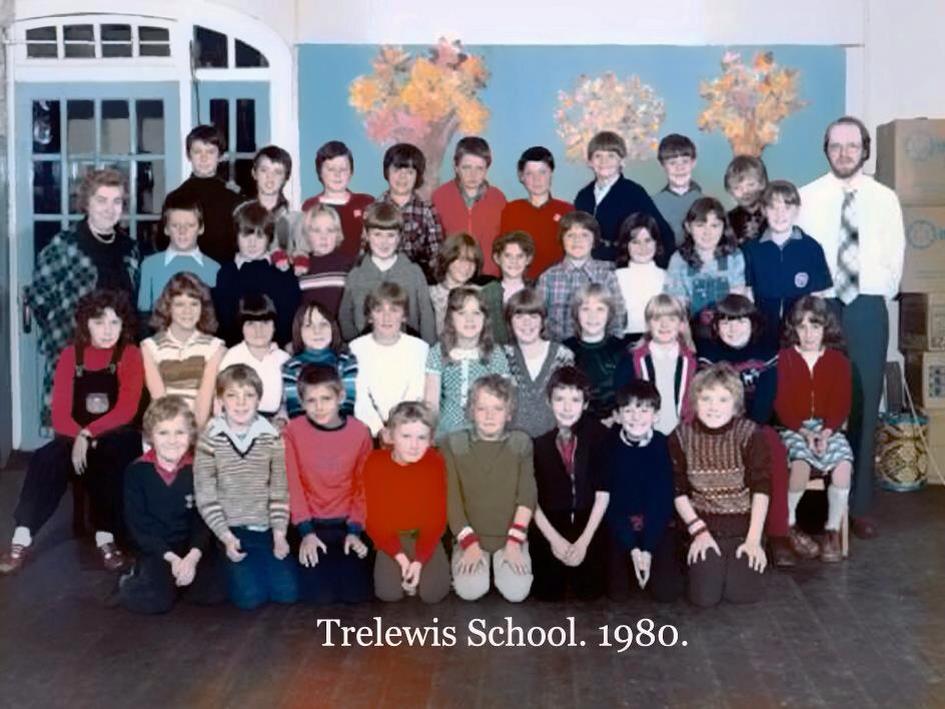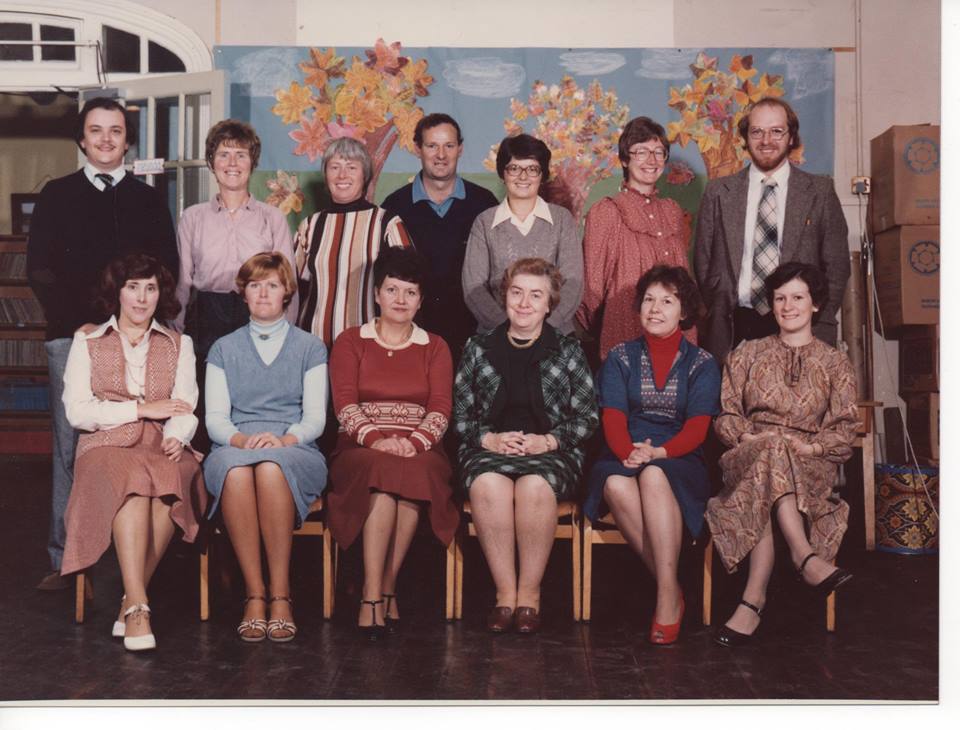 Trelewis Teachers 1983 thanks to former teacher at the school Derek Williams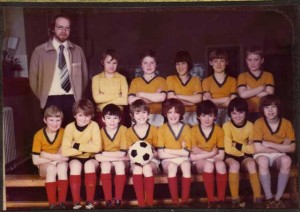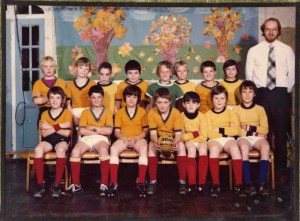 Back Row
Andrew Rees, Danny Jerimiah,Kerry Hughes,Darren Prosser,Paul Edwards, Shaun Emmanuelle,Carl Watson ? Beardsley, Mr Trefor Coles (Teacher)
Front Row
PaulJones, Barrie Bates,Martyn Longford,Malcolm Price,Hadyn Jones (R.I.P) Andrew Evans (Ento) Jason Gunning.
A 7 a side Trelewis school team
Back Row
Jason Garbett, Tommy Gwillym,  Terry Mortimer
Front row
Alan Thomas, David Mitchell, Kevin Jones (capt), Shaun Quinn
Back row
??? Rob Watkins ? David Forrest, Jason Fenn, Adrian Richards(sabre)
Middle row
Miss Hopkin ? Mark Wooley, David Jones, Ashley Davies, Philip Bufton, Hadyn Jones (Kewi), Andrew Bowen Mrs Hart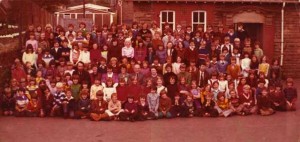 Some of the names of the children above are…
Back row (Row 7)
Rodney Powell, Popeye, Bug (Lee Beynon), Shaun Hislop
Row 6
Stephen Jones (school house), Andrew Price,?(Prankster), Julie Morris 
Row 5
Liz Anthony, Julie Pope, Martine Hake, Llew Thomas
Row 4
Helen Grifiths, Shirley Melly, Sonia Herbert
Row 3
Lynette Wiltshire, Mr Huws, Mrs Owen, Mrs Morse
Row 2
Debra Howard, Joanne Rogers, Susan Jackson
front row
Adrian Richards(sabre) Ashley Davies, Rob Watkins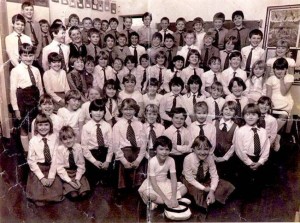 Trelewis School 1984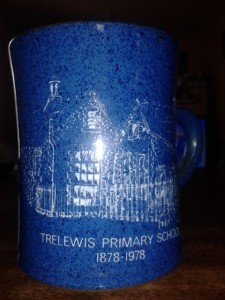 In 1978 the children were given a Centenary mug